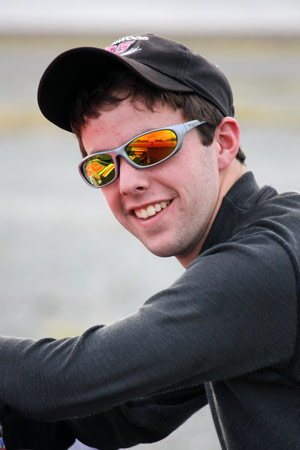 Brian Sherwood, Hillcrest, NY.
(Sherwood Collection)
---
3/18/12

THE KID WHO SAYS THANKS
There was a curious moment in the Coastal 181 booth at the Gater Motorsports show in Syracuse, NY, last weekend. The much-honored Bill Wimble, NASCAR National Sportsman Champion in 1960 and '61, was there signing his book.

In came fresh-faced Bryan Sherwood, a 19-year-old modified racer. Watching the two of them shake hands, it was hard not to reflect on how differently they were launched into the sport.

Sixty years ago Bill was a naive, impoverished dairy farmer on the banks of the St. Lawrence who pooled every spare coin he had, bought a used football helmet, and flat-towed an ancient, hopelessly dangerous and unprepared Ford coupe to Canton Fairgrounds. Here on the other hand, was Bryan, already a veteran behind the wheel, preparing for his first season in his own full modified – a topped-and-tailed Troyer with one honkin' heart under the hood.

Was this a demonstration of what so many former competitors get to talking about these days? You see them congregating at the beer stand and carrying on about what's happening in racing now. In half a lap, the talk turns to the dizzying costs of fielding a car and to the tsunami of manufactured parts and pieces that flood our sport. "Gosh," the discussion goes, "A driver today doesn't even have to know how to weld!" All a young he or she has to do is to have a father who's a Romney one-percenter. "Look at these kids," they would say, "Sometimes all they bring to the pit area is attitude."

Well, no generalization is worth a damn. If you think all teeny-boppers are arrogant, unaware, and unappreciative, you might want to stop by some time for a chat with Bryan Sherwood. His perspective might just change your mindset.

Bryan's Dad is Lee Sherwood, a respected and enduring Northeastern modified shoe, and his whole family is knee-deep in racing. Here's what Bryan has to say:

It was inevitable that I became a driver. Racing is my thing in life. It sure hasn't been easy, but I'm always aware of how lucky I am .

My dad had me at the track at six months old. Honestly, he is a hero to me. When I was little, he was gone at night, trying to keep the car going after work. I never felt cheated. I could see how much it meant to him. I started to understand racing.

The biggest moment watching him came when he won the 2003 Richie Evans Memorial at Tioga (NY). I can replay every lap in my head today. And the Victory Circle. It took Dad a long time to get there. I could feel how grateful he was.

We're close. He took a couple years off from driving and came back last year. I spotted for him and I was worried. It was nerve-wracking for me. I watched him very closely and timed him. But he was still smooth and hadn't lost a thing. He ran two shows, both Oswego 200s for modifieds and he got a third and a fourth.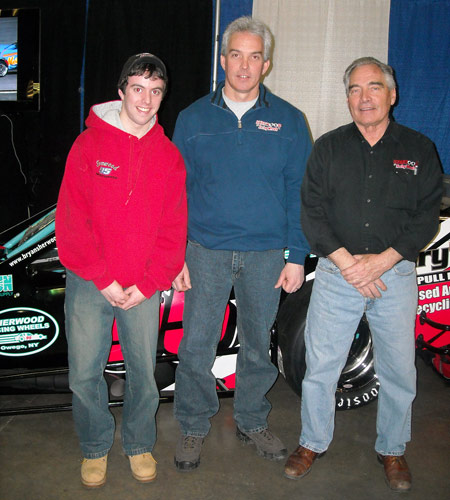 Bryan at the Gater Motorsports show with his father, Lee, and grandfather,
Allen. Lee and Allen co-own Sherwood Racing Wheels. (Coastal 181 Photo)
I got started at eight running microds and then open-wheelers all over New York. On that first day in a microd, I was stunned. I had assumed it was going to be like that yard car we used to have at home. Not. It was a rocket ship. Dad set up cones around the groove and made me run hundreds of laps around them in that microd to teach me consistency. The more seat time I got, the slower things seemed to happen. We got good. We won a lot.

Then I got a micro sprint and we went to the dirt. It was that same rocket ship thing again. I got to like the heavy, thick surface when you throw the car and can compensate for it. But I really struggled on dry slick and glassy conditions. That gives you this nervous, loose-in feeling, something I'm just not good at. Dirt almost did in all my self-confidence.

The year 2008 was really crazy. Dad had two modifieds plus his Sherwood Racing Wheels business. I had my micro sprint and my brother Steve had a microd. We were at the race track three days a week all summer.
After two years I got into Dean Rypkema's B-mod. These have 530 horsepower and ten-inch tires. He let me drive it for a couple of seasons. We maintained it and paid the bills. Some people think B-mods are just for kids. No more. With the economy today, there is less travel and so much more expense that people are moving down from the full mods. In fact, we calculate that there are only five guys under 20 - Erik Rudolph, Patrick Emerling, Jimmy and TJ Zacharias, and me - who have driven B-mods in the last five years. I was so fortunate to land Dean's ride.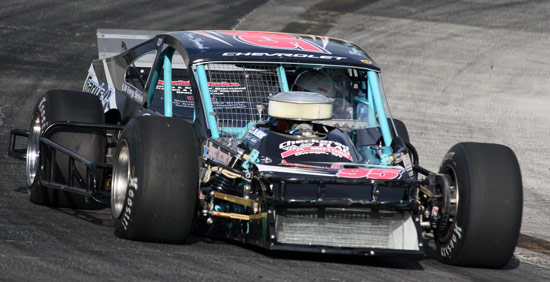 Back to the asphalt, into the B-Mods. (Sherwood Collection)

It was something to drive that car. We went right to the half-mile at Shangri-La. I was real glad to be back on pavement, but was I ever nervous. I felt so enclosed under that roof. Sure, that rocket ship phenomenon was back, but it wore off.

We won the fifth night out. I led with the Zacharias Brothers and Dan Korzejewski behind me in a blanket. Dad was on the radio. He kept me calm. It was just like going around those cones. I think he occasionally fibbed to me and told me I had a bigger lead than I actually had.

The biggest deal with Dean's car, though, was going to Oswego for the B-mod ROC event lat summer. I had such big-time nausea – much more than at Shangri-La. I was so awe-struck by the history of the place. Just to be driving out there under those lights! I took it easy, like Dad would have, and we got tenth.

This year I have my own full modified. I'm at Broome Community College. I wanted to be a teacher, but there are so many cuts coming in education that I am now taking business and marketing courses. I work every spare minute I can to fund the car – in my mom's knitting business in the winter and in the wheel shop in the summer.

Knock on wood, we will start at Shangri-La on May 12. You can bet I will have butterflies. This is what I've wanted to do since I was five years old. I just can't believe it is actually happening. And maybe I am over confident, but I can't see why we can't have success in the end. We've got the same team, and now I've got the car.

I'm hoping to go as far forward as I can. I've dreamed about running the Whelen Tour. I used to have a favorite, Tony Hirschman. I loved to watch him drive – second only to Dad.

Dad and I talked about when and where we might be racing against each other for the first time. He's 48 now. The way I figure it, I've got thirty years of racing just to get where he is.

How can I not be thankful?!
-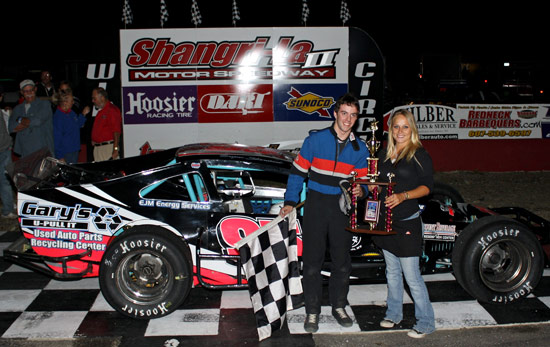 Bryan and Miss. Shangri-La. (Sherwood Collection)


© 2012 Lew Boyd, Coastal 181
If you were interested in this Tearoff, you might enjoy the books below:
-
I'LL NEVER BE LAST AGAIN




– My journey from dirt-poor dairy farmer to NASCAR National Champion to Lifelong Entrepreneur





by Bill Wimble with Lew Boyd

RICHIE!
The Fast Life and Times of NASCAR's
Greatest Modified Driver

By Bones Bourcier
STEADY EDDIE!
Memories of Ed Flemke
Modified Racing's Fastest Professor

Edited & annotated by
Bones Bourcier

Regularly $23.95


SuperSpecial: $16.95

BUGSY! — The Life and Times
of Bugs Stevens, three-time NASCAR
National Modified Champion

By Bones Bourcier

Regularly $19.95


SuperSpecial: $ 14.95