11/21/10

MUTT AND THE BRUTAL BALLET

Robert McIntosh out in Mitchell, Indiana is a nice guy. And he knows his racin'.
In the nineties he settled into the cockpit of a sprinter. He thinks it's the ultimate: "A sprint car is the most violent of race cars, but, when it's right, it is a thing of grace. I call sprint car racing the brutal ballet."

Ten years ago Robert put his helmet on the shelf to launch a heavy equipment business. He had every good intention. He knew he had to concentrate on his work.

But there was one missed note. Robert underestimated the lure of the dance – and the presence of the next performer. It was Robert and Alta's daughter, Arin – a diminutive, ten-year-old only child they called "Mutt."

Here's what Mutt has to say.
I don't know how it all happened. Racing was just always around. Even Mom raced. She ran while pregnant with me without knowing it. Maybe that's what did it. I always just had to race.

Dad gave in and let me get started when I gave them good marks in fourth grade. It was micro sprints and then the national midget modified group. Dad worked with me so closely. He'd go down and stand in the turn to show me where to lift. Driving just seemed natural to me, and I guess we got fairly good.

When I was sixteen, we did some midget racing, Formula 500 shows, Skip Barber – and, finally, a sprint car. It felt great.

For 2006, we had our own sprinter and I was Rookie of the Year at both Paragon and Bloomington. That was so exciting – just where I wanted to be. But I knew I had to be cautious and respectful. I didn't want to be some punk kid coming in. I talked to everyone and tried not to run into them.

We got better and more comfortable in 2007 and even went down to East Bay. But it was '08 when I'd say we became competitive, and I won my first sprint car race.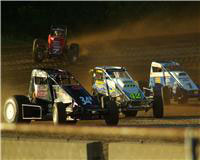 Mutt upstairs. (McIntosh Family Collection)
Things really were going well. I was enrolled at the Indiana/Purdue Universities motorsports engineering bachelor's program, coming home weekends. Then in the fall of 2008 we went to Lawrenceburg Speedway, a way fast place. I was up near the front with three to go and the right front torsion stop broke. I pivoted and slapped the wall squarely with the left side. A seat bolt snapped…. I don't remember any of it.

They had trouble stabilizing me, and I gather they worried about my dying before they could even put me in the helicopter. When I finally got to the hospital, they saw that the hemispheres of my brain had gone in separate directions. I was in a coma for 11 days.

I finally woke up and soon went to rehab. I couldn't do anything – even communicate. But I began to improve and to reconnect with school and racing friends. We taped a video to be shown at the Bloomington banquet, but I was pretty self-conscious about half my head being shaved!

You know, I was really hurt, but it never occurred to me I wouldn't race again. It was my life – even when I got home, got in a bicycle accident, and wound up with a degree one concussion. Last year, we did venture back to Paragon, a little tentatively. I used a different name –"Justin Case." That was just in case I sucked.

But it was okay, once we pushed off and I could turn on fearless again. I had lost some of my muscle mass in rehab, but I've gained that back. Everyone has been wonderful to me, and I try to return it, especially to the kids.

2010 has been tough on us with the economy, like everyone else. We had some chassis issues, but I think we are back on our game.

I don't know where all this will end up. I know I can't make a living driving wingless 410s. Maybe I can do something with motorsports safety and keep racing on the weekends. I'll tell you one thing, though: No way am I going to be part of any team if I'm not the driver!
Robert's had some tough years getting his business going, but just now it's taken off. Eighteen-hour days.

He's fully committed to supporting Mutt's mobile motivation, however. "She really does have a special talent," he says. "She's purposeful – a technical driver with great throttle control."

And he continues, thoughtfully, "We will be careful. The concentration will be on finishing up a good education and then finding a job she loves. Then racing. I'll do everything for her, like the S.T.I.D.A. insurance we fortunately had when she got hurt. I'll put together the best, most solid stuff I can. I have no idea how I'll do it, but, as long as she wants to be at the track, we'll go.

"There are two parts of this. Sure, I love racing, but, honestly, how many 21-year-old daughters do you see who want to hang around with their dads? I really love that part."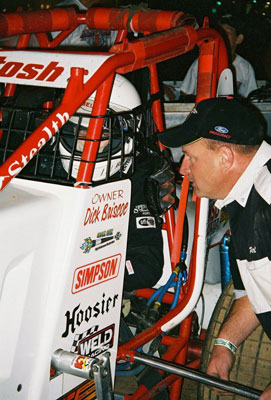 (McIntosh Family Collection)
© 2010 Lew Boyd, Coastal 181