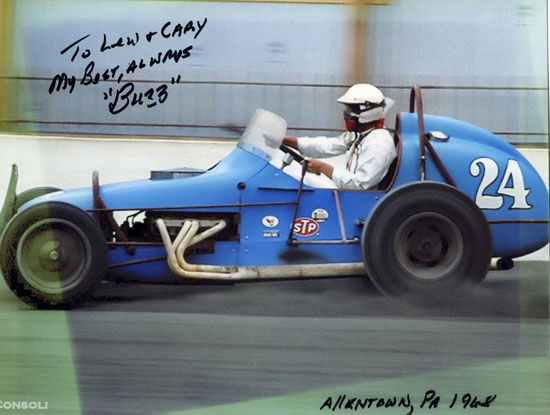 Buzz Rose challenges the dirt at
Allentown
,
PA
, in 1968. It was the final sprint car race at the historic fairgrounds that had claimed the lives of Bill Schindler and Johnny Thomson. (Al Consoli Photo, Buzz Rose Collection)
---
12/31/10

POWERFUL PASSION

In these TEAROFFs, we try to cover as much of racing's expanse as we can, geographically and chronologically speaking.

In 2010, TEAROFF subjects ranged from Davey Hamilton prepping for the Brickyard, to Steve Arpin's ARCA win at Talladega, to catching up with Langhorne winner Roger Treichler, to Lee Allard's crash in a supermodified on Labor Day 1964.

We've run Photos of the Day showing wound-up folks road racing, dragging, and tearing across the sands of Bonneville. No question that the common theme to all of these is a passion for speed and the thrill of competition.

That said, among those who really follow racing, the most intense emotion is often reserved for that amazing era of pre-roll cage, touring sprint cars. Who among us would not give a fortune just to exercise one of those sonorous monsters on a heavy half mile?

Those who actually raced them – and survived – never seem to forget.

There is a collection (see left column) of great open wheel books on Coastal181.com penned by Buzz Rose, a wonderful, vibrant guy and a member of the Sprint Car Hall of Fame. Buzz just sent in a "tearoff story." He told us he has trouble explaining just how much sprint car racing meant to him.

We think it came through loud and clear.
In the summer of 1961, the "Diz" Wilson Offy team in I.M.C.A. consisted of drivers Jim McElreath, myself, and Johnny Rutherford. We were all good pals and traveled throughout the Midwest to all of the I.M.C.A. "punkin" dates (county fairs) and state fairs during July, August and September.

On August 13th, we arrived at the Mower County Fair in Austin, Minnesota. I was driving Wilson's #7 Offy and the car had been suffering from a bad magneto for several days. Needless to say, I was really exasperated. Diz was doing the best he could and was awaiting a new magneto from Indiana.

The Austin half-mile was a wet, sandy track. The dirt stuck to car and driver like glue. My pal Jim McElreath and I managed to qualify for the front row of the main event even though my car was still sour.

Knowing my car wasn't running well, I came up with an idea to help my teammate McElreath win the feature. At the green flag I would let Jim slip in front of me and go on to win.

Lots of times young racers disconnect their brains from the throttle foot, causing mayhem. Many times they leave their brains in the pit area.

On the parade lap my big 270 Offy started to run on all 4 cylinders and I got excited, never to think about McElreath and my plan again. I bolted into turn one flat out, with my knobbie tires churning in the wet dirt. Holy mackerel! My car was running good. I went on to win the race.

As I.M.C.A promoter, Frank Winkley was presenting me with the trophy, my other teammate, Johnny Rutherford, told me to get my racecar loaded up and leave. It seems that McElreath was really upset with me. I looked over and saw a big mud-covered McElreath glaring at me. The only clean spot on him was where his goggles had been. He was a sandy, muddy mess. It seems he didn't use many tear offs. Then I remembered our deal. I felt ashamed as I left for our next race. Jimmy didn't talk to me for a couple of weeks. I knew my mistake really hurt our friendship.

It has been 50 years ago since that incident happened. We are now old guys and see each other a couple of times a year. Believe me, Jim never lets me forget my mistake and it lives with me today.

Lessons learned: To all young racers, always leave your brain connected to your foot. And always use lots of tearoffs when in doubt.

To my pal of 50 years, Jimmy McElreath, I am still sorry.

Buzz Rose.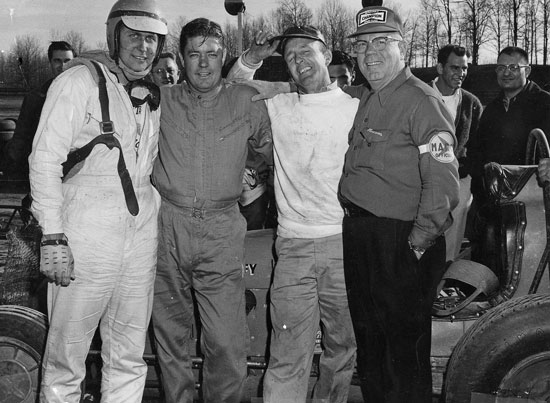 four
March 1961 – The first-ever sprint car race at Eldora Speedway.
L to R, Buzz Rose, Jim McElreath, Diz Wilson, John Marcum, official.
McElreath and Rose finished 1st and 2nd in the main event. Wilson always
bought steaks when his drivers brought their big Offys home 1st and 2nd.
(Buzz Rose Collection)
.
Happy 2011 to all from Coastal 181.
© 2010 Lew Boyd, Coastal 181