November 11, 2008


THAT RICK FERKEL
It was a deep, confident voice calling Coastal 181.
"May I speak to Cary Stratton, please?"
"Sure. May I tell her who is calling?"
"Rick Ferkel."
It was a nutso busy day, and I transferred the call before even realizing what I had just heard.
Rick Ferkel! What memories that name conjures up for anyone with even a cursory knowledge of the wild world of sprint car racing.
Known as the "Zero Hero" for his broadsliding pilgrimages cross-country aboard the Kear's Speed Shop #0, Rick Ferkel has seemed top disciple of the church of the clay forever. He was a road warrior ten full years before the World of Outlaws even started in 1978. You'd catch film clips of him high, wide, and oh so handsome, whupping a star-studded assemblage at Tampa's Plant Field, down there for the IMCA Winternationals and a little February sunshine. You'd read about him in National Speed Sport News, setting new track records three days in a row – at Tennessee's Atomic Speedway, at Eldora, and at Millstream, Ohio.
Last month Rick was calling with some additional information for Joyce Standridge's brand new Coastal 181 sprint car book, Win It or Wear It. Rick's knowledge base about the sport had only deepened when he finally emerged from the cockpit, served as a key WoO official, and then ran a USAC team. Even today he's never far from a drum of methanol.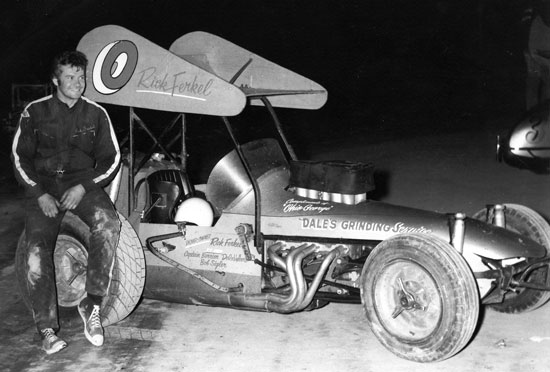 Here's the ever-present smile and an early '70s car, this one
with at least black iron pipe for a cage.
(Rick Ferkel Collection)
The cool thing about Joyce's book is that we all got to know so much more about guys like Rick Ferkel. It's hard to conceive that someone as enduringly competent as Rick was ever in the back. But, as it turns out, when his career first began to sprout, Mr. Ferkel was pretty dark green.
It was 1966, and the 26-year-old Marine, just back home in northern Ohio, had no idea what he wanted to do. Then one day he saw a race. What a great idea. Become a racer.
Problem was that the future Zero Hero had zero experience, zero money, and zero knowledge.
He promptly trashed two cars, collapsed cages and the whole deal. Listen to what Joyce says happened then:
Now he was really broke. But the fire in his belly wouldn't be soothed. …So he built himself another racecar…from a children's swing set.
"We had a swing set and I thought, 'Well. Shoot, I'll just use that tubing out there.' I took that tubing and tried to arc weld it. I don't know if you realize how light swing sets are, but it was not my best idea," Ferkel admits.
He took the car to the Eldora 500. This was one of the very few racing concepts Earl Baltes had that wasn't such a great idea. The 500-lap race ran only a couple of years in the 1960s, but Ferkel ran the first one. "And I made the show," he says, "but the only reason was that because they didn't have enough cars."
During the race, the front end came off. Ferkel had used a crossframe instead of torsion bars. The cross spring and cross member simply couldn't handle the stress of racing and broke off. Since it was a very, very long race, Ferkel decided to "repair" the car. There weren't a lot of spare parts. Heck, there weren't any spare parts, so they used wire and tape–and a borrowed belt. A man's pants belt.
"Well, to make a long story short, that didn't work either," Ferkel laughs. "I'm probably 40-50 miles an hour slower than them other guys, but even that was too much for that front end. But I got paid. I got $25. And that's what I made my first year: $25. Shoot, I figure, I got paid – I'm ready to be a professional race car driver."
You gotta keep an eye on that Ferkel even today. Given those pictures of his toothy Victory Lane smiles and the charm of his self-deprecating story-telling, he's become the favorite of all the gals associated with Coastal 181.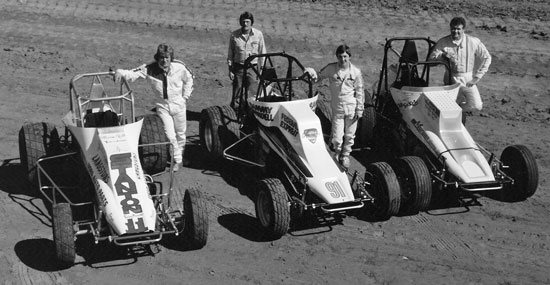 It's 1980 and the big dogs line up. Left to right Steve Kinser,
Ted Johnson, Sammy Swindell, and Rick Ferkel.
(Gene Marderness Photo)
© 2008 Lew Boyd, Coastal 181