June 18, 2009

CATCHING UP WITH BRAD DOTY

Area Auto Racing News' annual Motorsports Show this year was a great time as always, but it did have its challenges.

It was in Atlantic City, New Jersey, in mid-January. The East Coast was brittle cold and dark, as was the mood of our country, anxious about the depth of the financial crisis and the daunting challenges confronting the new administration.

In the Coastal 181 exhibit space, however, it was as if a bright light had suddenly been turned on. That's when Brad Doty arrived to spend a couple of days with us signing books. What actually appeared at our booth was not just a legendary former sprint car driver and now popular TV and print journalist. It was a huge, infectious grin.

Brad Doty brought warmth and cheer to every one of the hundreds and hundreds of people he met in Atlantic City. He was a soothing balm for the blues.

The irony, of course, was that, if anyone had the right to question life and to be overwhelmed by tough circumstance, it would have been Doty himself. Twenty-two years have passed since his savage, paralyzing crash at Eldora; a full 40% of his life has already been spent in a wheelchair.

We caught up with Brad the other day, and what follows are his words about his life, his fate, and how he's dealt with it. It is hard to imagine that this unassuming guy could have become an even bigger role model now than he was as an active World of Outlaws megastar, but, without question, that is what's happened.

No way I can downplay the gravity of what happened to me. It was one horrific time. Laurie, my wife, was 8 ½ months pregnant. We'd just purchased a real motorhome and we had house payments. Maybe it was a good thing I was so out of it in intensive care for a few weeks.

It seemed like an especially dark time because I had thought I had the world by the tail. 1987 had been a great season. I felt I had my racing game sorted out as best I possibly could. Then in early 1988, I had to switch owners, and then the accident happened. Wham.

The first year after the wreck I did little, if anything – watching TV, feeling sorry for myself. I was really beat up mentally and physically. I lost so much muscle mass I couldn't even get myself from the wheelchair to the recliner.
Finally I got to the point that you can either blow your brains out or you can soldier on.

One little incident that got me going was looking through the window and watching Laurie mow the lawn. It bothered me, because I really love to do yard work. So one day I went out and pulled myself onto that garden tractor and started mowing. Laurie saw me and came out all excited. I'm only 5'7', but I felt ten feet tall on that thing.

Then one day I worked myself up into our Bronco and blew the horn until Laurie knew I was there. I constantly challenged myself. It was a hundred little challenges that made me better.

To be honest, my ego was hurting, though. Drivers have big egos. Ever notice that? In August of 1989 I was invited to the Knoxville Nationals. I pulled the van into the infield, opened the door, and did a five-minute interview from inside. I had driven 12 hours to get there and I never got out of the van. They raised $60,000 for me, but I was ashamed to have anyone see me in a wheel chair. Even when my book STILL WIDE OPEN with Dave Argabright, came out ten years later, I was much less outgoing that way than I am now.

All the money all those wonderful people raised made it possible for us to get a single floor, fully accessible home. Gary Stanton gave me a welder, and I started making custom metal pieces for the Amish. I got more and more into it, challenging myself more and more.

Then Pat Patterson called me to do TV for that ten-week Slick 50 Sprint Car Series in Arizona in February 1992. I was really proud that I could get out there each week by myself. A big accomplishment.

It sure was tougher to be articulate on the microphone when I wasn't wearing a fire suit. I was unsure and nervous. Then in one instant I saw a broken radius rod that would result in a wreck – and I chimed in. Dick Berggren and Mike Joy looked over at me and smiled, as if to say, 'You've got the hang of it now.' Little things mean a lot.

With TV, my little parts assembly business, tee shirts, die cast cars, and book royalties, I was actually able to keep things together. It might have been lunch money for the NASCAR guys, but Laurie did not have to go to work and she could concentrate on home schooling our three kids. She sure has been good at it. As those kids got older, I just got dumber.

I've always loved to travel – and I still do. I'm quite proud of having gone to Australia three times by myself. In a way, it's the travel to the races that keeps me going. It would be hard to know that the sport was going along without me.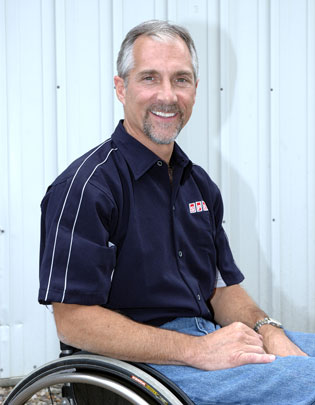 …and his winning smile. (Doug Auld photo)
You know, I've always been self-critical. It probably hurt me as a driver because I felt I wasn't as good as the other guy. I knew I'd never go to Indy. But, over the years, I have become more comfortable with what I accomplished. I could have won more, but I guess I was pretty decent.

I just plain love sprint car racing. I've never had any bitterness about my accident, but I can admit to being kind of envious about guys who still can do it.

What does get me cranked up are those people who piss and moan about our sport. It's so hard for me to listen about how this is wrong and that is wrong. I can't fathom nay-sayers, whether it is about the economy, about racing, or about some personal trouble they may have. Sure, life isn't all wine and roses, but I think it's pretty neat to be here.

And, in my view, tomorrow is gonna be even better.
Maybe next time you see Brad Doty on TV calling a World of Outlaws event so passionately, you'll enjoy him even more. We sure do.

© 2009 Lew Boyd, Coastal 181