Semi-Monthly
Racing Commentary
with
LEW BOYD
Email Lew at lewboyd@coastal181.com

May 6, 2009

BACK UP IN THE ATTIC

We had such extraordinary response to the recent Tearoff posting with the Gordon Ross collection ("Racin' in the Attic," April 3, 2009) that we will keep posting interesting photography we run across over time.

The images below are from the collection of Dick Berggren, FOX TV pit reporter and everyone's favorite motorsports journalist. Most were originally captured by the amazing eye of Mike Adaskaveg and most are from a fairly recent time frame.

Thank you, Bergie!

© 2009 Lew Boyd, Coastal 181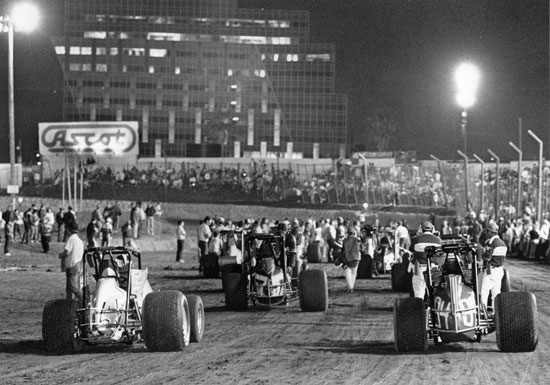 Ascot: Anyone who visited this half-miler near Los Angeles will never forget it. Many folks remember the Don Peabody Classics each fall as some of the most aggressive dirt tracking of all time. Take a second – and a deep breath. Then imagine you are in one of those sprinters, full bore, ready to pitch it into that first turn…..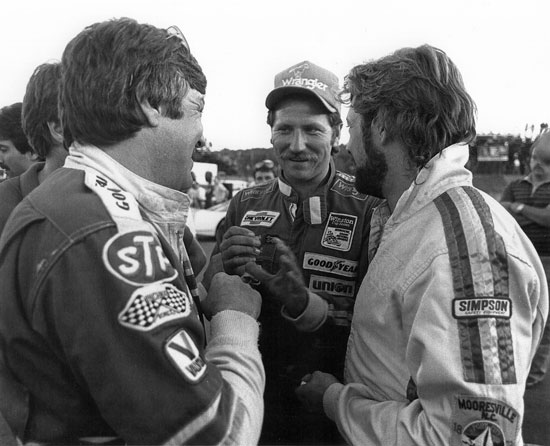 Three Amigos, two of whom were star-crossed. That's Ron Bouchard on the left, Dale Earnhardt in the center, and Tim Richmond in his bearded stage. Only Ron survives today, and he is doing well. Happily married to Ed Flemke's daughter Paula, Ron has major automotive dealership operations in central Massachusetts.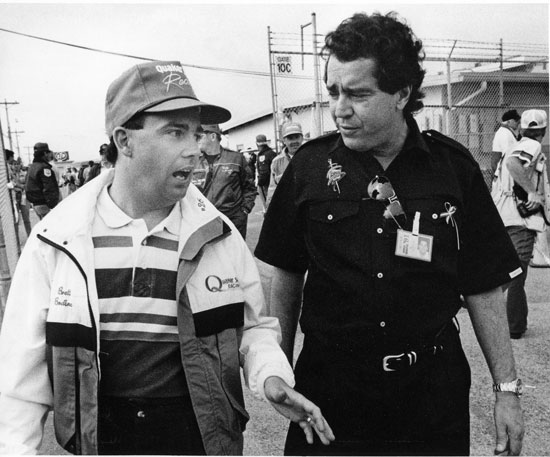 Felix Sabates listens intently to Brett Bodine. Not sure what Brett is selling, and it looks like Felix isn't too sure either.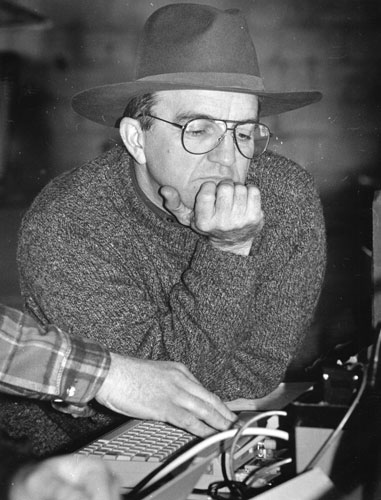 The Kitten in the Hat has been at it for a while. Note the hand on the keyboard. When is the last time you saw a flannel shirt in the pits at a Cup race?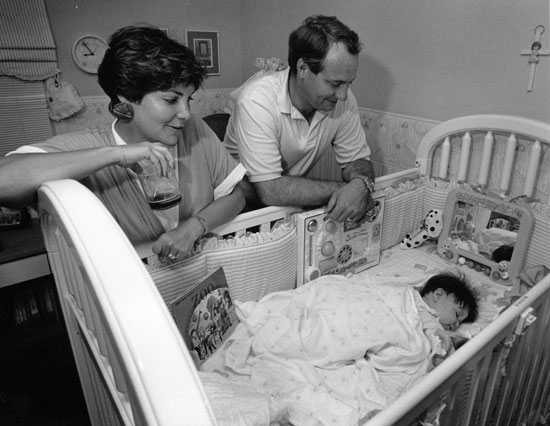 It's chez Schrader, in 1990. That's Ann, Kenny, and Dorothy. The laps go by. The lovely Dorothy is currently in college in New York City.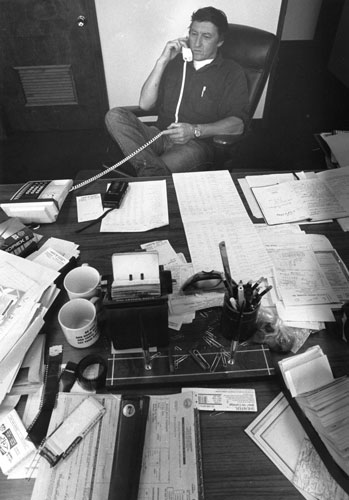 Here is a pose seldom recorded. That's Bionic Bentley Warren at work in his office in Ipswich, Mass. Bentley, into the mature sixties, is most often seen in the seat of a supermodified or on the seat of one of his Harleys from Hell.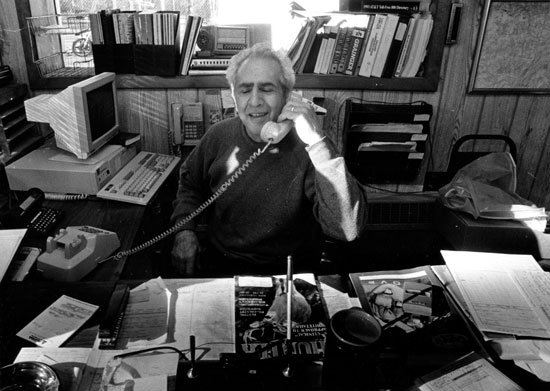 By any definition, the late Pete Corey was one of the greatest dirt drivers ever in this country. He set lasting standards for bravery – and he was technically innovative, too. It is somewhat of a shock, though, to see him pictured next to a computer.
It's the Spring Sizzler at Stafford, Conn., in 1990. That's Tony Jankowiak being removed from his modified. It was an eerie and painfully sad scene. Even from the sound of crash, veteran race watchers feared the worse, and they were right. Tony died.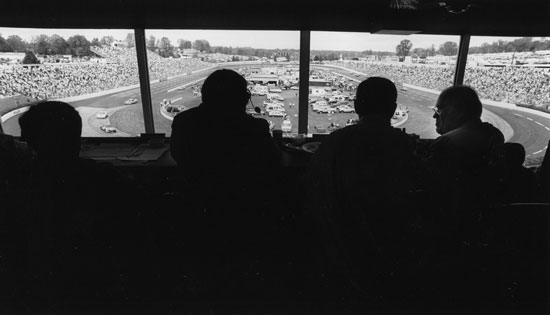 Can you imagine how many laps Clay Earles saw at his short track, Martinsville Speedway? He's on the right up in the press box in the early nineties.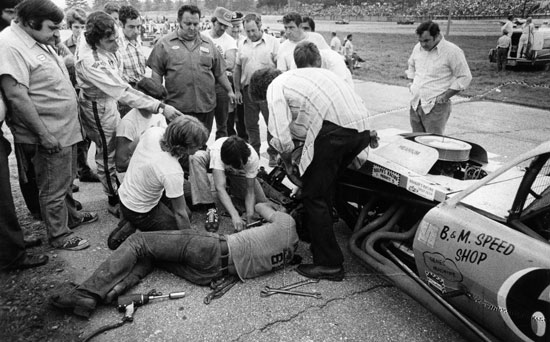 Al "Buddha" Gaudreau (center) is supervising and Richie Evans (to his right) is pointing, but it seems to be Ray Spognardi (in the horizontal mode) doing all the work.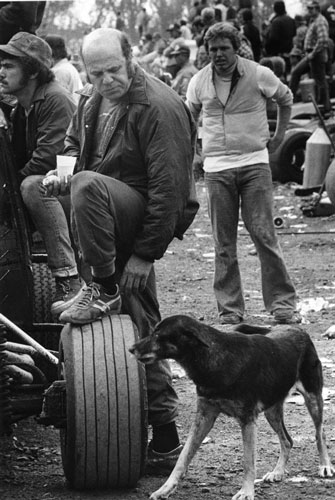 Louie Lazarro, here with "Blackie," was one of a kind. At age 59 in 1994, Louie, who was still racing actively, told Bones Bourcier, "I like to kid around and say that I'm not at retirement age yet. Maybe I'll hang around until I'm 65." That's exactly what he did. On April 29, 2000, Louie pulled into the pits at Fonda NY Speedway with his trademark #4 modified after the feature, slumped over, and died. His ashes were spread over the track, along with Blackie's.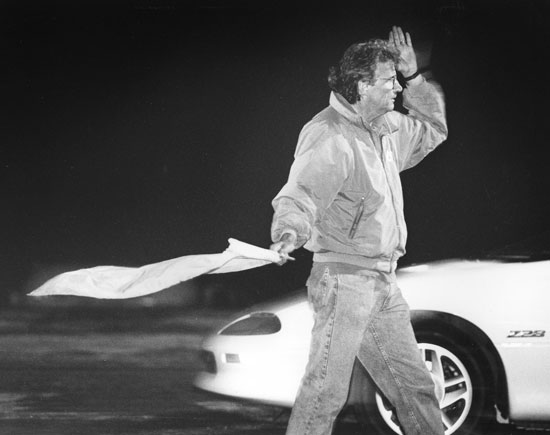 The much admired Tom Curley of the American-Canadian Tour has been calling the shots at races all over the Northeast and Canada ever since he climbed out of a stock car himself. His authoritative style behind the wheel earned him the handle "T-Bone" Curley, and his style as a promoter is just as definitive.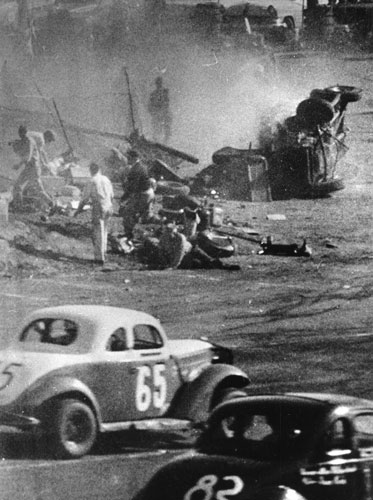 This is Langhorne, 1957. A grisly picture, but a telling reminder of where we have come from with this sport. That's Bob Whitbeck's #22, driven by Pete Corey, on its side in the pit area. As you can see, there are injured people everywhere. At least one was reported to have received fatal injuries. (Photographer unknown)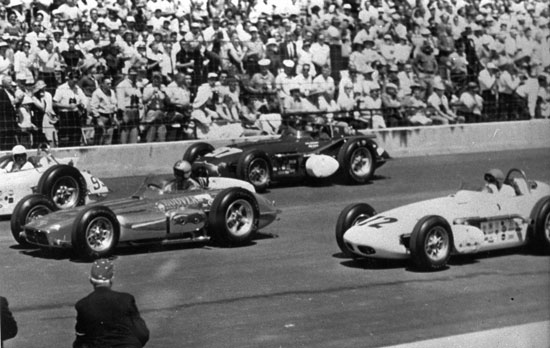 This image, too, is a reminder of how much things have changed. Everyone is was relieved that the Carl Edwards incident at Talladega was not more serious. Can you imagine what would have happened had Talladega's fencing been like this? (Photographer unknown)
Stop by our Book Store Directory for a look at our book and DVD selections:

.: Previous Tearoffs :.
5/20/09 - Big Boys in The Attic - rare photos of legends
5/6/09 - Back Up In The Attic - more rare photos
4/22/09 - The Son of Hard Luck - accessible racing
experience for the handicapped
4/3/09 - Racin' In The Attic - Gordon Ross photo collection
3/18/09 - About That Mike Spaulding
3/3/09 - Dick Berggren's First Win - (you had to be there!)
2/11/09 - Peter at the Park - Peter Fiandaca at Riverside Park
1/4/09 - Racer Speak -cool quotations
12/16/08 - Wimble Power, Will Power - Bill Wimble
11/24/08 - Remembering Chuck Amati - by Joyce Standridge
10/24/08 - Beyond Bionic - Bentley Warren
10/6/08 - Fifty Second Classic - Skip and Lois Matczak

9/20/08 - Joey's Dad - Tom Logano
9/1/08 - One Night at The Park - the death of Les Ley
8/20/08 - Transitional Technology - early supermodifieds

8/6/08 - Wallace on Wednesdays - dirt trackin' Kenny
7/19/08 - Star(ter) of the Show - importance of good flaggers
7/7/08 - McUnderdog - Eddie MacDonald
6/18/08 - The Night Buzz Was Worried - Buzz Rose
6/5/08 - John Richards - Boomer Role Model
5/20/08 - The Spirit of a Racer - the late Al Powell
5/1/08 - Bobby's Blues - Bobby Santos III
4/15/08 - Thinking About Rene Charland

3/26/08 - Carl and Corey - Carl Edwards and Corey Dripps
3/4/08 - A Cool Track with Cool Racers - West Liberty, Iowa
1/7/08 - When Drivers Can't See - cockpit vision
12/21/07 - When Starters Couldn't See - flagstand vision
12/1/07 - Ride Along with Erica Santos - in-car camera midget win
9/1/07 - The Look of a Real Driver
8/1/07 - Armond Holley

7/15/07 - Red Farmer
© 2009 Lew Boyd, Coastal 181