8/6/10

ADRIAN AND THE DEEP WATER

Ever hear those wonderful lines from the Emily Lou Harris song?


Beneath still waters, there's a strong undertow
The surface won't tell you what the deep water knows.


The comely country crooner had to be singing about racers. You never quite know what's under that Nomex.

One of our favorite shows at Coastal 181 is Gater Racing News' Motorsports Expo, held at the Syracuse Fairgrounds each spring. Every year we are greeted by the same guy. He is tall, handsome, broad-shouldered, graying up top, but his face perpetually lit up by the warmest 1000-megawatt smile you've ever seen.

This year, after – completely unsolicited – he had helped us for about an hour unloading and moving books and DVDs, Cary Stratton asked him who he was. "Oh," he said, "I'm just a volunteer. My name's Adrian Flath."

Adrian Flath! What a story lies beneath that gentle giant's exterior.

Adrian was barely ten when his dad was taking him to the big car races at the Syracuse mile. Adrian was snagged, hook, line, and sinker. "Oh my goodness," he recalls.
"Timing was the problem. I was supposed to be born in time to drive those wonderful roadsters, all about steering wheels not covered by cages." But he had to make do with the Soap Box Derby.

The moment there was a razor to his chin, he was climbing into stock cars. And he had the stuff. There would be around 100 dirt and asphalt wins.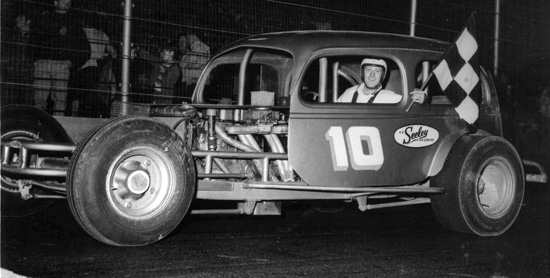 Adrian was a hot item in this rocket ship, a pretty sedan built by Bob Bilodeau of Ottawa, ON.
(Flath Family Collection)


He married a co-teacher at Lowville High School, and he and Rita produced a beautiful daughter, Lori, radiant in both her smile and her passion for racing.

When ESS formed, Adrian saw his chance to run today's version of those cars he had dreamed of 40 years before. He became an ESS legend.

Meanwhile, his dad was not all that thrilled. "Adrian," he urged, why do you race the most dangerous class of all? You know you have a beautiful family. Sure, you say it's in your blood, but maybe you shouldn't be giving blood."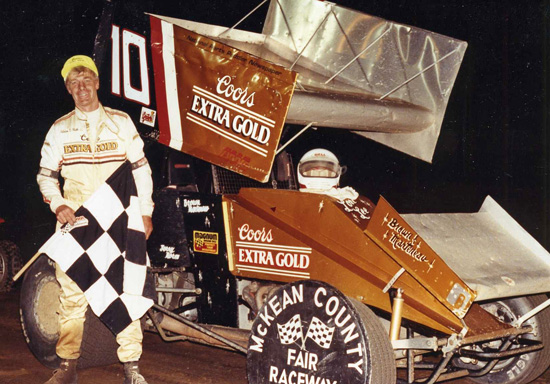 A big toothy at McKean County Raceway. (Flath Family Collection)


It's ironic that the pinnacle of Adrian's racing career came at age 53 at Syracuse, back where the whole adventure had started. On October 8, 1994, he towed into the 410 sprint car part of Super Dirt Week. He had won a qualifier at Cornwall in Canada, so he knew he would be in the show. But it was aluminum 410s be damned; he came to race with his steel 360 peashooter. He reworked the bars, shocks, and painstakingly fabricated an aero-package. He had run the Moody Mile in a modified and really looked forward to the day he'd thunder down that backstretch in an open wheeler.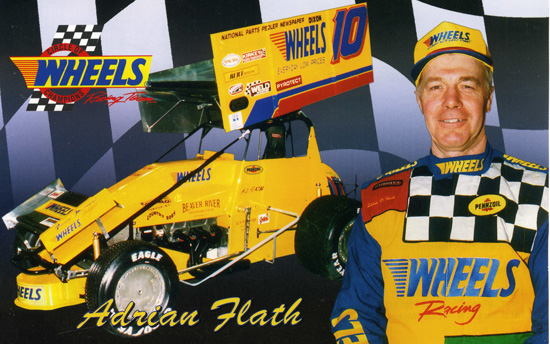 Here's the #10, all prepped for Syracuse.


And quite the day it was. Billy Pauch set the stage with a sizzling lap caught at 181 on radar. Meanwhile, Adrian qualified mid-pack, right in front of Kramer Williamson in a 410 Zemco. Adrian ran stoutly all day, finishing right there, mid-pack. All considered, it was an amazing performance. The only problem is that he can't remember a thing about it.

That same night there was a makeup show for a World of Outlaws rainout at Rolling Wheels Raceway. Adrian, Rita, Lori, and the team loaded up at the Fairgrounds and rushed over. Wrenches flew everywhere as they changed gears, shocks, bars, tires for the high-banked half-mile.

All went well until the middle of his heat race. The guy in front of him, running raggedly, suddenly began doing 360s off the fourth turn. Adrian went high to avoid him but was caught in the process. The yellow number 10 took flight and hit the wall, full tilt boogie, never touching the ground. Adrian's helmet broke with the impact of the concrete. It was one of those moments of the uncontained viciousness of sprint cars, one of those moments that brings sudden and total silence to a race track.

The next morning the doctors told Rita that, if Adrian survived, he would most likely be either paralyzed or brain dead. The trauma had been savage, and the coma was deep.
For 11 days, the Flath family prayed, while that huge New York racing community sent them psychic support. Finally, Adrian began to rally, faintly. Rita was at the foot of the bed when he first opened his eyes.


"Have I had an accident?"
"Yes"
"In the sprint car?"
"Yes."
"What did Dad say?"


Within hours Adrian's eyes began shining a little more brightly. When he remembered that his Dad had died six years earlier, Rita began to hope that he actually would recover.

The only thing really unbruised was Adrian's smile. He couldn't walk – or even stand – when they first wheeled him into therapy. But the second he got there he asked the director if he'd be able to "leave here 100%" and he punctuated the question with a big ol' grin. The Doc, a little stunned, replied, "There can be no guarantees, but with an attitude like that you just may come close."

And that's exactly what happened. By the following March, Adrian was back teaching. And he began volunteering at Motorsports Expo – just one of the many ways he repays the racing community for its good wishes.

Quite understandably, Adrian never raced again, but he sure stayed involved. Lori married a sprint car driver, Jeff Cook. When the sprinters come to Can Am Speedway, Rita's barbeque fires up at their home in Evans Mills – and the driveway looks like the pits at Knoxville during the Nationals.

So, that's who Adrian Flath, the greeter at Gater, is.

See what I mean about the deep water?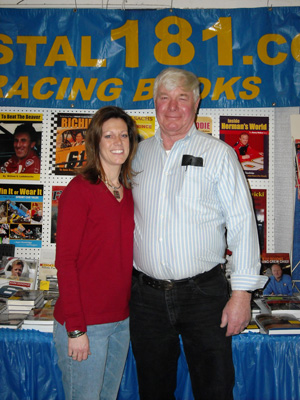 Adrian and Lori in the Coastal 181 booth at the Gater show this past March
.

(Cary Stratton photo)
© 2010 Lew Boyd, Coastal 181