July 20, 2010
HOLDOUT IN YUPPIEVILLE
Last Sunday Karl Fredrickson, author of the TEAROFF dated July 7, and I went up to Hudson (NH) Speedway, a 63-year-old asphalt oval about 60 miles north of Boston. It was a sentimental journey. Both of us had a bunch of laps on the quirky quarter in seasons past.
The Big H was first lit up for the midgets and their enthusiastic post-war fans who'd pack the boards placed randomly on a steep, rural hillside next to a weary chicken farm. It never had the renown of its Saturday-night neighbors such as the Pines Speedway and Norwood Arena in Massachusetts, or Oxford Plains in Maine. But never was there a worthy driver who did not thrill to the track's oddly perfect and racy configuration.
When the jalopies came, a gnarly old-time racer named Oscar "Cannonball" Ridlon grabbed the helm, offering up racing in the rough for over 20 years.
My first asphalt race at Hudson was on Easter Sunday in 1963. The joint was filled with a motley mélange of frightful cutdowns and wild-ass open competition bombers. Ridlon saw no need for tech men or for guardrails to protect the sprawling crowds from the fray. The competitors didn't either. Injuries were numerous, fatalities not infrequent.
When Cannonball died, the Big H nearly went with him, struggling painfully through the '70s before being resuscitated by Charlie Elliott, Ken Smith, and Russ Conway. The jovial threesome developed a pleasingly competitive budget A-Class called the Bud Lites. They spiked their Sundays with remarkable specials, several times importing Winston Cup stars to run against Iron Mike Murphy, Pete "Travelin' Man" Fiandaca, Phil Baril, and their host of local standouts. Subsequently, Bob Weber, owner of nearby Star Speedway, bought Hudson and has guided it modestly but quite cleverly over the last 20 years.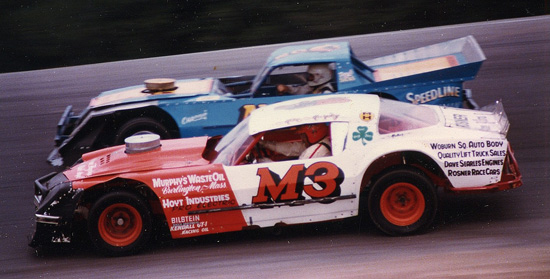 You never knew quite what was going to come through the pit gate at the Big H in the '80s and '90s. The racing could get intense, but Hall of Famer Mike Murphy quite often had everything under control with his M-3 cars, so well-tooled by his three boys.
As Karl and I drove down the winding road to the track, it was distressingly obvious what Weber has been up against. Even the field right across the street from the pit area was gone. A pretentious, me-too yuppie house had been built right where an old New England farmer used to stand each Sunday evening with his familiar, time-honored sign – "Henry's parking - 50 cents."
Over the last two decades, urban sprawl – turbocharged by Routes 128 and 495, the high tech beltways around Boston – has pushed north, now surrounding Weber's racing relic like a wet T-shirt.
Given the closure of hundreds of similar tracks nationwide, it is wondrous that Weber has been able to keep things chugging along. His approach has been to stick to his knitting, to keep prices rock bottom for his racers and the fans, and to control every possible operating cost. The place is tidy, but there has been no attempt whatsoever to go upscale and try to emulate Daytona to pacify newbie neighbors.
There is stark efficiency to Hudson. As Karl says, "When you come in, you put your hand on a Bible. If it doesn't smoke, you're legal. If it does, you have a week to fix your car." Business is done at Hudson by standing on the gas.
There are none of those tiresome, white-shirted officials bothering people at so many tracks these days. Apparently a couple of weeks ago, the leader was mirror-driving the car chasing him. On a restart, that second-place guy motioned to the starter and complained. After all, there aren't supposed to be mirrors there. The starter said nothing. He just walked away, over to the side of the track, picked up a rock, smashed the mirror, and went back on the starter's stand.
Big Bob Weber's track just has to be one of the greenest facilities in racing. Everything is recycled. Curiously, many of the drivers were wearing aging NASCAR Cup fire suits. Not driver ones, mind you, but usually pit crew suits, typically with lots of mileage and stains.
Same with trailers. The bulk were good ol' open trailers with cleverly conceived tire racks, pulled out from behind more tony race shops where teams had to move to enclosed haulers to keep abreast of the Joneses.
The ultimate in Hudson's retro-environmentalism, though, has to be Pete Fiandaca's #135. The diminutive, flyweight, left-side car was built 25 years ago. Pete, now 60 years old and a NEAR Hall of Famer, had hustled it to over 100 feature wins before dragging it into the woods 18 years ago. When Weber opened his new "Outlaw" class, Peter dragged it back out. He had to give it a quick coat of paint. Two of his listed sponsors had died, and the third had gone out of business.
One of the Northeast's truly prolific and camp racing figures, Fiandaca has struggled to keep going, just like the track he has frequented on Sundays for over 40 years. He's never been financed, he's been hurt, he's even struggled with Parkinson's Disease (now in remission).
Like Weber, Fiandaca admits things are getting harder as time goes by. And it did look tough out there in the feature. It was good old-fashioned short track racing, fast cars starting in the back, few laps, bump and grind. Peter looked fabulous, motoring from 17th to fourth before being spun. No question the winner, Geoff Rollins, never lifted the whole time.
Going home, neither Karl nor I had a lot to say. Frankly, both of us were moved. So much so, I suspect, that we each were wondering where we might be able to find a good outlaw chassis somewhere, because something had come up that we'd really like to do on Sundays next year.
You really gotta see it.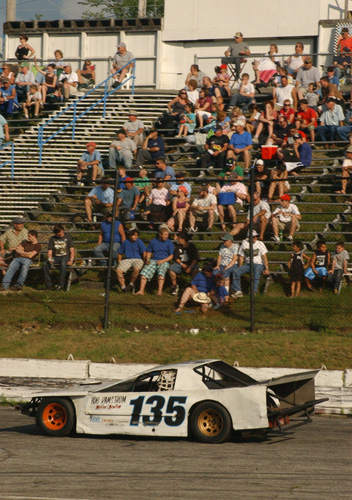 That's Peter Fiandaca circling
Hudson
for the millionth time in his antiquarian #135. Bob Weber's improvements have brought the danger down. The fan count is somewhat lower, too, but the funk remains up, and the place is doing just fine.
(Karl Fredrickson Photo)
© 2010 Lew Boyd, Coastal 181