January 21, 2010
SHANE'S SENSATIONAL '78

Any rail bird has tales of races with unexpected finishes. You know, the "it ain't over til it's over" thing. Something outrageous happens to the racy rabbit, and the unsuspecting turtle chugs across the line the winner.

Well, it can happen over the course of a whole racing season, too. The poster boy of seasonal ups and downs has to be Shane Carson, pride of Oklahoma City. How about what happened to him the first summer he was in office of a sprint car?

Carson had done the six cylinder modified circuit around Oklahoma with some flourish in the mid-seventies. LaVern Nance saw the spark and offered him the occasional ride in his sprinter, including a Southern swing in 1977. There was a double feature, open comp show in Phoenix City, Al. Doug Wolfgang took one of them, and a very green Shane Carson snagged another. Then in Lakeland, FL, Shane was really laying it on 'em, way out front. Until he flipped, that is.

Right about then, Wolfie decided to pull up stakes from Bob Trostle's operation in favor of Speedy Bill Smith's #4x. Doug and Bob discussed the replacement. "It had to be someone without bad habits and baggage," Shane recalls, "and they thought how about that kid we saw down South? It was one brave move for Trostle. When he called, I said 'sure!' I had no idea what I was getting into. At 22, I thought it was just another ride. I could do anything."

Shane moved up to Des Moines to maintain the Trostle cars – and to go on the road, 100 races worth. But coming on after Wolfgang was like coming on after the stripper. It was obvious immediately that Shane was in deep doo-doo. "It really was tough. They coached me – gave me a learning window. I guess I passed cause we kept going til the very end of the season. But you gotta remember that that was the car Wolfie won EVERYTHING in in '77, including the Nationals. Here I was some punk kid – and half the grandstands hated me before I even got on the track."

All considered, Shane did pretty darn well. He won the Knoxville weekly point championship and the MSCA title and its Rookie of the Year silverware. In fact, Shane reflects, "I won about 20 shows, more than I had ever driven in a sprint car before."
That fall, Trostle, as normal, took the team on the road for the big shows. It went just okay. Towards the end, at Chula Vista, CA, Bob gave Shane his walking papers. "Bob told me Doug would be back in his house car in '79. Bob also told me he did not want to go to the late October 'King of the Outlaws" show at Eldora. I had only been there once, and Bob thought it would be too much for me. He told me to go home. I did."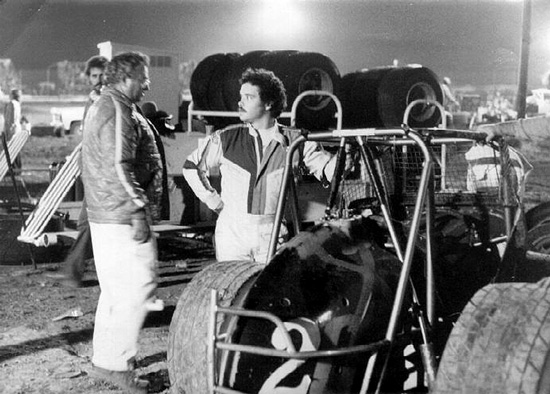 A tough moment in sports. That's the moment Bob Trostle gave Shane
the bad news at Chula Vista. (Carson Collection)
Then, suddenly, the phone rang. It was Don and Harold Nickles out there in Lima, OH, just down the way from Eldora. They had just purchased a new light weight Trostle chassis and wanted Shane to run the big show. Nobody knew what to expect, but the Nickles promised Shane that, if they made no money, somehow they would help get him back to Oklahoma.

"When I got to Eldora," Shane smiles, "things didn't look so good. The motor was on the ground and there were parts strewn everywhere. There was a tiny van and an open wheel trailer. Pretty sad. I remembered what Danny Smith had told me – 'you better take your worse fire suit up there, cause you're gunna get covered with oil."

But Shane had something up his sleeve. "Sure, I didn't have a lot of laps around Eldora. But I always liked the fast, momentum tracks. And I had just run Knoxville all summer. I knew how to get around up there on top. Didn't bother me a bit."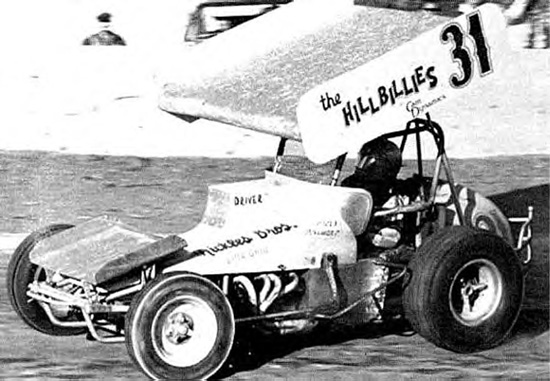 Shane aboard what the Nickles Brothers called the Hillbillies car. (Carson Collection)
That King of the Outlaws, the first ever $10,000 to win race at Eldora, was a shootout. The WOO championship – a battle between King Kinser and Zero Ferkel – came down to that feature. The eyes of the open wheel nation were all over it. Rick Ferkel ended up exploding early, Steve Kinser won the championship, but, stunningly, Shane Carson won the race!

On the way back to Lima, Shane took some delight in calling out to Des Moines to give Trostle the results He teased Bob just a little bit, and, when he finally told him who won, "there was a long silence."

That last gasp victory in 1978 was tremendously significant for Shane. The buzz was strong enough to land him in the CK Spurlock/Loretta Lynn Sprinter for the next spring. Irony of ironies, later in the season, Wolfie and Shane played some serious musical chairs, as they switched back and forth among the Trostle and Speedway Motors house cars.

All parties remain great friends today.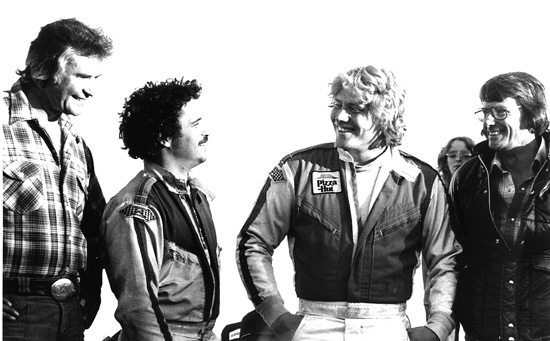 Everyone was happy in Victory Lane at Eldora in '78. Rick Ferkel (left) had just finished second in WOO points, while Steve Kinser (second from right had won). Ted Johnson (right) had just put on a great show, and Shane Carson (second from left) sure was pleased to win it. (John Mahoney Photo – Carson Collection)
© 2010 Lew Boyd, Coastal 181