8/23/10

AN ODE TO SENIOR SUPERS

Some things seem as unchanged as the sun on the equinox or the winds over a cornfield in Missouri. One of them is the racing community's fascination with supermodifieds. Especially those senior supers of the sixties that started – and largely defined – the division's future direction. (We have done a number of TEAROFFs about them, including one posted justabout two years ago: 8/20/08 - Transitional Technology - early supermodifieds)

A major reason for this enduring enthusiasm is that senior supers are fundamentally beyond regulation. An early super builder was limited only by the depth of his creativity, frankly often with optional attention to the safety of the driver. The drivers, too, were essentially unregulated. It was their job to launch the rocket ships at uncharted speeds, beyond all boundaries of bravery – and common sense.
Supers grew up at speedways all across the country, beginning right at the dawn of the decade of Woodstock and Vietnam. And across the country, there were many varieties within the species.
In Florida, Pee Wee Griffin squeezed into his father's #72 at Palm Beach for the 1960 campaign. The car was basically a lightweight, open-competition modified, chopped and channeled on its way to superdom. Over at West Capital Speedway in California, Billy Vukovich's "hard top" was also transitional, with its narrowed frame and center seating.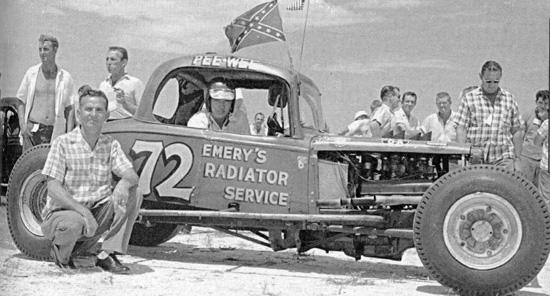 From Florida Motorsports Retrospective Pictorial, by Eddie Roche
– Bobby 5x5 Day Photo


.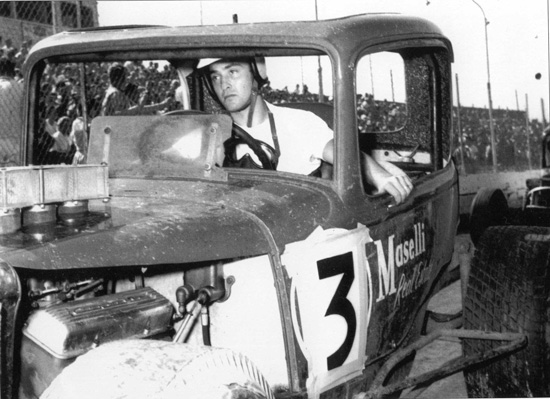 From Sacramento, Dirt Capital of the West, by Tom Motter – Bob Bockover Photo

Meanwhile, in the Midwest, Bradley Poulsen's image of an unidentified #55 shows sprint car influence – and some very scary design and construction technique.
Jerry Dolliver's #24 "upright" paraded around the Northeast with grand success.
The flyweight, based on a Model A chassis, was powered by a flathead built by Bill Welch. That engine alone carried Gentle Jerry to over 100 feature wins, and it sits today in the ProNyne Motorsports Museum in Pawtucket, Rhode Island. (
www.pronynemotorsports.com
)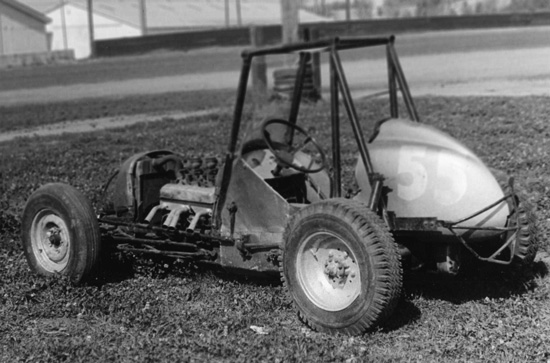 Bradley Poulsen Collection

.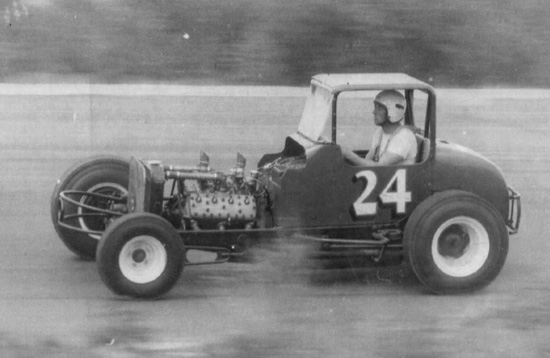 Boyd Collection


.
The next couple of years were full of experimentation.
Massachusetts innovator Andy Smith glued together a tidy-looking #99 atop a late model chassis, replete with A-Frames.
It took a super-smooth shoe such as Freddie Borden, below, to ease it around.
But the more lasting innovation at the time was the move away from stock frames towards what were sometimes called "rail cars."
One of the most infamous was the frightening, unimaginably long wheelbased Wilmington Ford #1/3.
Smokey Boutwell was a show himself in that orange capsule of a cockpit.
The thunderous Ford big block would fling him past two or three cars on the straights, but he would give back one or two manhandling his way through each turn.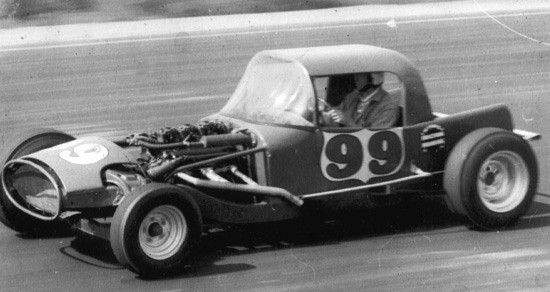 Boyd Collection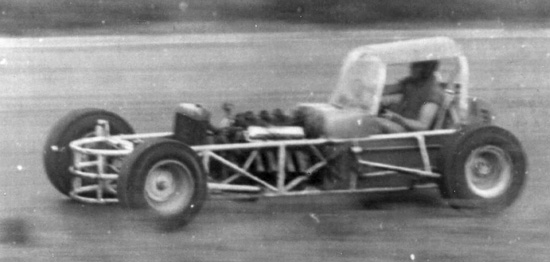 Boyd Collection
By 1964, the custom chassis and space frames were just about everywhere. On the West Coast, short wheelbases were the norm, with nice construction and California Speed-supplied power plants. It seems everyone drove one out there. Here's a young Gary Patterson, later known as "the Preacher" and "the Hostile Hippie" during his edgy and ultimately tragic sprint car career. Those little Golden State supers were not for the faint of heart. At San Jose, Joe McGee jumped a right rear and flipped into a congested pit area, hospitalizing 18 people.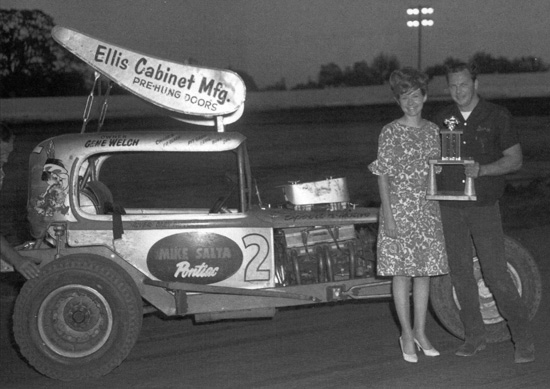 From Sacramento, Dirt Capital of the West, by Tom Motter
– Garcia Photo, Motter Collection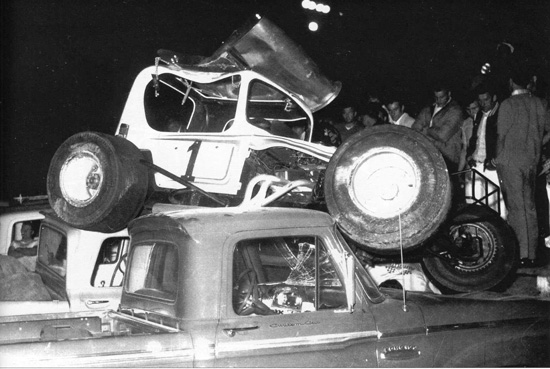 From History of San Jose Auto Racing, by Dennis Mattish – Bob Mize Photo

It was not a lot different back East. Frank Barthell brought engineering elegance (if not safety) to a small inventory of legendary entries, arguably the most famous of which was Lee Allard's #1/4, "the Twister." A highly accomplished pilot, Allard was a big winner until Labor Day 1964 at Hudson Speedway. He barrel-rolled off the fourth turn and, as seen below, the cage literally sheared right off. Lee was conscious afterwards and pretty beaten up. But nowhere near as wounded as he was phenomenally lucky.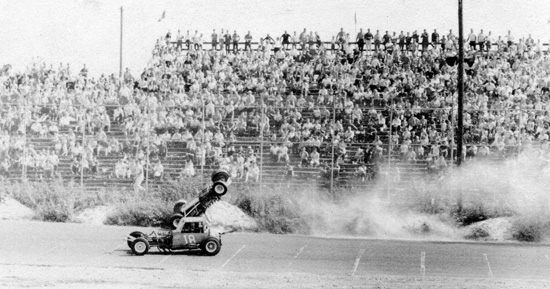 Halloran Collection


.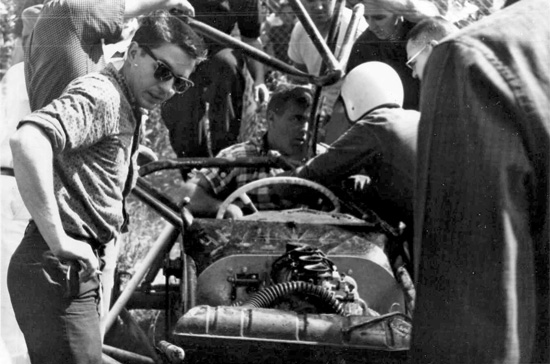 Halloran Collection

By the second half of the decade, it seemed that the garage out back was closed down. Highly sophisticated, expensive configurations quickly came to rule, supported by a busily growing industry of speed parts manufacturers. Down South, the "skeeters" of Rat Lane, Armond Holley, Gene Tapia, and Rod Perry gave way to monstrously fast injected slingshots. Below Page Reynolds in a winged, rear engine machine nips Tony Walters at the line at Mobile in 1967.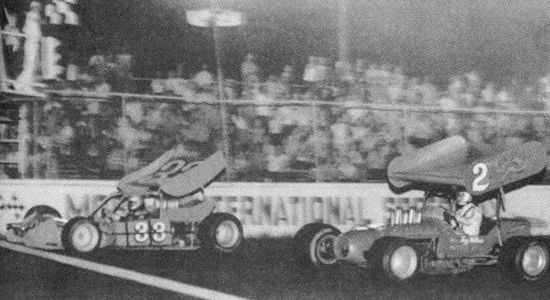 From Southern Supermodifieds by Gerald Hodge
s

At Oswego, New York, where the annual Labor Day Classic had become such a showplace of technology, the influence of Indianapolis was clearly visible. In 1968 Todd Gibson hauled in with an ex-Indy roadster, "the Flintstone Flyer." He's pictured below spinning, just after setting a new track record of 19.47. By the next year the field was dotted with early wedge cars that led over the years to the supermodified profile we see so frequently today. That's John Spencer in Doug Duncan's rear-engine car, shadowed by Irish Jack Murphy shaking down Jim Shampine's wedge.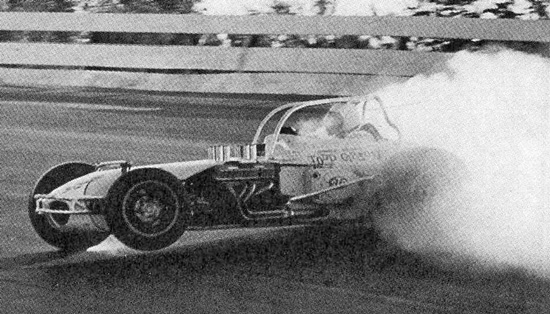 From 50 Years: Oswego Speedway International Classic,
by George Caruso Jr. with Carol D. Haynes

.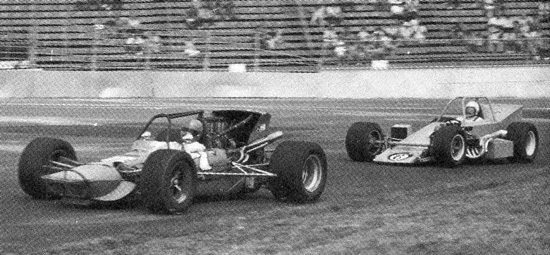 From 50 Years: Oswego Speedway International Classic,
by George Caruso Jr. with Carol D. Haynes

January 1, 1970 ushered in a whole new era, but few who were involved in those unruly sixties will ever forget. We certainly haven't.
In 1971, a 5/8 mile dirt track called Lakeville Speedway near Providence, Rhode Island, was running wide open competition. I bought an upright super from the URDC circuit, perhaps ten years old at the time, for the lofty sum of $400. We adapted it for dirt and plunked in a small block. It was a little tentative for a couple of laps while I waited for anything that wanted to fall off to do so. Then it was time to boogie!
Sure wish we all could still be doin' that today.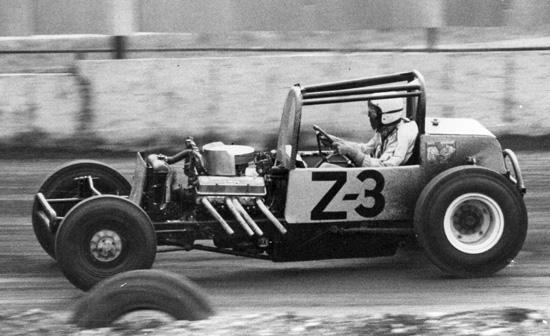 Boyd Collection

,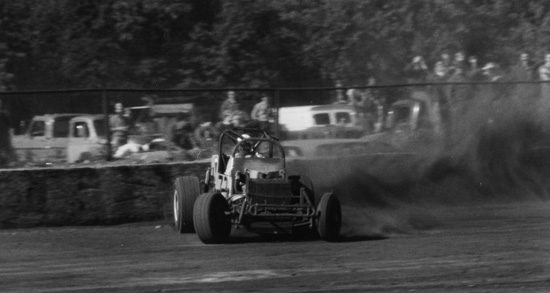 Boyd Collection
© 2010 Lew Boyd, Coastal 181