May 15, 2010
BLUEBIRD
In business it's called a bluebird.

That's the moment, after you've been working years and years on your company, when suddenly – quite out of the blue – the phone rings with a huge, beautiful new order. All you have to do is to deliver the goods.

The same thing can happen in racing. There's that popular bit of NASCAR folklore about the day Long Island modified racer Steve Park had a message from someone identifying himself as Dale Earnhardt. "Right," smiled Steve. "Funny." Same thing a few days later when the call came in again. The third time, Steve figured maybe he should respond, just in case…. Good thing he did. After he called back, he packed his bags for the Southlands and the start of his superspeedway career.

Similarly, in 1996, a 24-year-old open-wheeler named Jerry Coons Jr. was eating 'em up in midgets, 360s, and 410s around Phoenix. He'd been to Turkey Night, he'd been to Belleville and had run strong, but had just not been able to build a national reputation. He was beginning to drift.

He was home one day when his phone rang and his bluebird flew in the window. It was a crisp conversation.

"This is Rusty Kunz. You gotta ride for Belleville?"

"Nope," responded Jerry.

"Want one?"

"Yup." And that was it.

Jerry was no less star-struck than Steve Parks had been. "Good Lord," he remembers. "Rusty and I didn't know each other personally, but I sure knew who he was. I was in awe. For a midget guy, this was like Roger Penske calling. Suddenly, my racing was taking on a whole new dimension. Rusty had already won Belleville with guys like Kevin Doty and Page Jones."

"I was nervous as heck when I got there. But in hot laps I built some confidence. It was really fast and I thought it had to be the best car there. We won the preliminary and took the lead in the main when Billy Boat hit the wall. Then a tire sealed over and we dropped back – but what a run!"

Arguably, that run is continuing today. Fully revitalized, Jerry began making calls, getting more rides. In 1997 he took in a high profile midget/sprint doubleheader at Terre Haute with Larry Martz's car. Jerry had never been there before, but with five to go he was high wide and handsome, in the lead. That's when he dropped into the pits, out of fuel but full of enthusiasm. "At that moment, I knew I could do this for a living." Direction set, drifting done.

The next year, Jerry moved to Indy full time. He went after all three USAC divisions. "The midgets were really my thing. I struggled for a while with sprint cars. I excelled more on the big tracks with sprinters because I was almost too smooth to toss them around like you have to on the shorter tracks. And, Silver Crown, that's a whole different mindset. It's more like a midget, but stretched out over a long race – a patience thing."

Over the next twelve years, Jerry just got better and better. He became the midget driver of the decade (2000-2010) and one of the select few Triple Crown (USAC midget, sprint, and Silver Crown) champions.

Not to say that delivering the goods as a top-level racer is ever easy. Most people know of the challenges Steve Park encountered with severe racing injuries during his career. With Jerry Coons, there was grinding, relentless travel all over the country and to Australia and New Zealand in the off-seasons. And running a 100 or so shows a year, there will be tough nights. "I had my worse flip ever just last year," Belleville recalls Jerry. "I think I broke my hand, but I didn't have time to notice."

Today a whole new generation of kids, boys and girls, is taking on racing, fueled by the ambitions of their boomer parents. It may turn out to be easier for some of these kids to capture a bluebird. Their phone numbers can suddenly become very attractive, if they can bring money along with them.

However, racing is racing. There is a huge funnel into which all aspiring drivers are poured. Just as it was 50 years ago, very few make it out the narrow end. The Steve Parks and Jerry Coons are few and far between.

All said and done, you still gotta fill the order.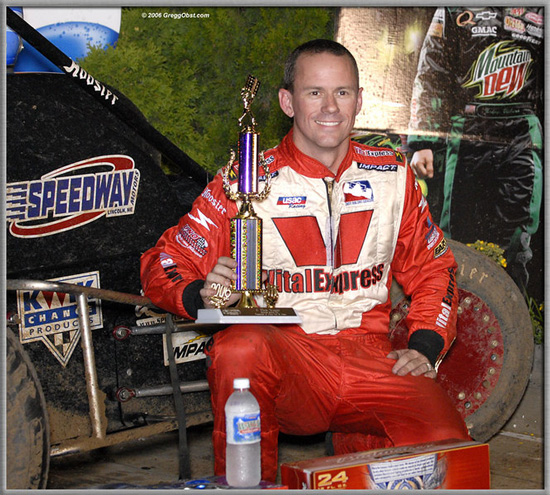 Jerry delivers the goods at Angell Park in August 2007. (Gregg Obst photo)
© 2010 Lew Boyd, Coastal 181