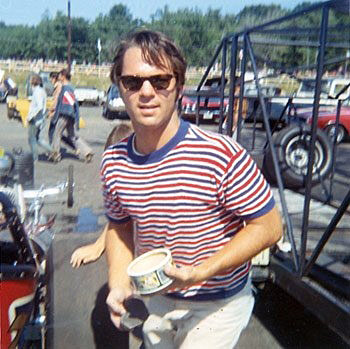 OJ Dragway. (Photo Don Roberts Collection)
---
2/18/12

OJ McKenney and the Freedom Machine
We called him "OJ Dragway," but, in truth, we didn't know that much about him. We'd look forward to seeing him this time of the year back in the early '70s. He'd come around with his brushes to letter up our race cars for the spring. And, in the process, his nonstop cheeriness and that 10 megawatt smile would splash the whole garage with color.

Then, without a word, OJ was gone. We'd heard that he had moved to California. Then we heard nothing at all.

Turns out that, in the background, OJ's life was being buffeted by all the passion, triumph, and tragedy auto racing can possibly offer up.

When Owen McKenney was growing up in Ashland, Mass., a bit west of Boston, his mechanical abilities shone through, and so did creativity and a flair for life. He was handsome, never mind a physical disability that caused a noticeable limp. He hung with the local circle-track crowd until that moment he stepped into a dragster up in Sanford, Maine.

OJ immediately caught the eye of car owner Tom Dawes and his tuner buddy Dick Gazan. The trio bonded almost magically, and in no time Tom ordered a fuel chassis and Dick built one honkin' motor.

OJ's learning curve was 3.5 seconds, the time of that half run he had to make while he was being watched for his license. On the second and first full run, he was over 200 mph. After that, says Dick Gazan, "You look in a driver's eye and see if he is ready to throw up." OJ was totally unfazed. "Wow, this thing wants to run faster," he emoted.

Off on a joyful adventure they embarked, their cars branded the "Freedom Machine." The late 1960s were golden. There was a year and a half period when they never lost at Connecticut Dragway. Often they'd win $1500 a week and split it three ways.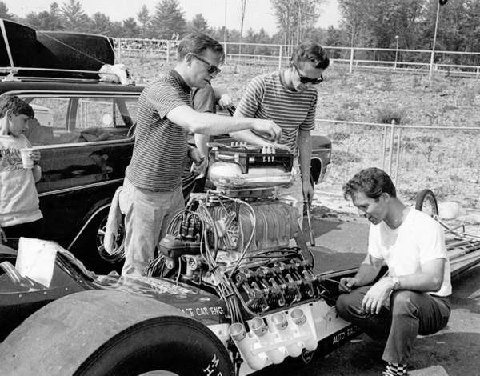 Tom Dawes (L) and Dick Gazan work on top while OJ McKenney
checks the rockers on an early Freedom Machine.
(Photo Dave Kommel, Don Roberts Collection)
Five hundred dollars was big money back then, and Owen was on a high. He was able to quit his engineering drafting job, just to race. He tooled around in a boat of a yellow '54 Caddy convertible, most definitely raising the eyebrows of the more conservative Dawes and Gazan.

Don Roberts, a wildly successful Massachusetts drag racer himself, was OJ's friend and competitor. He says it was clear to all that OJ was a natural, so talented that for him, like all racing greats, things seemed to happen in slow motion. Dick Gazan agrees. He tells of the time he and Tom, both smokers, mistakenly left cigarette butts in the cockpit of the car. With all the currents at 200 mph, the butts dislodged and OJ grabbed them out of the air. He returned them to their owners at the end of the run.

And he was full of self-confidence. He stood right up to Don Garlits in some notable encounters. OJ told the guys after one run that "half way down I looked over and Garlits was scowling at me. At the end of the run we were still looking at each other, both scowling."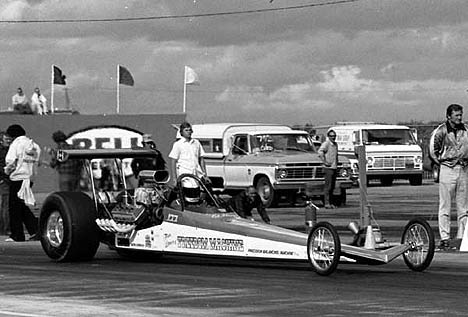 OJ getting ready in a rear engine Freedom car in March 1974.
(Photo Don Roberts Collection)

But, with the '70s, utopia began to unravel. Dick Gazan had to return to his Northern Californian roots to be with his family, and Tom, too, soon went West to keep up with responsibilities for his considerable family business interests. The racing effort faded.

Owen became increasingly uneasy. His marriage began to go awry. And, as much as he said he wanted to race, he would not normally accept rides other than Tom's. He longed to revive that three-part magic. He was heard saying, "Dick never tuned me up to be on fire. Other guys have become crispy critters."

Finally, OJ packed up, left his wife and son, and went to California, intent on helping Tom finish up another racy fuel car. That's when fate had her way. Tom died suddenly of a heart attack in 1979.

Don Roberts recalls the Freedom gang as "a phenomenon. They were like brothers. When Tom died, Owen was devastated. He was never the same." Owen did come back East once for a his divorce and then remarried in California. But he was no longer splashing colors; he was splashing drinks.

Dick tried to line him up with a ride or two to snap him out of the funk. But, when it came down to that post-run eye check, Dick could see that terror had replaced the glee in OJ's soul.

And, so, OJ's downward spiral ground on. He was too blue to keep up with technology and he never learned Computer Assisted Design for his drafting. There were fewer and fewer assignments for "pencil guys." Things got tough.

One night in 1991, OJ came back from a barroom, they say, and his apartment door had been locked. He went out in the alley and shot himself.

Ironically, a couple of weeks before Tom had died, Dick had given him a pistol for his birthday. Somehow, when Owen had helped sell the racing equipment for Tom's surviving family, he ended up with the gun. It was the weapon he used on himself a decade later.

Even after 40 years, understanding now what happened to OJ is heartbreaking. How often we hear of the pain that can follow involvement in top-level racing. Sometimes it seems that, once you've experienced that mind-boggling, world-turning explosiveness of something like a top fuel car, nothing can ever be the equal. Was that the case with OJ and his fling with joy and greatness?

And once more, we see the ravages of that awful mixed cocktail of depression and alcohol that so often take a life too soon.

OJ, we hardly knew you.

OJ's logo remains today on the hood of Dick Berggren's
restored 1970-era Don Edmunds sprint car.
(Karl Fredrickson/Christine Worthington Photo)


© 2012 Lew Boyd, Coastal 181

If you were interested in this Tearoff, you might enjoy the books below: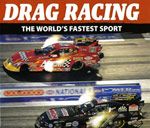 Drag Racing:

The World's Fastest Sport
by Tim Miller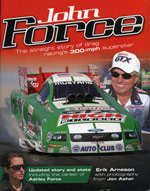 John Force: the Straight Story of Drag Racing's 300-mph Superstar

by Erik Arneson

Revised and Updated edition (April 2009)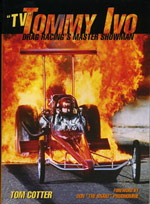 "TV" Tommy Ivo: Drag Racing's

Master Showman
by Tom Cotter
with Foreword by Don Prudhomme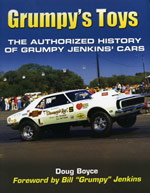 Grumpy's Toys

by Doug Boyce