February 11, 2009

PETER AT THE PARK

There's a lot of buzz about the old Riverside Park Speedway in Agawam, Mass., these days. That's because there will be a huge, first-ever Riverside Reunion as part of Dick Berggren's SpeedwayEXPO at Springfield's Eastern States Exposition, Feb 27- March 1.

The track – shuttered a decade ago to make room for more rides at the amusement park – had operated for 50 years. It was jammed to the rafters with fans in its heyday – and with competitors, too, many of whom will stop by the Reunion to revive those lively summer nights past. Most certainly among them will be Pete Fiandaca, New England's own "Travelin' Man."

Of course Peter raced the Park. Under-resourced though he has been since day one at Westboro Speedway, Fiandaca hauled his battered "Peter Built" #135s everywhere on the East Coast over the next 40 years. Maine to Florida. There were times there was some question as to whether the driver, with his well-cultivated grundge look, or his cars (at one time called the "Skid Row Express") looked seedier. There was never any question, though, that he was way fast. Three hundred and twenty-two feature wins so far. Real ones.

Peter's passion still burns bright. He'll tell you in amazing detail about Riverside when he first went there in 1969.

"It was quite the place. Tight. Flat. The lights were strung right over the track. Pool room lights. Going underneath you thought you could touch them. I won my first one there on a Sunday afternoon, the same day Buddy Krebs got his last one. Wow. Mostly it ran Tuesday and Saturday nights. One year we raced 46 times there alone."

The track was refurbished and enlarged in the early 1970s, becoming a whole lot faster. So did Peter. He jumped up to the modifieds. Steve Bird, the renowned NASCAR crew chief, worked with Peter back then and considered the Park his favorite track. Peter's initial modified score came in 1976. All the big boys were on hand, including Bill France, Jr. "He was nice enough to me, but I didn't get the feeling he approved of either me or my car."

Later that season, Peter and Birdie pulled off a Riverside 200-lapper, their biggest ever. They took the princely sum of $1700 back to Fitchburg that night and made it a round two grand with a $300 main the next afternoon at Hudson.

As has been the case everywhere, Riverside fans just plain came to identify with the Travelin' Man, kind of like that clever kid next door, the one who's never home. Fiandaca tee shirt sales were runner-up only to the great Riverside champion, Bob Polverari.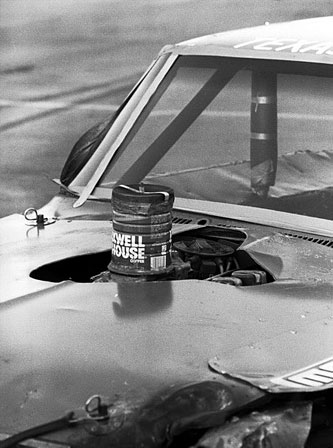 A very expensive carburetor adornment. (Howie Hodge Photo)
There's a special twinkle in Peter's eyes when he gets to reminiscing about the Riverside 500s, those 500-lap events for teamed cars.

"They were some of the greatest races I've ever been in. I loved them. John Anderson and I almost had one – we thought we did, but we were third. Then there was the year I teamed with Polverari and ended up running 377 laps myself. I ran that little Bob Johnson motor just as hard as I could. At the end, we still had a gallon and a half in the fuel cell."

Peter smiles. "Good thing, cause Birdie and I had a race the next day."

In the eighties, Peter switched back to late models and pro stocks, visiting the Park regularly and with continued success, until conflicting rule books made it impossible.

As he approaches his 60th birthday, Peter is moving a little more slowly now. So is short track racing in Massachusetts. At one time or another, there have been over 50 tracks in the state offering racing for full-sized cars. Now there's just one, Seekonk Speedway, near the Rhode Island border. But Peter is undeterred. He's building a new car for 2009. It'll be no modified, but the #135 is still truckin'.

You've gotta come see this guy at EXPO. He's never been chromed up, but he's just priceless.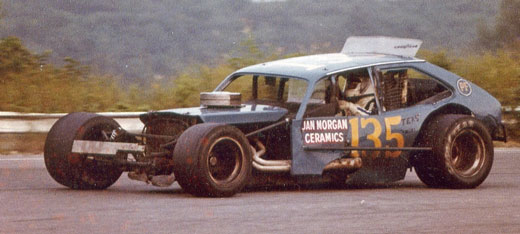 Photo Credit: Gerald Archambault Collection
© 2009 Lew Boyd, Coastal 181