March 22, 2010
DAVEY!

This time of the year, as that Indiana sun arcs higher in the sky, a part of every racer's soul turns to the Brickyard. Sure, the shirt-sleeved daring of the roadster years gave way to rear-engine wars, and the field became clogged with wealthy international competitors – glamorous yes, but totally unknown to Hoosier fans. But for the last 15 years or so, Davey Hamilton, out of Nampa, Idaho, and speaking just plain American, has been right in the thick of it, his eyes dancing for the joy of racing at Indianapolis.

Open-wheel racer Hamilton, now 47, has become the country's beloved "Racer Next Door." Speedway Illustrated's Karl Fredrickson says, "It seems that every year during Indy time trials I am out in the garage working on my car, listening to the proceedings. When Davey goes out to qualify, all the work stops. We hang on every lap, every turn. When he gets in the show, there is a communal comfort, a sense of relief in a worried world. He is one of us. At least something is going right!"

Hamilton's had Indy on the brain since the moment he first walked into the place. That was back in 1981 with his USAC-driving dad Ken, who was attempting to get in the show. At 19, Davey was already racing, on his way to becoming the Canadian-American Supermodified Series Rookie of the Year. Every day since has been focused on Indianapolis, sprinkled liberally with innumerable short-track races along the way.

When, in 1996, Davey finally strapped into an Indy car to race, he felt one almost overwhelming emotion – fear. Though perhaps the most accomplished Supermodified driver in the country, he had little experience with rear-engine technology, down force, and all the extreme physical demands of Indy. And he faced another rather intimidating factor: his car owner, his former driving hero, the crusty A.J. Foyt. Davey pulled out a 12th place finish.

Over the next few years, Hamilton continued his Indy and IRL events along with short-track racing. Gradually, he became one of fewer and fewer Americans in what was once an all-American sport.
Then, on June 9, 2001, Davey pounded the wall in Texas in a horrific crash. The car broke, he was hopelessly exposed, and both feet were all but severed, his legs severely injured. It was a shattering experience in every way.

http://www.youtube.com/watch?v=ELk2Hn3NSKs

"It took a while for me to realize what had happened. I was so secluded in that Critical Care Unit for a month. Then, when I got moved to a regular room, they started bringing me buckets of mail, mostly from the short-track world. I can't begin to explain what it meant to have all that support. It kept me together mentally to answer individually every letter I got.

"I didn't tell anybody this for three years, but, to be honest, after that first month, when I was told it was likely I wouldn't lose my legs, I was determined to race again."

The recovery was grueling. Twenty-one operations; constant rehab, painful beyond imagination, over a full six-year period.

And, then, the other considerations. "I did have great insurance, disability and all, and it kept me going through a real dark period. I was deemed forever disabled. When I finally told people I intended to drive again, the insurance guys were quick to tell me I would have to pay back all the disability money. It was a big sum. A big decision. But I just knew I had to do it. And not just for some Modified race. I had to go back to Indy."
Davey's first return visit to Gasoline Alley was for the Brickyard 400. He was in a wheel chair. The IROC cars were lined up ready to go, and Davey unsuspectingly wheeled out and down the grid, hoping to say hi to Tony Stewart. "All of a sudden," Davey says, "everyone in the grandstands was up for a standing ovation. I'm not a crying man, but, when I realized it was for me…."

Davey cried again in May of 2007. "The first lap I went out at Indy that year was the first lap I had done in six years. I was just plain overwhelmed by everything that had happened." He must have had windshield wipers. He hustled the Hewlett-Packard Vision machine from 20th to 9th.

This year Davey is engaged in all manner of announcing, entrepreneurial, family, and short-track activities. He'll be back at Indy in the Luczo Dragon de Feron Motorsports entry. He will be the oldest driver in the field.

"I still have that burning desire to win. You know, it might have been that six-year layoff, waking up every morning and all I wanted to do was race. I know racing, and I would know when I became the weak link. That's not now."

Watch Davey's qualifying laps like Karl Fredrickson will, and send him a little extra down-home psychic energy. After 100 years of racing at Indianapolis, there are many, many tales of human courage, of great triumphs, and gut-wrenching tragedies. But many a rail bird will tell you that Davey Hamilton's comeback was the greatest of all time.

Go get 'em, Davey.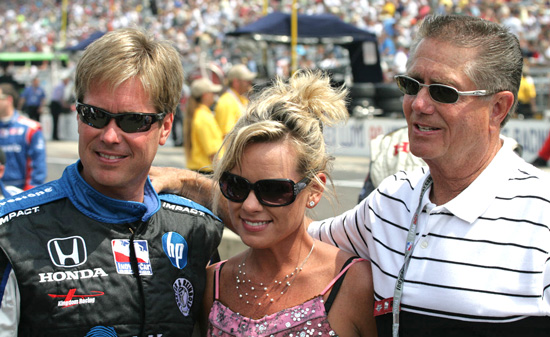 Davey, wife Tracy and father Ken before the 2009 500
(Nancy Cheadle Photo, Davey Hamilton Collection)
© 2010 Lew Boyd, Coastal 181