June 18, 2008
THE NIGHT BUZZ WAS WORRIED
It's been thirty years since Buzz Rose twisted the wheel of a sprinter. But when the former Marine drill instructor gets to talkin' racing, his voice seems to fire up and his still massive forearms grow an inch.
Buzz started racing in 1954 and was soon touring with IMCA's Midwestern series and a bunch of buddies from Southern California. It was a glorious time on the fair circuit, and he loved it.
"What an honor it was to run IMCA and for so long. I was aware that it was special – that I had the opportunity to get that same feeling my hero drivers had when I was growing up. It was rough and tumble. Some of those guys were braver than me, but they all died. It was different – so much more physical then. If you revved one of those Offys in the pits, the steering wheel of the car would vibrate three-quarters of an inch. And, when you went down the straightaway, you could hear that beautiful roar from right inside the car. There were no little guys then. They were all like Jud Larson."
Just a couple of minutes with Buzz and you know you're in the company of a tough hombre. That's why it's surprising when he tells about the night he was scared in a race car.
It was 1968, and Buzz was running the California Racing Association in Pop Miller's car. They had heard word that Keith Hall was planning the inaugural Western World at Manzanita, paying a whopping $10,000 to win.
Pop sent Buzz over to Ray Wilson's shop in Arizona with the car a couple of days early. You see, there was a catch in the rule book. At Manzy, unlike in CRA, you had to run with a roll cage, and Wilson glued one on.
When Buzz saw it, he freaked out. "I was 6'3" tall. I didn't even know how to get in the thing. When I did, my head was 3" over the top. Pop said, 'I'm gonna have to remake that cage for a 500-pounder' – and that's what he did."
"When we got to the track, I was really worried. I had come from midgets and sprints, not hard tops. I didn't know what this contraption over my head was. I was used to flipping and flopping all over the place. We didn't know about arm restraints back then. All night I kept thinking I'm going to get this son of a bitch upside down and it's gonna chop my arms off. I was terrified."
It doesn't sound as though Buzz's concern reached his throttle foot, however. He set fast time and outran Colby Scroggins and Jan Opperman in the 15-lap qualifier.
Come feature time, as the picture from the first lap shows, it was Bob Cleberg on the pole, Buzz on the outside with his Double X-wide roll cage, followed by Lee Kunzman and Opp aboard Bob Trostle's "Cornbelt Specials."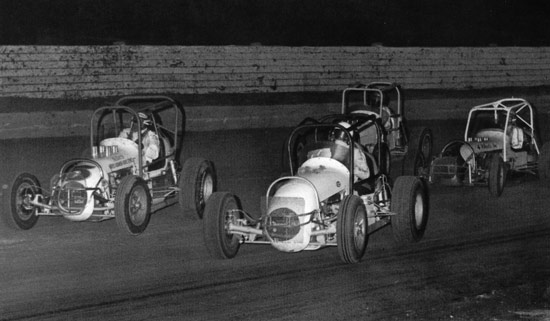 The first lap of the Western World Championship, Manzanita Speedway, 1968
They had quite the battle for the first 35 rounds of the 50-lapper. That was when Jerry "Termite" McClung spun off the fourth turn into a crowd of bystanders. It was bloody. A multiple fatal.
After a lengthy cleanup, Buzz's fear turned into frustration. He blew up from over-revving. The crew had changed the rear tires during the delay, but not the gears.
The next three weeks for the Miller-Rose team speak dramatically to what it was really like to campaign an open wheeler at the time. On the asphalt at Saugus (CA) Stadium, sans roll cage, Buzz set fast time again the next weekend. He was black flagged leading the main for soaking second-place runner, Bob "Lover Boy" Hogle, with oil. The tank had been overfilled.
Then it was to the mile dirt at Sacramento for another $10,000-to-win shootout. Again Buzz was leading – until a busted radius rod steered him to the infield.
"I was doing this for a living," Buzz recalls, "and this was getting tiresome. So we got pretty psyched up for yet another Agajanian-promoted show at Clovis, California. We were very fast in the prelims. Right before the race, Pop changed the tires. He promised me three times over that they'd work better, so I just took her down into that first turn like I did in qualifying. Right into the fence, and over and over I went. I was banged up, concussion and all that. But I knew right then it was time for a change. So I told Pop I was quitting his ride."
"Then I married his granddaughter."
Today Buzz Rose lives in Glendale, AZ, writing and publishing some of the finest books in motorsports today. Coastal 181 carries all of his titles, including:
Tow Money - Tow Money II - The Rim Riders

The Kings of the Hills - Eastern Bull Rings 1945-1960

California Hot Shoes: CRA Sprint Cars from 1955-1970 Volume 1

The Wingless Warriors, California Hot Shoes Volume II – CRA Sprint Cars 1970-1994
© 2008 Lew Boyd, Coastal 181