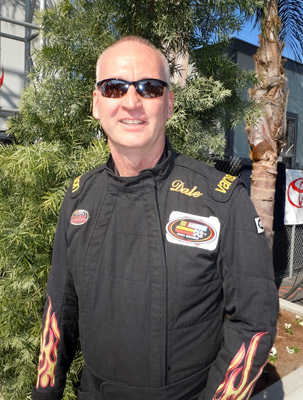 Dale Quarterley
(Dick Berggren Photo)
---
2/10/11

THEY CALL HIM 1/4LEY

It was quite the assemblage of media folk, officials, and VIPS in the tower at Irwindale Speedway a couple of weeks back, as the Toyota All Star consi rolled out onto the track.

Travis Pastrana was up there. He's the mega-feted action sports star who is trying out NASCAR. He was already qualified for the main event, and likely everyone had some advice for him, such as, "You can't win the race on the first lap."

The millisecond the green flag flew, the fourth-place car, shot from a cannon, blew into turn one, somehow split the front row of Johnny Borneman and Chad Boat, and led coming out of two – and for the rest of the race.

Who was that guy?!?

Dale Quarterley, recently of Mooresville, NC, always has been a little different. Dale knows that, and his banzai moment at Irwindale was quite purposeful. "Those first laps are so critical," he muses. "And that's where people often see me at what they consider my most unwrapped."

Quarterley, now 50, never even raced a car until age 35, but that's not to say there were no racing motors along the way.

His dad had a Kart shop in the Northeast, and Dale was on them, grinding out hundreds of laps each weekend, picking up untold wins until he was 20. He was uncannily talented, particularly on road courses.

In 1982, he hopped on a bike and just two seasons later he was ranked seventh in the nation in the way tough AMA Super Bike series. Put in context, he was also massively underfunded. Everyone ahead was a fully sponsored factory rider.

For all his success, though, it was not until 1987 that he considered himself a racer. "I went to Japan to race at Suzuka Circuit, a 3.6 mile road course, for the 8-hour endurance race. It's quite the deal. 250,000 spectators.

"I knew I had natural ability. And I had all those laps on Karts growing up. If you take me to a place like Elkhart with its 17 turns, I can find the fast way around in about seven laps.

"But at Suzuka I learned a real lesson. I was thinking I was going pretty good, and, while I'm braking, some guy goes by me wide open. Leaves black marks going into the turn and coming out. By the next turn he was 30 lengths ahead.

"Sure, he was a factory hero, world champion Wayne Gardner, with a $700,000 budget versus my $20,000 backyard operation, but I knew it wasn't equipment. He blew me away. I didn't count.

"I pulled into the pits and talked to my wife. Right there I changed my life. I realized that racing was all I knew, all I wanted to do. I was just going to have to push myself more. There's a whole staircase ahead. Either you go up it, or you should quit.

"I went back out and was 1 ½ seconds faster than I had been after three days of practice."

Probably one of the most dramatic demonstrations of Quarterley's reinforced mental toughness came at that Laguna Seca in California six years later. He ground off a finger in a qualifying accident on Saturday. A surgical team assembled for reconstruction, but Quarterly declined the effort. Break out the ginsu and cut it off. Let it heal on its own, as best it could. He had to race the next day.

Finally, in 1995, Dale could afford a car to race. He bought a Busch North machine. In just his second race, at Watkins Glen, he came through the pack, led, came through the pack again, and finished fifth.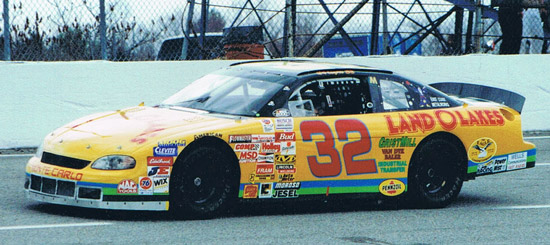 Dale Quarterley in his Busch North car.
(George Campbell Collection)

In no time, he was a serious regional NASCAR competitor, considered frisky, popular, and a tad irreverent by the fendered community. To date he has 6 wins. He's the only driver to have won in full-sized cars, motorcycles, and Karts at New Hampshire Motor Speedway.

So often capable of pulling that rabbit out of the hat, 1/4Ley stunned the NASCAR mod squad by snatching the inaugural Whelen Modified Tour 100 at Lime Rock, CT, last June.

Owner/operator of 1/4ley Racing Motorsports (a car building and team management shop in space rented from LW Miller), Dale towed to Irwindale in January with a car he had just put together for Derek Ranstrom's 2011 K & N East Pro campaign. He was 33rd quick in qualifying, so he had to run the "hooligan," the last chance race. He can tell you just what happened on every lap that night.

"I guess you can say I trained myself to go from zero to 100 in a split second. I mean 100%. The only time I allow myself to slow down even a little bit in a race is if I need some bandwidth to think.

"In that consi, I was fourth, on the outside. I left a gap between me and the front row coming down for the green and then I stood on it. That's when I can often make things happen. It seemed those guys up front just stepped on the brake.

"I just don't think they had paid attention to how hard they could push their cars on that first lap. I had."

So, Travis Pastrana, a race can be won on the first lap. In fact, this guy 1/4Ley can win one in the first turn.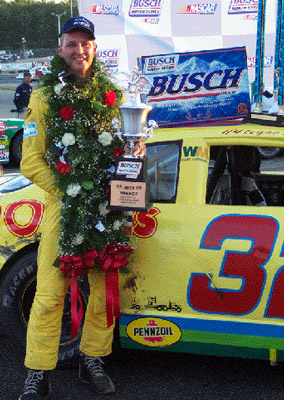 (George Campbell Collection)
© 2011 Lew Boyd, Coastal 181