Semi-Monthly
Racing Commentary
with
LEW BOYD
Email Lew at lewboyd@coastal181.com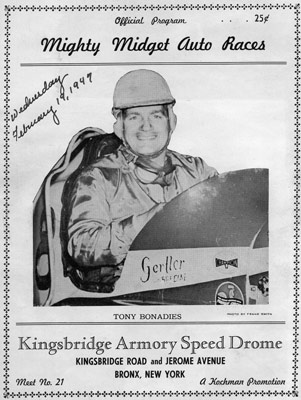 (Ross Collection)
April 3, 2009

RACIN' IN THE ATTIC
How many times have you heard those stories of some race fan who passes away and a life's collection of priceless motorsports memorabilia goes out with the trash? It's particularly sad today, when technology offers us the ability to preserve the records of history so much more easily than we could have in the past.

Every once in a while one of these treasure troves is found, recognized, and shared. That happened just recently when Ginnie Ross of Red Hook, New York, presented to the racing community a stack of her family's scrapbooks. Ginnie's dad, Gordon Ross, was one of the most admired race car owners ever in the Northeast.

Ginnie gave the collection to New York State Stock Car Association Hall of Fame driver Dick Hansen, who shared them with Coastal 181. A sampling of the hundreds of incredible photographs follows.

© 2009 Lew Boyd, Coastal 181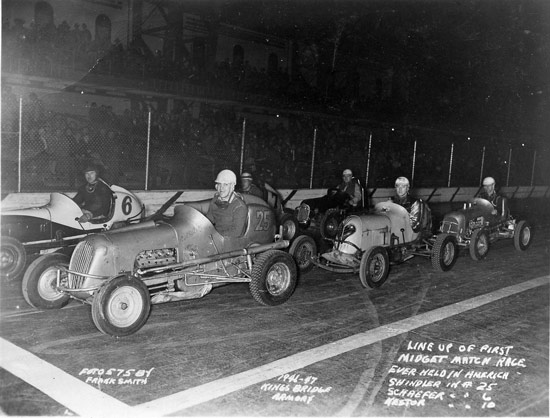 1. This is believed to be one of the first midget match races in the United States. It is in the Kingsbridge Armory Speedrome in the Bronx in 1947. On the pole is Bill Schindler, on the outside Ed "Dutch" Schaefer. (Frank Smith photo)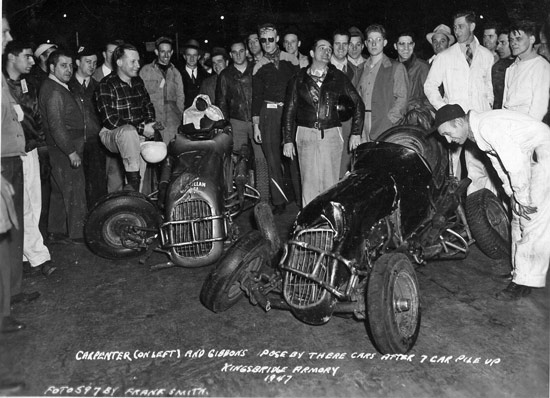 2. Also from 1947 at Kingsbridge Armory is this image of the aftermath of a seven-car pileup. That's King Carpenter on the left, Chet Gibbons on the right. Look at the grins on many of those faces. A curious moment to be joyful! (Frank Smith Photo.)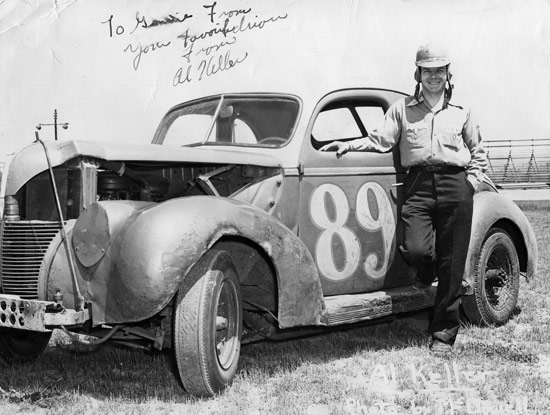 3. This is native New Yorker Al Keller in a stock car. In 1949, following his coupe and coach career, he went Grand National racing on the freshly formed NASCAR circuit. Interestingly, he became the only driver to win a NASCAR race in what was then considered a foreign car, a Jaguar. That same year he moved over into open-wheelers, running with great success with AAA and USAC. He was a strong runner at the Brickyard, but died on the dirt of the Arizona State Fair in the autumn of 1961.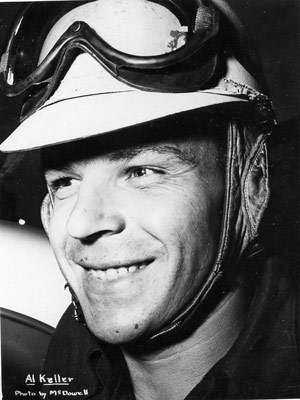 4. Keller up close. (McDowell photo)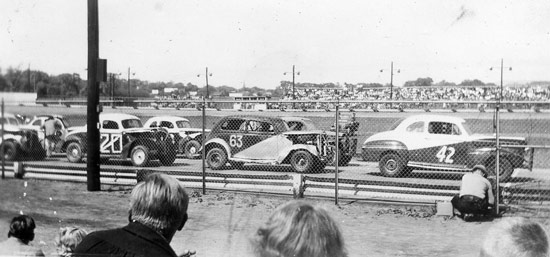 5. This is the way it was at Empire Raceway in Menands, New York, right near Albany, in 1949. The track, which ran during the week, was a hotbed of early midget racing and then stock cars, drawing the best of the upstate and the New England asphalt specialists. It lasted until 1965, when it was closed to make way for a Two Guys department store.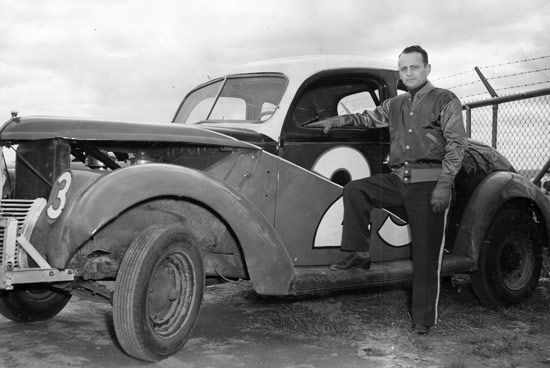 6. Here's a guy from New York City, named Phil Walters, aka Ted Tappett. Tappett left behind his passion for hotrodding before the War and climbed into a midget. In his second season he won 26 shows in a row. By 1949 he was accomplished in all kinds of cars, even the sporty variety. It turned out to be one of the latter that changed his mind about racing. He was driving for Ferrari in the 1955 Le Mans event that claimed 99 lives in one of racing's worst ever crashes. He retired on the spot.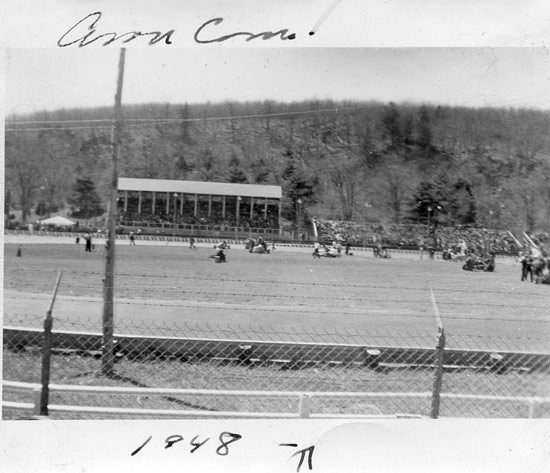 7. A rare glimpse of Cherry Park Speedway in Avon, Connecticut. The fifth-mile asphalt ran midgets from 1946 until the end of the midget boom in 1951.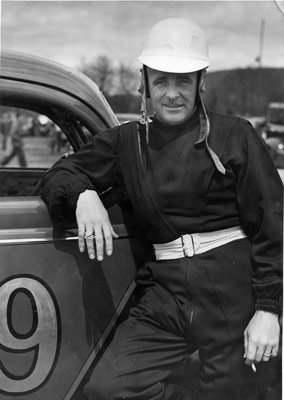 8. Pretty spiffy dude, don't ya think? That's the famous Rex Records at the Duchess County Fairgrounds in Rhinebeck, New York, in 1949. He was something to watch in a midget.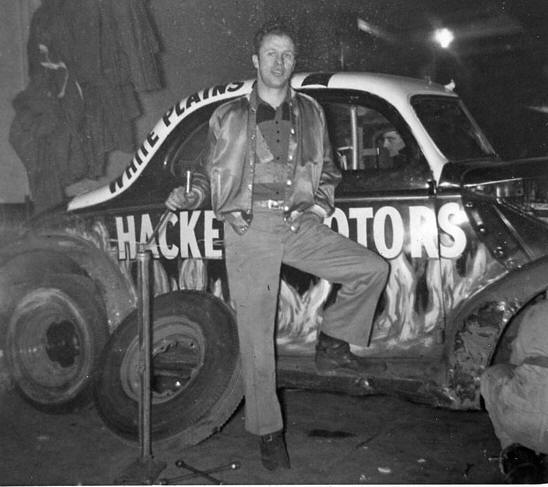 9. This is Jim Reed, supervising that poor guy scrunched up under the right front fender. Reed went on to become a consistent NASCAR short track champion.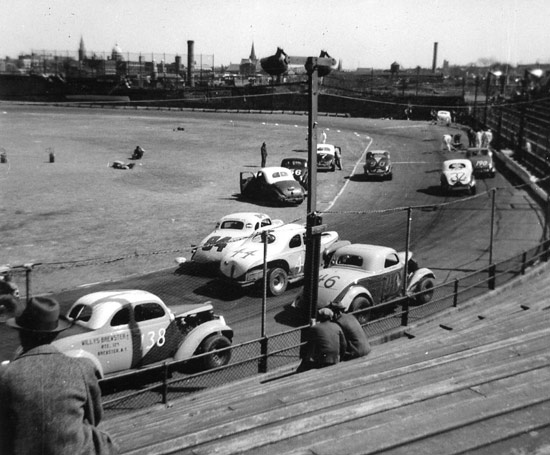 10. It is the well-known Hinchliffe Stadium in Paterson, New Jersey, home to motorcycle, midget, and then jalopy racing. This shot was taken on April 15, 1950, right before the track was painted checker board to make the racing action look faster on the new medium of television.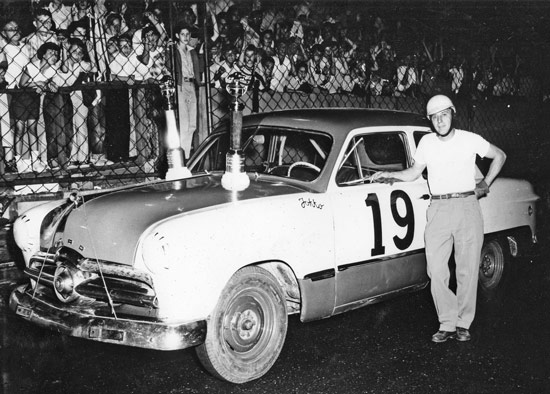 11. When Jokko Maggiacomo came back from the War, he knew he needed something to take his mind off what he had seen. He won a ton of races in Gordon Ross's coupes and here he's shown aside a Ross late model. The Ross family made maximum use out of the vehicle. During the winter months, Ginnie drove it to school.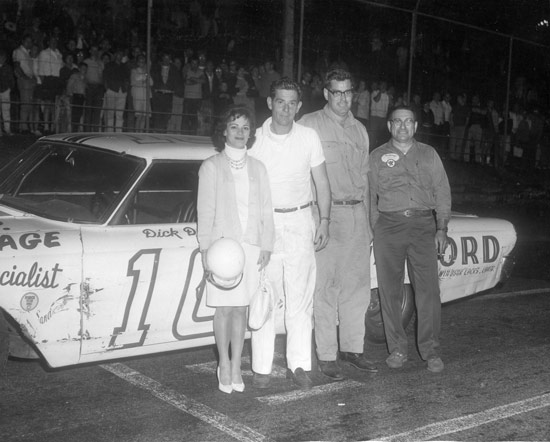 12. If there was a true early "road warrior" traveling hither and yon to outlaw late model shows, it would have been Dick Dixon. Here he is with comely wife Sandy and an equally pretty Ford. Dick later lost his life in a modified at Thompson, Connecticut.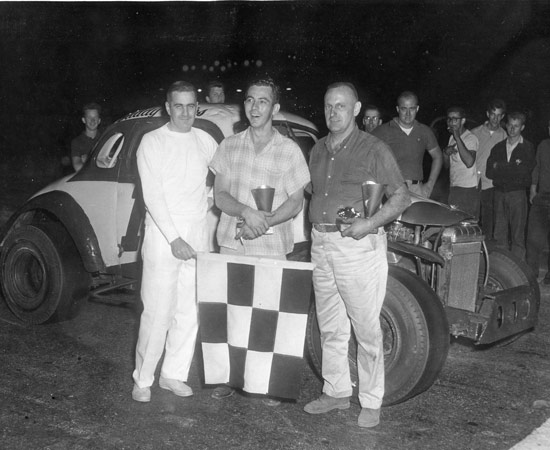 13. It is quite remarkable to reflect on just how many drivers drove for Gordon Ross and how many wins he must have accumulated. That's Gordon to the left of New England Hall of Famer Buddy Krebs, at Riverside Park in Agawam, Massachusetts.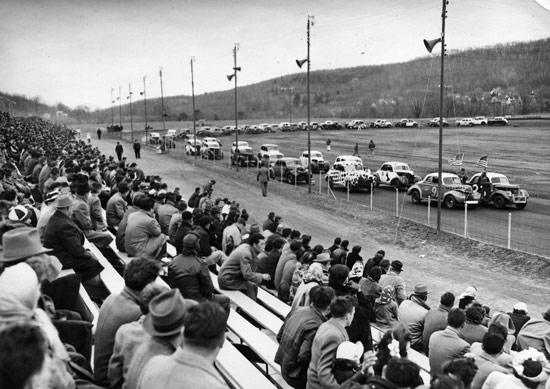 14. Just as they were lining up for the Indy 500 in Indiana on Memorial Day 1949, the stockers were ready for a parade lap at Plainville Stadium in Connecticut. It's Ted Tappett on the point, followed by Tommy Coates, Dick Eagan, Ray Nester, Ray Brown, and Ernie Gessell.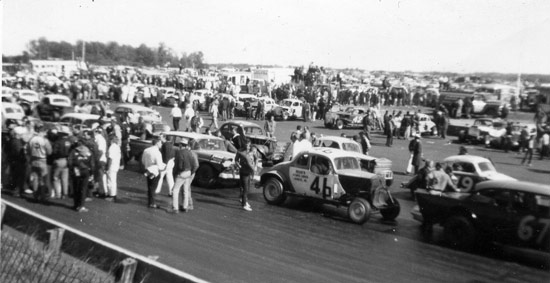 15. Langhorne was THE place, but not a place for the timid. The Ross #19 lines up for a consi in this shot in 1964, Doug Garrison at the helm.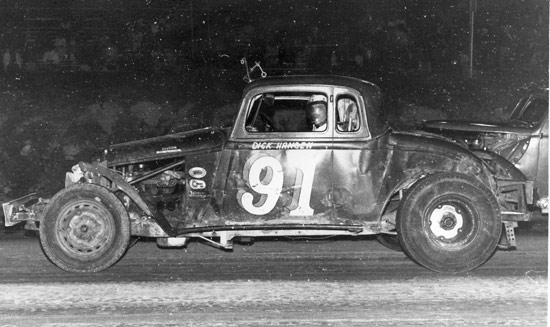 16. This is Dick Hansen, Gordon Ross's friend, in his non-Ford at Accord, New York. The #91 (#19 reversed) was a rocket ship with Webers, and it weighed about a thousand pounds soaking wet. Hansen drove it with uncommon intensity. He's calmed down now. A little.

THANKS FOR MAKING ALL THIS AVAILABLE, Dick.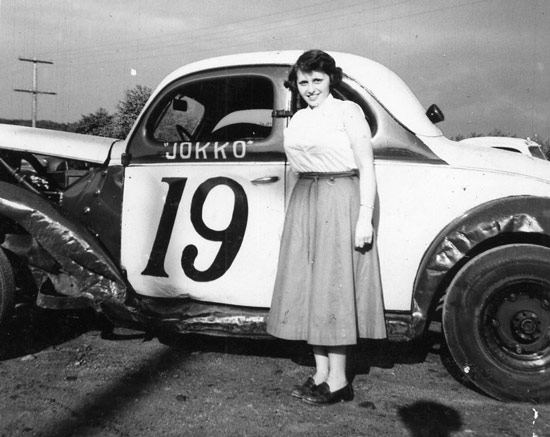 17. And here is Ginnie Ross, all decked out next to one of the family's #19s. Like all of them, this one was painted red and white with a paint brush, including numbers, by Ginnie's mom.

THANK YOU, TOO, Ginnie!!!
Stop by our Book Store Directory for a look at our book and DVD selections:

.: Previous Tearoffs :.
5/20/09 - Big Boys in The Attic - rare photos of legends
5/6/09 - Back Up In The Attic - more rare photos
4/22/09 - The Son of Hard Luck - accessible racing
experience for the handicapped
4/3/09 - Racin' In The Attic - Gordon Ross photo collection
3/18/09 - About That Mike Spaulding
3/3/09 - Dick Berggren's First Win - (you had to be there!)
2/11/09 - Peter at the Park - Peter Fiandaca at Riverside Park
1/4/09 - Racer Speak -cool quotations
12/16/08 - Wimble Power, Will Power - Bill Wimble
11/24/08 - Remembering Chuck Amati - by Joyce Standridge
10/24/08 - Beyond Bionic - Bentley Warren
10/6/08 - Fifty Second Classic - Skip and Lois Matczak

9/20/08 - Joey's Dad - Tom Logano
9/1/08 - One Night at The Park - the death of Les Ley
8/20/08 - Transitional Technology - early supermodifieds

8/6/08 - Wallace on Wednesdays - dirt trackin' Kenny
7/19/08 - Star(ter) of the Show - importance of good flaggers
7/7/08 - McUnderdog - Eddie MacDonald
6/18/08 - The Night Buzz Was Worried - Buzz Rose
6/5/08 - John Richards - Boomer Role Model
5/20/08 - The Spirit of a Racer - the late Al Powell
5/1/08 - Bobby's Blues - Bobby Santos III
4/15/08 - Thinking About Rene Charland

3/26/08 - Carl and Corey - Carl Edwards and Corey Dripps
3/4/08 - A Cool Track with Cool Racers - West Liberty, Iowa
1/7/08 - When Drivers Can't See - cockpit vision
12/21/07 - When Starters Couldn't See - flagstand vision
12/1/07 - Ride Along with Erica Santos - in-car camera midget win
9/1/07 - The Look of a Real Driver
8/1/07 - Armond Holley

7/15/07 - Red Farmer
© 2009 Lew Boyd, Coastal 181