February 8, 2010
ROGER THE REMARKABLE

At Lenny Sammons' recent Motorsports show in Philadelphia, the theme of the weekend was Langhorne. A pack of the old Keystone State wheel-twisters dropped by the Coastal 181 booth to sign books – and what a cast of characters they are: Wimble, Hoag, Liguori, Bunn, and Roger Treichler. Treichler, decisive victor of Langhorne's final 200 Mile Sportsman-Modified Open, chatted with us later about his remarkable life's journey.

In 1965, Roger was a fresh-faced 21-year-old in Sanborn, New York, near Buffalo, full of piss and vinegar. He finished up college and took over his family's thriving floral business, allowing his Dad to retire. He also decided to get serious about his racing, after the previous year of splitting a bomber ride with his cousin, Merv Treichler. He raced and maintained a late model, running four nights a week in New York, Pennsylvania, even trekking up to Canada. He did manage to take two weeks off that May to marry his sweetheart Nancy, but the honeymoon was a trip to Indy with Jim Hurtubise and Herk's gal.

The next year, Roger continued late model wars, but at season's end, he was approached by local car-owner Gil Cramer to test the seat in a modified. They had just two shows under the belt before it was Langhorne time, and Roger was raring to go. Because of his blatant inexperience, Roger had to rustle around getting reference letters to allow him to enter the National Open. That finally accomplished, he boogied over to Cramer's garage on Monday night of race week. To his dismay, he found the car in a million pieces on the floor. Gil had decided that it was just too much to pull together a Langhorne run at such short notice.

After much cajoling, Roger loaded the car and its pieces, took it all to his own shop, and worked non-stop gluing it back together until Thursday afternoon. Then he trucked it down to Pennsylvania, with Nancy following in a pickup with tools. They fell into the inspection line at 1:00 a.m. Friday, hand-pushed the car up through the queue all night, and were finally cleared for action at 7:00 a.m. Then it was off to warm-ups on that evil mile, after no sleep for days. He didn't qualify in time trials or through the consi, which was OK with Roger. "I was absolutely scared to death. Didn't pass a car. Just prayed for it to be over."

In 1967, the Chevy II-bodied Cramer-Treichler mod, now outfitted with a 427, ran two nights a week – one on pavement, one on the dirt. But despite grinding out all those necessary learning laps, they still didn't make the show at the Horne.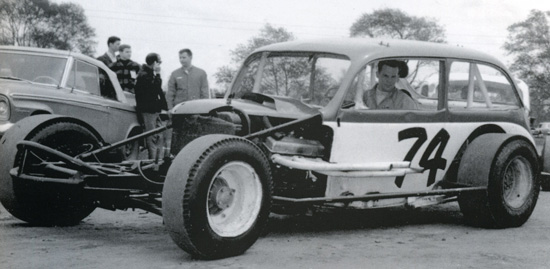 It's the first of the #74 coaches, Lancaster Speedway 1968.
(From Lancaster Heroes, by John Bisci – Gordon Reinig Photo)
"I knew I had to do something better, and Gil Bruss, Bill Rafter's owner, helped me get there. For the 1968 season, I built a #74 coach with Gil's equipment. My skill level wasn't high yet, but I just happened to get the roll centers right and it worked really well." Understatement. Roger claimed the Lancaster and Spencer Speedway crowns that year, pulling in a cool $16,000, with a total outlay of just $6,000. They went off to Langhorne, and, very respectably, made it in through time trialing.

"I guess I was a little nervous in the race itself," Roger reflects. "I don't think I even blinked for the first hour, and my eyes were all dried out. But in the second half, I found my groove and settled down. I was so much more comfortable in a car I had built myself. Something else that really helped was that before we went down there, Jim Hurtubise and I took the car over to Lancaster. He ran the car around a little, talked to me about driving Langhorne, and told me how to reconfigure the seat and supports for the round mile. I can't begin to tell you what physical endurance it took to race around that place. We got tenth. It was good."

In 1969, Roger took dual championships once again at Lancaster and Spencer. Dave Nagle was building the motors, and by National Open time, the car was shoed with those wildly wide Firestone steamroller tires. "Another reason I think I took to Langhorne pretty quickly was because, like Dutch Hoag, I was running Spencer, a flat track. Spencer guys got around the Horne better than guys from high-banked tracks like Holland. Same as flat Fonda and banked Lebanon Valley. Fonda guys were always fast at Langhorne. You should have seen Pete Corey run there."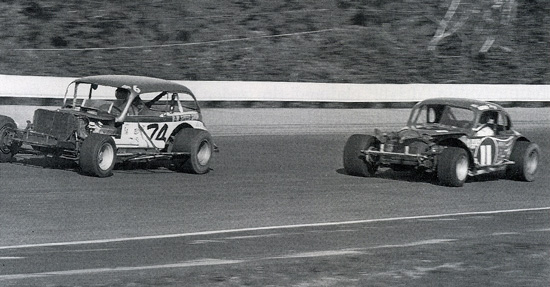 Ray Hendrick in the winged #11 on the hunt, Langhorne 1969.
(From Langhorne! No Man's Land by L. Spencer Riggs – Walter Chernokal Photo)
Roger and his #74 sat on the pole. But Ray Hendrick was there too, and the stocky Southerner blistered them all that day. Roger was second, but he had watched every move Ray made, on the track and in the pits. That would pay off.

The following fall, 1970, Roger was back at Langhorne again, loaded for bear, with a gorilla under the hood. It turned out to be far too much smoke for a round track. After finally reducing the gear ratio to maintain traction from the normal 4.11 to a very lazy 3.08, the #74 was fast, running right up front – until an exhaust system header broke its welds. Ironically, it was cousin Merv who nipped a faltering Roger right at the line for the win. Undoubtedly, Roger was also poisoned by the toxic fumes. He "couldn't think or breathe for two weeks" – and probably couldn't hear anything either for all the noise. But he was even more wounded psychologically.

"We cut out that photo of Merv beating me and put it up in the garage and on the dashboard of our next year's car. There was a note with it – 'don't screw off!'"

He didn't. In 1971, just six years after he'd started racing seriously, he captured the jewel in the crown of short track racing, the last Langhorne, the final race on "No Man's Land." It was huge. But with the win accomplished and the track closed, Roger sensed a change in the racing winds. "The essence of the whole Langhorne phenomenon was that you could show yourself to the world – your car, your crew, your driving. A little guy could win. But it was the very end of the era when individual effort could beat a field of 200 cars. At a track like Trenton, you needed much, much better equipment and aerodynamics. And, then, the energy crisis hit. I realized I wouldn't be able to make money at the game in the future, but I did keep at it for the fun and thrill of it – for almost 20 years."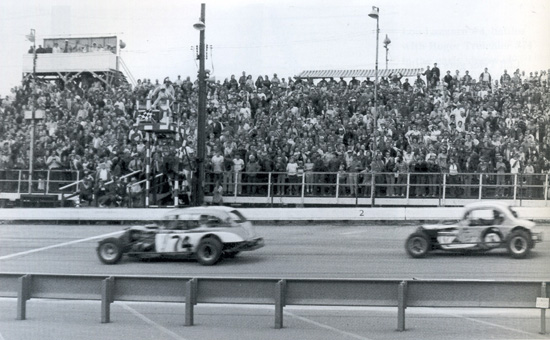 Langhorne's final checker waves over Roger, hotly pursued by the late Jim Shampine.
(From Langhorne! No Man's Land – Ray Masser Photo)
Roger has many fond memories of those years, including the 1982 season, when he ran a Bob Cunheo chassis and Ron Hutter horsepower in the green and white Genesee Cream Ale car. He finished second to Greg Sacks at Oswego's Bud 200, the year that Sacks won every long-distance race. "That day I ran second to Greg for 110 laps, and they awarded me a case of Bud for every one of those laps. Needless to say, given my sponsor, I wasn't about to be seen with all those suds in New York state. So, I took it all with me down to Stafford Speedway the next day for their 200. We wound up fourth and passed out all the beer in the pits. I am not sure how happy Jack Arute was, but I know Richie Evans and all the guys liked it a lot."

By 1989, Roger was finally ready to hang it up. "I was hurting with back problems that went back to the original Spring Sizzler at Stafford when I drilled the wall with Sonny Koszela's Log Roller car. There was a lot of scar tissue in the lumbar area and now the pain was spreading to my leg and foot, too. The doctors said they could fix me but I had to stay out of that stock car for two years. I was 46. I knew it was time."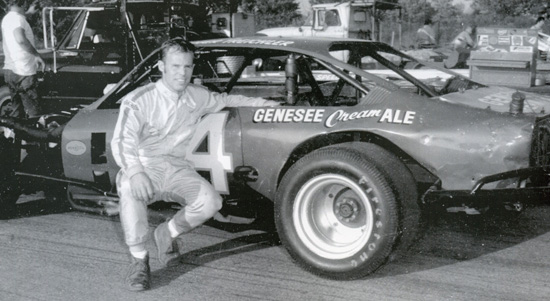 1974, the first of the green Genesee Cream Ale cars.
Roger was working on the roof of his home one day in 1998 when he missed a simple step on the ladder. One small step…. When he landed, his life was forever altered, his spinal cord severed. He was paralyzed from the waist down. "I was real down in the hospital but still determined to do whatever I could to get home. They let me out of there earlier than anyone ever had before with that kind of injury. But when Nancy drove me home along the river, I plain broke down and cried. I realized all those things that I had done over the last 10 years to replace the excitement of racing – wind surfing, sailing, skiing – all those things I had done and taught my family to do, were gone."

Today, Roger is still remarkable. At first light each morning, he comes truckin' out of the door of his home in Sanborn in his wheel chair. There is a 300-foot ramp leading down to the door of the floral shop he still operates. The first charge of the day is to see how fast he can get down the ramp, usually on two wheels. He calculates his speed at about 20 mph. He then puts in 10-11 hours in the shop. Each night, he works out with a special exercise bike that he actually powers himself. The machine stimulates his own muscles by electrodes hooked to a computer, in turn linked to a medical center in Baltimore. Those are the folks who worked with Christopher Reeves. They're doing God-like things. On the weekends, Roger is as active as he can possibly be. He has his own sailboat and his own jet ski, good for 50 mph.

"I have learned to live in my world. I hate it that I am in this situation and can't make up to Nancy and the family for all those nights I was off racing. I had wanted to take them on ski trips and to go wind-surfing in the islands. But, you know, I have no one but myself to blame for the fall, and I accept my fate. I try to be happy and optimistic, and to make the best possible of the equipment I now have. Just maybe someday someone will invent a repair kit that will patch me up a little more."
© 2010 Lew Boyd, Coastal 181