October 6, 2008

FIFTY-SECOND CLASSIC, THIRTY-FIRST DIAMOND

Few things in life can match the gutsy drama of the Oswego Classic. As 33 supermodifieds thunder down for the start of the 200-lapper as they have done since 1957, the air crackles with emotion. There's the rich history of the race – the storied victories of the world's finest short-trackers, Bentley Warren, Nolan Swift, Jimmy Shampine among their number. At the same time, when the green unfurls, there's that tingly awareness of clear and present danger.

This year's Classic was yet another barnburner. It was a catfight all the way, in the mid-seventeens per lap, interspersed with tangles. On the 197th circuit, a restart bunched Joe Gosek, Dave Shullick, Jr, Davey Hamilton, and Doug Didero together for the final reckoning. Didero pulled away to double up on his earlier Classic win in 1996.

The crowd, warmed by late summer sun, cheered wildly. The popular Didero, in a car that had never even been on the track before practice the previous day, had started back in 15th. The North Carolinian drove stunningly well, dodging all manner of possible problems. In Victory Lane, Barbara Martel, a part of Didero's crew along with her credentialed husband Jim, said, "Not everyone knew that Doug had someone riding with him."

Barbara was right. Only a handful of people saw the most beautiful story of the whole weekend. It started way back in the sixties.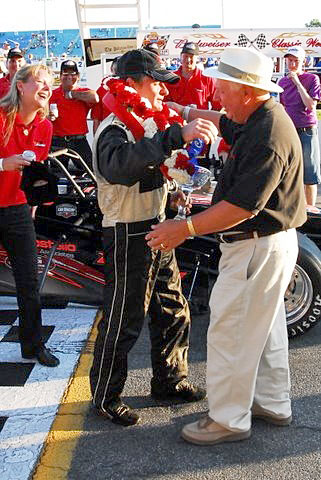 Skip Matczak congratulates Doug on the start-finish line.
(Didero Collection)
Skip and Lois Matczak were never apart. In their storybook, 43-year marriage, they shared a mutual adoration along with a successful business (Seals-it), and an unending passion for racing. Lois was everywhere: She was a tireless advocate for senior citizens in Somers and Ellington, CT; her name appeared on technical patents for Seals-it; her name also appeared on the occasional ticket for driving down the highway just a tad too quickly in their race team's hauler.

Over the years, they fielded well-tooled and very fast open-wheelers. There were sprinters and Silver Crown machines, chauffeured by a list of luminaries like Johnny Heydenreich, Tony Stewart, and JJ Yeley. All along the way, however, Lois and Skip never were far away from supermodified racing and its family of competitors.

No question that among the Matczaks' finest seasons were the years 1994 through 1997 when they teamed with their friends Doug and Cindy Didero at Oswego Speedway.

That first year, in 1994, Skip bought Lois a gold necklace and every time the team won, he would add a stone. Didero remembers Lois coming up to him with a big old grin after each win and saying, "Thanks for the diamond, Doug!" Skip ended up buying an impressive 30 of them.

In 2007, Lois fell ill with cancer. She struggled mightily, never surrendering her beauty or warm humanity. Skip cared for her so lovingly that when she died this July, there was an unprecedented outpouring of support for him from the racing community all over the country.

Not a lot before the possible last minute, Doug and his gang decided to glue together an Xtreme Chassis for this year's Classic. Skip, very much in mourning at the time, wasn't even sure if he could go out to Classic weekend. During August, he says, "I kept walking by Lois' jewelry box and I kept seeing that necklace. How she loved it! I wondered what I was going to do with it. Then I decided to ask Cindy Didero to wear it at Oswego for good luck."

Cindy continues, "Skip put it on me on Sunday morning. There was a mingling of all those memories. It was so emotional. I felt that Lois was right there."

When Doug swept the race so convincingly, Skip rushed over to hug both Dideros. In tears and joy, he whispered to Cindy, "It's your necklace now. But you've got to send it to the jeweler first."

When it comes back, it will have 31 diamonds.
© 2008 Lew Boyd, Coastal 181

Lois Matczak, the necklace, and
Doug Didero in 1996
(Seals-it Collection)

The Dideros in Victory Lane this year,
with Cindy touching the necklace
(Didero Collection)




Lois Matczak 1942-2008


(Dick Berggren Photo)