(Photo – Canaan Dirt Speedway)
---
8/30/11

SIDEWAYS AND THE DZUS QUEEN

"Hey," Paul Richardson barked on the phone a few years back. "I've got someone here I'm sending over to you. He doesn't know anything, but he can talk."

It wasn't quite as strange as it sounds. Paul was calling from the garage where they worked on his BUSCH North car. I was helping with their NAPA sponsorship, and maybe we had a marketing volunteer.

Soon came a cautious knock on the door. There stood Blake Shepard – tall, wiry, handsome, nattily dressed, with that climate-changing smile.

Paul got it somewhat right. True, Blake didn't know the difference between a spark plug and a ball joint, but he did know some things. He was just about to become a Vice President of Fidelity Investments in Boston. And there was also some strange bee buzzin' around his cranium. He'd seen stock cars on the tube and he wanted to get involved.

As it turned out, Blake did help big time with Paul's sponsorship. And Blake, his uncommonly pretty wife Ericka, and Paul and Maryann Richardson became great friends.

But it didn't quite end there. After over 40 years, I was at the sunset of my own driving career. Due to varying work schedules, the unsympathetic distances from Newburyport to any dirt tracks, and a dramatic change in my hair color, I could only race infrequently and with no steady help. It was a pleasure to take Blake along and teach him Racing 101, which I did as best we could. Off we went.

We got by fine, especially with the sorely needed technical support of a wonderful father/son racing family in Tilton, NH, Dennis and Danny Douville.

Then one night I suggested that Blake take my car out for mud packing, rolling in the track at Canaan Speedway. We took tin snips to my fire suit to accommodate the more vertical Blake. He learned how to use the Bert and chugged out onto the clay. That's when the promoter, then Butch Elms, unexpectedly threw the green from the starter's stand. As any driver will tell you, that's quite the moment: Cars in unison snap loudly alive, with a blast of dirt clods and flying tear-offs.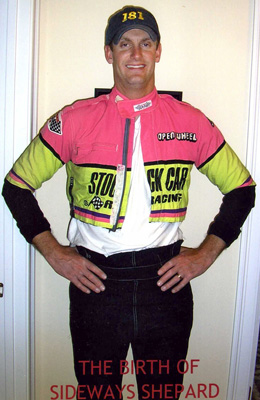 The officials did not notice that we had done a little tailoring on my fire
suit when Blake went out to roll in the track. (Ericka Shepard Photo)
Blake was hooked instantly. He had to have a race car.

After working a deal with Dennis Douville to maintain it, Blake bought himself a TEO, a pickup, and an enclosed trailer. His enthusiasm was palpable to all standing by. His nickname was instantly "Sideways" Shepard for his attack of the track; Ericka's moniker became the "Dzus Queen" for her joyful participation in the adventure. It has been an honor at Coastal 181 that they have chosen to keep our blue and yellow colors and the number 181 motorized.

Blake and Ericka have not been able to race a lot, but they sure have been some action. I went with them to Fonda, NY, for a warm-up day a couple of Aprils past. Dennis and Danny left early with the hauler, while Blake, Ericka, and I followed a little later in a road car. Coming back over the mountains on the Mass. Pike, we saw a group stopped, pointing frantically over the guardrail, way, way down in a gully. The whole rig was down there, upside down, the #181 torn completely out of the trailer. It was a mess, but mercifully Danny and Dennis were not seriously injured.

It was, of course, a learning curve on the track as well. More than once the fair Ericka would make what she called the "walk of shame" – across the pits to the parts truck to buy a new front axle.

Racing was limited by a nagging back injury Blake had brought to the party. He had been a spectacular athlete in high school and college, especially on the ski slopes. Ericka brought something to the party, too. Twin girls a year ago – both healthy and so lovingly received.

Blake was able to get in one or two shows this year, and there was a tough night. In a feature at Bear Ridge in Vermont, Sideways pierced the heavy backstretch dust way up on the outside groove, never even seeing the car facing him backwards. The whole front end was torn off. It was back to Dennis' shop for a clip, while Blake's back was screaming.

Then a couple of weeks later, August 13, came the call in the very wee hours. Blake had won the feature at Canaan. And it was earned, no gift – passes upstairs, passes downstairs.

You can only imagine the emotional warmth of that victory circle. It was an amazing thing. Here's a passionate, popular kid with no technical grounding, never sat at the neighborhood track growing up, never drove a kart or a street stock – and now he's won the modified feature with probably less than 250 or 300 laps in his whole career.

Given everything that happened this month – the debt ceiling crisis, the misbehaviors in Washington, the earthquake, the hurricane, Somalia, I, for one, sure was ready for a feel-good story.

GO GET 'EM, Blake!
-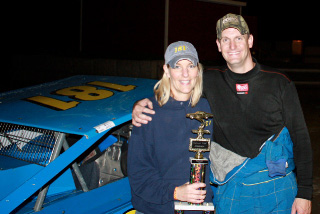 Sideways and the Dzus Queen
(Shepard Family Collection)
© 2011 Lew Boyd, Coastal 181