May 28, 2010
THE MONK AND MATTY D.
On May 15, 2010 Fonda Speedway hosted a memorial event for Lou "The Monk" Lazzaro. Louie, no question one of the modifieds' all time brightest stars with 113 wins at Fonda alone, had died right there at the track on April 19, 2000, at age 65. He suffered a massive stroke climbing out of his car following the feature.

Though he thrilled a million people, Louie was as basic as dirt – and about as poor. He kept his wits and his family together as best possible over a 40-year span as a full-time modified shoe. He had no ambition beyond the exhaust circuit.

It showed in his appearance. He'd cruise around in junkers on the road, attired in thread-thin tee shirts, extra large to accommodate his industrial-sized frame. Bald as Bonneville, by the time he was in his forties he had the look of an old man.

Louie was always shy to the point of awkwardness, his face typically directed to the ground during conversation. How curious that someone so unpolished – almost disengaged – alternatively had the stands at Fonda rocking with cheers after a special win one night and shaking with boos the next because he won too much.
The great Lou Lazzaro swept this one at Fonda with a tube chassis car in 1978,
but he probably would have preferred his baling wire coupe shown at
Lebanon Valley on the right." (Fred smith Photo, Otto Graham Collection)

Louie's cars were mechanical understatements, almost always #4, most always maroon, and most always sand-blasted from 10,000 too many laps. Certain years he did have some horsepower, such as 1969 with his infamous injected big block. More typically, his headers puffed smoked as he chugged around on parade laps. It looked like the #4 car needed rings and bearings as badly as its master.

The feature on May 15 this year ran off with all the usual Fonda fury. Great Fonda names like Pepicelli, Varin, Camara, Romano, and Palmer all had their swings at it, but, at 44 laps and the checkered, it was Matt DeLorenzo parked on the victory platform to collect the $4444 winner's purse and the Coastal 181 Cup.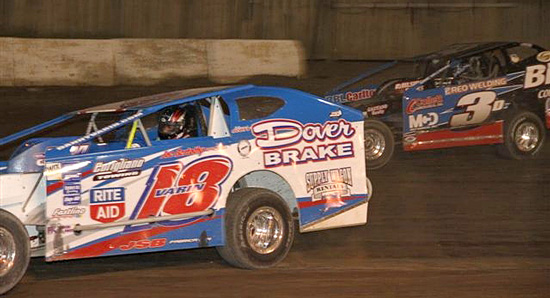 Matt DeLorenzo – in smooth, stealth mode – sneaks up on hard-charging
Bobby Varin, Fonda's 2009 Champion. (Bill McGaffin Photo)


Matty D, sitting still in the cockpit, took his time gaining his composure before greeting Louie's daughter, Mimi Lazzaro, on the PA system. Likely quite a few people in the huge crowd took that moment to contemplate what had just happened.

With the first look at it, you had to wonder how it was possible for the Lazzaro race to be won by a team so different from Louie and his clapped out #4. Though hardly gleaming for the layers of dirt and dust all over it, the DeLorenzo BBL car sat sleek, looking racy. It appeared to have the very best of equipment, and it is said to be painstakingly tuned by Matt's family-centric crew. Many will tell you that it was these guys who first took Fonda's modified motor monsters to task with a small block Chevy.

The wonderment only deepened when Matt popped spryly out of the #3. At 37 he is diminutive – like a Jeff Gordon or one of the current crop of USAC open wheelers. DeLorenzo is also articulate and certainly bright. He spoke graciously of Lou Lazzaro, he apologized if he had roughed anyone up more than he liked on way through the field, and he spoke of his joy that his daughter, by now in his arms, had seen him win.

The contrast between Matt and Louie (and most all of the outrageous outriders of Louie's era) was palpable. You had to reflect on how Matty would have fared back in the sixties, when disagreements were summarily decided by fisticuffs back out behind the Cow Palace.

But one thing was clear as a starlit night at an asphalt track: Matt DeLorenzo won that race because he drove just the way Louie did.

It was an inspiration to watch that #3 motor from 13th starting spot to the lead on the 30th go-around. Matt was super smooth. There was always that stylistic difference between the momentum-motivated Lazzaro and some of his throttle-stabbing competitors, such as Kenny Shoemaker and Pete Corey. Those guys needed and most often had enormously powerful motors. Matt was more like Louie. His car seemed nosey, seldom way out sideways. His typical line was about 2/3 of the way out to the outside, and it seemed to take him several laps of peddling to get his small block fully up to speed. That attained, it was just like Louie. It was as if he was attached to a giant invisible tether in the infield. Round and round he went, appearing to go equally fast on the straightaways and through the turns.

Who can possibly predict what the Bicknells, TEOs, and such will look like forty years from now, let alone the guys (and gals) who drive them. Let it all change as it will; let history take its course. But here's hoping that one thing will stay as constant as clay, as it has been since opening night in May 1953. May it be after 100 years of racing that victory at Fonda will still demand an uncanny combination of raw driving talent, physical endurance, technical know-how, and unfathomable courage.

And here's to Louie and Matt – and all who are to follow.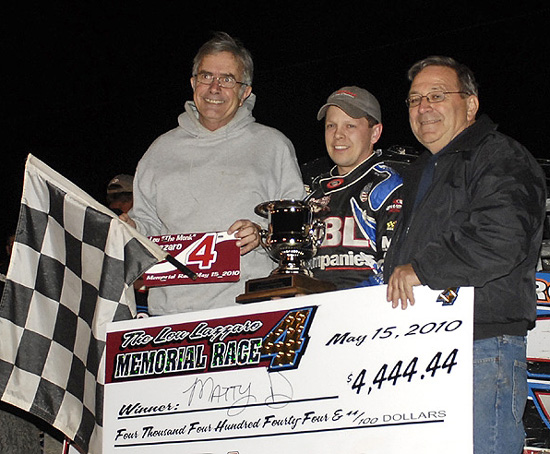 Fonda promoter Ric Lucia and Lew Boyd present Matt with the Coastal 181 Cup.
(Otto Graham Photo)
© 2010 Lew Boyd, Coastal 181