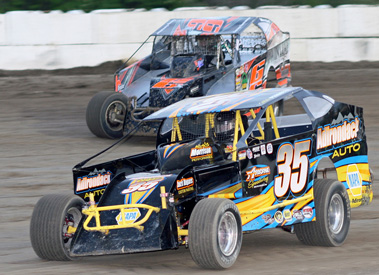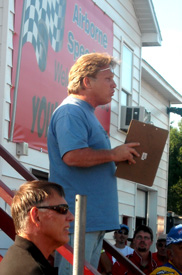 Mike Perrotte in his #35 power slides the clay on Friday nights at Mohawk (NY) Speedway, while Saturday night at Plattsburgh he tries to keep his guys somewhat straight on the asphalt. (Andy Watts Photo (L) and Coastal 181 (R))
---
8/2/11

PERROTTE AT PLATTSBURGH

The most meaningful measure of weekly racing is the modified main. Mike Perrotte gets it.

A tough, popular, and decidedly capable Northeastern racer himself, Perrotte's been slinging dirt for decades and continues today as a Friday-night regular at Mohawk Speedway in Hogansburg, NY. Mike knew he faced a different challenge seven years ago when Steve Fuller asked him to promote the races at his newly acquired but largely dilapidated Airborne Park Speedway, in Plattsburgh, NY, tight on the Canadian border.

There was a quandary. There were no obvious tracks with whom Mike could cooperate. Airborne was asphalt; all the hot rods in local garages were built for dirt. Ever the racer, Mike took a gamble, one at which others, such as DIRT's Glenn Donnelly, had failed. He invited in those high-standing, center- seated, straight-axle dirt machines to the pavement, their Hoosier dirt tires and all.

From the very beginning Mike's concept took cautious flight, fueled by his workaholic approach and his connectedness to the racing community. Within three years, progress was strong enough to allow Fuller to repave, layering in a near-perfect, multi-grooved, graduated banking, along with all kinds of aesthetic improvements to the nearly 60-year-old facility.

Last Saturday night, 28 mods lined up for the feature, vibrating and thundering under July's Hay Moon. The event was exceptional, rocking the bleachers from the unfurling of the green.

Remarkably, Perrotte has been able to preserve just a tad of unruliness from the field's dirty legacy. The cars are stable and clearly fast in the mid-16s on the smallish half-mile in multi-lane traffic. But it is oh-so different from what you'd expect. This isn't bird-watching a flock of touring-type asphalt modifieds on their sometimes endless follow-the-leader journey. The Airborne cars gobble up just about every inch of available racing surface, slippin' and slidin' side by side, every driver as up on the wheel as you can get.

It's a treat to see. The inherent thrill of racing is that if you don't take it to the edge, you're a stroker. If you venture over the edge, you may well be toast. At Plattsburgh, you can actually see that happening real time. If someone gets too racy in one of those turns, a telltale plume of smoke will trail off that chain-grooved right rear tire.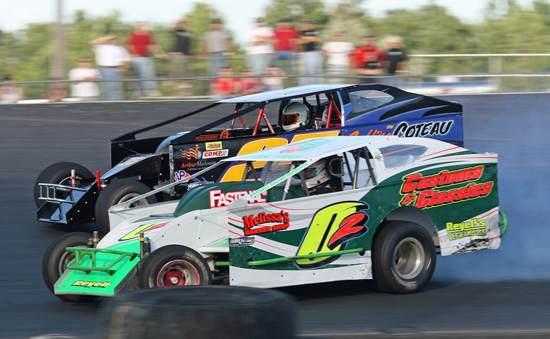 Hard-charging Mike Reyell gets a little loose in his #02 mount, smoking up
the neighborhood just a bit. (Andy Watts Photo)
"It gets your attention racing here," emotes Cam Grady, who snagged second last week. "Most of us can go 16.5 seconds, but to go 16.2 you really have to be aggressive. Fans like it, though, and Steve and Mike treat us like humans even if most of us aren't."

The fear over time, of course, is that this feature could lose its excitement and intensity. What if the crew chiefs get too good with a dirt chassis on asphalt, if the cars get too buttoned-down? Perrotte's all over that. "I watch it so carefully. I test constantly, too. We keep frame heights and motor heights way high. And it turns out those Hoosier dirt tires work well, because, if you do get to spinning them, you don't necessarily ruin them."

Jean-Claude Fortin agrees. He's been around for a while. The trucking magnate first towed a car into Plattsburgh from Canada in 1961, with legendary Jean-Paul Cabana at the controls. Now it's Martin Roy, Jean-Claude's son-in-law. "A few seasons back we could only get 30 laps out of a right rear. Now it's 130 because we are getting better with shocks and things." That's the truth. Roy won Saturday's hotly contested feature, his second of the year, as other high-point guys, George Foley and Patrick Dupree, were mired in L.A. freeway-type traffic.
=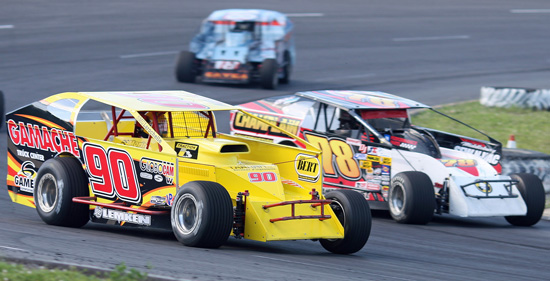 Martin Roy in the Fortin Motorsports #90 and Green Mountains veteran
Vinnie Quenneville work their dirt cars off the turns in orderly fashion on Plattsburgh's graduated pavement. (Andy Watts Photo)
Yep, the main at Plattsburgh rekindles that old spirit of Saturday-night racing – that loud, testosterone-laden pinnacle of the week. A wound-up announcer, a wide-open 30-lap shootout, lots of cars, fast ones at the back, the whole town watching.

What a special treat up there in the Champlain Valley. They've got it right, even in this blasted economy that just can't seem to get off the trailer.

© 2011 Lew Boyd, Coastal 181