August 15, 2009
FACIAL EXPOSURE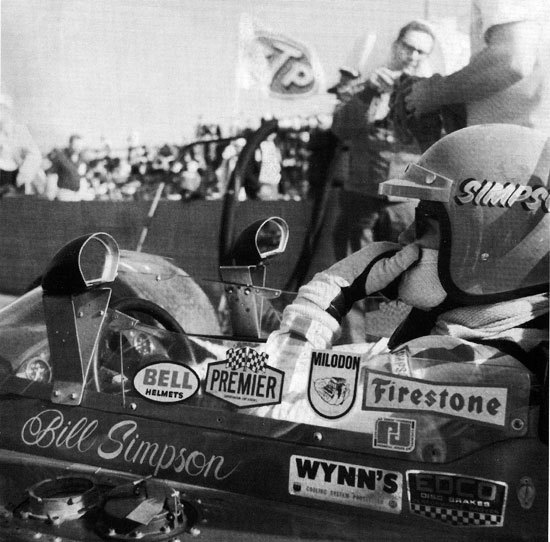 In 1970, Bill Simpson brought excellent fire suits to Indianapolis,
but what was protecting his schnoz?
(From Racing Safely, Living Dangerously, by Bill Simpson
with Bones Bourcier; Bill Simpson Collection)
It's been a problem ever since two guys in automobiles first raced each other – and one of them spun his wheels in front of the other.

Race car drivers have always been sitting ducks, strapped in behind their steering wheels, their beaks exposed to anything that might be kicked up from the race track.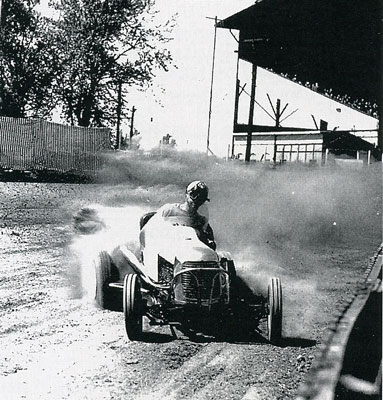 Speed McFee out front at Batavia, New York in 1945.
(From Daredevils of the Frontier, by Keith Herbst;
EMMR Collection, Marcian Sheg photo)
How many times must open-wheelers like Speed McFee have made a trip to the crash house after the feature for facial stitches? Notice how high he sits, eyes covered only by minimum goggles, cheek, nose, and chin naked to all that dust and stone.

Over the years, as insurance companies enforced cages and other safety precautions, the overall situation improved. Still there seemed to be a cavalier attitude about the open breezes. How about this great shot from Dick Berggren's collection of Ollie "Quick" Silva at the Star (NH) Speedway Classic in 1973? Ollie did pick up one of those other-worldly-looking leather face masks, but, with that in place, he felt no obligation to put even chicken wire screening across his front cage.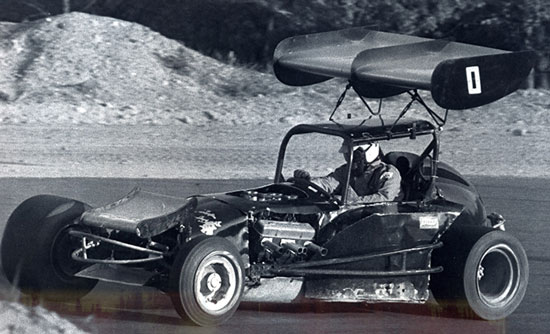 The late, great Ollie Silva at Star Speedway (NH).
(Mike Adaskaveg photo, Dick Berggren Collection)
Later in the seventies, two things changed positively. First was the arrival of the full helmet, greatly reducing the available facial target area for flying objects. Second was the widespread trend of lowering a driver's seating position in most all race cars. From the point of view of physical angles, the likelihood of getting conked decreased big time.

But the danger is still there. In the third weekend of July this summer, Brazilian Formula One driver Felipe Massa suddenly flew off course at the Hungarian Grand Prix. He had been struck by a small spring released from another car, sustaining cranial fractures and wounds to the eye.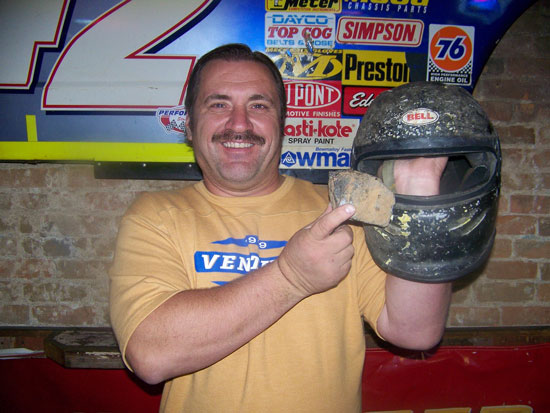 The A-Train's head was harder than the rock. This time.
(Hejna Collection)
Meanwhile, 10,000 miles away, beautiful Elko Speedway in Minnesota brought in the clay to cover its asphalt for the Elko Dirt Nationals. Al "A-Train" Hejna, one hard-chargin' USMTS cookie, was loaded for bear, looking to increase his already bulging 2009 win list. At the start of a modified qualifier, Tim Donlinger kicked up a rock.

"It was nearly the size of a brick," says the A-Train. "I think it was the only rock in the place, but it managed to come aflyin' right through my bars."

Hejna was much luckier than Massa. He came out of it with only a bruised cheek and a purchase order for a new helmet.

For some reason drivers today appear just as unconcerned about the whole issue as McFee and Silva used to be. Reports are that after Massa was hit and his vision was impaired, he piled his Ferrari into a barrier at 120 mph. When rescuers reached him, he was still conscious. He was extremely agitated that he was out of the race for such a silly reason. That was just a bit ironic, given that a few hours later he was in critical condition and in an induced coma.

Hejna, meanwhile, paid little attention to his own incident. "I've got to be honest. It did hit me hard enough to cause cobwebs and I admit I had to lift. But I only lost two spots."
© 2009 Lew Boyd, Coastal 181