March 3, 2009

DICK BERGGREN'S FIRST WIN

No question about it, the guy is a piece of work. Dick Berggren, America's favorite pit road television commentator, Executive Editor of Speedway Illustrated magazine, and photographer extraordinaire, has entertained us with enthusiastic, insightful, and fact-based race reporting over the last 40 years. He is as skilled as you can be in watching an event and uncovering its real essence. He's been a passionate public pioneer of racing safety and a quiet contributor to more down-on-their-luck racing people than we will ever know.

Bergie has carried a number of nicknames over the years. A favorite among his close buddies is "the Rolaid Rocket." He starts every day from a launch pad, blasting through it all with energetic intensity and a side dish of indigestion. As I write this Tearoff on a Monday, he is wending his way back to Ipswich, Massachusetts, from the spring NASCAR weekend in Las Vegas. With first light tomorrow morning, he will be back in his magazine office burning up the word processor. It will be only two days in the office before he is off to Atlanta. And, if there is the remotest chance he can fit in a visit to one of his beloved short tracks along the way, he'll do that, too.

Some years back, another of his handles was "Doctor Dirt." The Doctor part comes in recognition of his Ph.D. in psychology from the prestigious Tufts University outside of Boston. "Dirt" refers to his own colorful exploits in the cockpit before television took him away each weekend.

Bergie ran an early NASCAR late model division called "Tigers" before graduating to dirt open wheel modifieds and sprinters in the seventies. He competed widely in the Northeast and was particularly successful in a sprint car on the oiled dirt of Beech Ridge Speedway in Maine. His friends, though, will tell you that his very first win was the most remarkable. It went down at the old Lakeville (MA) Speedway near Providence, Rhode Island, and what a show it was.

Lakeville was a broken down, rock-strewn 5/8-mile dirt oval that ran open competition races on Sunday afternoons. There were no rules, no tech men – and you can imagine what happened. Everything came through the gate, from former Holman and Moody Grand National cars to New York/New Jersey dirt modifieds, to local street stocks.

In 1971 Bergie bought an ancient, clapped-out supermodified that had run with Oscar Ridlon's old URDC circuit in New Hampshire. It was the kind of car that would hurt you just for the looking. He slapped a motor in it – sort of – and was off to Lakeville. Total investment had to be south of $1,000.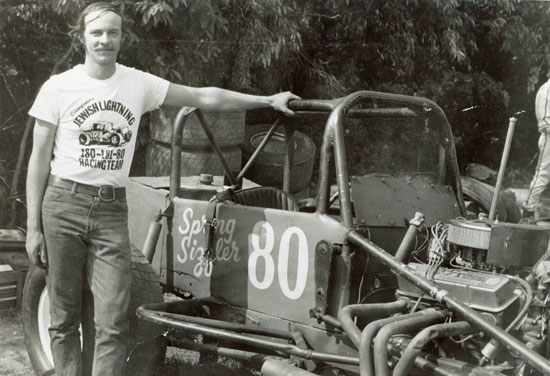 Qualifying was plain ridiculous. Bergie's "Spring Sizzler 80" rocked, sputtered, and squeaked so outrageously that it attracted a crowd in the pits after the heat. Good thing, because Bergie gave everyone a wrench. It was overheating, so out came the radiator for fin cleaning. It was down a cylinder, so it was timed, the valves adjusted, and spark plugs – two maybe – were changed. Another group attached the coupler from the crank to the driveshaft that was moaning noisily. A third team took on the rear end, changing gears and welding up the shock mount that had flapped in the breeze.

It looked like there was no way he could make the show, but after two courtesy laps, the throng of volunteers played "Workin' Woody" and pushed him off. He fell in at the back of the field.

Amazingly, that scary little #80 picked up about two seconds, good enough to be solidly mid-pack. Then, about halfway through, the leaders started crashing, pitting, or dropping out, and Doctor Dirt was suddenly in the hunt. And, wouldn't you know, with two to go he took the lead – and won it.

Nobody could quite believe what they had just seen. And at first, as the decrepit #80 sat in Victory Lane, smoking and steaming, nobody noticed that Dick Berggren wasn't there. Just about when a search party was being organized, he reappeared for the celebration. He had jumped out of the car, run through the gate and raced down the street to a pay phone to call his dad to tell him he'd won a feature.

Bergie was very much in evidence for the rest of the evening. He invited everyone in that formidable pit crew over to the adjoining Golden Spur Restaurant for burgers and beer. And more beer.

He spent the whole purse.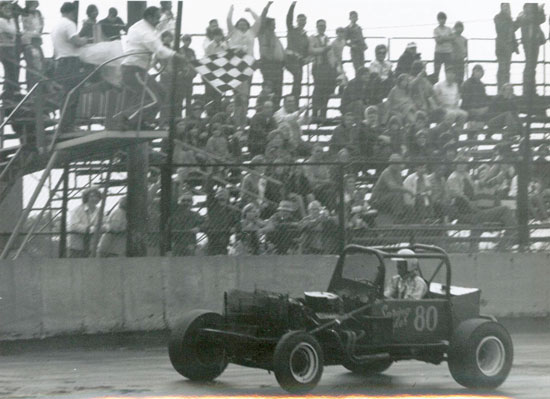 © 2009 Lew Boyd, Coastal 181