October 24, 2008

BEYOND BIONIC – Bentley Warren
As usual, this year's World Series (October 17-18) at Thompson (CT) Speedway was a chilly reminder of the winter winds to come. But also, as usual, it was a racing extravaganza, with race cars and fans busting the chain link fences of the sprawling facility.
Fourteen divisions of every size and flavor did battle over the weekend. When 28 of the mighty big block ISMA supermodifieds pushed off for the feature, it was noisily clear that they were the fastest of all. With light fuel loads the supers snarled around the 5/8 mile oval in 16.1 seconds, top speeds at nearly 150 mph.
The race was dominated, predictably, by Chris "the Rowley Rocket" Perley, who continues his scarily stunning exhibitions. He has won the World Series five of the last six years. No one has ever gone around Thompson more quickly.
However, many railbirds will tell you that the real show was the second place car, Vic Miller's #71. It was driven by the bionic Harley head, Bentley Warren, 67 years young, 68 in December.
It's hard to know what more can be said about Bentley. Fifty years ago he was flinging a flyweight bomber around the old West Peabody Speedway in Massachusetts. Forty years ago he was second aboard the Purdy Deuce at the Oswego Classic, after a gutsy duel with Nolan Swift and Johnny Logan. After that it was off to Indianapolis, Silver Crown racing, sprinters and the Little 500, midgets, stock cars, and more supermodifieds. Lots more.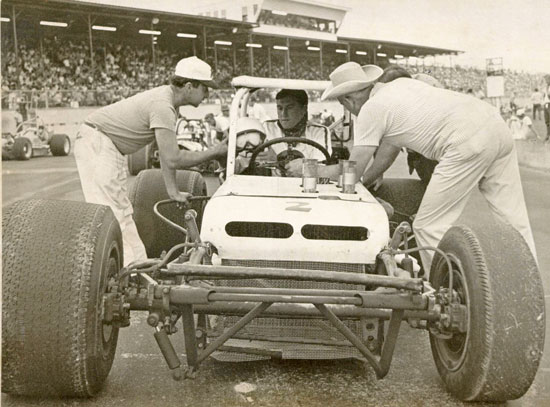 Bentley straps into the Purdy Deuce for the 1968 Oswego Classic.
(Russ Conway Collection)
Somehow, nothing seemed to slow the momentum. Not the years, not the massively increasing speeds, not even the vicious accidents and injuries.
Watching Bentley pace himself and his tires – even dropping back a little – for 40 laps and then blasting up through the field in the last ten warmed the stands more than a thermos of hot toddies. BW pleased himself too. You could tell his podium smile would fuel him fully until the opener next spring.
After the race, sensational young Bobby Santos III, whose car had grenaded, walked up to the Miller #71. He mused to journalist Russ Conway, "Gosh, do you think they'd ever give me a shot in that when Bentley retires?"
"I wouldn't be surprised. Ten years from now", Russ replied.
© 2008 Lew Boyd, Coastal 181