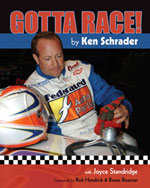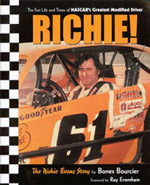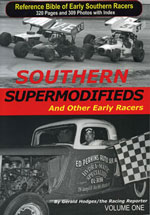 Semi-Monthly
Racing Commentary
with
LEW BOYD
Email Lew at lewboyd@coastal181.com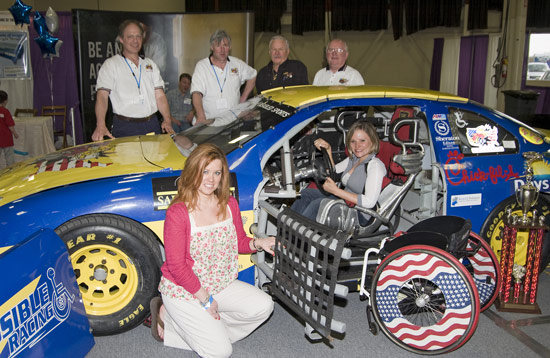 Son of Hard Luck Making Racing Accessible (Photo jeffbutlerphotography.com)
April 22, 2009

THE SON OF HARD LUCK


Back in the fifties, Harold "Hard Luck" Hanaford was a big name on the Northeastern stock car circuit. He won far and wide with his traditional flat-head-powered square-top coupes. He was hero to thousands, most certainly including his son Brian.

Brian's own involvement with racing, however, seemed star-crossed from day one. He remembers vividly his sadness at being left behind when his Dad earned a spot in the 1966 Permatex race at Daytona, having won the track championship at Thunder Road in Barre, Vermont. "I couldn't go. We all had to make sacrifices to keep the racing going," Brian recalls. "Then there was the time when I was climbing around my Dad's coupe and I fell off – right underneath it and below the rails of the trailer. I knocked myself out cold, and everyone was out looking for me for hours. I got banished from racing for a while!"

As a teenaged parts-washer for Ronnie Marvin while Hard Luck was crew chief, Brian got bummed out by a string of blown engines. "I decided to do something more under my control" – and so he did. He was Junior Olympic running champion for New Hampshire with a one-mile best of 4:27. He won ten varsity high school letters and was whisked off to Plymouth State College to play football. That was fine until "some huge linebacker knocked my lights out. I'd always been color-blind, but, believe me, all I saw was red and yellow!"

Later in freshman year, Brian decided to take a break from sports and he went partying. That's when the lights really went out. "We were so young, so oblivious to everything around. We were invincible. We thought we could drive drunk."

There was a crash on a hill, head on with a truck. Not everyone survived, and no one thought Brian would. When he finally awoke from a big sleep, his right side was paralyzed from traumatic brain injury. "You can come back from a physical hit like that," says Brian, "but in truth it took me 25 years to recover. It isn't just physical. It's mental. If your brain doesn't heal, you are still a prisoner."

And so he was. "My attitude just sucked. I got comfortable with being pissed off at the world and angry at everyone. My problem was everyone's problem. I worked construction in Boston. As soon as my bosses would realize how messed up I was, I'd be gone. I'd switch jobs. I'd switch the relationships in my life. And, I'd switch bars, the crutch in my life."

Finally, a couple of years ago, an idea flashed into his head, reflecting his longtime passion for racing. How about starting a race-car driving experience, offering everyday folks the sensation of stock cars, just as Petty was doing? But his idea had a twist: was there a way it could be done for disabled soldiers coming home from Iraq?

"It was a real turning point for me – time to do something for someone else for a change. It grew into a larger concept of helping handicapped people in general do something that their brain never allowed them to contemplate doing. I wanted to get a car together, build up a real program, but I was still so messed up myself, and it was a struggle. A number of people like my Dad, Dave Dion, and Stub Fadden kept telling me to stop talking and just do it."

Brian's perseverance has been astounding. He managed to hook up with Peter Ruprecht, a well-known figure in the modification of vehicles for the handicapped. They formed a non-profit organization called Accessible Racing, built the car pictured above, and launched it at Disabilities EXPO '08, to overwhelming response.

More recently, Virginia's Lee Perry did the engineering for a hardware hand control setup for Accessible Racing that allows disabled players to use I-Racing's virtual driving software to help rehabilitate themselves, both physically and mentally. At this point, even the staff at Walter Reed is paying attention.

If all goes well, Brian and crew will host a truly amazing event, "Magic in the Mountains," at White Mountain Speedway in Woodstock, New Hampshire, on Friday, June 26, the same weekend as the NASCAR events at nearby Loudon. Handicapped entrants can practice on the virtual system during the day and then compete for the best times. The winners will be able to drive the actual car for a few laps under the lights on the speedway that night.

Brian Hanaford still faces a lot of challenges financially and organizationally to pull all this off. But best keep an eye on him. Go to www.accessibleracing.com, check him out on youtube http://www.youtube.com/watch?v=v59liUKuwtM – or just give him a call at 603-726-6477.

A whole lot of good may just come from some hard luck years and years ago.

© 2009 Lew Boyd, Coastal 181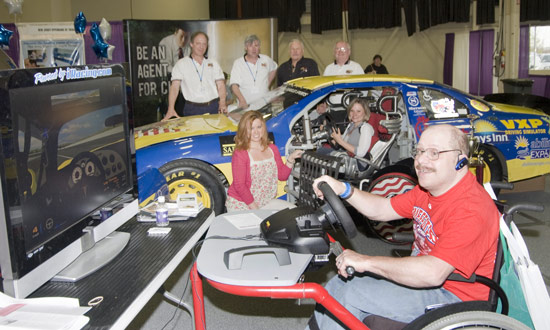 In the foreground, racers learn the art of driving a race car using the VXP Accessible Game Wheel. Once well-accomplished using the simulator, participants earn the chance to drive the real thing for free. Seated in the in the car's driver seat is Lauren Davidson, world record holder of the 400-meter freestyle at the 2000 World Paralympic Games in Sydney, Australia. Behind, left to right, are Lee Perry, Brian Hanaford, Peter Ruprecht, and Dave Baskin; Veronica Gonnello kneels in front.
(Photo jeffbutlerphotography.com)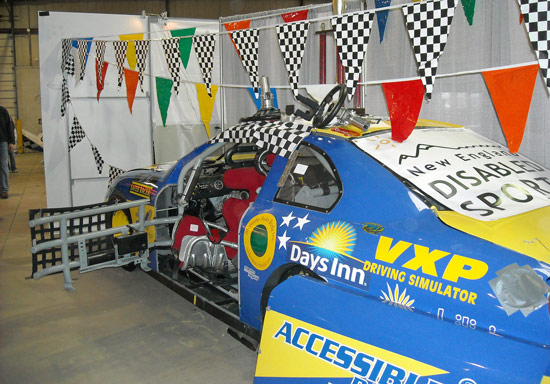 The Accessible Race Car is displayed at Speedway Expo 2009 in West Springfield, MA. You can see the accessible seat that swivels out, and the modified roll cage that opens like a door, both making transfers in and out of the car possible.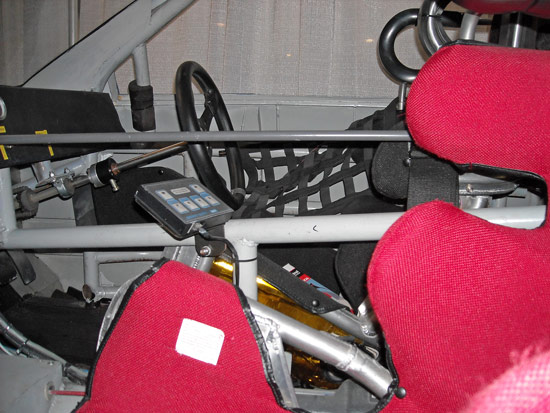 Inside the Accessible Race Car: The seat is made to contour to the driver, and designed to act as a side-to-side restraint. The passenger side has instructor's controls, so the racing instructor can back up the aspiring driver. The button pad provides push-button automatic transmission.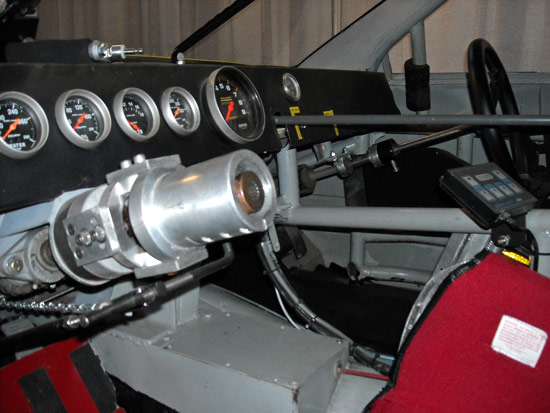 The steering wheel is removed for transfers. Different wheels provide multiple ways to steer the car, which can accommodate zero-effort steering. The hand control is seen just below the steering column.
Stop by our Book Store Directory for a look at our book and DVD selections:

.: Previous Tearoffs :.
5/20/09 - Big Boys in The Attic - rare photos of legends
5/6/09 - Back Up In The Attic - more rare photos
4/22/09 - The Son of Hard Luck - accessible racing
experience for the handicapped
4/3/09 - Racin' In The Attic - Gordon Ross photo collection
3/18/09 - About That Mike Spaulding
3/3/09 - Dick Berggren's First Win - (you had to be there!)
2/11/09 - Peter at the Park - Peter Fiandaca at Riverside Park
1/4/09 - Racer Speak -cool quotations
12/16/08 - Wimble Power, Will Power - Bill Wimble
11/24/08 - Remembering Chuck Amati - by Joyce Standridge
10/24/08 - Beyond Bionic - Bentley Warren
10/6/08 - Fifty Second Classic - Skip and Lois Matczak

9/20/08 - Joey's Dad - Tom Logano
9/1/08 - One Night at The Park - the death of Les Ley
8/20/08 - Transitional Technology - early supermodifieds

8/6/08 - Wallace on Wednesdays - dirt trackin' Kenny
7/19/08 - Star(ter) of the Show - importance of good flaggers
7/7/08 - McUnderdog - Eddie MacDonald
6/18/08 - The Night Buzz Was Worried - Buzz Rose
6/5/08 - John Richards - Boomer Role Model
5/20/08 - The Spirit of a Racer - the late Al Powell
5/1/08 - Bobby's Blues - Bobby Santos III
4/15/08 - Thinking About Rene Charland

3/26/08 - Carl and Corey - Carl Edwards and Corey Dripps
3/4/08 - A Cool Track with Cool Racers - West Liberty, Iowa
1/7/08 - When Drivers Can't See - cockpit vision
12/21/07 - When Starters Couldn't See - flagstand vision
12/1/07 - Ride Along with Erica Santos - in-car camera midget win
9/1/07 - The Look of a Real Driver
8/1/07 - Armond Holley

7/15/07 - Red Farmer
© 2009 Lew Boyd, Coastal 181