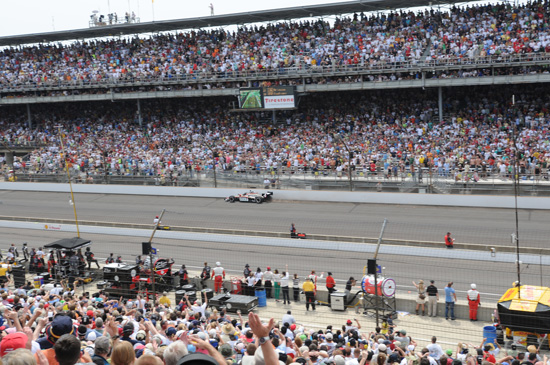 J.R. Hildebrand scrapes along the wall at Indy towards the finish line,
as TV screens worldwide capture the drama. (Jim Donnelly Photo)
---
9/14/11

ABOUT J.R. HILDEBRAND – AND THAT LAST LAP

No question you will recall that incredible finish at the Indy 500 this year. That moment every racing head in the world uttered a communal, "Oh my God!"

After 500 miles, the unlikely leader, rookie J.R. Hildebrand, greener than the grass in May, encountered a stalling lapped car entering that very last, 2000th turn. His Panther Racing Honda-powered Dallara caught a push, pounded the fourth-turn wall, and sparked, twisted and broken, down to the checkered for a second-place finish. The grandstand stood in shock as Englishman Dan Wheldon scooted underneath for the win.

But what I remember even more clearly are the words and aura of Hildebrand's post-race interview. You would expect a 23-year-old kid in that situation to be over- whelmed by adrenalin and emotion, struggle to explain himself, find something or someone to blame, trying to process that he had been just feet – mere seconds –
from the Borg-Warner trophy.

Not J.R.Hildebrand. He seemed the embodiment of calm graciousness, clarity, and racing zen. He relished his accomplishment in finishing the race and Panther Racing Team's Olympian effort to position him for a possible win.

Right then I decided I would call J.R. in three months to find out who in the world this kid is and whether his views on one of the most spectacular finishes in the "Greatest Spectacle in Racing" had changed.

He blew me away.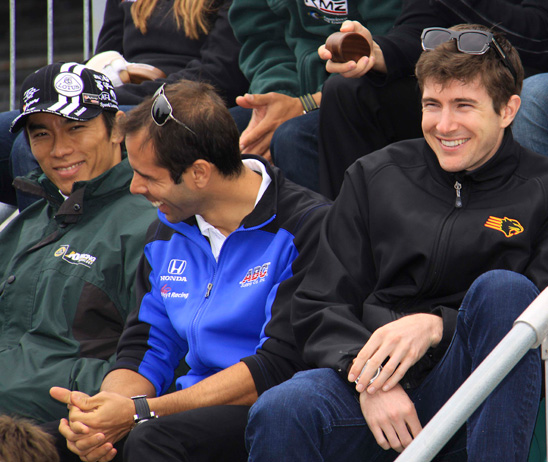 J.R. hangs out with fellow IndyCar drivers, Vitor Meira (blue jacket)
and Takuma Sato. (Panther Racing Photo)
J.R., a word about where you're from and how this racing thing got started.

I grew up in the Bay area, close to Infineon and Laguna Seca. My Dad's a CPA in San Francisco and he has a couple of vintage race cars, so I have always been around racing. I got started in Karts at 14, a little late by today's standards. I guess I made some quick jumps from there to Formula Ford, the Atlantic Championship, and the Indy Lights.

They must have been quick. How did you do that?

I think it came down to making careful decisions about who to team up with. There are no personal stats in racing. The team and the driver are inseparable. I knew I had to hook up with high-profile people who had the winning capability if there was any possibility that I was going to win. I've always tried to be an achiever, in school and in other sports.

Well, what about school and racing? How could you achieve at both?

That came down to a big moment. I'd done well in school and was a National Merit Scholar. I was applying to colleges when in 2005 I was selected for the international racing TEAM USA Scholarship Program, put together by Jeremy Shaw. He became a mentor to me.

I was going to race in the UK in the fall of my senior year at high school. I got accepted at places like UCLA and Berkeley, but MIT in Boston was the school that had the least problem with my leaving high school to go race. I decided to go with MIT.

Things went pretty well over in England, but it was tough. I remember sitting in the pits over there working on differential equations my advanced placement classmates had faxed over. That's when I realized I had a decision to make. I had to either race or go to school.

When I got back, I requested a deferral from MIT. They told me to come when I could.

Wow. And, how, after just a couple of seasons, did you get hired by John Barnes' Panther Racing?

After I won the Indy Lights championship in 2009 – kind of convincingly – I purposefully set out to meet all the Indy car owners. And, by the time Dan Wheldon left Panther, I had been bugging John Barnes for a long time. I put myself in a position where he couldn't ignore me. And, you know – I'm speculating here – it wouldn't be so bad for the sponsor, National Guard, to have a young American driver.

We went to test at Phoenix last fall to see how I would do. I'd never seen the track nor sat in an Indy car. The pavement wasn't even cleaned off, but I was somehow comfortable. By the end of the first day I was flat-footing all the way around. I actually think I had earned the spot by noon time.

And how about coming to Indy this spring?

It's so unique. The place lives and breathes. It could be 1965, it could be 2005. Buddy Rice drove me around a few times. The nostalgia is palpable. It's different from anywhere else.

Everyone helped me enormously. Sure, I had some nervousness, and my heart did some racing. Two hundred and thirty mph is fast with 33 cars. Would I be scared? I didn't know how I would do, but I did have some confidence and I knew it was one big opportunity. And no doubt that Panther had the goods – the right people, the right equipment.

And that last lap?

Well, back with two to go, I was aware I was leading, sure, but I was really tight on fuel. My team had gotten me there with fuel-saving. My total focus was hitting the fuel number every lap. I was determined to make the end of the race.

I was also aware that guys were coming up on me like a freight train. They had pitted and were on fresh tires. I was a sitting duck, so I just focused.

With the white flag, I thought maybe I was home free. Coming down that front stretch there was nothing in sight.

As I went into turn two, my spotter, Pancho Carter, told me Wheldon was coming up behind. And, as I exited two, I could see down the backstretch that a couple of cars were going into three.

I assumed they had pitted and would be up to speed by turn four and I'd never catch them. I accurately assessed one of them, but the other was out of fuel, and I was catching him at one extreme rate of closure.

I was going 220 mph – everything is happening very quickly – but it's interesting to reflect on how much I was processing going into turns three and four. I essentially had two choices. One, to brake hard, down shift, follow that car through four and pass him on the front stretch. Or two, try to get around him.

My attitude was to go by or go home. My team had finished second for three years in a row. I didn't want to get beat by pussy-footing around. I knew it was a low percentage move. My tires were used up and, after a lot of green flag laps, there was a huge marble buildup in the high groove. But I went for it.

I got as close to the #83 car as possible, but my car washed up.

In that split second was an eternity. You go from being in control to a helpless wall magnet. Nothing I could do would change that trajectory.

When I finally hit, I could no longer steer with the wheel. The right side was torn off. I discovered the way to keep it straight was to stand on the gas. I made a deliberate decision to keep it against the wall. I knew I could not finish if I spun.

And how was it that you were so unfazed after that finish?

You see, to me this was no random crash. There was a conscious line of decisions I made to try to finish the race. I was aware of everything that had happened. I was saying just what I felt. There were two factors in it. I knew full well that the only reason I had finished up front was the Panther guys. They were so amazing to me all month. I was full of gratitude.

And saying what I did was no stretch for me. I suspect it is the way my parents brought me up. It wasn't a time to go pointing fingers. It was a time to be a man about it.

Will you be back in Indianapolis next May with Panther?

That's the plan!

Do you think you will ever go to MIT?

That's a harder question. Maybe not.
John R. Hildebrand
(Panther Racing Photo)
I guess I'm still blown away.

Quite possibly this kid from California, J.R. Hildebrand, could have received more accolades from the racing world if he had won this year's Indy 500, but quite possibly he could not have made a better impression.
If you were interested in this Tearoff, you might enjoy the books below:


© 2011 Lew Boyd, Coastal 181