Semi-Monthly
Racing Commentary
with
LEW BOYD
Email Lew at lewboyd@coastal181.com

May 20, 2009

BIG BOYS IN THE ATTIC

Here's another chapter in our "Racin' in the Attic" series, this one focused on some of the real big boys of open wheel racing back in the day. The images come to us from one of our all time favorite customers, Bradley Poulsen, out in Greenleaf, Wisconsin. He's been around the tracks since the fifties when his Dad ran a series of hard tops – and he knows his stuff.

Bradley sent in a whole slew of pictures taken by Mike Ringo that became part of the Bob Bergeron collection.

© 2009 Lew Boyd, Coastal 181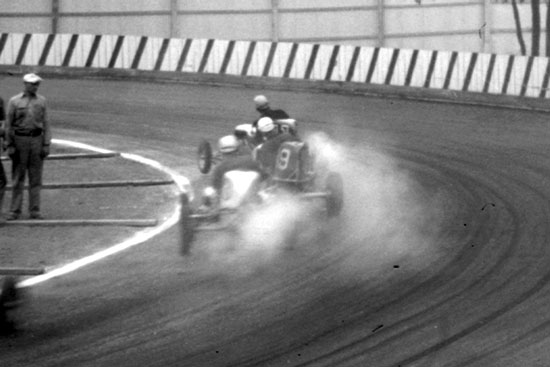 Outboard midget dudes, certainly on the hammer, pitch it into a turn at Dorney Park in Pennsylvania, but the infield stooge remains unimpressed.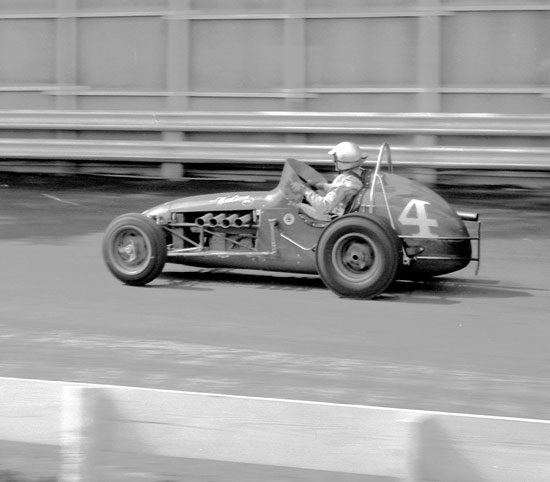 Jud Larson, the definition of bravery, exercises the Watson Offy at Allentown, PA.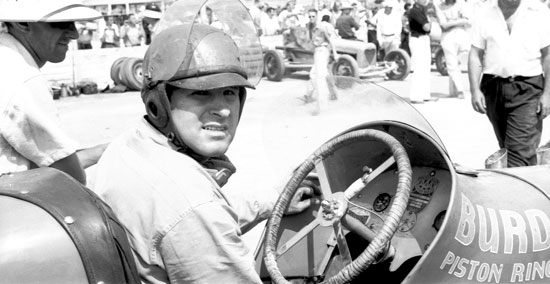 Mark Light in the #9 Burd Special at Williams Grove, PA, in 1940.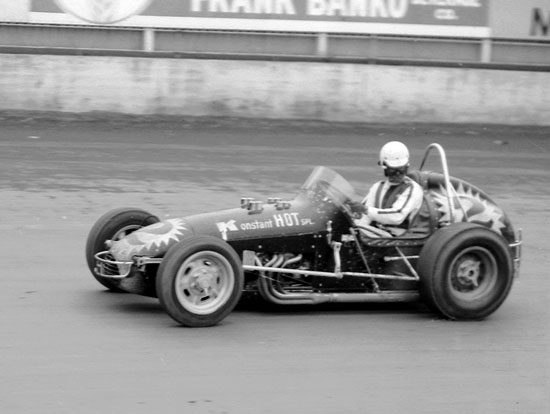 It's Roger McCluskey parading in the famous Konstant Hot #2 at Allentown, PA, on September 21, 1963. What does he see that we don't?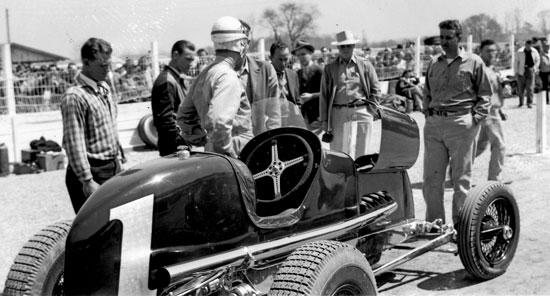 Duke Nalon, the star at the Brickyard and one of the "Chicago Gang" along with Tony Bettenhausen, and the Weirick Offy Sprinter at Williams Grove, PA.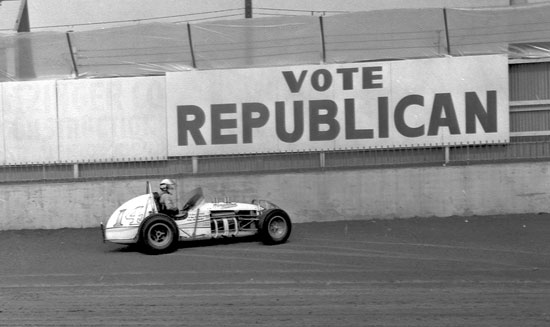 The ill-fated Red Riegel crosses up the Wergland Chevy at Allentown. Do you think he liked Nixon?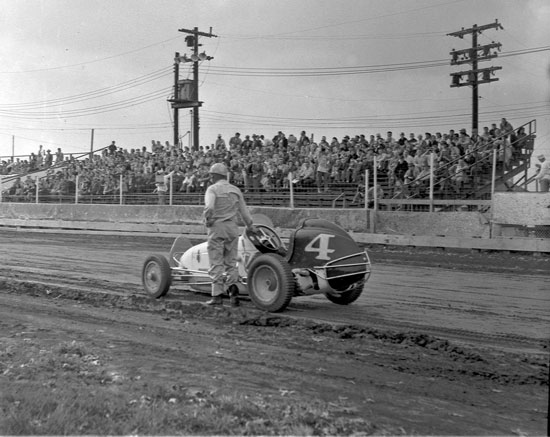 Blues in the autumn. Buster Warke is bummin' at Hatfield, PA, on October, 25, 1953.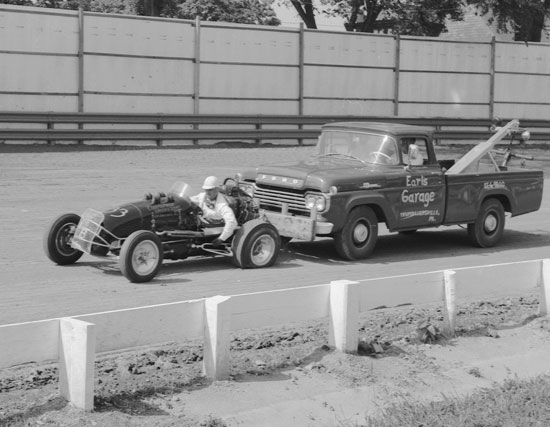 Joe Barzda is a human radius rod, being pushed back to the pits after bouncing off the fence at Allentown.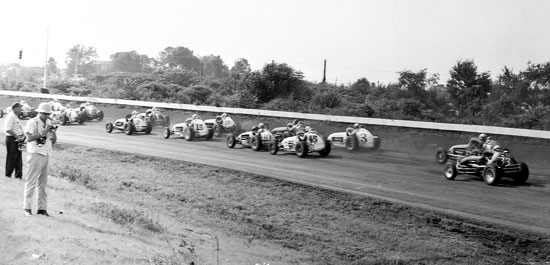 Sprinters at the Grove. They're still at it today.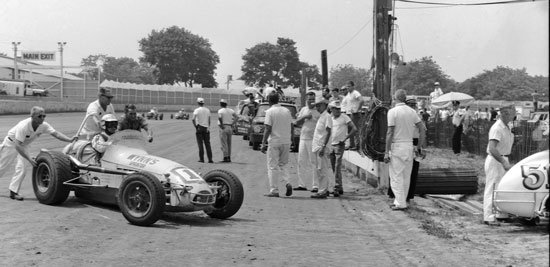 The highly respected Don Branson wheels the Wynn's Sprinter into the pits at Allentown on August 7. 1965.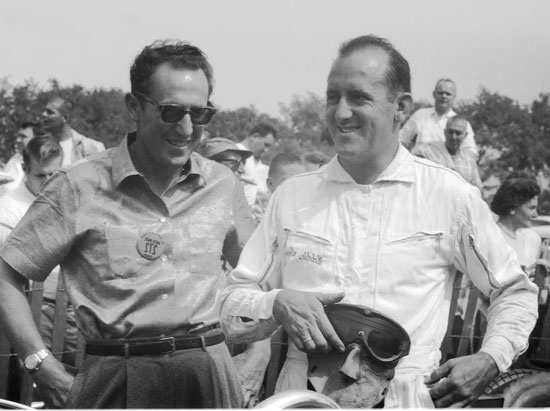 Eddie Sachs, racing's Clown Prince, and the more serious George Bignotti at Allentown in September 1959.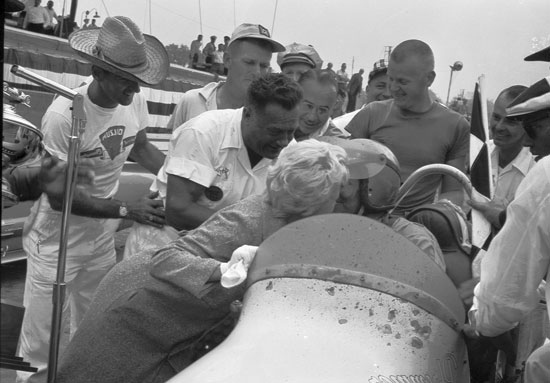 That's Mrs. Van Johnson plantin' one on Tommy Hinnershitz.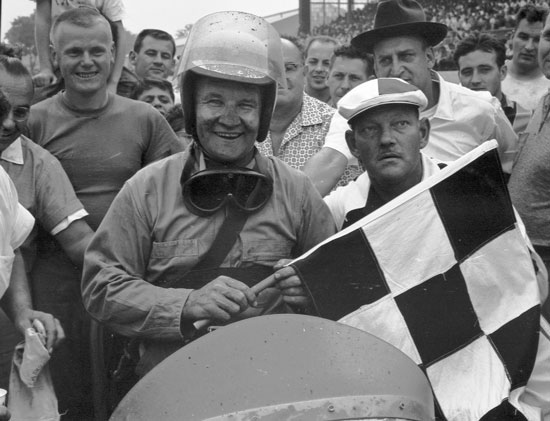 The Dutchman was pleased.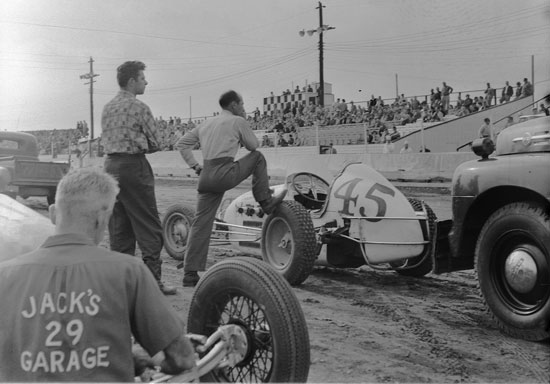 The legendary New Englander, Joe Sostilio, contemplates the universe aside the Leitenberger Offy midget at Hatfield.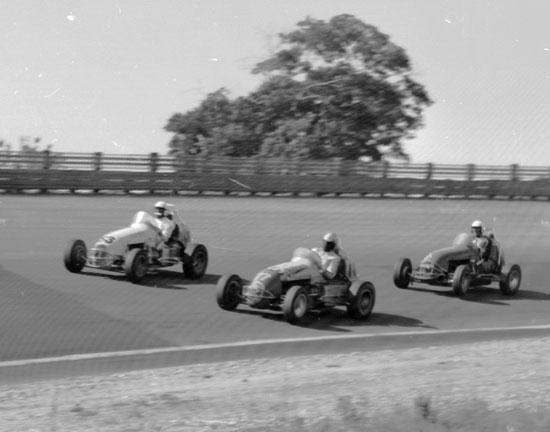 Now this is racy stuff. Gig Stephens leads a midget feature on the banked mile at Trenton, NJ, in June 1962.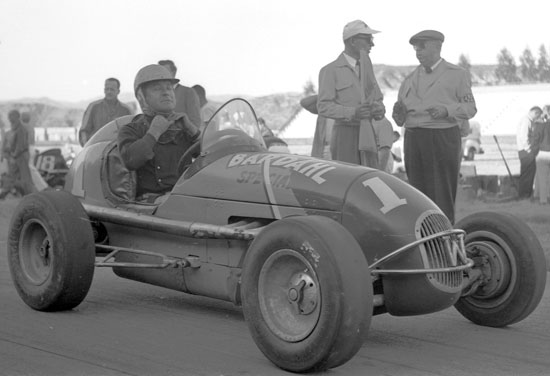 Shorty Templeman aboard the Bardahl Midget at Bonelli Ranch Stadium in Santa Charita, CA, later know as Saugus Speedway.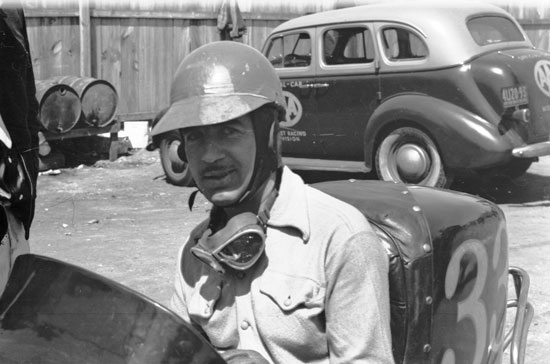 Bill Troutwine at Pottstown, PA, in 1940. Check out that AAA club car.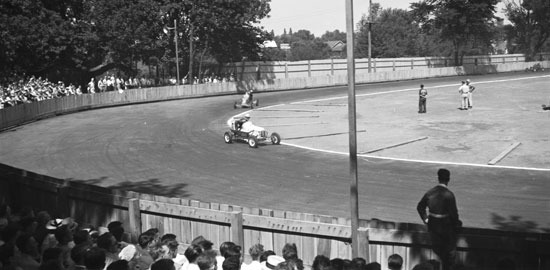 Johnny Swire hustles his outboard-powered midget around Dorney Park in Pennsylvania. Nice, sturdy fences!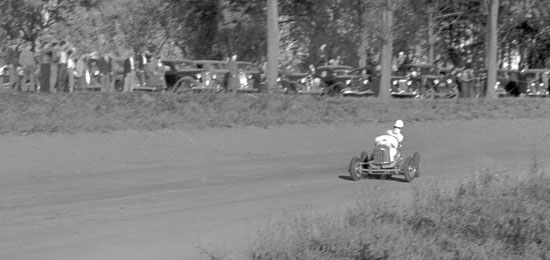 Charlie Miller in his V-8-60 at Lebanon, PA, in 1939. Talk about fences!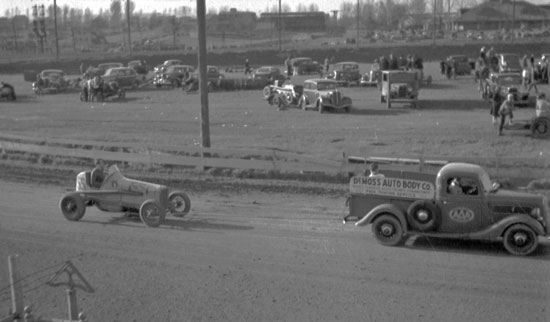 Doc Keim is towed to a start at Reading, PA in the Ambler Special.

THANK YOU, Brad!!!!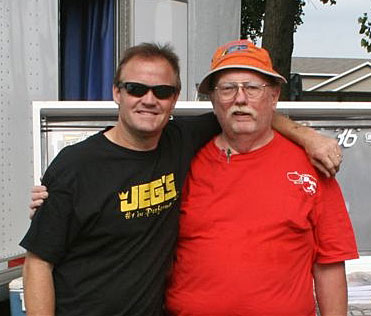 Bradley came down to a USMTS show at Kasson Speedway for a signing of Kenny Wallace's Coastal 181 book, Inside Herman's World. We had a blast.
Stop by our Book Store Directory for a look at our book and DVD selections:

.: Previous Tearoffs :.
5/20/09 - Big Boys in The Attic - rare photos of legends
5/6/09 - Back Up In The Attic - more rare photos
4/22/09 - The Son of Hard Luck - accessible racing
experience for the handicapped
4/3/09 - Racin' In The Attic - Gordon Ross photo collection
3/18/09 - About That Mike Spaulding
3/3/09 - Dick Berggren's First Win - (you had to be there!)
2/11/09 - Peter at the Park - Peter Fiandaca at Riverside Park
1/4/09 - Racer Speak -cool quotations
12/16/08 - Wimble Power, Will Power - Bill Wimble
11/24/08 - Remembering Chuck Amati - by Joyce Standridge
10/24/08 - Beyond Bionic - Bentley Warren
10/6/08 - Fifty Second Classic - Skip and Lois Matczak

9/20/08 - Joey's Dad - Tom Logano
9/1/08 - One Night at The Park - the death of Les Ley
8/20/08 - Transitional Technology - early supermodifieds

8/6/08 - Wallace on Wednesdays - dirt trackin' Kenny
7/19/08 - Star(ter) of the Show - importance of good flaggers
7/7/08 - McUnderdog - Eddie MacDonald
6/18/08 - The Night Buzz Was Worried - Buzz Rose
6/5/08 - John Richards - Boomer Role Model
5/20/08 - The Spirit of a Racer - the late Al Powell
5/1/08 - Bobby's Blues - Bobby Santos III
4/15/08 - Thinking About Rene Charland

3/26/08 - Carl and Corey - Carl Edwards and Corey Dripps
3/4/08 - A Cool Track with Cool Racers - West Liberty, Iowa
1/7/08 - When Drivers Can't See - cockpit vision
12/21/07 - When Starters Couldn't See - flagstand vision
12/1/07 - Ride Along with Erica Santos - in-car camera midget win
9/1/07 - The Look of a Real Driver
8/1/07 - Armond Holley

7/15/07 - Red Farmer
© 2009 Lew Boyd, Coastal 181