12/19/10

TEAROFF AT YULETIDE

Even if you are not the religious type, it's hard not to warm to the spirit and humanity of the Christmas season.

Holiday cards are always a treat, evoking memories of people we often don't see as much as we'd like.

A most welcome card came today from Barre, Vermont, just the other side of the hill from Ken Squier's legendary Thunder Road speedway. It was from Cho and Sheena Lee, as fine a father-daughter duo ever to grace Northern New England. Both are huge supporters of racing – and Cho has looked pretty darn racy in the Coastal 181 coupe at vintage races here and there.

Cho and Sheena's greeting, though, carried a whole other string of memories. Front and center there's that fabulous image of Oscar "Cannonball" Ridlon, perched mightily in the cockpit of the wire-wheeled Ridlon Offy. To Northeastern racing history buffs, the photo is worth 10,000 laps. Ridlon just has to stack up as one of the most outrageous racing characters ever.

He began racing in 1932 – starting right out in big cars, thank you very much. He was a winner from the get-go, loving the loot and the ladies, playing scant heed to a series of horrendous crashes. He ran wherever he could make a buck. That included jaunts abroad, even to South Africa, but he was quick to turn down the seat in a Milt Marion ride at Indy because the pay sounded skinny.

Post-war, "the Old Showman" was fast and violent with his smoky and sonorous Elto-powered midget. He also became a promoter, running weekly stock car shows in Massachusetts and New Hampshire for nearly three decades. They were gritty, no-nonsense programs, and he ran them with a steely hand.

I will never, ever forget the first time I met him. I wrote about the incident in the Pines (MA) Speedway section of the Coastal 181 book HOT CARS COOL DRIVERS:
If what they say is true, it must have been quite the scene. There can be no doubting that Carl Tiberio, brother to Al, Butch, and Mike from Methuen, was one tough customer, both on and off the track. In his early days with a bomber and later with a cutdown, Tiberio was hard on the throttle, soft on the brake. In the pit area he was quick with both his temper and his fist.

One night in the sixties, after winning the "A" feature at The Pines Speedway, Tiberio swaggered up to the payoff window, puffing beneath his trademark tee shirt and sailor's cap. Fully expecting $500 for the win, Tiberio slammed down that fist when Oscar Ridlon, The Pines' promoter, stopped counting at $250. "Where's the rest of the money, you crook?" Tiberio demanded. Ridlon's response came slowly. "So, Carl, you think you're tough. I'll show you who's tough." Ridlon calmly reached up and unscrewed the single light bulb dangling above his table. He soaked the two fingers from his right hand in his mouth and then jammed them into the socket.

Tiberio left with $250.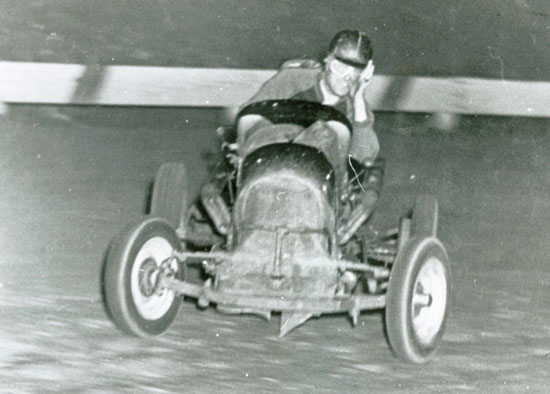 Oscar running on the dirt at The Pines before World War II. He went to
another place in 1973, but he is likely still thumbing his nose at all of us.
(From
HOT CARS COOL DRIVERS
, by
Lew Boyd
. (Caruso Collection)
I believe the story. Not more than a couple of years later, Bruce Cohen and I went to Hudson Speedway, a quarter-mile sister track to The Pines in New Hampshire, for the Easter opener. We were intending to test our dirt modified by running a few laps on the asphalt. Amos Bird, the pit steward, made us race in the supermodified division, and we were like a whale in a sea of goldfish. Somehow a bunch of cars dropped out, and we splashed home in fifth. Totally green and naïve, Bruce and I were thrilled at the thought of a few extra bucks to start the racing season, until we got to the payoff window, that is. A weathered, cranky-looking guy wearing a crumpled old suit and a white shirt with no tie grunted, "Who the hell are you?" without even looking up. We responded that we had just taken fifth in the super main. He counted five five-dollar bills and handed them to us and promptly snatched four back. "Twenty bucks to join the club, kid."

So, Bruce and I had just towed all the way up to New Hampshire, run up front in the feature, and we were getting $5.00. What happened, we wondered. We should have known better. We had just run into Oscar Ridlon.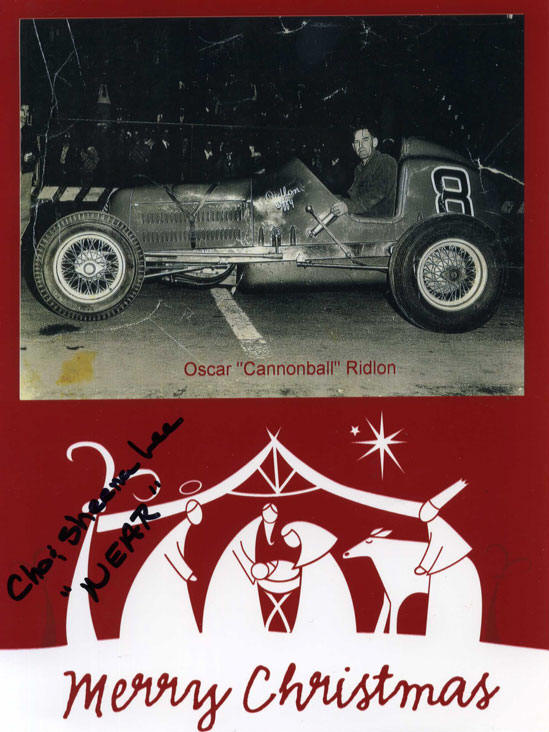 four
Thanks for the picture – and the memories, Cho and Sheena!
AND A MERRIEST CHRISTMAS TO RACING PEOPLE, ONE AND ALL.
© 2010 Lew Boyd, Coastal 181