January 30, 2009

STEVE

You know how there's something different about Carl Edwards? It's not just those sculptured good looks. It's not his scarily brave competence in the office – remember that last lap bounce off the wall at Michigan last summer?). It's the refreshing way he thinks and the joyful way he grins.

Well, everybody stand back. Carl's got a clone now. There's another 10,000-watt smile in town. And the energy source behind this one is a 25 year old from up in Fort Francis, Ontario, named Steve Arpin.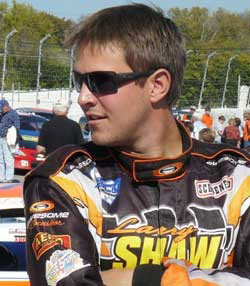 Photo Credit: Eddie Sharp Racing
He was a lot of action from the start. Son of an entrepreneur and dirt racer, Steve was winning in go-karts at 10. And then jet skis. And there were the National and World snowmobile titles in 2002 and 2003.

A rocket ship launched his first day on clay, and he was modified track champ at 15. No question the handsome kid had the feel for the wheel. He is also an A student of chassis dynamics, immersing himself in how things really work.

Curiously, his trips to the South have always seemed to warm him up and define him. Colorful drama, to say the least.

Take his 2007 adventures during Speedweeks at Volusia. Five out of seven nights he whipped a modified field so big it spilled out of the pit area. Do you think the driving scouts had their antennae up or what?

Down at a show over in East Bay, Steve noticed that he'd have to wait in the infield for a while after his time trial. He wired some hot dogs to his exhaust manifold with tin foil, put some rolls and mustard behind his seat, and offered up refreshments to the guys in the infield after he qualified.

Then there was that little 2007 jaunt to Las Vegas. Thursday night, Steve won his spot in Saturday's feature, so he had a surprise day off on Friday. He made the most of it. It was off to the Little White Wedding Chapel where he took the hand of the gorgeously blonde Trina Braaten.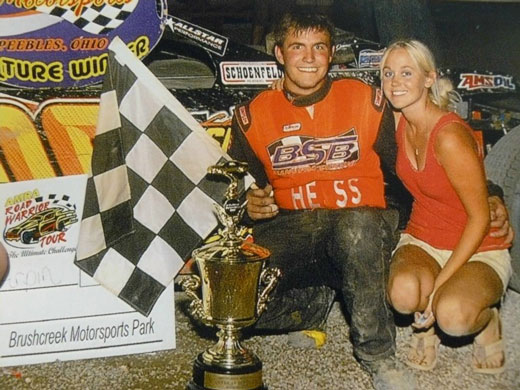 Steve and Trina
Photo Credit: The Arpin Collection
The eyes of the world were on the Canadian as he towed into Volusia in 2008, and that was a different kind of drama. That first night Steve was working on his engine when a radiator hose blew off, spraying him with boiling water. His left arm, thighs, and groin were horribly and painfully burned.

The racing community sprang to action. The Kenny Show – Wallace and Schrader – pitched in, as did guys like Bobby LaBonte, Jared Landers, Jack Roush. They flew Steve and Trina home, and racer Ron Martin hauled all their kit back up North.

Taken by the kid's infectious personality and obvious talent, everyone watched as he recovered, and the ride offers followed. That summer he ran late models on pavement and loved it. He was USAC Rookie of the Year in the Silver Crown series, running a car owned by Carl Edwards and wrenched by Chris Santucci. Soon he was picked up by Cary Agajanian's MMI, the leading driver rep agency in the sport.

This past fall Steve and the fair Trina moved to Mooresville. They house-sat for Carl before finding a place of their own. Trina's now the office manager at Eddie Sharp Racing, and Steve's getting ready to attack the ARCA RE/MAX race during Speedweeks 2009. His practice times are lightning quick. And you can just sense his excitement. "I was so consumed when we went down there for practice. Holy Crap! I'm on my first lap at Daytona. Oh my God, I'm here!"

He just may be. It sure has the ring of Edwards II.
© 2009 Lew Boyd, Coastal 181