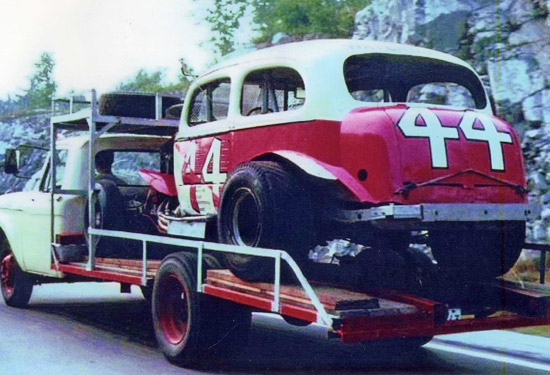 (Howie Hodge Photo - John Grady Collection)
---
3/23/11

THINKING OF GENE BERGIN

There were thousands and thousands of racing photos on display at Gater Racing News' Motorsports Show in Syracuse a week or so ago. The one above, however, sparkled bright as a diamond in John Grady's booth.

That's the late Fred "Sharkey" Gaudiosi's trademark pink and white #44 being towed up the long hill on the Massachusetts Turnpike west of Springfield in the 1960s. Sharkey's distinctive creations, always Plymouth-powered and now almost mythological in stature, were gritty but lightning fast. And Sharkey, a Northeast Auto Racing Hall of Fame owner, always had the best in class behind the wheel.

No question one of Sharkey's most star-crossed linkages was with another Hall of Famer, driver Gene Bergin. Bergin, popular and colorful as they come, has been much in the mind of the Eastern racing community since he passed away this February 27th. It is said that he died from complications from a stroke last summer. What actually happened may be much sadder. Gene's wife Lucy, the love of his life, had died eight years earlier, launching him into a deep depression from which, friends contend, he simply never recovered.

Gene's blues were hard to watch, as he had been such an animated, energetic, joyful and athletic type throughout his life. How many times was he seen ambulating through the pit area on his hands rather than his feet? And out on that track he was always on the gas, completely devoid of fear. He won a lot – and he had his mishaps. The one pictured below, on the dirt at Stafford Springs, CT, in 1965, was in a Sharkey-mobile. Bergin was about as busted up as the #44 and he was done for the rest of the season.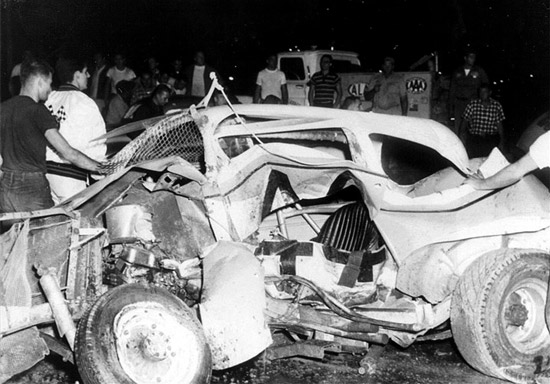 (Tom Ormsby Collection)
Everyone who was ever around Gene Bergin has a story. Master-owner Skip Matczak, for whom Gene drove sprinters, recalls that "he was one incredible athlete, but he was no engineer. When he'd bring the car in from warm-ups, I'd send him off for coffee so he wouldn't get all confused about what adjustments we were going to make. He came from that old Fats Caruso school – they had no clue about the mechanics of the car, but they sure could go out and find the fast groove."

Another Northeast Hall of Fame driver, Billy Harman, thinks his buddy Gene won so much because "he was so agile and coordinated and because, frankly, he wasn't so good a businessman. He just worked construction and raced, but he had a nice, growing family with kids and he really needed that purse money."

Legendary shoe Bill Slater summed up his thoughts about Bergin with classic crispness. "He was so good I could give you a whole list of guys I would rather race against."

I have my own memories of Gene. That top photo may well have been taken on a Sunday in 1969, Sharkey on his way to Lebanon Valley (NY) Speedway for one of their wildly racy Sunday night 100-lap open competitions. If it's the night I recall, I started the feature right behind Gene who was in that #44. I was thrilled. We were just getting going on the dirt, and I admired Gene tremendously. I figured I could follow him closely and observe how to get around those high banks like one of the big boys.

It didn't quite work out that way. When the green flag flew, Gene went way upstairs and clouds of dust billowed up. That pink sedan was out of sight – gone. Gone for about three laps, that is, until he went roaring by, lapping me on the outside. Oh well.

Here's to you Gene – and Lucy, and Sharkey, too.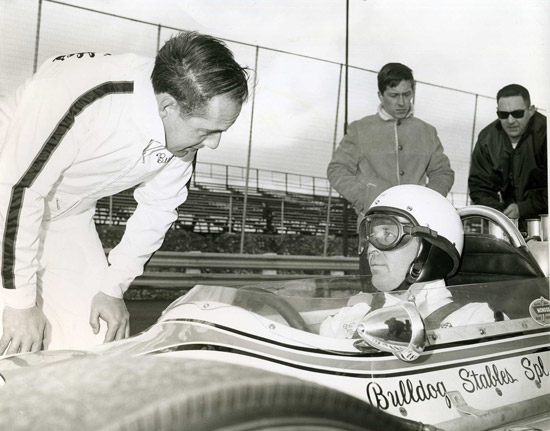 Gene Bergin drove anything and everything well, even Indy cars.
(Lloyd Burnham Photo from Dick Berggren Collection.)
© 2011 Lew Boyd, Coastal 181