April 27, 2010
CATCHING UP WITH STEVE ARPIN
How about that Steve Arpin! You know, that fresh-faced "All American" kid from Canada who won his first dirt mod track championship at age 15.
We did a TEAROFF on Steve right after he had turned in his very first laps at Daytona in January a year ago. "Holy crap," he sang out. "I've finally made Daytona!"
We caught up with Steve again last week. He'd had a helluva two-week adventure. He won the ARCA show at Salem and dusted them off again in spectacular fashion a week later in Texas. He was sitting in a motorhome in the infield of Talladega, spending hours watching Dale Junior tapes of restrictor plate races, over and over again.
It was immediately clear that a whole lot has happened to Steve in the last couple of years and that a whole lot of people have been watching. It was also clear that this has been no cake walk, and, along the way, the kid with the 10-gigawatt smile has become one mature young man.
Here's what he had to say:
So, where's your head just now, Steve? I'm in a pretty good spot right now, and sometimes I get to thinking that from the outside this must look like it's been kinda easy. Sure, I do have a family that has been willing to give everything so I could go race and I have the world's greatest and most supportive wife. But I work really hard at this, and it HAS been tough. One thorough test of my confidence."
So far, since you've left dirt mods, you've been in pavement late models, Silver Crown cars, road races, ARCA short track, and ARCA superspeedway events. Where was the biggest driving challenge? Definitely Silver Crown. Imagine this. Trina and I had just gotten down to Mooresville, trying to do some networking, completely flat broke. We were staying at Carl Edwards' house and late one afternoon he called from Richmond and asked if I had ever driven a USAC pavement car. I asked if he was kidding – I'd never even driven pavement. He said that's fine – come on up here to run my Silver Crown car TOMORROW! So, off we went, right on the spot. I wouldn't say it was uncomfortable, but that kind of unfamiliar chassis, that size of track, and that kind of power all sure got my attention. But both Carl and Chris Santucci who campaigns the car were wonderful and something went right there and at Phoenix 'cause I got Rookie of the Year."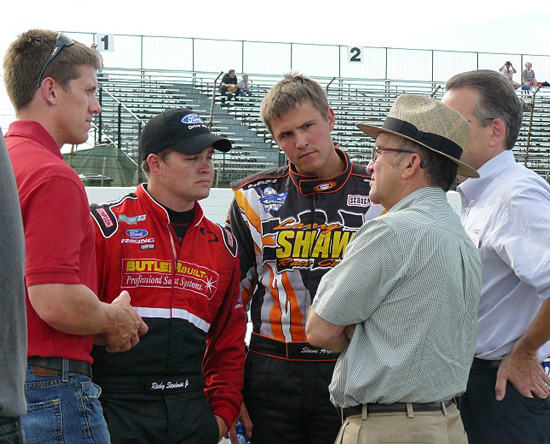 P
aved
Track
School
. Steve listens to Carl Edwards and Jack Roush
before a USAC event. (Arpin Collection)
How did it go with ARCA when you got started last year? Actually, I had a really slow start. I struggled with a lot of habits I brought with me from the dirt. I didn't even know how to use my feet on a paved track. I was beginning to get down on myself and then we hooked up with Billy Venturini. What a match! We had a legitimate shot of winning Pocono in August, our first race together. That was a firecracker for me.
There is so much chit chat in racing these days about how helpful dirt experience can be in superspeedway racing. Wasn't your past an advantage? Oh, of course, overall it is a huge plus. Take car control. On dirt you just have to get that focused feel. If you're in a 30-lap dirt feature on Saturday night, you've got 30 laps. When the green flag drops, the seconds are clicking and you've gotta be up on that wheel. You must learn to race while looking out the windshield a couple of laps ahead so that when you get there you know intuitively what the other cars are going to do. Without taking time to think about it, you need to watch the surface and how the other cars are reacting to it, while seeking your own advantage. Maybe other forms of racing don't offer this concentration and intensity.
You've been with Billy Venturini for a couple of months last year and so far this season, but it seems that in the last few weeks you've really clicked. It might seem sudden, but it's process. I can't tell you how attentive Billy has been to building my confidence over time. He told me I have the stuff. Just that statement means so much. I've seen him everyday and he has coached me endlessly. We've reviewed every video, dissecting every lap of every race. And the more comfortable he has made me, the harder I have been trying. But there are always obstacles. Over the course of the winter, I just plain wasn't feeling well. I lost 24 pounds. Just found out that, of all things, I have developed major food allergies. Now that I am better, I am REALLY on the case. Gym plus 5 miles of running every day. I should say that I set out to do 5 miles every day. Truth is I am the A.D.D. champion and I usually come back early because my mind gets to buzzing about all the things I have to do when I am through.
How about Salem? It's one of those old mid-West high banked places. Don't know what there is about it, but I just love it – and I did last year, too. I've walked it at least six or seven times and feel I have a relationship with it. It's the first time I could read an asphalt track – I could see the grooves and how I would adapt. I knew how to use the steering wheel and my feet. I ran it almost like dirt. After we won it, my Dad came up to me and said, "My race driver is coming back!" After I won Texas, he hugged me again and said, "My race car driver IS back." So much comes down to confidence.
You were always monkeying with your dirt cars and hiring yourself out to do setups for other racers. Do you still pick up a 9/16th wrench? Believe me, I am in the shop every single available minute. But I'm really concentrating on my role as a driver. Billy has taught me that. My contribution needs to be on quality input rather than on the actual change to the car. This is a very difficult transition for a Saturday- night racer used to doing everything. At this level you need to settle down and play your own role exceptionally well. This is one of the hardest things I've had to do. When we started, my instinct was to jump out of the car, grab some tools, and slide under it. Now I stay in the car while they are doing things and I concentrate on how I might change my driving: how I can use the track better, how I can use the air off other cars, how I can adjust my line.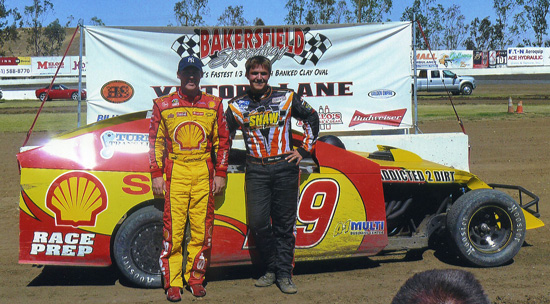 Dirt
Track
School
. Kevin Harvick listens to Steve. (Arpin Collection)
You sure have had the announcements along with the wins these last couple of weeks. You've got Mike's Hard Lemonade on the side of your ARCA car now, and word is out everywhere that you will also be driving for JR Motorsports in the Nationwide race here at Talladega. Wow. What will your confidence level be like on the parade lap for that race? In my heart, I knew I could win at Salem and in Texas. I know I can win Nationwide races, but I know it will take time. I keep talking about how much commitment you have to put into this. It's so easy to focus and be confident when you are doing well, but, when you are struggling and learning, it can be hard. Nationwide is near the very, very top. You need to be a real champion to get there. It won't be all roses.
In the meantime, would you care to tell me how many Mike's Hard Lemonades you and Trina had after the race in Texas? Moving right along….
© 2010 Lew Boyd, Coastal 181