6/30/11

QUICK TO QUICKEST

Jim "Mr. Magoo" Maguire

It is pretty impressive when some kid comes ridin' into racing on the tail of a comet and runs red hot right from the start.
You can understand it in cases today like "Kid Rocket" or Austin Dillon. In addition to their obvious talent, their speed is propelled by total family immersion in the sport, financial resource, and the best of today's advanced technology.
But how could it happen that an unsuspecting, wide-eyed 17-year-old could have gone to his very first race, decided it's his passion, and five years later be at the gate of the Brickyard? Case in point: Jim Maguire, aka "Mr. Magoo."
"I had been into drag racing around Boston when I built that first cut-down in 1959. First time out up in New Hampshire, I flipped in the heat and won the feature. It helped that I had a real good, polished flathead – and no brakes.
"I guess I was a little different. Somehow I just had no fear. In fact, going very fast didn't bother me. I really enjoyed it."
Needless to say, the railbirds took notice, guys like the honored wrench Jim McGee, who would soon leave New England for Indiana. The kid had lots of speed, lots of crashes. But that raw determination landed Magoo in NEMA midget rosters by 1961 and some rides in Paul Doody's sprinter.
The tipping point, though, came when the 19-year-old drove down to a URC special at the Trenton (NJ) paved mile, looking for a ride. Harry Dee moved his dirt driver, Mario Andretti, aside for Maguire who promptly spooked the world by steaming from a 25th -place starting spot to second before a wheel fell off.
The idea of sprinters on the lethal mile meant nothing to him. "I just went wide open, right to the upstairs, and never backed off. I was beginning to realize that I was young and brash, and that they were giving me rides simply because I was brave. That was okay with me. I just wanted to get to Indy. I'd move those old guys out of the way. Sometimes I'd literally need a couple of bodyguards, but Louis Kunz, the URC President, liked me. I guess I was good for the show."
Maguire's obsession with speeding to the top was blinding. It was, beyond question, open-wheel racing's most savage time. Trade rags reported fatalities weekly, with no small number of Magoo's buddies – Don Gillette, Bobby Marshman, and Bobby Marvin – among them. "I did get cocky. I was crazy as hell. I had probably 14 flips myself, but it never occurred to me I could get really hurt. When people were killed, it just couldn't happen to me. And, when someone came over and complained about my driving, I would ask who they were to tell me anything."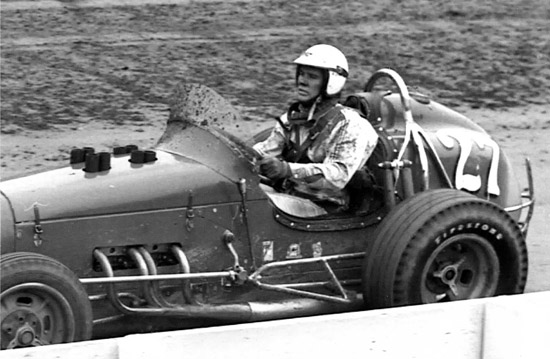 A cool-down lap at Allentown, Pennsylvania, 1963. (Mike Calla Photo)
Seven splendid wins paved the way to Maguire's 1963 URC title in the Venezia Brothers' rocket ship. The most dramatic victory, however, slipped away. It was a 30-lap USAC show down at William's Grove in which Magoo flat out gunned down Foyt, Hurtubise, Branson, and all of them. But before the trophy was given, inspectors found the heart beating in the Venezia car ten cubic inches too big.
Now the "Whiz Kid", still barely old enough to buy his own suds, was on the national radar screen and off to USAC. Friend Jim McGee set him up for his driver's test at Indy in the Dean Van Lines roadster. "I was ready. I had moved to Indy for the month of May to run midgets. I was confident. I just knew I would have no problem on the Speedway."
Prior to the weekend of the test, Magoo stayed with Duke Cook, doing lots of TV publicity for a USAC sprint show at New Bremen, Ohio. But May 3, 1963 was a terrible day, spiked with chilling, bone-breaking, out-of-the-ballpark flyers. Maguire has no memory of it, but the law of averages finally caught up with him. In the violence of the accident, his right arm was sheared off.
In time, Jim McGee came by the hospital asking Maguire for recommendations about whom they should put in the Dean Van Lines entry. With no hesitation Maguire responded, "Mario Andretti. Sure, he's small, but he's big in drive and spirit." Andretti, of course, ended up running second at Indy that year and would become the first to win the Brickyard, the Daytona 500, and the Formula One world championship. "Mario's a millionaire. He's the one that's in all the history books," Magoo recently told local reporter Jason Remillard.
Jim Maguire was never about bitterness, though. He accepts that he raced his own way, at his own expense. Back when he woke up fully in the hospital, USAC's Henry Banks was there and gave him a pencil. Maguire immediately began training himself to print with his left hand, so much so that he became a skilled draftsman and a mechanical engineer as well. Equally amazing is that by 1965, he was back in the saddle. He won a TQ show the first night out. He compiled 16 ARDC wins before quietly winding down in the 1980s.
Jim Maguire lives comfortably today in New Jersey. He frequents three coffee shops each morning and a cruise night most evenings with one of his cars. Long gone is that old time cockiness, replaced by calming sense of community. "If you have the support of those around you and the love and understanding of a family and a wife like my Joan was, you can do anything, no matter what the odds."
=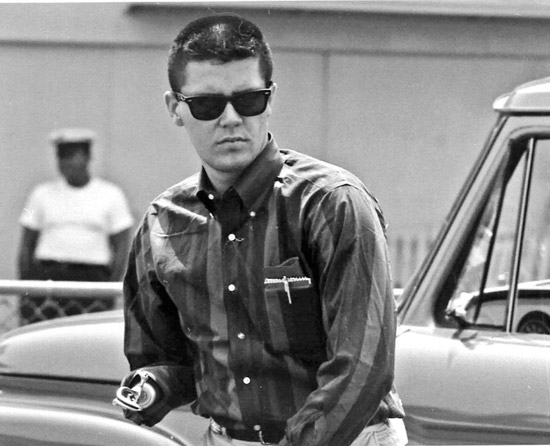 Left-handed in 1965, ready to go into the TQs and onto the drafting table
.
(Mike Calla Photo)
© 2011 Lew Boyd, Coastal 181