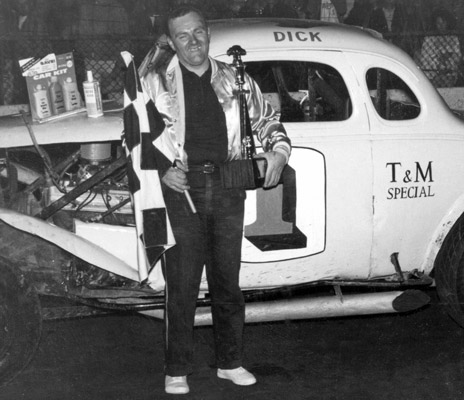 Irv Taylor drove everywhere, for everyone. (Biittig Collection)
---
6/2/11

IRV AND THE HALL OF FAME

Amidst all the parades in hamlets across upstate New York, another little pearl was being polished on Memorial Day weekend.

Each year since 1992, the DIRT Hall of Fame and Museum at Cayuga County Fairgrounds Speedway in Weedsport has honored Modified racing veterans with style, in a building awash in racing memorabilia and famous vintage stock cars.
-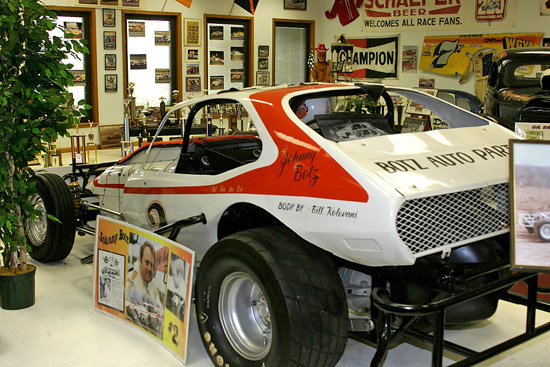 Johnny Botz's famous Reading-mobile on display (Dave Dalesandro Photo)
The 2011 driver inductees were multi-time national champion Jerry Cook; huge DIRT and pavement winner Doug Hoffman, now promoter of Mahoning Valley (PA) speedway; and standout pioneer from the 1950s and '60s, Irv Taylor. No different from past years, it was an emotional event.

It was a profound honor for me to induct Irv Taylor. An on-the-gas throttle jockey, no frills, basic as dirt, Irv was a major hero to me growing up. Here's some of what I said about him.

"Irv was everywhere, Montreal to Daytona, Stafford, Connecticut, to Rochester, New York. The deal was to turn a buck and move on. Free agent, no binding contract. He won at 11 tracks, driving for 22 different owners… He was racing's Lone Ranger.

In 1959, after he raced Henry Caputo's 283-fired '37 Chevy Sportsman coupe on the Daytona Trivoval (can you imagine?!), they went down to Middletown, New York, to run with the Mods. Irv started flipping. He told me, 'The lights went out when I finally stopped. I was okay and I got to thinking that death ain't that bad. Then a track light came into focus and I realized I was in a gully covered with muck. We banged the roof out, but Henry was really pissed. That's okay. I had other stuff to drive.'

The work side of Irv's life wasn't a whole lot different. Once I asked him what he did for a living and he said, 'I can't really say, but I can say I've never had a vacation.' Of course, I couldn't figure that out. 'Well,' he said, 'I've probably had 50 or 60 jobs. I've always done what I had to do to keep going. When I needed a vacation, I'd quit. When I needed work, I'd start work.'

At 83 Irv is still doin' his thing, now on a motorcycle sallying forth from his home in Florida or the camp in Old Forge, New York. You can see him leaving the races at Fonda or Weedsport or Utica-Rome heading solo into that dark night.

But not to worry about where Irv ends up. He's always had his centering devices to keep him straight and washed and waxed. Those are Irv Taylor's "D-Taylors." First, there's Dorothy, his wife of 62 years, and their daughters Diane, Donna, and Deborah. Maybe they'll give a wave so you can say hi after the ceremony."

Irv appeared to like the last thought and to take the whole thing in stride as he ambled up to the lectern. With a giant grin, he thanked his ladies for putting up with him. And he thanked everyone in the audience for making it possible for him to have so much fun over the years.

Then, stunningly, he burst into tears. He struggled for a couple of minutes, uttered, "Thank you. That's it," and he sat down.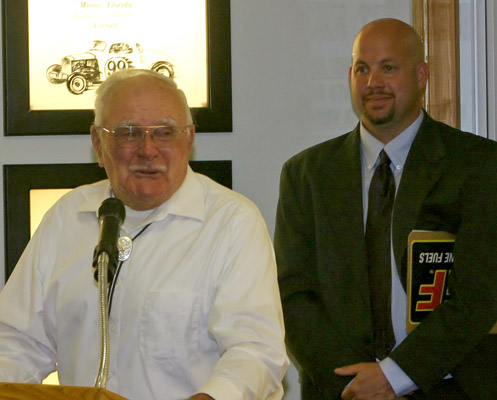 Famed announcer Shane Andrews watches as Irv brings out the water truck.
(Dave Dalesandro Photo)


And in so doing, Irv Taylor, the racing veteran, won yet another feature right there at the Hall of Fame. He stole everyone's heart in the place, save mine. He'd already had that in his pocket for over 40 years.

That Hall of Fame and Museum is pretty darn cool, but it has struggled of late. It was not really a part of Glen Donnelly's sale of DIRT to Boundless Motor Sports or of the subsequent takeover by World Racing Group. WRG has offered up critical life support over the last few years. However, the Hall must now find a sustainable path to the future. We who love racing and treasure its history have all got to be conscious of it – and all the others across this country. Just recently, attorney and lifelong racing buff Andy Fusco has organized the group in 501(c)(3) non-profit, educational status, on behalf of Trustees Tom Skibinski, Gary Rowe, and Gary Spaid. We can help. For membership or tax-deductible contributions to the Hall of Fame contact:

Andrew S. Fusco
Attorney at Law
23 South Street
Auburn, NY 13021
=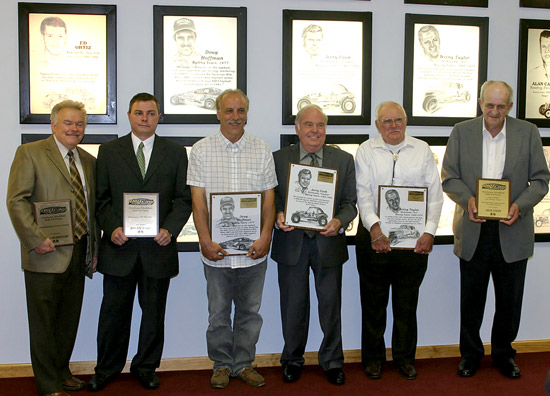 The Class of Inductees, 2011.
Left to right, Bill Ladabouche, Media,
www.catamount-stadium.com
;
Ron Ste-Marie, Crew Chief; Doug Hoffman, Driver; Jerry Cook, Driver;
Irv Taylor, Driver; Dick Cozze, NJ-based Car Owner
(Dave Dalesandro Photo)
© 2011 Lew Boyd, Coastal 181