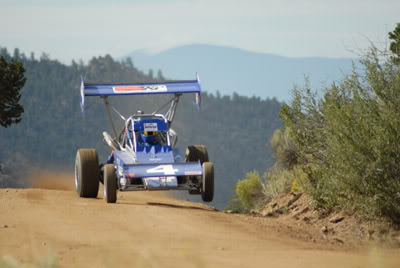 Todd Cook in a hurry at Buffalo Peak in Colorado.
(Photo Cook Collection)
---
3/3/12

COOK'S QUICK!
Racing is a passionate sport, but we seldom seem to intermarry.

It's almost as though we live in separate worlds – one for sports cars, one for Indy, for NASCAR, sprint cars, drag racing, and the like.

It's a shame, because we all really are of the same species. A racer is a racer. Case in point: Todd Cook.

Todd is the personable proprietor of TCE Performance in Tempe, AZ. One busy guy, he makes masterful aftermarket braking systems of all flavors, does race car prep and fabrication, and travels widely giving performance-driving instruction.

He knows his stuff and he's spent his time beneath the belts. He's raced Formula Mazda, been the shop manager for both Bob Bondurant and Jim Russell Schools, and served as tech inspector to the Star Mazda Series. But for the last dozen years he has also been master of the mountain – one of the country's most admired hill climbers, working with his wife Chris, a limited crew, and a very limited budget.

We should all pay more heed to the hill climb space. After all, it is one of the most time-honored forms of racing, the first recorded event being held in France in 1897. Today various events are sprinkled across our nation with dates such as the Giants' Despair Climb in Pennsylvania, the Mount Equinox in Vermont, and likely the most famous, "The Hill', Colorado's Pikes Peak. It's racy stuff.

Todd's hot rod will grab you with just the sideways glance. The pretty little all-aluminum flyweight TCE/Coyote was originally built by John Wells in 2000. Powered by a 3.5L stroked V6 SHO (Ford/Yamaha), it scales in at 1470 pounds, all wet, with Todd aboard.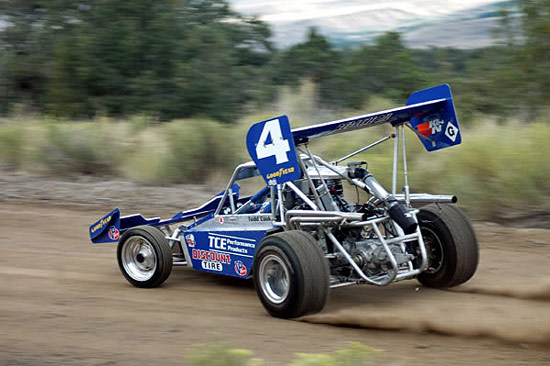 Todd at Land's End in Colorado. (Photo Cook Collection)
And a little closer look will tell you how trick it really it. The workmanship is beautiful and the ideas behind it thought-provoking. The car is modular with three sections: a crush structure up front, the driver's capsule, and the engine section in back. And it's all held together with hose clamps!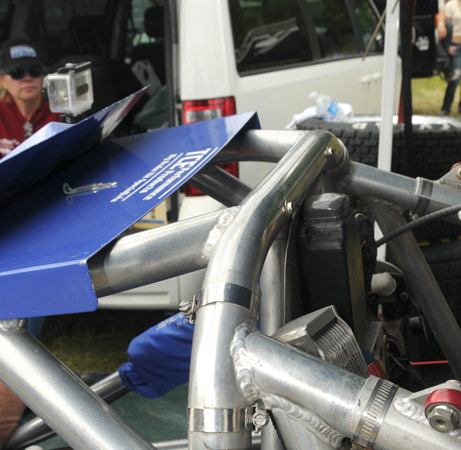 It comes apart. (Photo Dick Berggren)

Todd, meanwhile, is the epitome of a driver. He thought nothing of traveling cross-country last summer to take on Mt Washington, that treacherously narrow guitar string of a road up a mountain known worldwide for its violently unpredictable weather. After just a couple of practice runs, he quickened the Coyote's gait by 27 seconds. Check out this video….


Note the amazing speed he carries and monitor the suspension stability by watching that front wing. He was the fastest open-wheel car there ever in "the Climb to the Clouds" and fastest two-wheel-drive car ever as well.

Todd's comments afterwards were a tad understated. "I could have gone faster. With the wet up top beyond that tree line, visibility was my challenge. I felt my way the last couple of miles. I knew there was a road up there somewhere…."

Like many other hill climbers, Todd and Chris will be focused on Pikes Peak this summer. Scheduled for July 8, the event is definitely amped up for 2012. For the 90th annual running, the course, as recently as 2000 all dirt, will be completely paved. Entries are way up. Todd is psyched. He knows he will be underpowered relative to some of the wealthier open-wheel teams, but don't for a minute count him out. He already has four wins there and holds both the Qualifying and Race Records in the retired Mini Sprint class for which the car was originally built.

Todd says:

"Racing on Pikes Peak really is a challenge. There's very limited practice, and it might be even more limited this year with all the new activity.

"Your approach to driving there is different from other racing. It's just not a 100-lapper or even 30 laps. It's like you're qualifying EVERY lap. It used to be more of sprint car style than a late-apex asphalt approach, but I suspect that will change now, too, with the pavement."

"The competition is not with other competitors. It's racing against the road. Sure, you want each time to be your flyer, but you just cannot make a mistake. People do go off the cliff. I sure have.

"So, I guess in some ways it's the same as any other form of motorsports. There's that balance. Your first mindset is to finish the run, but how much do you push that envelope? The mentality to finish gets blunted by the desire to finish quickly."

Is that classic racer speak or what? We're all the same.

Go Todd!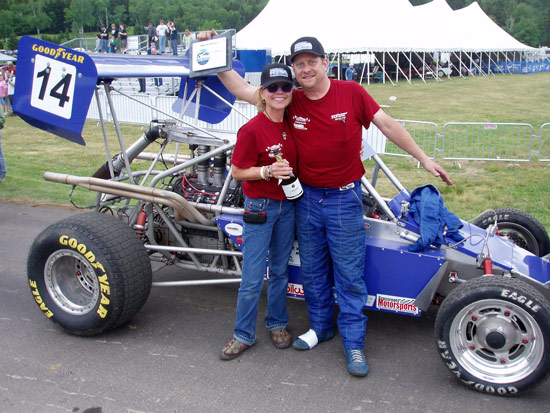 Todd and Chris. (Photo Cook Collection)


© 2012 Lew Boyd, Coastal 181