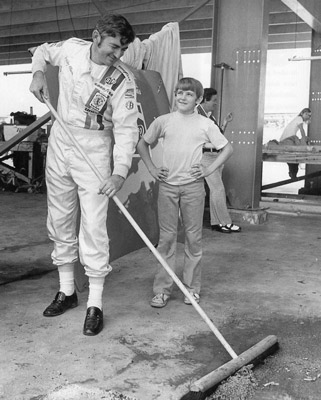 Bobby Allison and son Davey clean up the Speedy-Dri at Talladega in 1973.
(From BOBBY ALLISON: A Racer's Racer, by Bobby Allison with
Tim Packman. Bobby Allison Collection)
---
2/21/11

DINNER IN DAYTONA

What incredible short-track racing went down during Speed Weeks this year.

With teeny boppers like Tyler Reddick and Austin Hubbard and graybeards like Bloomquist and Swindell slinging around East Bay and Volusia, there could be only one excuse not to go racing at night: the Living Legends of Auto Racing (LLOR) annual banquet.

Our buddy Dynamite Dave Dion recently became an LLOAR Board member. Dave was hands-down the most popular late model driver in the Northeast for decades before transplanting to Florida a couple of years back. Dave Moody wrote a book on him for us, and Dynamite would have given us a hard time if we hadn't shown up at the banquet.

Racing legends "Ralphie the Racer" Liguori, Bobby Allison, and Johnny Allen sat next to us. The trick was to get a bite – or a word – in edgewise for all the laughter and teasing.

The green flag flew when I asked Bobby Allison if it was true that he built the "Sweet 16" modified driven in the sixties by Herbie Tillman. (Note the "photo of the day" on this site a couple of weeks back.)

Bobby was launched. "I sure did. There was a car! I put split springs on the back facing inboard to an early quick change. It worked great.

"Herbie Tillman had done some concrete pouring for us and he wanted to go racin' up North. You needed a later model body up there, and this was a '36 coach. We were running the older square tops in Alabama, so I let Herbie take it. He won on dirt and asphalt. Even at Flemington. He was much more accomplished on dirt than I ever was.

"But what I remember most is the guy who helped me build it. He was Roy Armstrong, a real gruff ol' boy we later called 'Crash.' He just came walking into the shop one day and said 'Shut up!'. That got my attention because I hadn't said a word. But he stayed, and I learned so much from him.

"He told me that every race track has two straightaways and four turns, so you have to be twice as good at handling.

"Finally, one day Roy didn't show up. So I called. He picked up the phone and yelled, 'What do you want?' I asked where he was and he said he had just wrecked his truck and he was real mad. He told me where and how, and I said he must have driven right on through that stop sign. Roy said, 'I drive down that street every day at 3:00 o'clock, so that bum had no right to be there.'

"What a guy! It was 'Crash' Armstrong who got me concentrating on chassis, and thank goodness for that."

Then the table talk moved on over to Langhorne. Johnny Allen allowed, "What a tough place. I'll admit it scared me at first and I'd have to get myself pumped up for a few laps before getting into that zone. Then I got some good finishes."

That's when Liguori piped up. "You should have! I drove your stock car there one day and it was the best stock car I ever drove!"

"One thing's for sure, Ralph, you don't have a clue what happened that day. I was runnin' real good right up on that wall – and, all of a sudden, I find myself driving around the inside real slow. I was all screwed up. I went to the pits in a fog, and that's when you jumped in the car. Turns out it was a gas line leak, and the fumes got to me. Sure, you were going okay, too, for a couple of laps, but then you got all gassed up. You came back in Never Never Land!"
LINE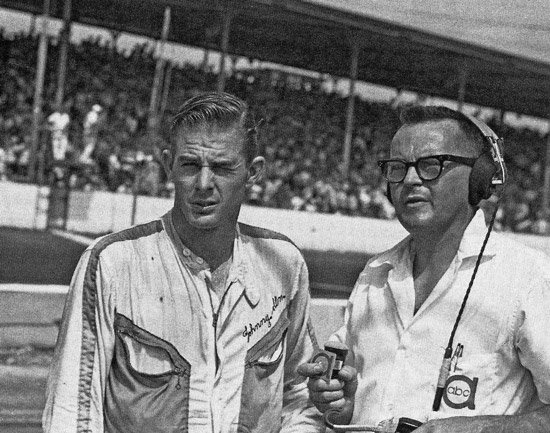 Johnny Allen cools off for an interview with Chris Economaki. It was September 1962 at the Southern 500 and Johnny had just starred in a fiery crash called one of the most spectacular in NASCAR history. (From Declarations Of Stock Car Independents, by Perry Allen Wood. Don Smyle Photo)

LINE
Nutso as Langhorne may have been, the consensus is that the West Memphis track in Arkansas was even crazier. Liguori had the winning tale from the monster-big but little-known 1½-mile high-banked dirt oval.

"I was running in a NASCAR race down there about 1955 and I was really cookin'. I go to pass Tiny Lund in his big ol' Oldsmobile, and, wouldn't you know, that instant he breaks a spindle. He gets to flipping and comes flying right out the side of the car. He was sliding down the track and don't I just run him right over.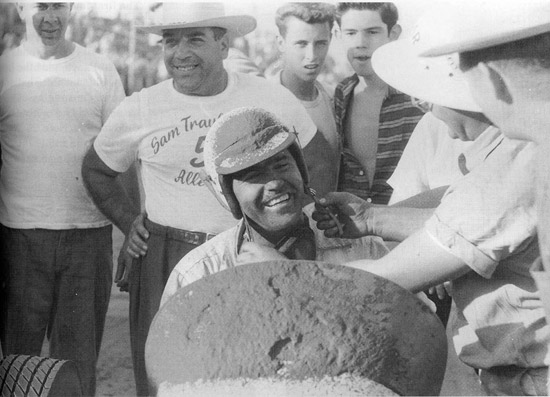 Ralphie the Racer winning a 50-lapper at all-time track-record pace at Langhorne in 1957. Check out that right rear tire. He sure leaned on that boy!
(From LANGHORNE! No Man's Land, by L. Spencer Riggs. Joe Braig Photo)



LINE


"Shoot, I thought, I just killed Tiny Lund. And he was a friend of mine. But I kept right on racing. I had to finish 'cause I needed the money so bad.

"Back in the pits later I heard that Tiny was still alive, so I went to the hospital to see him. He was one mess, but he managed to ask me, 'How come you hit me like that?' I said 'Tiny, I thought you were dead anyway, so why should I kill myself trying to miss you?

"Banged up as he was, you should have heard the roar of his laugh. The whole room shook. He was one big guy, and I guess that was a good thing."

By this time the banquet's white flag was fluttering. Just one more thing on the schedule – the 50-50 raffle. Folks were in a generous mood. There were lots and lots of tens and twenties. And the winner? None other than that Dynamite Dave Dion.

Sure had the ring of a fixed purse.

Just like the good old days.

LINE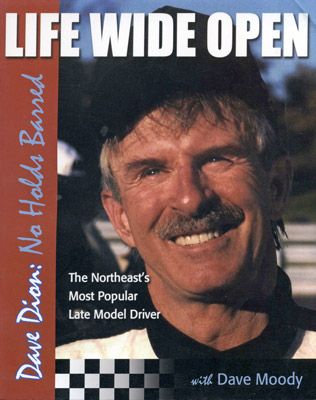 The cover of Dave Moody's book on Dave Dion,
currently being reprinted here at Coastal 181.
© 2011 Lew Boyd, Coastal 181