This TEAROFF has been submitted by a long-time friend of Coastal 181,
Karl Fredrickson, one of our favorite racing drivers and journalists. Some years back Karl, who hails from Fremont, N.H., took a Coastal 181 chassis and went modified racing for a season. It was his first year on dirt. He was a terror. Sure was fun!


July 7, 2010
THE WINS ARE GUSTIN
The hottest racer in America is 19-year-old Ryan Gustin. Corey Dripps, referring to rival racers and chassis builders Jason Hughes and Kelly Shryock, says, "The three of us don't agree on much, but one thing we do see eye-to-eye on is that Ryan Gustin might be the best we've ever seen."

Shryock, a nine-time National champion in the ultra-demanding and grueling USMTS tour, started on the pole at Huset's (S.D.) late last June. Shryock led for ten laps until Gustin took the top spot and showed the rest of the way.

It was the second win in as many days driving for the well-funded Ed and Cindy Gressel No. 19R team. Gustin had won the night before at Buena Vista in Iowa. Following the Huset's triumph, wins came at Scotland County Speedway in Missouri and Minnesota's Fairmont Raceway. A last-lap pass at Mineral City Speedway in Fort Dodge, Iowa, capped the five-wins-in-a-row streak.

Speedway success is a family tradition in the Marshalltown, Iowa, Gustin home. Ryan's dad Rick is a Midwestern legend, mom Judy won IMCA stock car features and his brothers, Richie and Jimmy, have thrilled thousands on their way to many victories. Younger sister, 15-year-old Jenae, is already running well in her stock car.

Gustins spend their time winning, not counting; however, most estimates consider over 1000 feature wins belong to the family, and that's not counting both grandfathers who raced or uncle Darrel DeFrance — considered IMCA's Iron Man.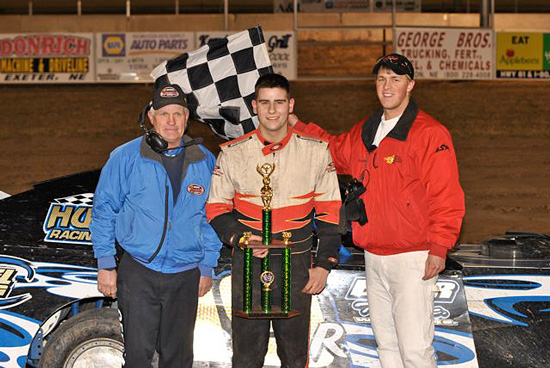 Familiar sight: Gustin in USMTS victory lane in 2010.
(Photo Courtesy RaceDayPrints.com)


"We're all happy for each other when we get the phone call that one of us has won, but when we're on the track together, there's going to be some torn-up equipment," says Ryan, who adds that the talent is not in the genes. "I don't think anything comes natural. You've got to work at it. I started racing go-karts at three-years-old and spent years racing them on dirt in the summer. During the winter we'd run them indoors on tracks treated with cola syrup."

Karting provided many valuable lessons. "Racing karts teaches you how to work with parts outside the typical suspension components," says Gustin. "I know how caster, camber, weight distribution and things like that can affect the car. Karting also teaches you to be smooth on the track. You can't scrub off the speed. That's true with a race car, too; especially on a dirt track that gets slick, you gotta drive with your left foot."
"The kid does things in the car that no one else can get away with," says crew chief Joe Bob Ciechanowski. "It's not that he's out of control. We've replaced one front bumper in all the races we've run together."

"He is an unbelievable talent," says Shryock. "I saw him at Webster City (Iowa) in a B-mod and you could see it there. He's just so fast. And, he's a remarkably clean racer." Hughes, builder of Gustin's chassis says, "He's got a helluva future. He's that good. He's so smooth."

"You never see him sawing at the wheel," says Ciechanowski. "He'll drive through the mirrored black, smooth as can be, never sawing at the wheel. I was talking with Steve Wetzstein and he said, 'When you think you've got the fast line around the track, Gustin comes along and shows you where it really is.'"

Young Ryan sums it up, "You can't be content following anybody, so just aim for the brown or the black and go."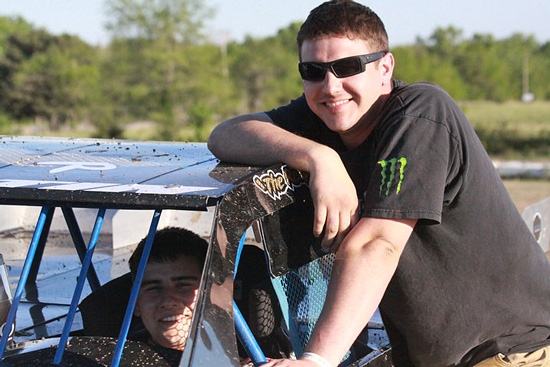 Joe Bob Ciechanowski with his driver, Ryan 'The Reaper' Gustin. "The Reaper," says Ciechanowski, "is because he's killing the competition. Who's next?" (Courtesy Photo)
© 2010 Lew Boyd, Coastal 181