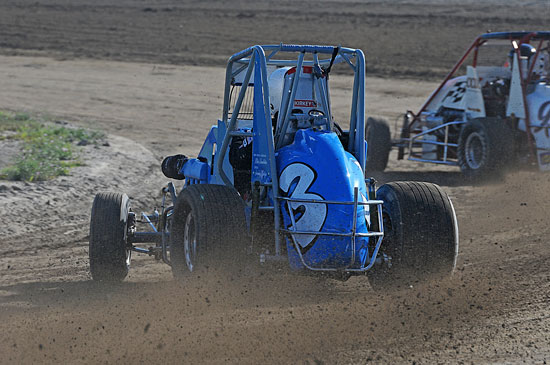 Denny Zimmerman, age 70, tosses Skip Matczak's Midget around Whip City (Zimmerman Collection)
---
1/15/11

RECONSIDERING GENERALIZATIONS

Remember how we were all warned in school about making generalizations?

Well, I'm not so sure I always agreed. In racing it seems there are some generalizations that really do stick. How about these? "The racing is always better when the fast cars start at the back" and "more races are won by a head than by a foot."

Another racing "generalization" that occurred to me frequently over the years is "when a driver retires from racing and they come back after time, it's usually unfortunate." I'm sure all of us have watched as an elderly Saturday night hero comes waltzing back to try to recapture his youth, only to find that his talent has washed away while those kids have become so frighteningly fast.

One of the most sobering examples of unfortunate comebacks has to be the case of Jimmy Smith, a journeyman open wheel racer from Dayton, Ohio.

In the late sixties, Jimmy competed in a USAC Sprint Car race at his hometown speedway. He flipped right out of the place in what was described as the most spectacular crash in the history of the track. Smith was not hurt, but, quite understandably, decided to hang up his helmet. He was married, father of five daughters.
Jimmy Smith and his mishap at Dayton. Photo at left from Racers at Rest, by Buzz Rose (Garrepy Collection). Photo at Right, From USAC Sprint History, 1956-1980, Carl Hungness Publisher (Masing Photo)
four .
Yet that old racing bug still had him hooked. On September 20, 1970, he towed into Eldora with a supermodified for a triple header. He pulled out all the stops in his heat race, running right up on the rail until he brushed it, and the flipping again began. This time he died instantly.

But last weekend I ran into Denny Zimmerman, the fine gentleman airline pilot from Connecticut who was the first Akron Soap Box Derby champion to run Indy. He became 1971 Rookie of the Year, following an admirable eighth-place run. He was back again the next season, but was soon to retire due to the lack of quality rides in a tough seventies economy.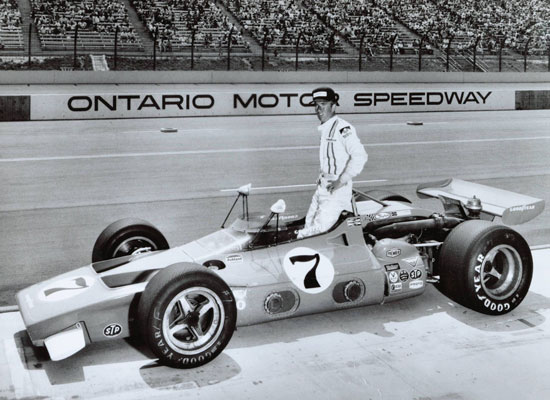 Denny in an Indy Car From Paved Track Dirt Track, by Lew Boyd.
(Zimmerman Collection)

.

Just this last year, at age seventy, Denny was back behind the wheel again. Remarkably, he wheeled a Midget owned by Skip Matczak, the New England Hall of Famer. Skip was thoroughly impressed, commenting after lap one that Denny had lost nothing during his 35-year hiatus. Denny was a little more cautious, feeling "it took four or five races" to get his groove back.

In any case, the whole adventure sounds like it was great fun – and a total, popular success. Denny had a whole bunch of podium finishes at Whip City, a racy dirt bullring near Springfield, Massachusetts. "I had a ball!" he says.

So, seems like those teachers were right to be wary of generalizing. And when it comes to certain old racers riding again, I guess there is wisdom in the saying "no generalization is worth a damn, including this one."

.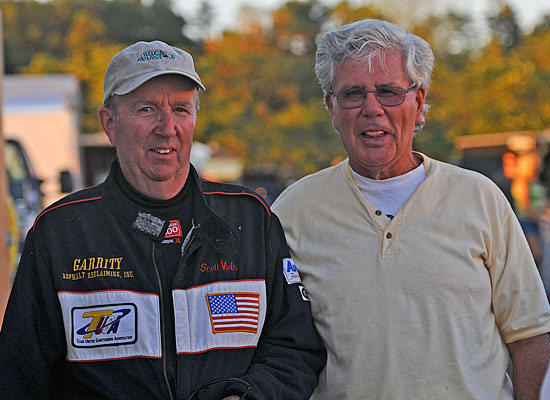 Denny at Whip City with his buddy Jim McGuire, 1960s sprint car standout. (Zimmerman Collection)
© 2011 Lew Boyd, Coastal 181