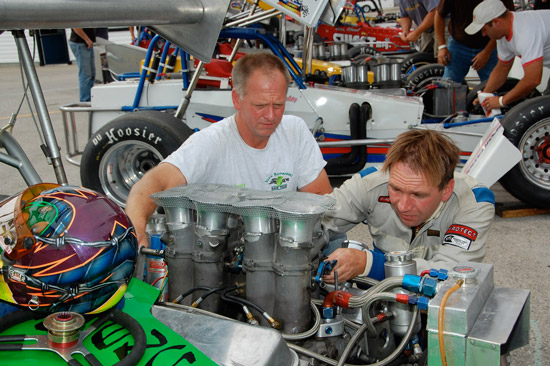 Vern Romanowski and Scott Endres adjust the injection at Delaware
(Ontario, Canada) Speedway. (Jim Feeney Photo)
---
4/4/11

WINTER OF DISCONTENT

We're up here in Newburyport, tucked onto the North Shore of Massachusetts, just south of New Hampshire. And for us, the last few months have been no different than for friends in Illinois, Colorado, or South Dakota. Ol' Man Winter just would not go away. The words of Garth Brooks played and replayed: "The winds ain't quit for weeks now, and the drifts are ten feet tall."

Although most of us have finally been warmed by the early breezes of April, some in racing still seem stung by this winter's harsh winds. How about Vern Romanowski, way up there in Strong, Maine? What happened to Vern two weeks back was so awful, so unfair, that it calls up the ironic thought that "no good deed goes unpunished."

Vern, an ISMA Supermodified driver and board member, and his crew are about as enthusiastic motorheads as you can find. At the end of the 2010 season, they began welding up a new frame and arranged to buy a freshened motor from the Vic Miller/Chris Perley team.

But they made another commitment as well. At considerable expense and garage time, they completely revamped and fluffed and buffed their previous Belfiore car to gussy it up for the Racin' Paper Show in Portland, Maine. They wanted to give back to the sport.

They also had a soft spot for the folks at Lee USA (NH) Speedway, their closest track and scene of their best run in 2010. So, on March 25, Vern headed south on Rt. 95 towards the Mall in Rochester, NH, with the #05 Super in a borrowed truck and trailer to support the track at a weekend racing display.

Right near Arundel, famous to ISMA and the rest of the universe as home of Bentley's (Warren) Saloon, Vern glanced in the mirror and noticed puffs of smoke coming from behind.

He pulled into the breakdown lane and opened the trailer's swing door. PPHHOOFF!!!!

"It must have started as a small electrical fire," Vern speculates, "and it must have been oxygen starved. When I opened the door, it had already begun consuming the aluminum sides, but then it really exploded. Within seconds, the whole thing was engulfed.

"I tried so hard to get the car out. I hoped the tie-down straps would melt so I could roll it out, but by the time they did, the fire was so hot I couldn't get near the car.
-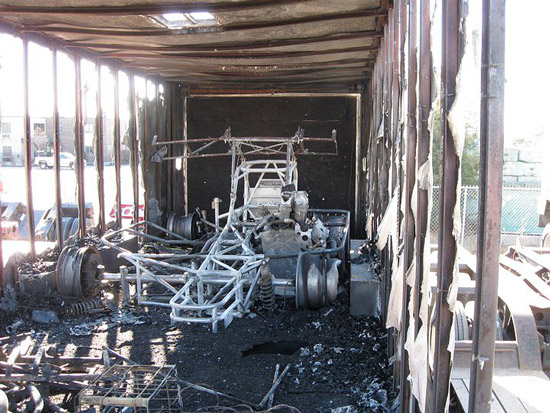 The aftermath. (Romanowski Collection Photo)
"It was a 100% loss. You know, when you hit the wall and destroy a car, you can always recover SOMETHING – a nerf bar, something. Not this time. The seat, hubs, wheels – all melted. All gone. So was the borrowed trailer. And the truck had nearly $4000 damage before I could unhook that."

Needless to say, for an underfunded team, the incident was devastating. But they grow 'em tough Down East, and "the Maine-iac," as they call Romanowski, is not ISMA's perennial most popular driver for nothing. Vern and his crew reconvened this last weekend and forged a reorganization plan. It's now back, full-tilt boogie, to bending tubing to house the injected big block. Vern's enthusiasm powered through our conversation as he speculated on which races they could still take in later this summer.

Meanwhile, the ISMA community – pretty darn warm and enthusiastic itself – has launched a benefit campaign to "GET THE MAINE-IAC BACK ON THE TRACK." Donations, made out to Vern Romanowski, can be sent to:

ISMA
PO Box 633
Central Square, New York 13336

Spring will come on Strong, Vern.
Vern at Lee
USA
,
New Hampshire
,
in August 2010. (Jim Feeney Photo)
© 2011 Lew Boyd, Coastal 181