November 1, 2007
TIGHTLY IN – OR EASILY OUT?
At age sixty Dave Lape is still an extraordinary race car driver.

This last summer, in hot pursuit of his 100th career victory at Fonda (NY) Speedway, David caught a rut. His big block TEO modified jerked into a terrifying spiral of rollovers.

As David came to, he had to keep refocusing his eyes. All he could see was black. Just as he realized he was looking at the track surface and that he was upside down, he felt the coolness of liquid flowing on him. He knew instantly it was fuel. The cell had split. It was time to leave the premises. Pronto.

David was able to disembark before any fire. He was fortunate because he's not a small guy, and the center seating and wide bodies of the Northeastern dirt mods can be hard to negotiate in a hurry. It was certainly helpful to David that most of the side of his #22 had been torn off.

Over the years very little attention has been given to exiting race cars. In fact, most of the concern has been in the other direction – keeping the driver in place.

The majority of the swash-buckling open wheelers in racing's infancy did not believe in seat belts at all. They felt it was a better bet for a driver to be thrown from an out-of-control car than to ride it out and risk being landed upon.

When the hard-topped stock cars banged and bumped onto the nation's tracks, seat belts became the norm. But they weren't necessarily good ones. In 1957 I saw my most frightening racing incident. Dirt tracker Kenny Shoemaker flipped and was ejected from his coupe. He sailed out the window feet first through the nighttime air. The Shoe was badly injured, but he survived because the huge 312 Ford engine was also torn out. It landed next to him and saved him from being crushed when the car came crashing back to earth.

Things weren't a lot better in the next decade. I was racing at Westboro (MA) Speedway in 1965 and watched a friend, Bruce Tessier, flip, fly out, and die. On the other side of the country, "Little Joe" Weatherly perished in a Grand National race at Riverside, CA. They say he refused to wear shoulder harnesses. When he crashed, his upper body apparently stretched so much that his helmet conked the wall outside the car.

Over the years safety has improved massively, even with ever-increasing lap speeds in all divisions. Especially since Dale Earnhardt's internationally publicized death, all manner of seat belts, high-quality seats, nets, and restraint devices have been developed. A driver's cockpit is typically now a very confining and complicated space.

But, particularly on the short tracks where in-board fire suppression systems are seldom used, it is arguable that it's time for some new thought to the issue of getting out in a hurry.

The great mid-Western I.M.C.A. modified driver Rex Merritt usually has something to say – about just about anything. And on this topic, there is no exception. There's a message behind Rex's somewhat twisted humor. "You know, now that I'm a little older, I do think about safety a little more. Heck, just recently I noticed that my fuel cell was leaking a little before the feature. In the past, I probably would have just gone out and raced, not even concerning myself with it. This time I went out and left the seat belts undone, in case I had to jump out quickly."
© 2007 Lew Boyd, Coastal 181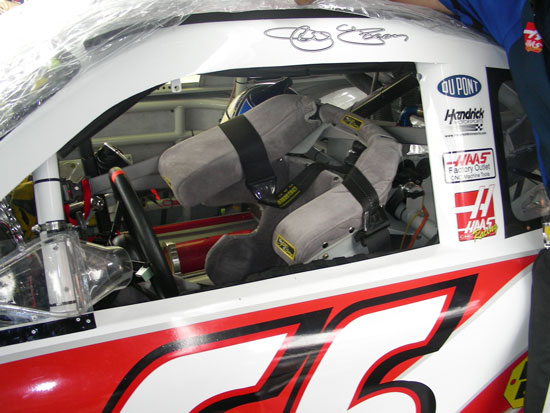 David Green's contemporary office at Martinsville has all the contemporary furnishings.
Photo by Lew Boyd