December 12, 2009
HELLO WALL

That Cousin Carl Edwards sure can put on a show. But his offering on April 26, 2009, was just a little over the top. That's when he scared the wee-wee out of all of us, flying up against that fence at Talladega at about 200 mph.

http://www.youtube.com/watch?v=c9FsYDEIZWk

Eight people were injured in the incident, but, we are told, none seriously. All in all, given the horrific impact of the accident, it has to be said that Talladega's barriers did their job admirably well. The barriers had good concrete, good foam, sturdy uprights for the chain link part, and they were well-cabled.

That hasn't always been the case in oval track racing. Willie Nelson's song "Hello Wall," written in the fifties and made famous by Faron Young, was pretty appropriate. Fact is, when oval track racing first became popular a decade earlier, very often there were no walls at all. How about this stunning image of Sonny Martin at Weymouth Fairgrounds in Massachusetts in 1940. No fences in sight. No safety crew either, for that matter.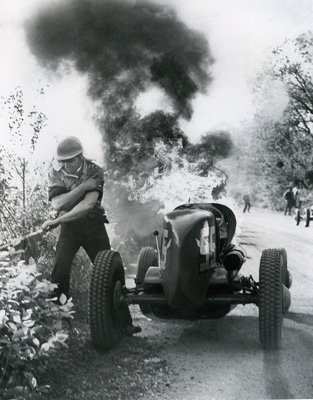 From TOW MONEY, the History of the United Racing Club by Buzz Rose,
Jim Chini Photo
After World War II, fences did begin – at least – to enter racers' mindsets. This shot from Ron Pollock's SMALL CARS BRAVE HEARTS shows the lineup for a 1946 event at Ft. Miami, Ohio. Lloyd Axel, Al Bonnell, and Bernie Kelly are bringing them down, while the event winner, Tony Bettenhausen, is on the right, waving, with two feet in the infield. That wooden rail on the outside, clearly installed for horses, may or may not have been an improvement over nothing for the midgeteers.
Also from Pollock's new book and also from 1946 is this remarkable scene from Berea, Ohio, Fairgrounds. Do you think that hay bale really offered that starter any physical (or psychological) protection?
By the early fifties, just in time for the unruly antics of the stock cars, so much larger and heavier than the open wheelers, track owners were getting a little more serious about containing the field. There were some unusual solutions. JB McConnell up in Scarborough, Maine, piled junk cars up in the corners at Beech Ridge Speedway. Most facilities, however, had posts (usually railroad ties) dug into the ground and boards nailed between them. They often broke on impact. The first shot below is Hales Corner Speedway outside Milwaukee, in 1951. The second is Medley Stadium in Miami a year or two later when Al Powell (see TEAROFF dated 5/20/08) and his buddy in the J-2 blasted a wooden fence, somewhat improved with cables.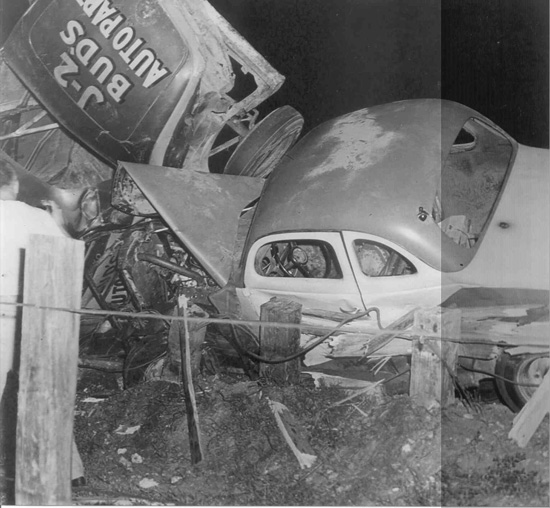 Marty Little Collection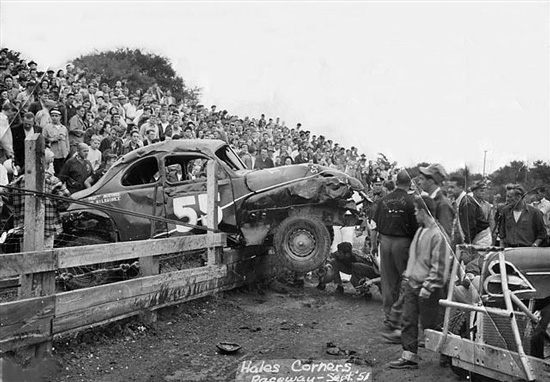 Bob Bergeron/Bradley Poulsen Collection
As the use of wood became more widespread, though, there was an unseemly side effect. For some reason, track crews often left the rail road ties un-topped, sticking high above the horizontal boards. Check out Bill Bachman motoring around the old Nazareth (PA) Speedway in 1954. Look how high some of those ties are – and how easily they could penetrate the cockpit of a flipping car.
Later in the fifties, the new megatracks being built for NASCAR Grand National racing began working with newer materials. In the photograph from MANMADE THUNDER at the top of this TEAROFF, Eddie Pagan rearranges some standard metal guard railing at Darlington. Painful as the incident looked, Pagan was not seriously injured. It was obvious, though, that NASCAR had to move on to something more robust. Like concrete.
Eventually some short tracks also began to face the danger of the boards. At Oswego (NY) Speedway, officials tried to rein in the ultra-quick supermodifieds by erecting huge steel plates around the outside of the pavement. In the photograph below, starter Norm Bacon dropped his flags and picked up his stick welder during the 1971 Oswego Classic. Gary Whittier had just come down the straightaway with a stuck throttle and had torn through every bit of barrier there was. It was a thunderous crash, and the Canadian hotshot died.
As wall themselves and the catch fences on top of them became bigger, there were opportunities to get more use out of them. Frequently tarps were hung over the catch fence to prevent fans from spectating outside of the grandstands. But who would have thought this could happen? At the Indianapolis mile, "Indiana" Andy Hillenburg whacked the fence and busted up his fuel tank. The flash fire lit up those tarps like kindling.
Wisconsin's Angel Park followed a common procedure of placing panels over the catch fence on which advertisers could express themselves. In 2002, lively Jack Hewitt, who had just wrecked, used the structure to express himself in no uncertain way to the guy responsible for his flip.
Writer Joyce Standridge dropped her pen and picked up her camera to record Kenny Wallace manhandling Billy Moyer's late model around I-55 Speedway in Pevely, Missouri. You can see that track owners Kenny Schrader and Ray Mahler have been very conscientious about a high and sturdy outside wall and catch fence. They are also focused on the infield. The tire serves as an early version of a SAFER (Steel and Foam Energy Reduction) wall.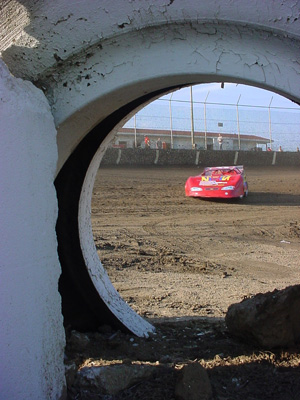 Joyce Standridge Photo
Though the materials and construction of racing walls continues to improve, there can be no question that we will hear about further stories of future fences. Somehow in racing you never know what direction things might come in. I recently got to talking with Dave Lape, the veteran of nearly 50 years on East Coast dirt tracks, about the whole issue. He said, "You know, the real purpose of the fence is to protect the drivers from the fans."
© 2009 Lew Boyd, Coastal 181