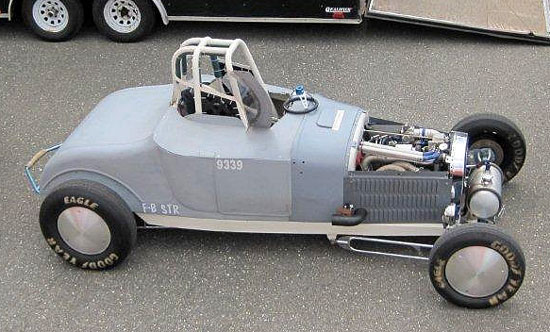 Bob Jepson's Land Speed Roadster. (Bob Jepson Collection)
---
12/4/11

Bob Jepson, the Land Speed Racer Next Door

It all seems so different. An alcohol funny car at Gainesville, a Panther Team entry at the Brickyard, a Wolfweld sprinter at Perris, a TQ at Atlantic City.

With all the variations, though, a racer is a racer.

There is such a pattern to them. How many of us were imprinted with some small spark (or germ) as a kid and have had it ignite into a fiery lifelong passion
(or disease)?

Case in point – Bob Jepson, an affable 59-year-old from Milton, Massachusetts. That moto-bug bit him back in elementary school. He was intrigued by pieces car guys brought to the family's metal- finishing business. Then he found HOT ROD magazine. It was all over. "I wasn't paying any attention to anything. In class I was drawing profiles of '32 Fords."

Bob's handy, and he's built a lot of kit. There's been the stream of '57 Chevys – and his house. But his focus was really channeled in 1986 when he first set eyes on the sands of Bonneville. The technical challenge of land speed racing and the "amazing camaraderie" of the competitors have consumed his hobby time ever since.

A decade ago he launched his current project "with a '27 Ford cowl I had sittin' around." It's now a land speed 'street roadster' class machine, formed in that wonderfully classic pre-war shape.

It's beautiful. The frame rails are 2x4 square tubing, cold bent to conform to the body. The cage is 1 ¾ od, 1/8 wall.

The propulsion part has become more challenging. "When I started the car, the record for the class was around 142mph. Then came the computers, turbos, and intercoolers. Soon they began touching 200mph. I didn't know if I could be fast at Bonneville, though I knew my car would look good."

Bob has been amping up his engine compartment with the help of legendary New England oval track racer, Harry Kourafas. They've now got a totally tricked-out late model four-cylinder Ford, fully computer-managed.


(Paul Everberg Collection)

At the same time, Bob went looking for a more local place to race. Collaborating with NYC fireman Bob Wanner, he found an "obsolete runway" up in Limestone, Maine. Loring Air Force Base had been a USAF heavy bomber facility during the Cold War.
It's not around the corner. They say that 90% of Canadians actually live South of Limestone. So it's pretty rural, but it's perfect – a sprawling, smoothly paved strip extending a full two and a half miles.

Incredibly, the two Bobs were able to organize the Loring Timing Association and held the initial event in 2009 for an enthusiastic gaggle of car, truck, and motorcycle racers. Now run by promoters from Down East, there are annual LTA land speed trials.

This year's action was on July 17. Certainly the most noteworthy run was submitted by a Floridian, Bill Warner, who became the first person ever to go over 300mph (311.945) on a conventional motorcycle. Warner admitted that the ride got his attention, especially when he was trying to stop. "The bike was bouncing, hopping, skidding, and sliding. It was a little scary." Can you imagine if he had encountered a big Maine moose?

And Bob Jepson? His speeds are getting there. "My first pass was just over 135. The second one, I was really moving, but I couldn't see, so I had to lift. But I got to go 167 through the traps. Then I blew a gasket. But it was really something. Put your head against the roll bar and go like hell."

This winter Harry and Bob will put on an aluminum head for next summer's assault on the North Country. And Bob will tinker with his rocket ship all winter. Is he a classic racer, or what? He made the car, he made the track. Here's to his making the record.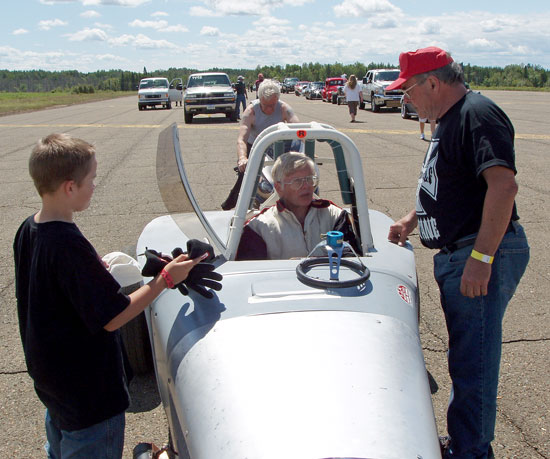 Long-time Springfield, Mass. racing figure Eddie Ruggeri, right, helps Bob strap in.
(Bob Jepson Collection.)

© 2011 Lew Boyd, Coastal 181
If you were interested in this Tearoff, you might enjoy the books below:
Speed Duel: The Inside Story of the Land Speed Record in the Sixties





by Samuel Hawley

The World's Fastest Indian



with Anthony Hopkins, Iain Rea, Tessa Mitchell

OLD SCHOOL HOT ROD PROJECTS



by Walt Scadden



VINTAGE HOT ROD METAL WORK

by Walt Scadden