12/6/10

INDY IN DECEMBER

Last week Coastal 181 shared a booth with the re-launching Speedway Illustrated magazine at the International Motorsports Industry Show at the Convention Center in Indianapolis. We had not been before.

Almost as soon as we arrived, a plump, aging guy worked his way around the corner on his scooter, taking in carefully the offerings at each display. His badge read "Willie Davis." What a flashback!

It seems like just yesterday, but it was in April of 1971 that Dick Berggren and I went down to Reading, Pennsylvania, to catch the USAC sprint car races. Gary Bettenhausen, very much at the top of his game, was there in Willie Davis' City of Syracuse sprinter, then powered by a dual overhead cam Ford. What a machine! In time trials Bettenhausen appeared to forget to quite acknowledge the third turn. He bicycled violently up on two wheels but somehow managed to keep the rubber side down. Back in the pits, a very stern Davis grumbled, "Gary, what the hell was that all about?" Gary's response: "Willie, I just couldn't lift 'cause it sounded so good."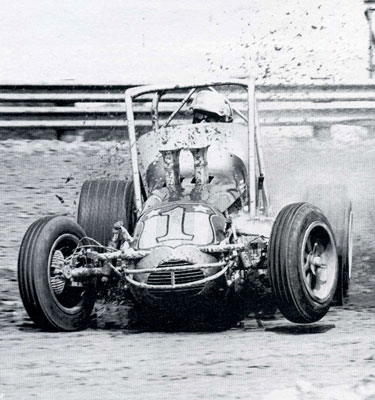 Gary Bettenhausen wearing Willie Davis' City of Syracuse Sprinter
at Terre Haute in 1970. From USAC SPRINT HISTORY 1956-1980,
Carl Hungness Publishing (Gene Crucean Photo)

Willie listened intently as I told him that story. "Those sure were the days," he reflected. "But what I remember most is all the work." He smiled deeply, contently, and motored on down the aisle.

Then, walking by looking understated and almost professorial, was that Rex Merritt out of Billings, Missouri. I knew not to let him fool me in that wrapper, as he has at least a million people. He is, beyond question, one of the top short track drivers and technologists in the country, but he is also a half-bubble off center. EVERYTHING he does is filtered through a twinkle in the eye. Rex has over 500 wins, he works for Bilstein, and he runs a successful racing school. Would you expect your teacher to say this: "You know, time is going by these days and some gray is creeping in and I find myself becoming a little more safety conscious. The other night before the feature I noticed my fuel cell was leaking. In the old days I wouldn't have gotten too worked up – just buckle up and go. Now I think about it. I climbed in but I left the belts off in case I had to get out in a hurry."

Bobby Pierce, "the Short Cool One," is dwarfed by his dad Bob, but by the looks of it, he'll be catching up in no time. Bob, mayordomo of Bob Pierce Race Cars (BPRC), is a Dirt Late Model Hall of Famer and a former UMP Champ. His cars are everywhere, but young Bobby, still knee-high to a hub cap and still wearing braces, wheels them as well as anyone. The personable kid, head of his class at school, won 16 UMP Pro Crate Late Model races at age thirteen this summer, sweeping the Illinois State Championship and earning a close second in the nation.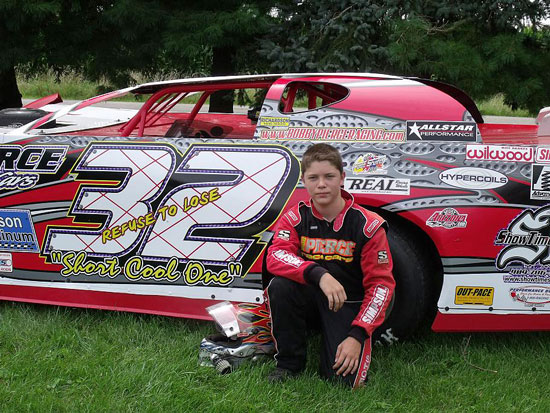 Bobby Pierce – Little Big Foot. (Pierce Family Collection)

We've all seen teeny boppers bubbling with talent. But somehow racing dreams have their way of slipping away in the night. There just may be something different about Bobby, though. I'm not sure just what it is: he's not pushy in any way, but, diminutive as he may be, he somehow stands tall. He looks you right in the eye.

The Pierces will heading from Oakville, Illinois, down to East Bay for the races February 6-12. I suspect a whole lot of people will be watching Bobby. So, doubtless, will be his mom, Angie, making sure all that eight grade homework is race-ready.

There was also just a bit of a battle for bravado at IMIS. Scott Bloomquist was there, typically reserved while at the same time a formidable presence. He worked the floor, dropping in on booths manned by marquee names. He spent an hour in intense conversation with Speedy Bill Smith.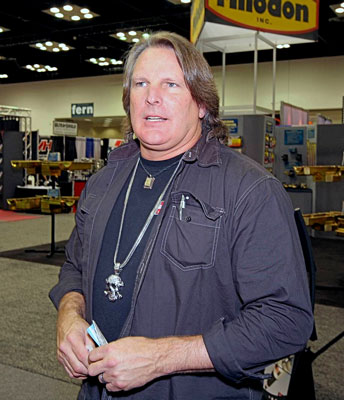 Scott in Bloom (Mike Adaskaveg Photo)
That night, when Bloomquist strolled into the Howlin' Moon, some wag wrote on a mirror "that f….ing Bloomquist is here." Within minutes the message was crossed out and this added: "Scott who? The Dirt Knights are in the house."

And so they had. Hardly in Bloomquist's image, Al Hejna, Corey Dripps, and Mike Spaulding were all over IMIS like a wet T shirt, pumping their upcoming TV reality show with non-stop playfulness. The first of 13 episodes will air Sunday, January 2 on Versus and will cover five modified drivers as they battled grittily last summer in pursuit of the USMTS national title.

IMIS really was amazing. There were over 560 booths, some truly spectacular. In the Winters display, they actually erected a house frame- like structure using interconnected rear ends. And Chad Wehrs of Wehrs Machine showed up with an ingenious cart that unfolded into a huge display that just made you want to buy some kit from him.

In places the glare of buffed chrome was near blinding. Displays showed off all those amazingly robust new racing software applications, trick new coatings and chemistries, and thousands of shiny bits and pieces, so many made in China.
But all said and done, for all the bling and technology, IMIS still came down to just plain cool racin' folk.

Thank goodness.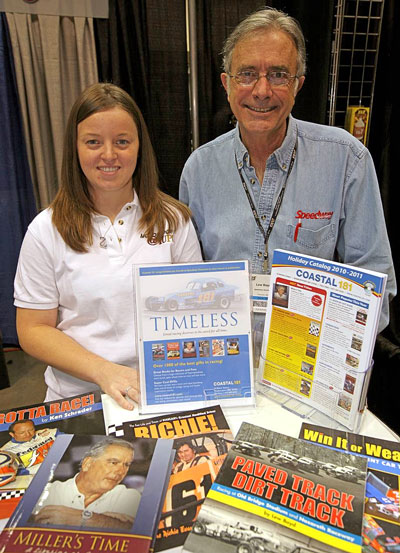 Arin McInstosh stopped by the booth. She was pleased with
her new-found fame, having been the subject of the
last Tearoff (11/21/10)! (Mike Adaskaveg Photo)
© 2010 Lew Boyd, Coastal 181