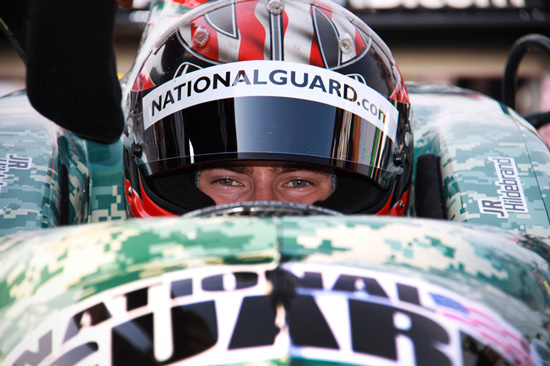 John R. Hildebrand
(Panther Racing Photo)
---
12/31/11

A HUNDRED TEAROFFS

How about it? The last of 2011 turns out to be TEAROFF lap 100. Looking back on the race, it becomes very clear that the stars of the show are the people who race.

Just listen to what some of these passionate folks have told us along the way:




TEAROFF 8/15/07– Being Dale Jr.

Ken Schrader, quoted in his book GOTTA RACE!, discussed the weekend when Dale Jr. was 16 and came along with Kenny on a weekend of racing.

When the kid was 16 years old, he went on one of our weekend racing trips. From earlier stories you might have gotten the idea that there is a little bit of partying going on during these trips. You would be wrong. There is a lot of partying going on.

That Lost Weekend began when we went to Granite City, where we won; then on to Topeka; Moberly, Missouri; back to Topeka where we won again; and then back to St. Charles, Missouri. During that weekend, Junior got acquainted with his future sponsor (Budweiser), so when we got back to Topeka the second time – where we knew were going to meet up with Dale Sr. once more, we said, "Now, don't look at your daddy, don't tell him nothing about what we did, and whatever you do, don't breathe on him."

He must have breathed because later on I got cussed and yelled at, and I took it quietly because I had it coming. But after the rant went on long enough, I asked Senior, "I guess this means we can't take Kelly next year?"




TEAROFF 2/14/08 – Doug Wolfgang

But, just as the dorky glasses went away after his 1977 accident, so did Doug's accelerated perception ability. It was two full years of recuperation from the burns and other injuries at Lakeside before Doug returned to the seat.

"I probably ended up running 100 races after the accident, and I bet I won 30 of them. But these weren't at the highest level of sprint car racing – and I was finding myself a completely different driver. Suddenly things in front of me were happening FAST instead of in that slow motion, and I would back off way too much in reaction. Still today I don't know what to make of it. I think about it a lot. But, in the end, I interpreted it as God's way of telling me, okay, now it's time to hang it up.'

"And I did."




TEAROFF 6/18/08 – The Night Buzz Rose Was Worried

Buzz talks about the night he ran Manzanita Speedway, and they required him to have a roll cage for the first time. After 35 rounds of the 50-lapper, he was running right up front. But then he blew up.

"When we got to the track, I was really worried. I had come from midgets and sprints, not hard tops. I didn't know what this contraption over my head was. I was used to flipping and flopping all over the place. We didn't know about arm restraints back then. All night I kept thinking I'm going to get this son of a bitch upside down and it's gonna chop my arms off. I was terrified."




TEAROFF 8/6/08 – Wallace on Wednesdays

Meeting up with our buddy Kenny Wallace at the fairgrounds track in Slayton, MN:

"I believed in my soul I would never be a complete driver unless I ran dirt. I am running dirt races today because I need to feel like a real race driver...At first, I sucked. And here was maybe the hardest part – I had to totally park my ego and put on blinders. Because when I went on the track people would rush up to the fence – not to watch me race, but to see how bad I was going to wreck….Guess what? I'm going to keep doing this until I can do a clean slide job on Schrader at Pevely. I don't know exactly what the last laugh is, but I'm at least at the chuckle stage."




TEARFOFF 6/18/09 – Catching Up with Brad Doty

"I just plain love sprint car racing. I've never had any bitterness about my accident, but I can admit to being kind of envious about guys who still can do it.

What does get me cranked up are those people who piss and moan about our sport. It's so hard for me to listen about how this is wrong and that is wrong. I can't fathom nay-sayers, whether it is about the economy, about racing, or about some personal trouble they may have. Sure, life isn't all wine and roses, but I think it's pretty neat to be here.

And, in my view, tomorrow is gonna be even better."




TEAROFF 9/04/09 – South Dakota Chris

Journeyman racer, Chris Prussman, talks about school days – and stock cars.

By college time, "when I was in class it was As. But I knew too many people, went to too many parties. By 1991 I left school. My heart had already been donated to racing."




TEAROFF 11/15/09 – Ernie's Excellent Chase

At the end of his life, New Hampshire's Ernie Gahan ruminated on winning the NASCAR national modified crown in 1966.

"By October I thought I had the championship in the bag. Then NASCAR scheduled some big modified race in Atlanta on November 6. Crap. I sure didn't have a superspeedway car, but I went down there with my hat and picked up a ride. It was kind of a sled, but I drove my butt off. I couldn't believe it when Ray Hendrick, my closest competitor in the points, driving Junie Donlavey's real hot ride, drove plum into the wall. I always teased him afterwards that he shouldn't have been concentrating so much on giving me the finger on the way by.

"So, I got tenth and the championship. And doesn't Bill France come right up to me and say, 'Now, Ernie, we're gonna have to send you off to that Dale Carnegie School of Speech.' I said, 'Bill, I am a damn race driver. Not a speaker. I'm not gonna get up in front of the whole country like some kind of hypocrite. My thing is winning races.

"I had a helluva time back in those days, but look what's happened to the sport since. I should probably regret some of the things I said back then. But I don't."




TEAROFF 2/21/11 – Dinner in Daytona

Ralph Liguori talks about the day he ran the monster but little known 1½-mile dirt track in West Memphis, Arkansas.

"I was running in a NASCAR race down there about 1955 and I was really cookin'. I go to pass Tiny Lund in his big ol' Oldsmobile, and, wouldn't you know, that instant he breaks a spindle. He gets to flipping and comes flying right out the side of the car. He was sliding down the track and don't I just run him right over.

"Shoot, I thought, I just killed Tiny Lund. And he was a friend of mine. But I kept right on racing. I had to finish 'cause I needed the money so bad.

"Back in the pits later I heard that Tiny was still alive, so I went to the hospital to see him. He was one mess, but he managed to ask me, 'How come you hit me like that?' I said 'Tiny, I thought you were dead anyway, so why should I kill myself trying to miss you?

"Banged up as he was, you should have heard the roar of his laugh. The whole room shook. He was one big guy, and I guess that was a good thing."




TEAROFF 3/8/11 – Sprint Car World Record?

Outlaw standout Paul McMahan talks about the night last February when he toured the half-miler in Volusia, Florida, in time trials in 12.2 seconds, 132.209 mph.

"I was lucky, I guess. I just cut a good, solid lap, one that I felt positive about. To be honest, though, I wasn't even really conscious of the speed until a little later. In one of the prelims there were 12 of us out there running up there on the cushion. We were still doing 12.8s and that did get my attention. My parents were there, and they were a little white-knuckled."




TEAROFF 4/21/11 – Pruett's Perspective

So, the logical next question was what specific race has been the most meaningful – the most moving – to Scott personally? He didn't hesitate a second. Like most every racer, his response was about an event when he really was racing with himself.

"In 1990, I crashed testing on the West Palm Beach course and broke my back, my heels, my knees and was out for almost a year. I was 30 and I focused on my trauma like a job. Six days a week, 8 to 12 every morning, an hour off for lunch, and back to rehab and exercise from 1 to 5. I did that for months on end. Then came the moment – the IROC race at Daytona. The night before I was nervous, excited, anxious. The night afterwards I felt a huge payoff for all that work. I won it after a battle with Earnhardt and Elliott."




TEAROFF 5/4/11 – The Running of the Racers

Nick Sweet, a young but gloriously talented A.C.T. driver from Vermont spoke of an incident at a fan appreciation event at Thunder Road Speedway last spring.

"That's the most emotional part for me," Nick Sweet continues. "On Quarry Hill this year I saw a little kid waving frantically. It was one of those timeless moments. I swear it could have been me 20 years ago. I was such an avid fan. Just like him I would be on top of anything racing I could find. For years I'd sit in the front row of seats down by the first turn, waving flags and watching the cars my dad worked on. And you know what? That little guy on Saturday was waving a picture of me!"




TEAROFF 9/14/11 – About That Last Lap

J. R. Hildebrand explained to us what he was thinking during that agonizing last- turn incident that cost him a Brickyard victory in his rookie year.

"I was going 220 mph – everything is happening very quickly – but it's interesting to reflect on how much I was processing going into turns three and four. I essentially had two choices. One, to brake hard, down shift, follow that car through four and pass him on the front stretch. Or two, try to get around him.
My attitude was to go by or go home. My team had finished second for three years in a row. I didn't want to get beat by pussy-footing around. I knew it was a low percentage move. My tires were used up and, after a lot of green flag laps, there was a huge marble buildup in the high groove. But I went for it.

I got as close to the #83 car as possible, but my car washed up.

In that split second was an eternity. You go from being in control to a helpless wall magnet. Nothing I could do would change that trajectory.

When I finally hit, I could no longer steer with the wheel. The right side was torn off. I discovered the way to keep it straight was to stand on the gas. I made a deliberate decision to keep it against the wall. I knew I could not finish if I spun.

You see, to me this was no random crash. There was a conscious line of decisions I made to try to finish the race. I was aware of everything that had happened. I was saying just what I felt. There were two factors in it. I knew full well that the only reason I had finished up front was the Panther guys. They were so amazing to me all month. I was full of gratitude.

And saying what I did was no stretch for me. I suspect it is the way my parents brought me up. It wasn't a time to go pointing fingers. It was a time to be a man about it."




TEAROFF 11/17/11 – Rt. 169 South, Algona

Iowa's legendary sprint car owner, Daryl Arend, reflecting on some of the 55 guys who have shoed his cars.

"I never really made a bad choice with a driver. I had my way of picking them. First, no wreckers. Second, a calm head on the shoulders. Buzz Rose outclassed everyone as an intellectual driver. If we could get second, that's what he would bring home. And, right before the race, he was likely to go up to someone and say, "You're gonna run THAT right rear tire?!," just to psych 'em out. Randy Smith was good, too. At that time he was real arrogant, and that had its benefits. And Terry McCarl. I liked him because he was aggressive, and I watched how people responded to his positive manner. But, third, you need to be able to talk a good story about hogs and how they gobble up slop. Then I'll know you've been there. I always admired A.J. Foyt. There's a guy who has packed his own wheel bearings. He knows what grease is, what grease does. He would know that whine will last six more laps before the wheel flies off."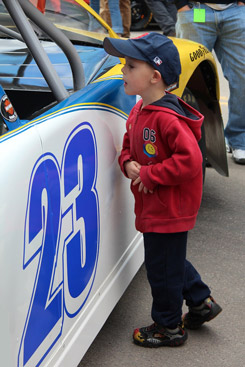 (ACT/Leif Tillotson Photo)

Happy New Year to Coastal 181 readers one and all!

TEAROFF 101 will be posted the second week in January.


© 2011 Lew Boyd, Coastal 181

If you were interested in this Tearoff, you might enjoy the books below:
GOTTA RACE!



By Ken Schrader
with Joyce Standridge

LONE WOLF

by Doug Wolfgang
with Dave Argabright

Inside Herman's World



by Kenny Wallace
with Joyce Standridge

Still Wide Open, Second Edition


by Brad Doty
and Dave Argabright