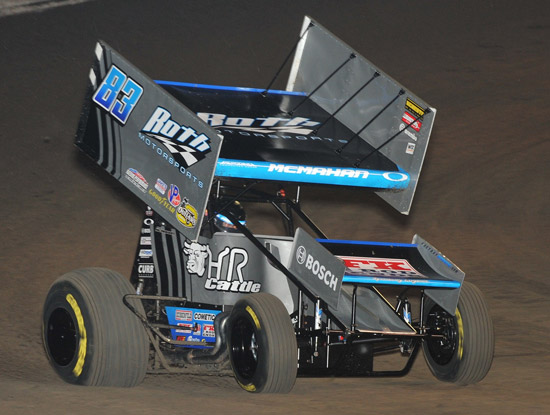 Paul McMahan on his astonishing lap at Volusia. Is that car working or what!
(WoO Photo)
---
3/8/11

SPRINT CAR WORLD RECORD?

As the All Star sprinters pushed off to time trial at Volusia on Thursday, February 10, it became quite obvious something different was in the air. Every car, it seemed, knocked off a new track record, one after the other.

Then came Paul McMahan, the handsome, on-the-hammer kid from California. He was operating a Dennis Roth ride, associated with Kasey Kahne's World of Outlaws team. He drove flawlessly, accompanied by the harmonic roar of a perfectly balanced Speedway Engine out of Indianapolis. His time was beyond comprehension: 12.5 seconds around the semi-banked dirt half mile; 143.209mph average.

Sure, there were some high fives in the pit area afterwards. And the tweets flew among hard-core sprint car fans around the country, examining track satellite maps to figure which ones are actually comparable. Some news folk picked it up, such as open-wheel aficionado Jerry Reigle of Area Auto Racing News, who wrote, "It is believed to be a new world record, by breaking an Eldora Speedway record set by Craig Dollansky in 2002."

Strangely, though, there was little real media or fan buzz about the stunning achievement. WoO Executive VP and Volusia promoter Roger Slack reflected, "I think that had to do with the time of the year, all the activity around Speedweeks, and the cars at Daytona going over 200mph."

Even Paul McMahan was not that pumped up. "You know," he told me this week, "I've been driving since I was five. It's what I do. It's like brushing my teeth. It was just another night, and I really haven't thought about it since."

Incredulous, I asked him if he actually remembered the lap. "Oh, yeah. I knew we were fast and I concentrated on myself before going out, focused on hitting my marks. I had noticed the top and bottom were greasy, but there was a lane and a half in the middle. We had a new motor in it, the meanest of the mean. And Kole Kahne, that's Kasey's cousin, fueled it just right. The air – it's below sea level there in Florida – is tricky, but it is made for us if you get the mixture right. And the weather added, too."

Roger Slack agreed. "There was a rain storm earlier on a hard track that left it wonderfully tacky and smooth. We really sweated how to prepare it, and it worked out. Sometimes we do wonder how quick these things can really go. This year we're up to 1400 pounds with the driver, we're putting in better 33-gallon cells, and working with the drivers to get the best restraint systems possible. But these guys are so clever. Give them 80 or 90 nights a year all around the country and they have a ton of road time. What do they think and talk about? Goin' faster!"

I just had to ask Paul one more time how he actually felt. "I was lucky, I guess. I just cut a good, solid lap, one that I felt positive about. To be honest, though, I wasn't even really conscious of the speed until a little later. In one of the prelims there were 12 of us out there running up there on the cushion. We were still doing 12.8s and that did get my attention. My parents were there, and they were a little white-knuckled."

We are, too, just thinking about it, Paul.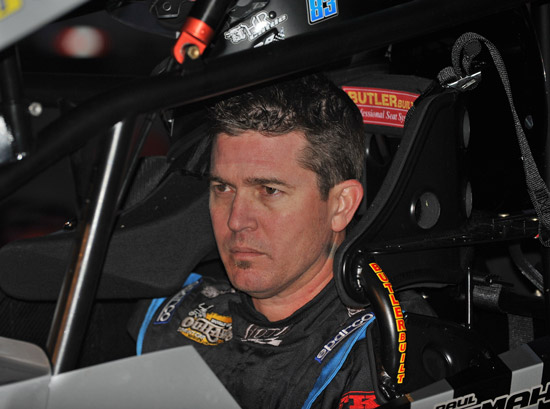 McMahan visualizing his time trial before going out. He was right on.
(WoO Photo)
© 2011 Lew Boyd, Coastal 181