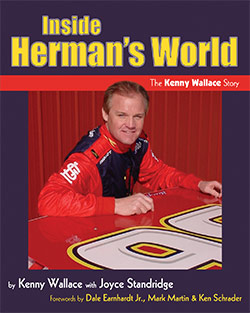 S-723
Orig: $23.95
Special: $14.95
I

nside Herman's World


by Kenny Wallace
with Joyce Standridge

One of auto racingís most likable personalities, Kenny Wallace is also a dedicated racer.

In a fascinating recounting of his roller coaster life and career, Wallace shares hilarious stories from a racing-obsessed youth, the pain of losing his best friend, and remarkable insights from a life well-lived.

A NASCAR crew chief before he was 21 years old, a nine-time winner in the Busch Series, and a go-to driver for Nextel Cup car owners, ďHermanĒ provides an insiderís view of great drivers such as Dale Earnhardt, Jeff Gordon, Tony Stewart, Richard Petty and so many more, including brother Rusty Wallace, as well as a behind-the-scenes view of
motorsports TV.

Inside Hermanís World is the rollicking good-time fans would expect, but itís also poignant and perceptive. Another must read for NASCAR and short track fans alike!
Soft cover, 264 pages, 300 B&W photos.