-



Email us at info@coastal181.com
---
---

All Previous Photos of the Day HERE
---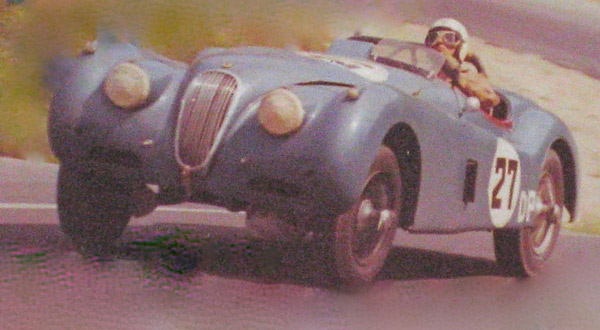 #2517 - Here's a very cool shot of our friend Frank Grimaldi back in August of '64. He says, "The photo was taken from the top of the Uphill at Lime Rock, Connecticut. The car got very light at the crest, but never really actually left the ground. A year later I crashed and burned this car at the Thompson Speedway Road Course." Frank, a Director of the North East Motor Sports Museum, is still very much at it today. (Photo by Action Ltd of Wisconsin)
a
---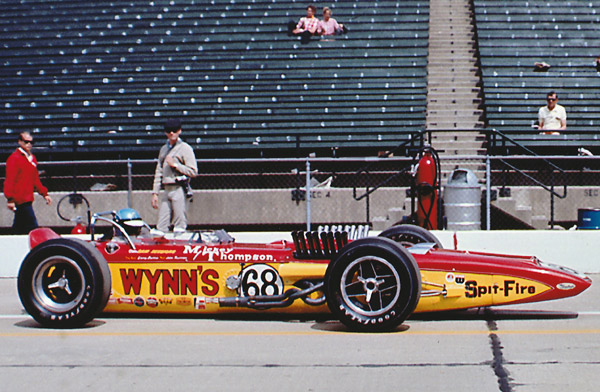 #2516 - Rookie Sam Sessions during practice at Indy in 1967 aboard master innovator Mickey Thompson's front-engine, four-wheel drive, four-wheel steer, stock block Chevy V-8, three valves per cylinder, Wynn's Spit-Fire Special (!). Sessions, an up-and-coming driver out of the ranks of the Saturday-night warriors, won three Supermodified feature races in a row in 1964 at Oswego Speedway. He would go on to collect trophies on all the famed dirt tracks - Ascot, Eldora, Knoxville, Terre Haute - and on the wild and crazy fast, paved, high banks of Winchester and Salem. (C.R. Racing Memories Photo, Ken Parrotte Collection)
A
---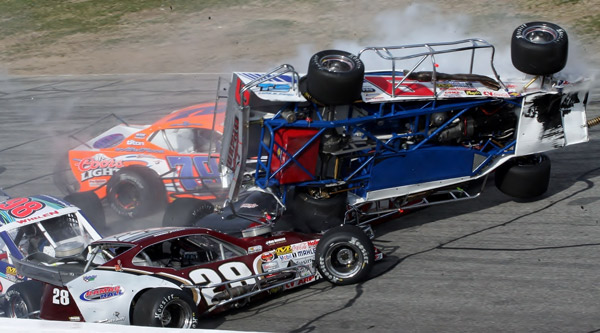 #2515 -
You can bet Ron Silk would remember this ride at the Thompson (CT) Speedway's Icebreaker a few seasons back. The popular event usually runs the first weekend in April, but the tentative schedule for this year is that the ice will be broken on May 15-16. (Dave Dalesandro Photo)
A
---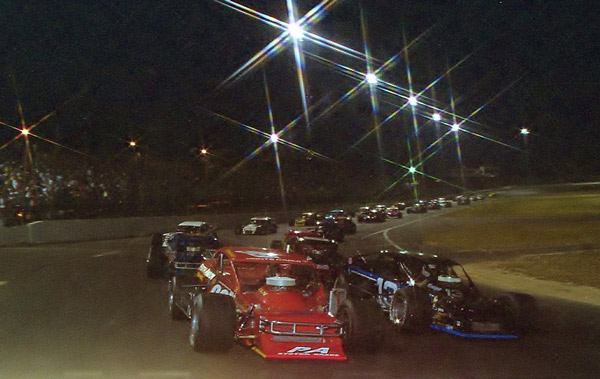 #2514 -

Here's one from Dave Dalesandro to stir up some memories in New England. Alpha dogs the late Teddy Christopher (13) and Bugsy Stevens lead the pace lap at Stafford.
a
---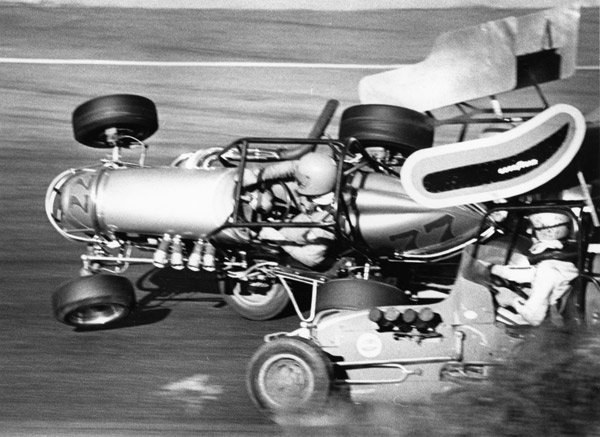 #2513 - Best be mindful of social distancing... (
Speedway Illustrated
Collection)
A
---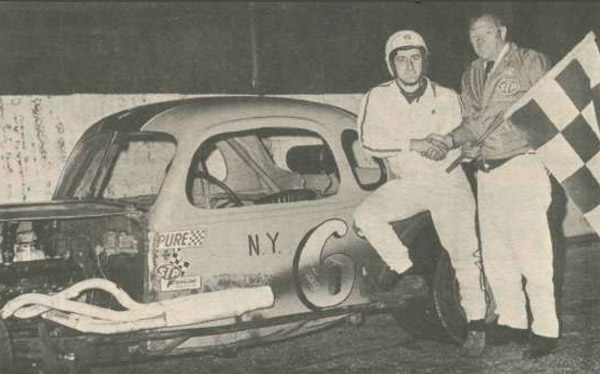 #2512 - This is the win that resulted in Richie Evans being suspended by NASCAR in 1969. The May 28, 1969 edition of the Oswego Valley News reported on the Sunday night, May 25, 1969 Fulton Speedway feature race won by Richie Evans over Maynard Troyer and Dutch Hoag. At the time, Evans normally raced NASCAR at Utica-Rome Speedway, but Utica cancelled their race for the third Sunday in a row. Former racer Cliff Kotary presented the checkered flag to Richie Evans with his winning #6 coupe. Richie had raced with car #109 in 1967, then switched to number 6 for 1968 and 1969. After that, it was #61, Big Orange. (Photo and Caption thanks to Ken Parrotte)
A
---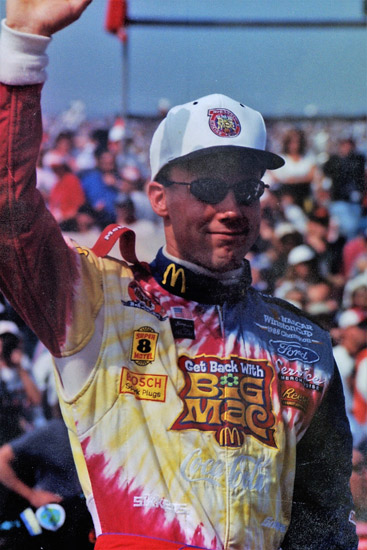 #2511 - It was drivers' introductions at Dover Delaware for a Cup race in 1998. Bill Elliott was absent, attending his father's funeral, and a 26-year-old former champion from Wisconsin's Slinger Speedway stood up in his place. Matt Kenseth did so with style. His sixth-place finish was the third-best debut in Cup history. He went on to become Rookie of the Year in 2000, to win the title in 2003 - and the Daytona 500 in 2009 and 2012. (Mike Feltenberger Photo)
a
---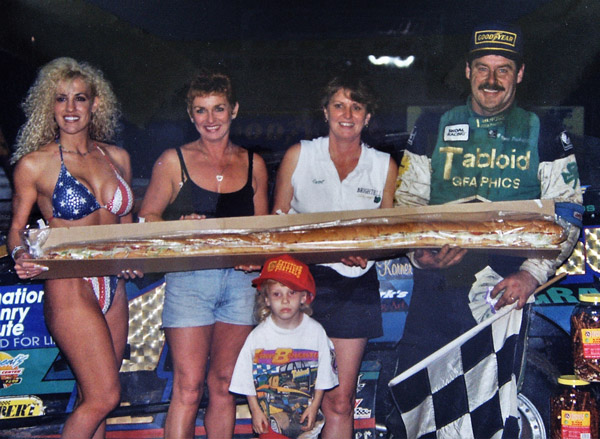 #2510 -
Looks like Kenny Brightbill had the cash to pay for his dinner order after the Keystone Pretzel 50 at Susquehanna (PA) Speedway back in the early 1990s. (Mike Feltenberger Photo)
A
---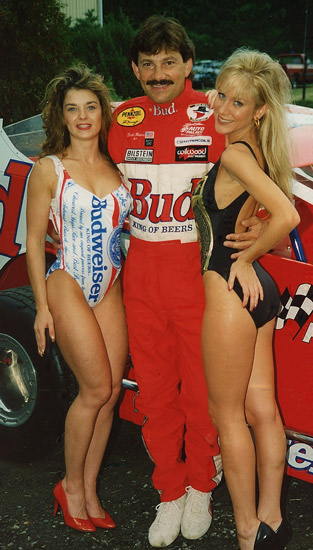 #2509 -

Really, Brett! (Photo by Dave Dalasandro, Our Man from Amsterdam)
A
---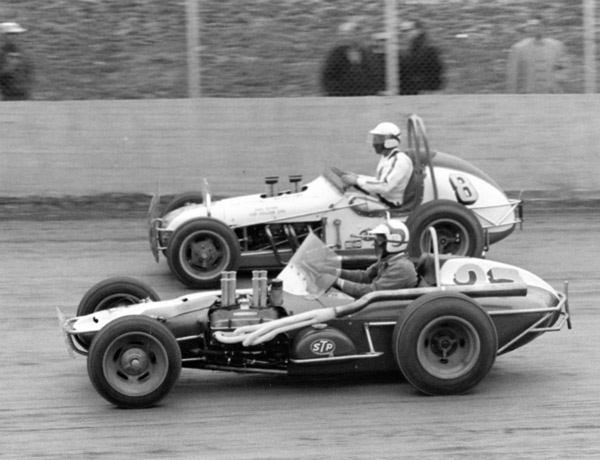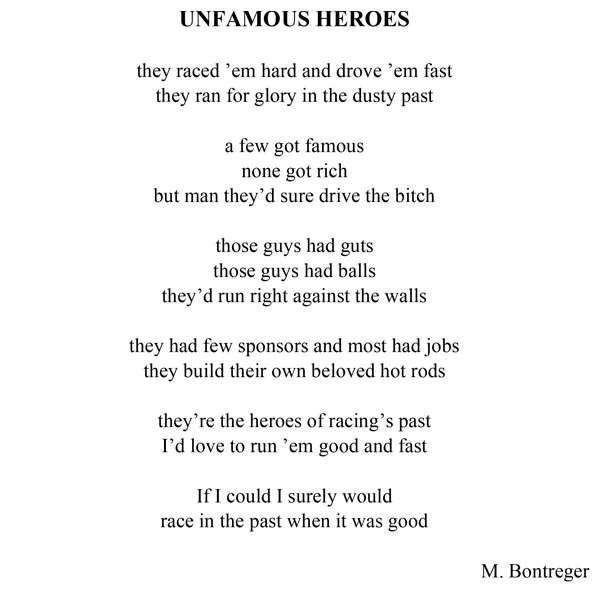 #2508 -
These two gems were sent to us recently by customers, both of whom love old-time racing. The photo is from Bradley Poulsen in Wisconsin. Bradley has a fabulous collection of images he has generously shared with us. "Unfamous Heroes" is an excerpt from a group of poems, full of racing wit and wisdom, by Indiana's Mike Bontreger.
A
---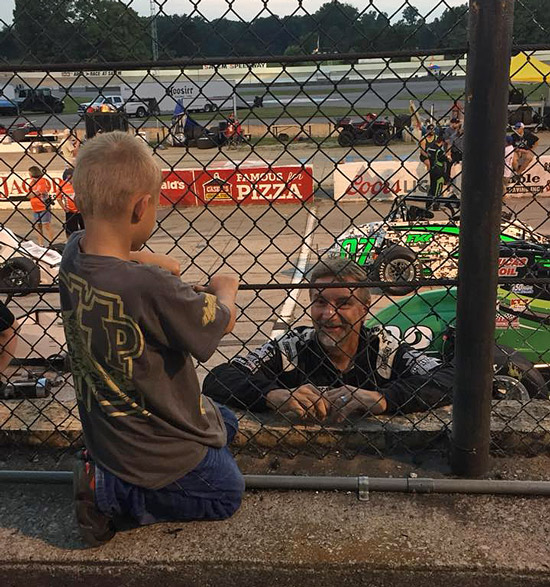 #2507 -

Here's one of our favorite racers, Dave Darland, greeting a young fan through the catchfence at Salem Speedway. We don't know who took the photo or when, but it's a beauty - and that's why they call him "The People's Champ." Thanks to our friend Roger Zellner for sending it along.
a
---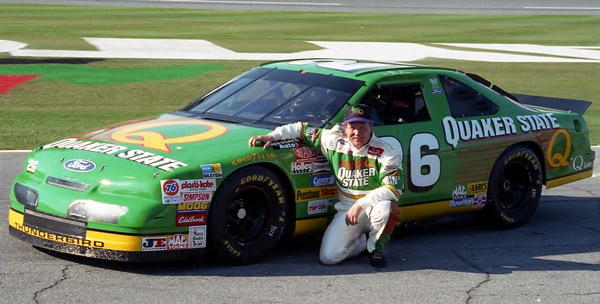 #2506 -
The eyes of all the racing world were on Steve "King" Kinser, but this was the one venue where the color green did not work for him. (Photo by Dave Dalesandro, "Our Man from Amsterdam")
a
---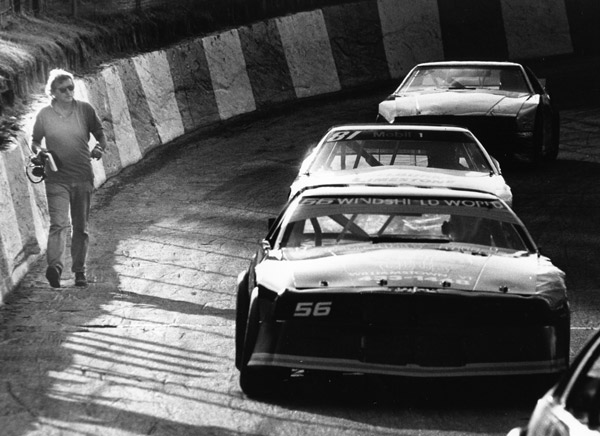 #2505 -
The late Tom Curley prances along the "Widow Maker," the much-impacted wall at his beloved Thunder Road Speedway in the Green Mountains of Vermont. He raced the place with ferocity early on, earning the nickname T-Bone Tom. In later years he ran it with equal ferocity, famous especially for his sassy drivers' meetings. Today, under new ownership, the track continues to thrive, a true New England pearl. (
Speedway Illustrated
Collection, Mike Adaskaveg Photo)
a
---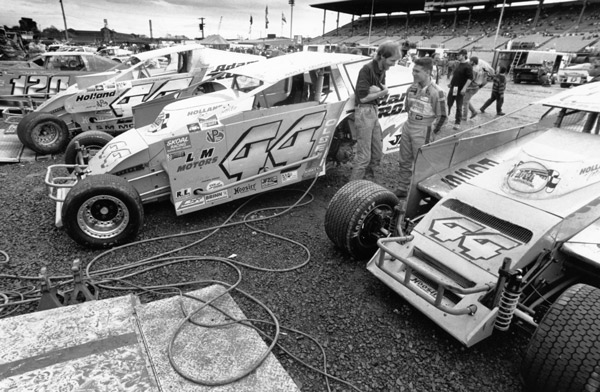 #2504 -
That old Moody Mile at the Syracuse Fairgrounds was really something, especially during Super Dirt Week. It was sometimes soaked with rain, but it always soaked up every competitor dollar possible. In 1992 three teams hauled in with three cars, and Lebanon Valley-based owner Adam Ross was one of them. Here he noodled with driver Matt Quinn. (Mike Adaskaveg Photo,
Speedway Illustrated
Collection)
A
---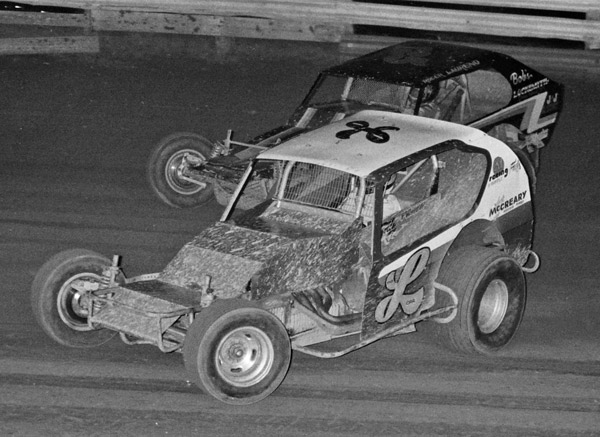 #2503 -
MODCAR was a modified touring group in the early to mid-80s
in the Middle Atlantic. Here Billy Pauch (L) is challenged by Roger Laureno during a visit to Lincoln, PA, Speedway. (Mike Feltenberger Photo)
a
---

#2502 -
The annual Amelia Island Concourse event honored Roger Penske on March 6, 2020 with an afternoon seminar that drew an audience that filled every seat of the huge ballroom, with hundreds standing in the back. As a driver in his younger days, Penske was named
Sports
Illustrated'
s 1961 Driver of the Year. He won nearly half of his starts. As an Indy car team owner, Penske has won 18 Indy 500s, far more than any other owner. As a NASCAR Cup team owner, he has won two championships, most recently in 2018 with driver Joey Logano. As an entrepreneur he controls an empire of auto dealerships. His Penske Leasing company has thousands of yellow trucks on America's roads. And at age 82, he recently purchased the Indianapolis Motor Speedway and the Indy car series. Most important, however, is the affection and admiration those who know him feel for the guy they call "Captain." Beginning in business as a young man, he bought old cars that he fixed and sold. His interest in racing began when as a young boy his father took him to the Indy 500. Auto racing is fortunate that Penske liked what he saw that day. He continues to be an inspiration to many in auto racing. (Photo and caption from Dick Berggren)
a
---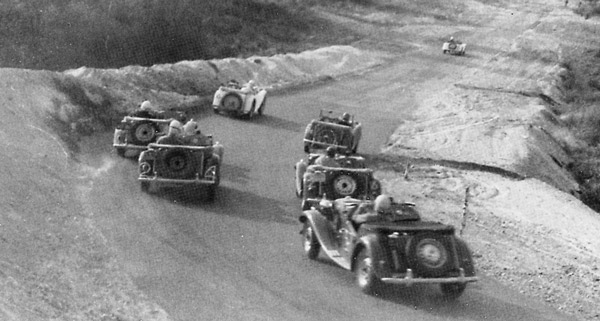 #2501 - "A group of MGs heads toward the long straightaway at Thompson (CT) Speedway's road course in one of the track's earlier versions. There were no crash walls and trees were perilously close to the racing surface. That long straightaway and the curve leading to it remain in today's iteration of the facility." Quote from A HISTORY OF AUTO RACING IN NEW ENGLAND: A Project of the North East Motor Sports Museum. (Photo Courtesy International Motor Racing Research Center)
A
---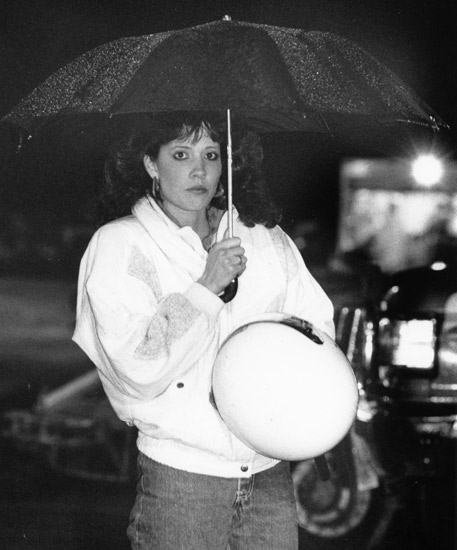 #2500 - Rainout! Mari Singer shields husband Howard's helmet at Five Mile Point Speedway in Binghamton, NY in 1990. (Mike Adaskaveg, Speedway Illustrated Collection)
a
---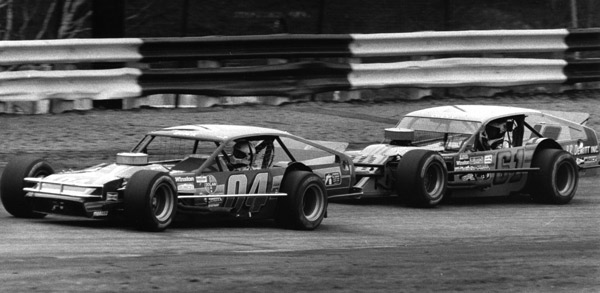 #2499 -
A sad glimpse of two of the greatest in NASCAR Modified history, Corky Cookman and Richie Evans dicing at Stafford Springs, CT. The two, both congenial and yet different in so many ways, died behind the wheel during that strangely savage period for pavement Modifieds in the mid-1970s. (Mike Adaskaveg Photo,
Speedway Illustrated
Collection)
A
---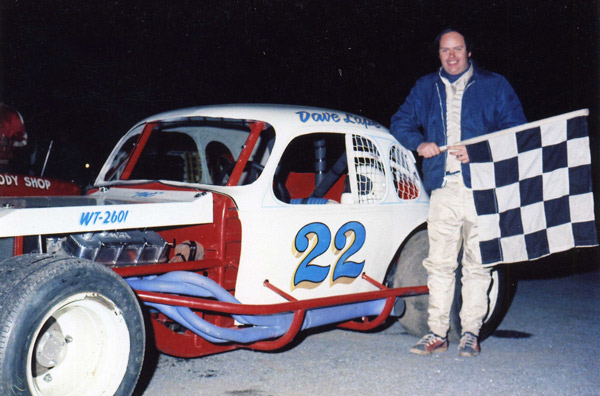 #2498 - Everybody's friend Dave Lape retired a few years ago as one of the foremost legends in New York dirt tracking. He was no slouch on asphalt either. Back in 1971 he decided to go on the road. It was a struggle, and he needed all the help he could muster, including soliciting Bugsy Steven's guys to rebuild the #22's rear end in a motel bathtub in Martinsville. It ended up as a successful tour, though, with a fifth-place finish in the NASCAR Modified point standings. But after that David had had it with the long distances, and he settled in for four more decades towing around the Empire State, picking up with hundreds of wins. (From
THE HOME OF HEROES: Fifty Years of Racing at Utica-Rome Speedway
, by Bones Bourcier. (John Grady Photo)
A
---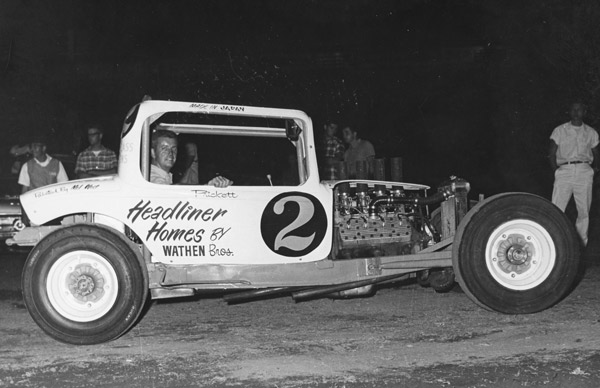 #2497 - Back at the turn of the 1960s, the Golden State was known for racing - and surfer girls. Here's how they did it with the hardtops. That's Clyde Prickett at Fresno with his breathy Flathead. (Don Stevens Photo, Bradley Poulson Collection)
A
---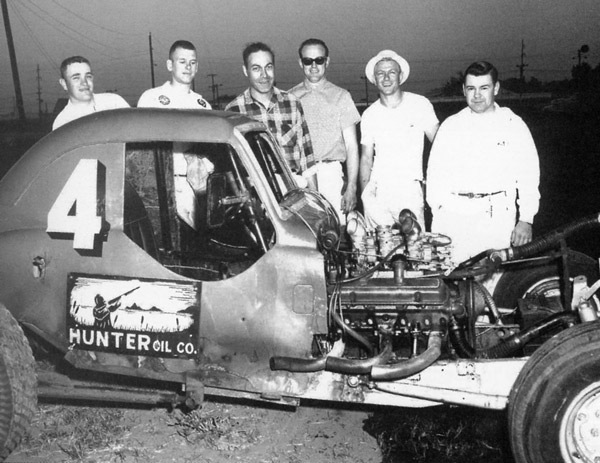 #2496 -
Popular Deo Loney of Montrose, Iowa, celebrates with the guys after sweeping the feature at Knoxville Raceway on June 10, 1961. But the merriment went away two weeks later when Loney rode out a spectacular end-for-end off the second turn, after which he plowed into a government grain bin. Along the way he was showered with scalding radiator water, and the car caught fire on landing. He suffered burns over 50 percent of his body. And the savagery of that mid-summer night evening was not over. In the consi, Les Turner of Des Moines hit the wall with enormous impact and flipped. He died of head injuries a week later. Photo by Ed Cole from The History Of Knoxville Raceway and the Marion County Fairgrounds, Volume 1 Pre-1954 to 1970, by Bob Wilson.
a
---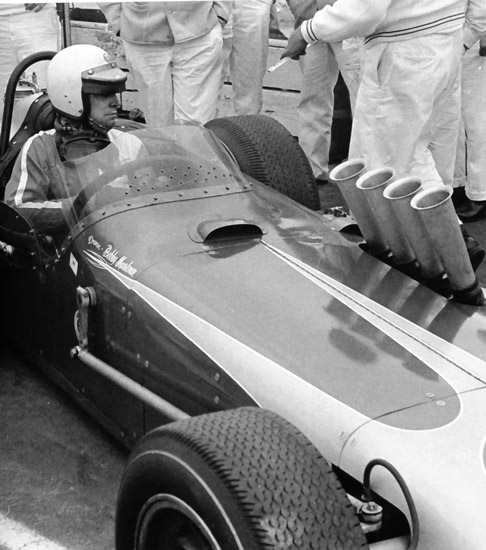 #2495 - Brave men and fast cars. "At the USAC Championship season opener in March [1964] on the new Phoenix International Raceway paved oval, Bobby Marshman finished seventh driving Hopkins's Epperly roadster."

Quote and Photo from An American Racer: Bobby Marshman and the Indianapolis 500, by Michael Argetsinger. (RMA/Chernokal Photo)
A
---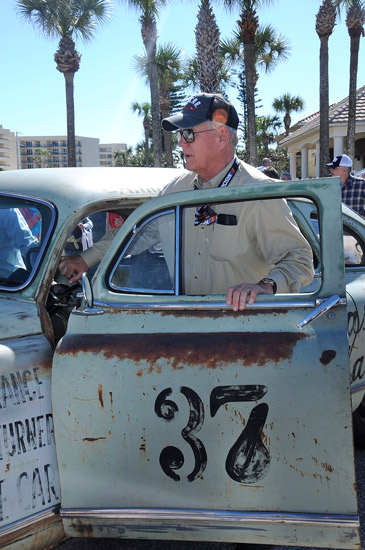 #2494 -
Dick Berggren sent us this update from the southlands a couple of weeks ago: The February 2020 Beach-Road Parade in Daytona was the ninth and most successful running of the event. The event traces the route taken by early racers: south on the paved A-1-A highway, then turn across the dune and race two miles north before turning back onto the paved highway. Organized by the owners of the North Turn Restaurant, which is on the site of the old racing north turn, this year's event drew many big names, none bigger than Jim France, NASCAR's CEO and Chairman. France drove to the parade in a 1950 Nash Ambassador he found in Mexico. NASCAR founder, Bill France Sr., Jim France's father, drove a car that might have been this one, with co-driver Curtis Turner in the famed Mexican Road Race. Jim said he remembers at age six jumping up and down on the passenger seat. The car's graphics surely appear to have been applied more than 60 years ago, so this may be the real thing. France is pictured getting into the car at the start of the parade. His passenger was former Crew Chief and former Cup Series Director, Gary Nelson. The event, with speeds of 10-20 MPH, had been threatened with closure by misguided local politicians, but the enormous popularity of the parade led to its continuation. Some of those politicians are no longer in office. (Dick Berggren Photo and caption)
X
---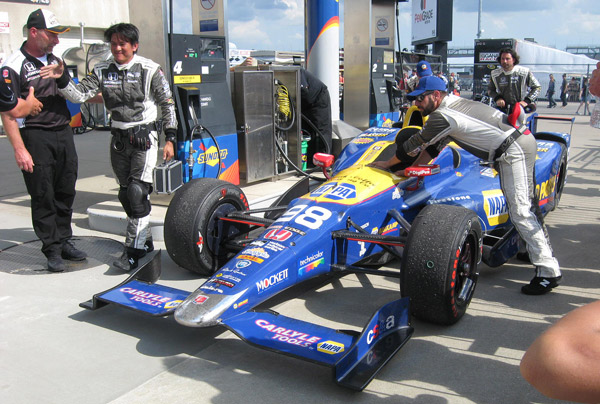 #2493 -
The Alka Seltzer moment! Ken Parrotte, the esteemed racing historian from West Monroe, NY, in the Indy garage area after the race in 2016, watching Alexander Rossi's winning car make its way through tech. Upon completion, an official smiled and said to one of the Andretti team members, "Congratulations, you have just won the Indianapolis 500." They reached out to shake hands, and Ken snapped the photograph. (Ken Parrotte Photo)
a
---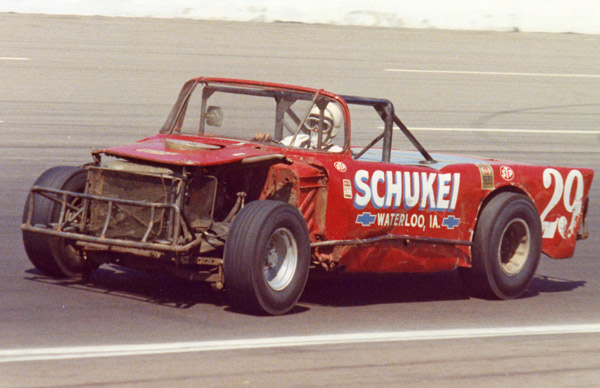 #2492 - Red Droste looked to be working hard on the banks of the half-mile at the Minnesota State Fairgrounds in Hamline back in 1976. The SHUKEI 29 sure had something short of a modern aero package. (Bradley Poulsen Collection)
A
---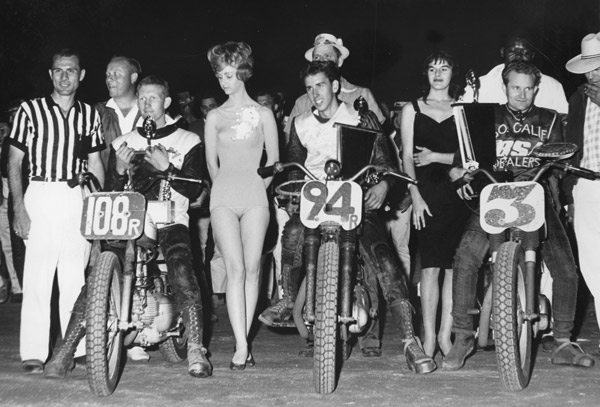 #2491 - Here's a racy group from California back in the day. L-R, Hank Gendusa (AMA official, Fresno), Jim Murren (#108R, San Diego), Sandy Clark (Tulare), Clyde Litch (#94R, San Gabriel), Beverly Bradshaw (Fresno), and Al Gunter (#3, Los Angeles). (Don Stevens Photo, Bradley Poulsen Collection)
A
---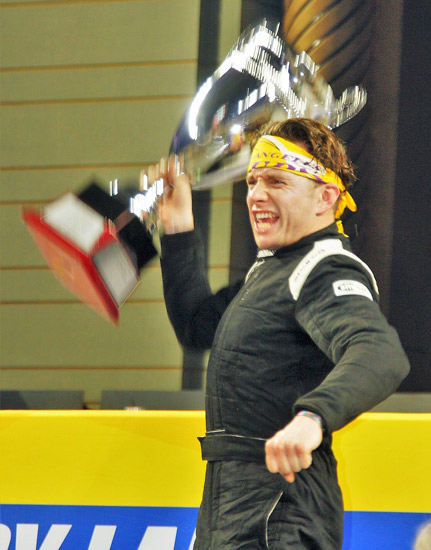 #2490 - Do you think Andy Jankowiak was amped up after winning the Gambler's Classic TQ feature at Atlantic City on January 31 - for the second consecutive year? (Mike Feltenberger Photo)
A
---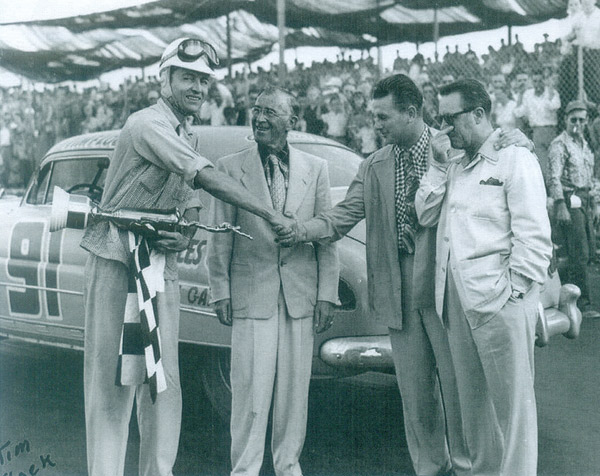 #2489 - Here is a photo and caption from one of our favorite racing gurus, Butler, Pennsylvania's Walt Wimer: This was victory lane from my first ever NASCAR race. Palm Beach Speedway in Florida on January 20, 1952!! I was all of 12!! The winner was Tim Flock of Atlanta driving a 1951 Hudson Hornet. Richard Petty's dad, Lee, was second in a Plymouth and Tim's brother Fonty, was third in an Oldsmobile. All of the top five have since passed away, the last being New Jersey driver Frankie Schneider, who went on to be a Modified legend and passed away last year around 90. Flock went on the win two NASCAR championships in the '50s and was my favorite NASCAR driver growing up. And Schneider was a NASCAR Modified champ. The netting above was to keep the Florida sun off the spectators. The grandstand was not covered and their weekly shows, which were also NASCAR for the coupes, were run at night, not the afternoon as this race was. Flock's car was a light powder blue with red numbers. I have a 43rd scale diecast of it from about 1953 when the numbers were a bit different. Great old memories!!!
a
---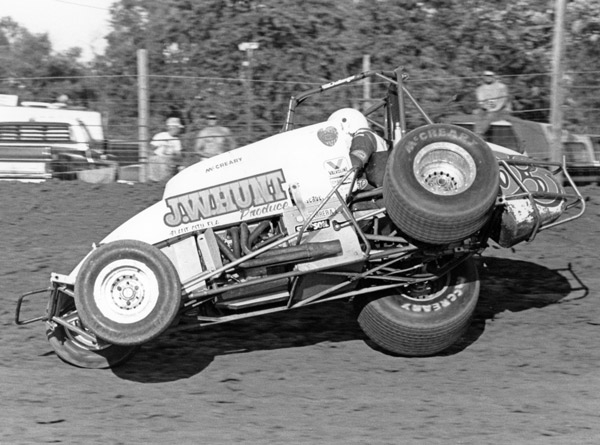 #2488 - Jack Hewitt attacks the turn at Lawrenceburg with a just tad of aggression. June 4, 1988. (John Mahoney Photo)
a
---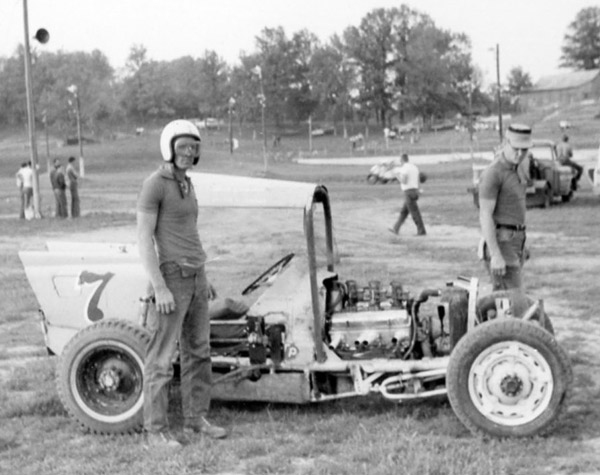 #
2487 - Ready for the feature? (Details unknown, Bradley Poulsen Collection)
A
---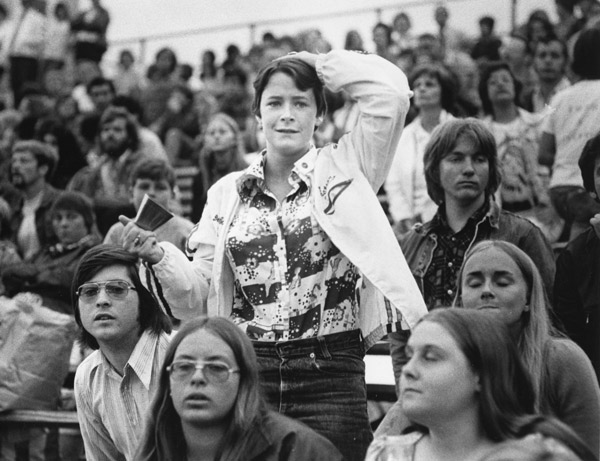 #2486 - Bet she's thinking he's gonna be awful upset after the race.
(
Speedway Illustrated
Photo)
a
---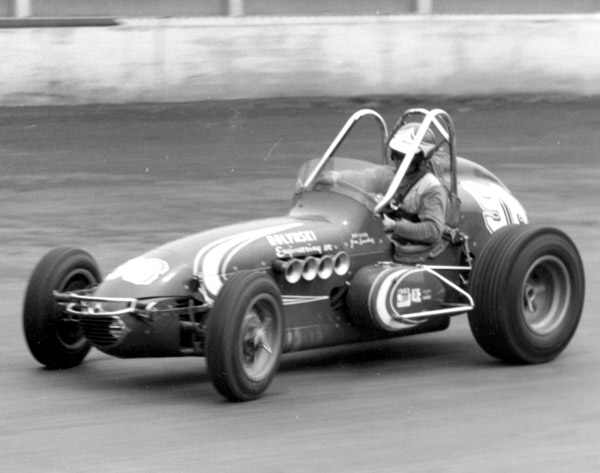 #2485 - Yikes. Jim Smoker works the Holynski Engineering Offy at Allentown, PA, in 1963. It was the first USAC sprinter to sport a cage - and a curious one at that. (Bradley Poulsen Collection)
x
---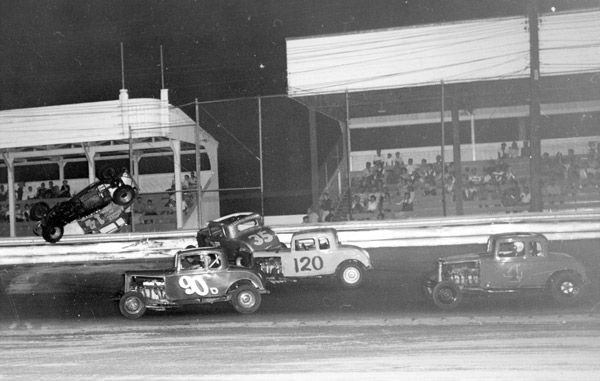 #2484 -
Denver's well-appointed Lakeside Speedway must have been quite the place. The paved 1/5-mile was a popular destination for its four-decade existence, and as the photo shows, the racing was hardball. The facility was closed for good in 1988 when a car hit the light pole that broke and fell into the stands, killing one spectator, maiming a young girl, and injuring several others. (Duncan Photo, Bradley Poulsen Collection)
a
---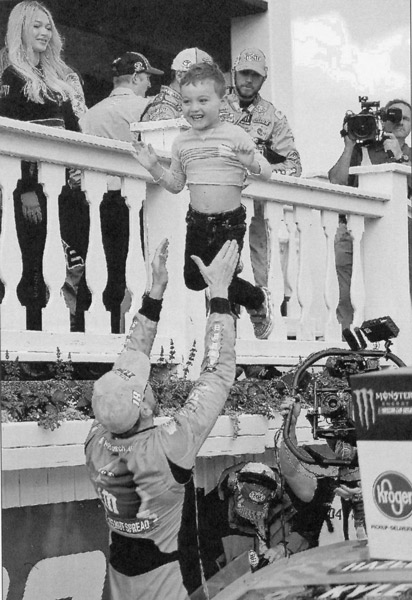 #2483 - That's Brexton Busch flyin' through the air after a victory toss by his dad, Kyle, celebrating his June Pocono win. Brexton doesn't seem to mind a bit. Little question that some edginess is in the genes.

(Photo from STRAPPED IN magazine, December 2019)
a
---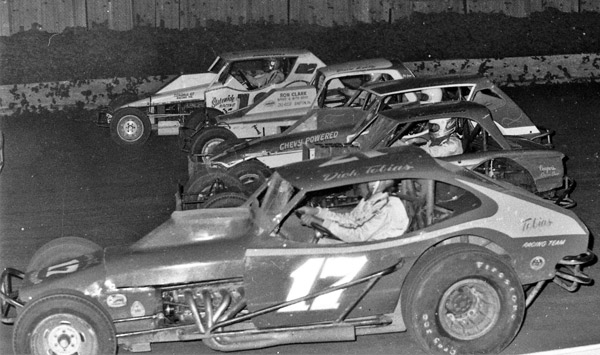 #2482 - It was five wide at Reading - and that didn't happen too often with this talented group. They would be Dick Tobias, Gerald Chamberlain, Jimmy Horton, Dave Kelly, and Kenny Brightbill, who, as a group, shared over 1600 wins according to photographer Mike Feltenberger. He said that actually the bottom four of them came blasting down the front stretch four abreast. Just before the photo was taken, a caution was thrown, and Kenny Brightbill, who was in hot pursuit, ducked to the far outside. (Mike Feltenberger Photo)
A
---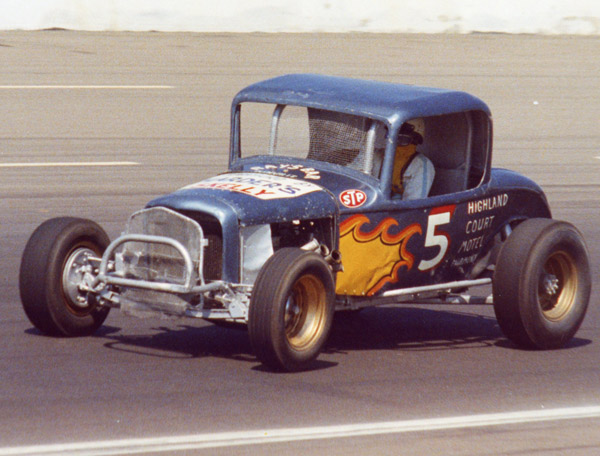 #2481 - Here's a nifty little number. Floyd Matter at St. Paul, MN, in 1966. (Bradley Poulsen Collection)
A
---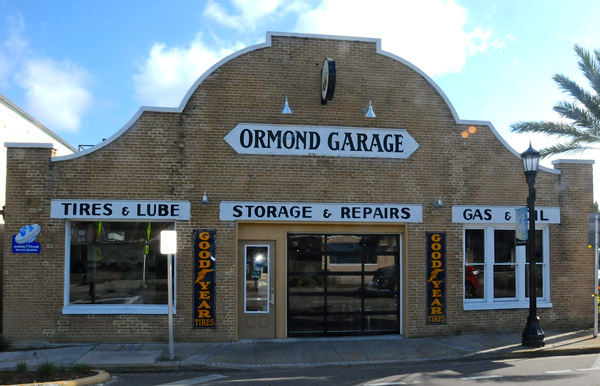 #2480 -
Coming to Daytona for the races in February? If you're a veteran of the area but don't live here, try the new hot spot on Granada Blvd. in Ormond Beach. Called the Ormond Garage, it's the namesake of the place where the land speed racers hung out in the early days of speed on sand. These days, it's a great place for burgers and craft beer within a racing décor. Old racing movies are on TV and you can see a replica of the Stanley Steamer that set the world land speed record of 127 MPH back in 1916. Despite the signs on the building, you can't get tires, lube or Goodyear tires at the Ormond garage any more. Just good food and cold beer
The other new spot to hit is Crabby's on Atlantic Ave. in Daytona. Dogs are welcome in the outdoor area, the place is direct ocean front and the food is terrific.
If you're coming to Daytona for the first time, be sure to check out the Streamline Hotel, just north of Crabby's on Daytona's Atlantic Avenue. It's where NASCAR was formed in 1947 and after a re-do, it is just grand. Enjoy a rooftop beer with a city view amid photos of the first NASCAR meetings.
Museums to take in include the International Motorsports Hall of Fame and Museum at the Speedway. Race cars, boats, plans...all of it. On Daytona's Beach Street, take in the Halifax Historical Society museum. No cars but lots of interesting artifacts and constant historic videos. The Museum of Arts and Sciences on Nova Road in Daytona has the Sumar Special race cars that raced Indianapolis (including the rebuilt Streamliner) and on the nation's dirt tracks in the 1950s. (Photo and caption/travelogue by Dr. Dick Berggren)
a
---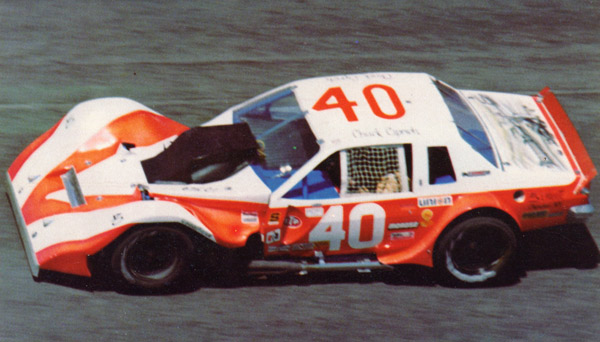 #2479 - Multi-talented Chuck Ciprich out of Sayre, PA, could wheel anything. He was aces in Modifieds, dirt and asphalt, Supers, Silver Crown, and even took a shot at CART. In February 1977 he was in Daytona for the infamous Modified road race in the Schutt Monza. The time they apparently spent in the body shop getting all tricked out was to no avail. He blew a head gasket and ended up 31st. (Racing Postcard Handout)
Z
---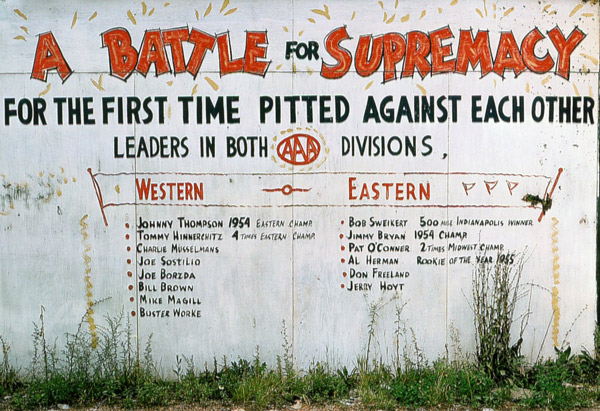 #2478 - Notes on the back of this image indicate that this signage promoted a show at Heidelberg Raceway in Pittsburgh, PA, on August 2, 1958. It would have been fun to be there, but did the sign painter get his East and West a bit mixed up (and his spelling)? (Mike Ritter Collection)
a
---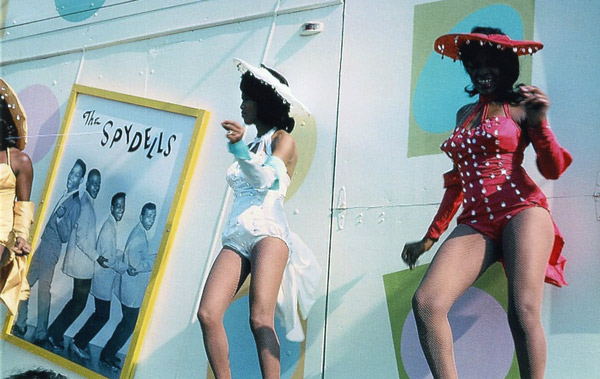 #2477 - There is so much buzz about declining race attendance these days. Many feel that promoters should offer ancillary entertainment beyond just the heats and feature. They sure used to get it done at Allentown, PA, in the 1960s, especially during fair dates. (Mike Ritter Collection)
A
---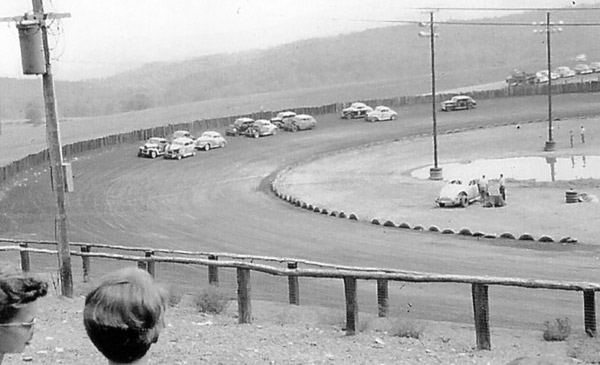 #2476 - The way it was at Circle M Speedway in Auburn, PA, active from 1955 through 1957. Is it possible that someone was so worn out after digging holes for all those infield tires that there was little time to focus on the guard rail? (Mike Ritter Collection)
4
---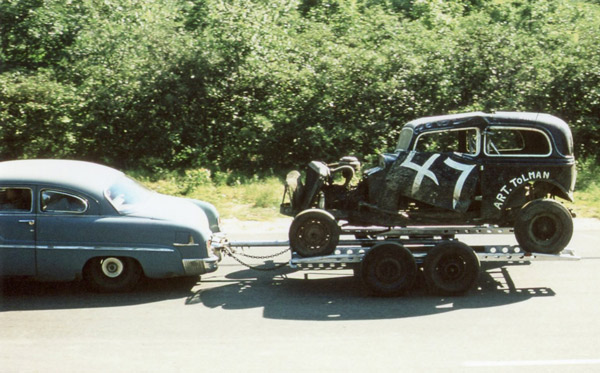 #2475 - Two flatheads wend their merry way to Rhythm Inn Speedway, a third-mile dirt oval just off Rt. 2 in Miller's Falls, MA, in 1959. After the races, the payoff was made at the adjoining Rhythm Inn, a bar and strip joint. Rene Charland told me the owner/
promoter was pretty clever: that way he got most of his money back each night. ( Mike Ritter Collection)
A
---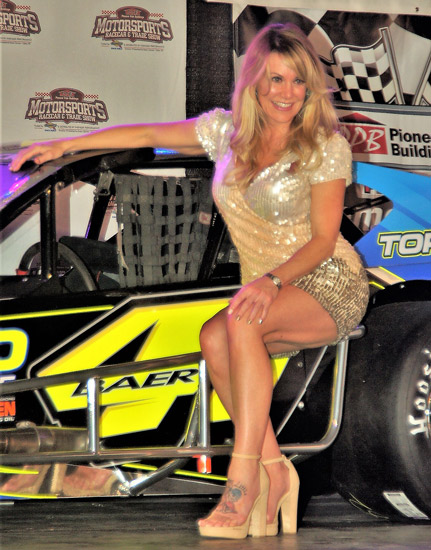 #2474 - It may have been back in 1991 that

Midi Miller

won the Area Auto Racing's Ms. Motorsports competition, but she was still stirrin' up heart throbs at the show this year. (Mike Feltenberger Photo)
A
---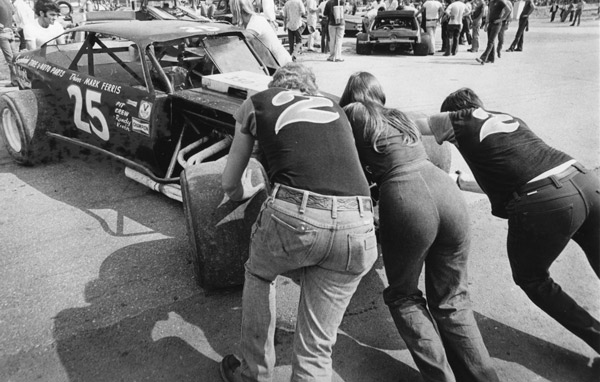 #2473 - This is from the 1970s, the high-noon era for small-block Modified racing in Connecticut. There were lots of cars, and things got pretty competitive. Mark Ferris' team worked their rear ends off. (Mike Adaskaveg Photo, Speedway Illustrated Collection)
A
---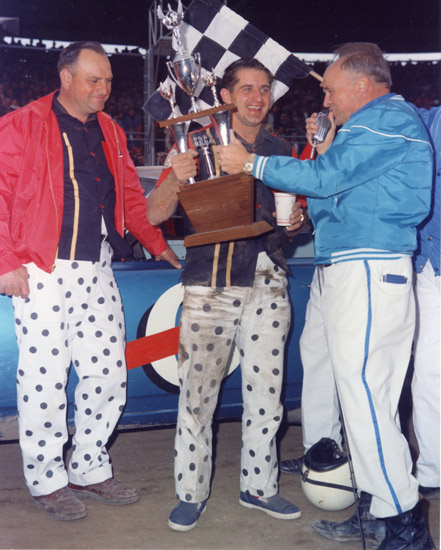 #2472 - Keokuk, Iowa's ace, Ramo Stott, scored big-time at Des Moines in 1968. But it probably would have been a good idea if fire suits were mandatory that day. (Bradley Poulsen Collection)
A
---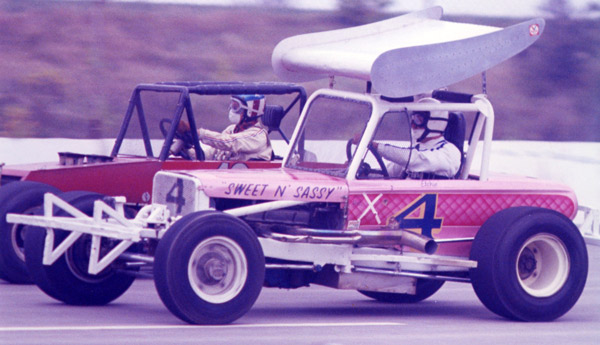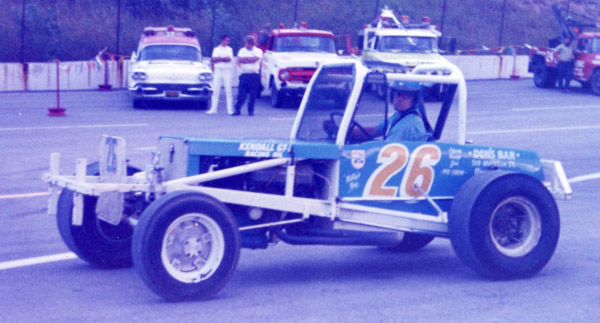 #2471 - Those old-time Milwaukee-style Modifieds always seemed so cool. But how curious that they so often featured frames squatting towards the rear. Here, back East, the concept of the day was to build in forward rake, especially towards the left front. (Bradley Poulsen Collection)
a
---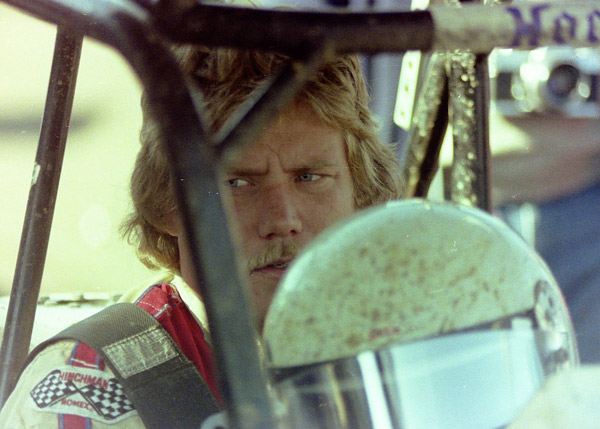 #2470 - How would you like to have been starting next to Steve Kinser at Super DIRT Week at Syracuse? (Mike Feltenberger Photo)
A
---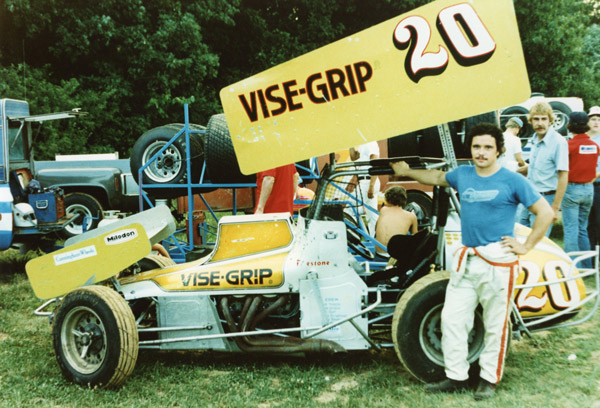 #2469 - We showed our pal Shane Carson this photo, and he came back with the following: "Here's the deal on this one. I still had a bad concussion from a few days before after a crash at Devil's Bowl in Dallas and I was out of the Speedway Motors #4x. The same week Doug Wolfgang had left Bob Trostle's #20. Bob showed up at Belleville (KS) without a driver, and I got in that. It felt great till the right front wheel fell off at full speed at Belleville and killed the car and almost me. If you notice on the side of the injector box Doug's name had been rubbed off, and Bob had not even put my name on it yet. We skipped a week letting me recover, and Bob put the car back together. That was the week that Roger Larson and Darryl Dawley both got killed at Knoxville at the flag stand coming for the green flag. It was also the first time I'd ever sat in the grandstands...." (Bradley Poulsen Collection)
A
---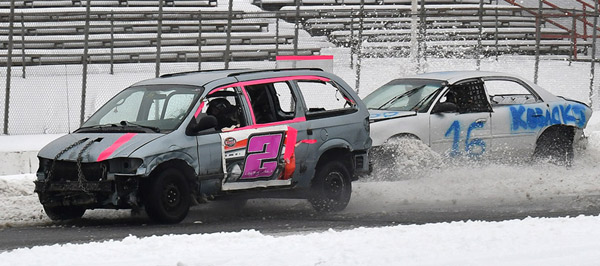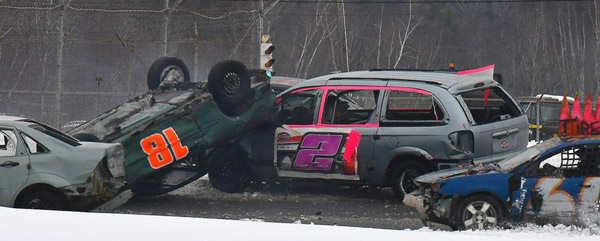 #2468 - Our webmaster, Norm Marx, took issue with our snowy Photo of the Day from Elko, MN, last Friday. He points out (graphically) that Down Easterners can do it, too. It cost him quite the cold, but here are some shots he took on January 4 from Maine's Oxford Plains Speedway. Not even a challenged hood could keep that #21 Caravan of Adam Lovejoy out of victory lane. (Norm Marx Photos)
aa
---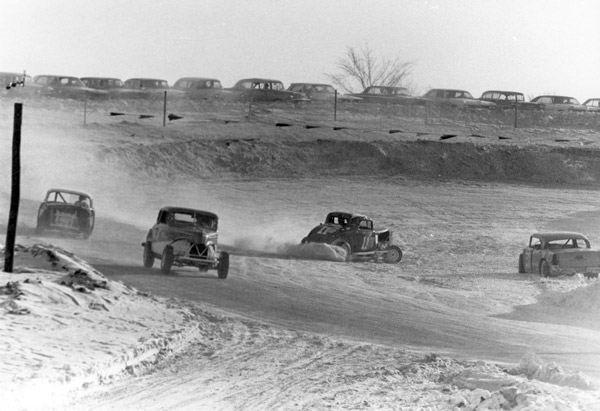 #2467 -

It sure feels pretty wintry in northern Massachusetts these days, but maybe not as cold as snow racing in Elko, MN, in 1966. (Bradley Poulsen Collection)
a
---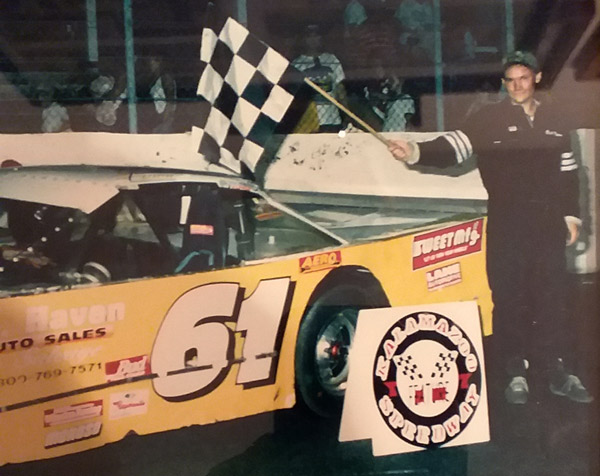 #2466 - Racer and Late Model specialist at Lane Automotive Rich Mersereau writes, "It was one roller-coaster year for me in 1999 when this picture was taken. Racing is a tough sport, and it's rarely about the money. You know, it's really all about time - and, if you don't put every second into the race car, you will not win. On July 1 of that year, I paid the price for doing just that. I came home to an empty house, a racer's nightmare. At least she left my stereo. The late Randy Sweet was there for me. He taught me about racing and life, helped me back into the groove. It was stuff you cannot buy or learn on the internet. Thank you, Randy." (Rich Mersereau Collection)
A
---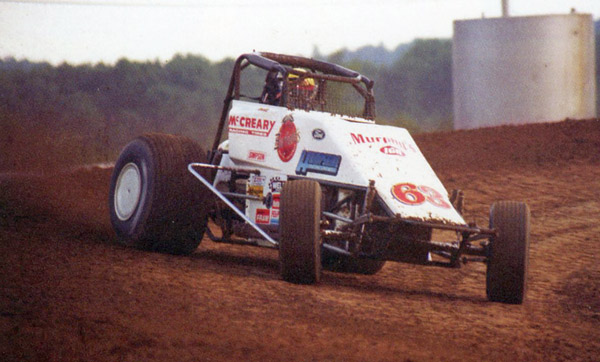 #2465 - Jack Hewitt at Paragon Speedway in 1996: "The really smart racer knows when to go where. I just didn't have that gift, so I ran the top, regardless." Quote and Photo from
HEWITT'S LAW
, by Jack Hewitt with Dave Argabright.
a
---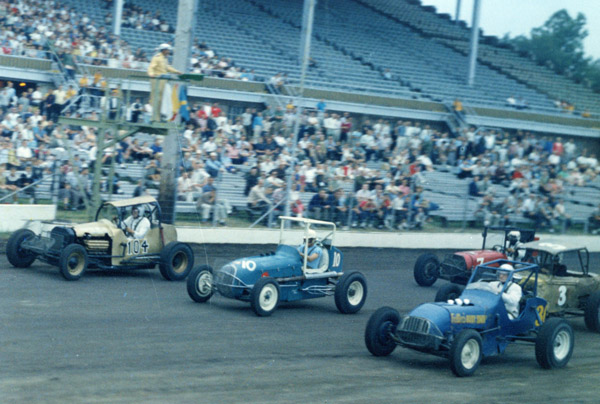 #2464 - Here's a neat shot from the Iowa State Fairgrounds in 1963. It represents kind of a threshold moment as the Supermodifieds were morphing into Sprint Cars. So far, with the good services of Chad Meyer, Tom Schmeh, and Bob Wilson, we have been able to identify Danny Richardson in the gold #104, Johnny Babb in the #10 with the rather abrupt roll cage, and Norm Galpin in the #7. (Bradley Poulsen Collection)
P
---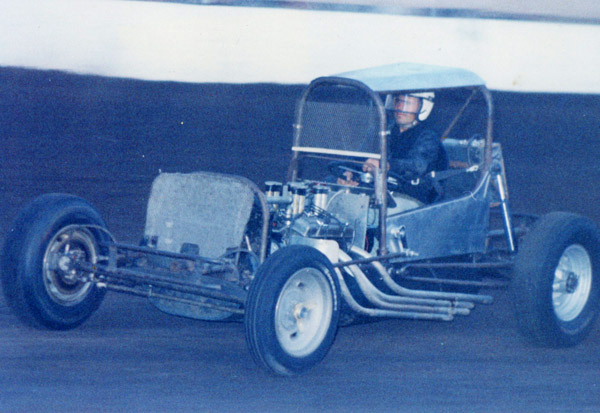 #2463 - Back in 1963 in Des Moines the Supermodifieds were hot, and experimentation seemed the theme of the day. In this case the builder appeared to be researching altitude. (Bradley Poulsen Collection)
A
---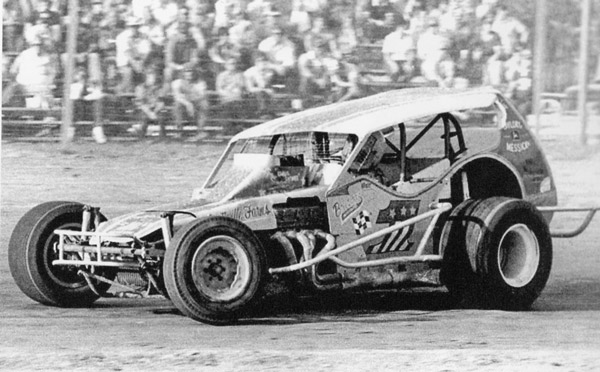 #2462 - The great, late Walt Breeding, mid-Atlantic racer/fabricator extraordinaire in his offset Kenny Weld machine. "I wanted to stay in (the car-building) business after I retired from driving. I really started to think about that after I got hurt in a race at Delmar.... Normally when I was in the car I was pumped up and hyper-focused on what the car was doing and where I was going to go next, but that incident put things in perspective for me. I never planned on it, but I was racing at Delmar one night and the caution came out for a wreck and, as I drove around the wreck, I just said to myself, 'You know what, I don't need to do this anymore,' and I just pulled the car into the pits and quit." Quote and Photo from the new
Legends Of Delaware Auto Racing,
by Chad Wayne Culver. (Photo Courtesy of Becky Reed)
a
---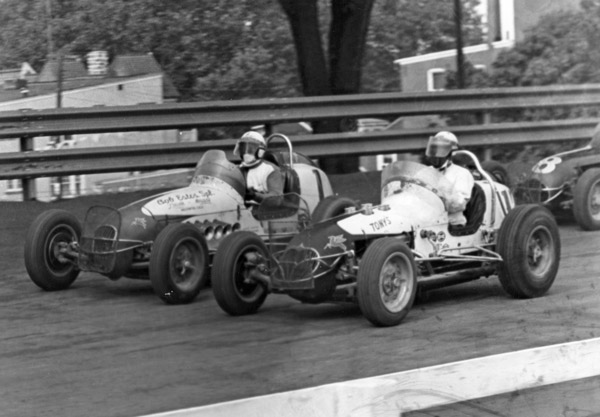 #2461 - It was Allentown, PA, and the big dogs had swung East - Don Branson in the #1 and Elmer George. (Bradley Poulsen Collection)
A
---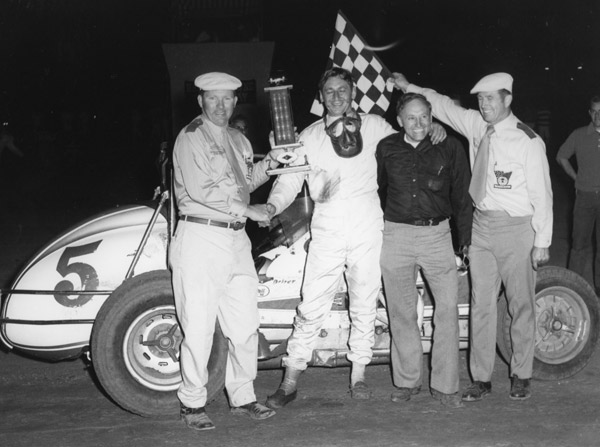 #2460 - Here's Earl Wagner grooving on yet another win, this one at Cedar Rapids, Iowa, in 1971. When Wagner passed away in 2002, Tom Savage wrote in
Knoxville Racing News
: "Earl
assaulted cushions - he always ran up top seeking or building his own cushion. He has always been laid back about his racing accomplishments with an aw-shucks-weren't-nothin' attitude. But, indeed, he was one of a very, very few gifted men who could manhandle a sprint car with the finesse of a brain surgeon. A sprint car fit him like a glove. He could interact the steering by throttle response, could 'read' a quickly changing dirt surface, adapt his technique and never ever breathe the throttle." (Bradley Poulsen Collection)
A
---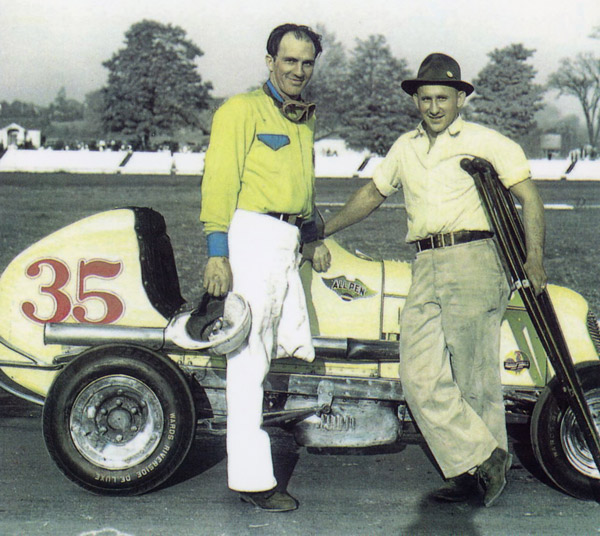 #2459 - Two of the most accomplished Midgeteers ever, both in the National Midget Hall of Fame. Bill Schindler (L) was a prodigious winner and once president of the AAA and later the ARDC. He had three runs at the Brickyard, the last in 1952. In September of that year, he perished in a Sprint Car at Allentown, Pennsylvania. Johnny Pawl (R) was stung by racing when he watched "The Crowd Roars" in 1933. A former riding mechanic at Indy, Paul opened a shop in Indiana and built top-shelf chassis. In 1955 he purchased Frank Kurtis' business and continued to supply all manner of racing parts for years and years. He passed away in 2002. (Photo from
Worthy of Honor
, a National Midget Hall of Fame booklet)
Z
---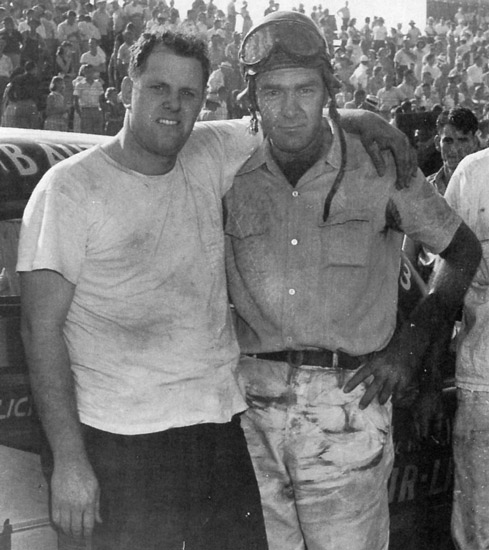 #2458 - Tiny Lund (left) and Curtis Turner (right). "Tiny had a few run-ins with Curtis", says Wanda Lund Early, "but Tiny liked Curtis. Curtis could throw a hell of a party." From THE LAST LAP: The Life and Times of NASCAR's Legendary Heroes, by Peter Golenbock. (Daytona Racing Archives Photo)
A
---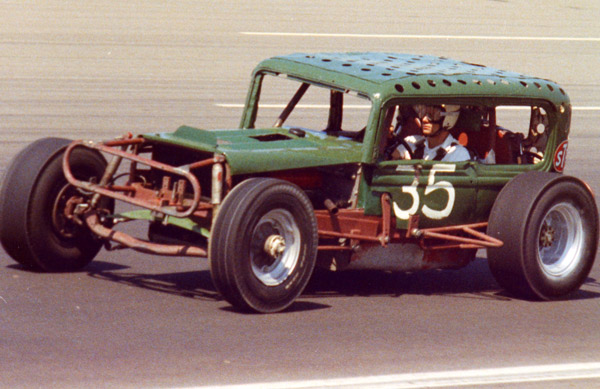 #2457 - How cool is that? Spotted in St. Paul, Minnesota in 1966. An early Rat Rod? (Bradley Poulsen Collection)
a
---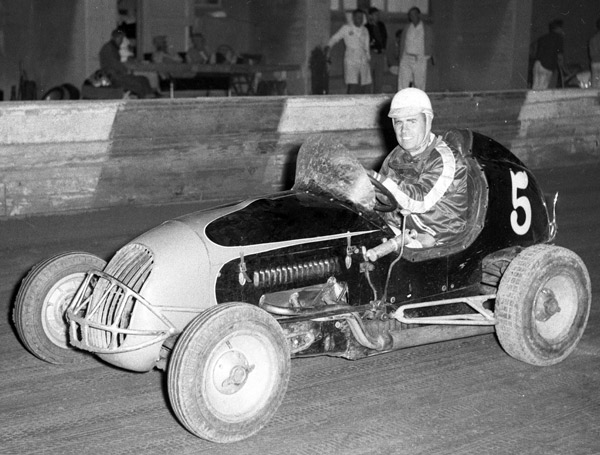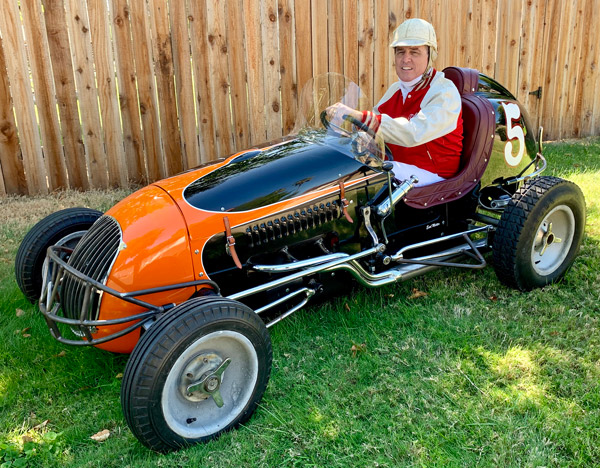 #2456 - Our friend Tom Motter, who has written great books about old-time open-wheel racing in California, sent this along: "Here is a copy of my latest (and last) complete, ground-up restoration of my 1948 Kurtis Kraft midget. This was a car that my Uncle Earl Motter raced back in the mid-1950s and that I had admired for years as a kid. I found the car some 10 years ago and have finally finished it....exactly as it was in 1954. The color photo is how it looks today (my son, Robert sitting in the car) and the black & white photo is back in 1954 at the Orange Show Speedway (San Bernardino, CA) with Earl Motter sitting in it." (Motter Family Collection)
a
---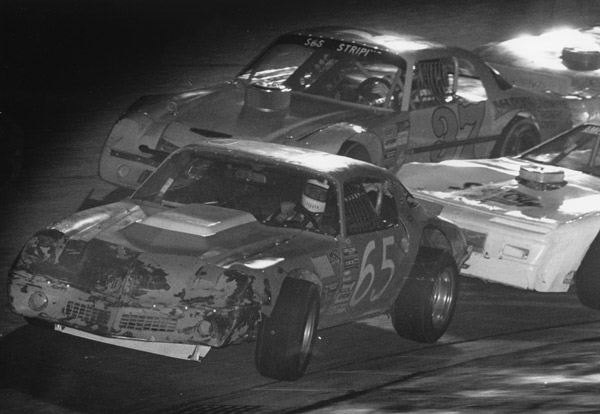 #2455 -
It was getting' a little racy out! (
Speedway Illustrated
Collection, Mike Adaskaveg Photo)
A
---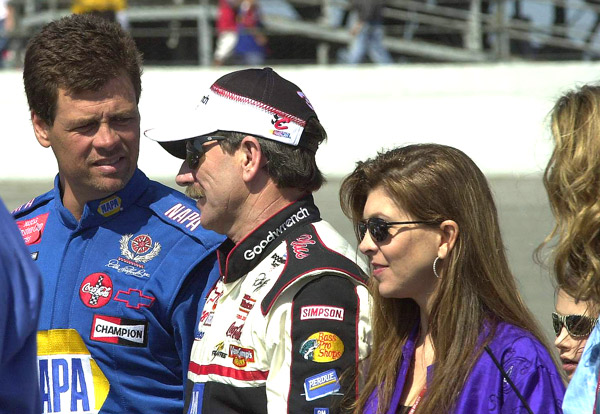 #2454 - A feature documentary, Blink of an Eye: From Triumph to Tragedy, directed by Paul Taublieb, has just been released. It follows Michael Waltrip, his journey to a complex victory in the tragic 2001 Daytona 500, and his star-crossed friendship with Dale Earnhardt. Waltrip is shown above with Dale, getting last minute wisdom/strategy as they walk to their cars for that final start. (Photo by photographer/our esteemed webmaster Norm Marx)
aa
---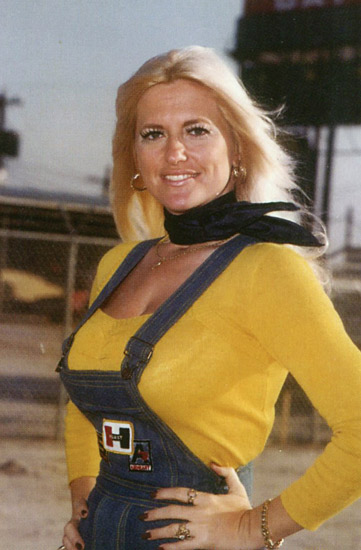 #2453 - ""At Daytona in my overalls. My daddy wore overalls, so I did too, except mine hung a little differently than most." Quote and Photo from
LINDA VAUGHN: The First Lady of Motorsports
, by Linda Vaughn with Rob Kinnan.
a
---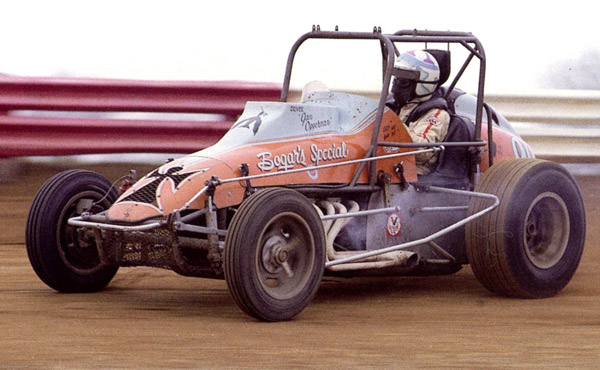 #2452 - A beautiful thing. In 1974 traveler Jan Opperman did some USAC racing in the infamous Bogar's Special. He was tall on speed - won Eldora on March 31 - but he remained noticeably short on chrome. From SEVENTIES CHAMPIONSHIP REVOLUTION: American Championship Racing, by Dick Wallen. (Wallen/Torres Photo)
a
---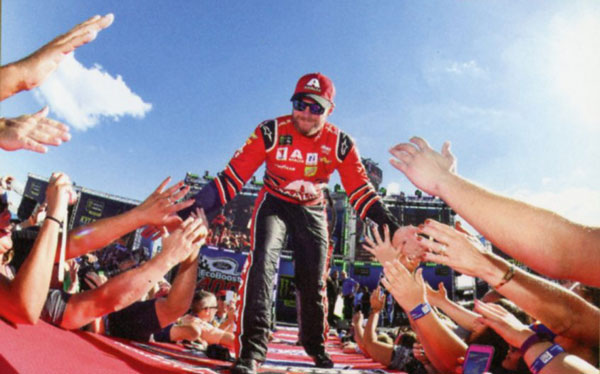 #2451 - It's been a quiet issue for a long time and it shouldn't be. At this point quite likely Dale Jr. knows as much about the impact of concussions in racing as anyone. Here he is at Homestead-Miami on November 17, 2017, his final cup race. From
RACING TO THE FINISH: My Story,
by Dale Earnhardt Jr. with Ryan McGee (John Harrelson/Nigel Kinrade Photography)
a
---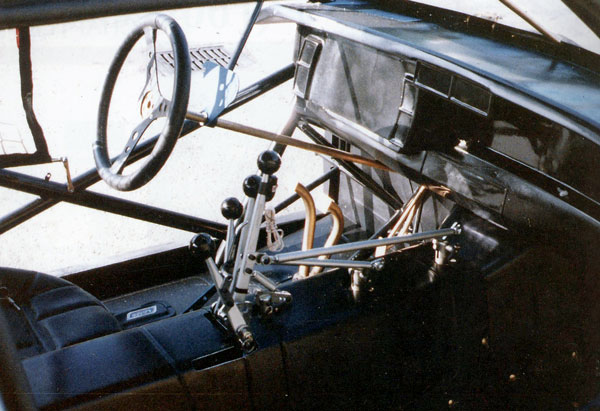 #2450 - "The nearly completed interior (of Dyno Don Nicholson's 1984 Oldsmobile Pro Stock) gives a good feel for how the inside of a Pro Stocker used to look. The clutch on the Olds was set up similar to a line-loc and could be controlled electronically. Push a button and release the pedal; when the tree turned green, you released the button." From
DYNO DON: The Cars and Career of Dyno Don Nicholson
, by Doug Boyce. (Photo courtesy Ray Cunningham)
a
---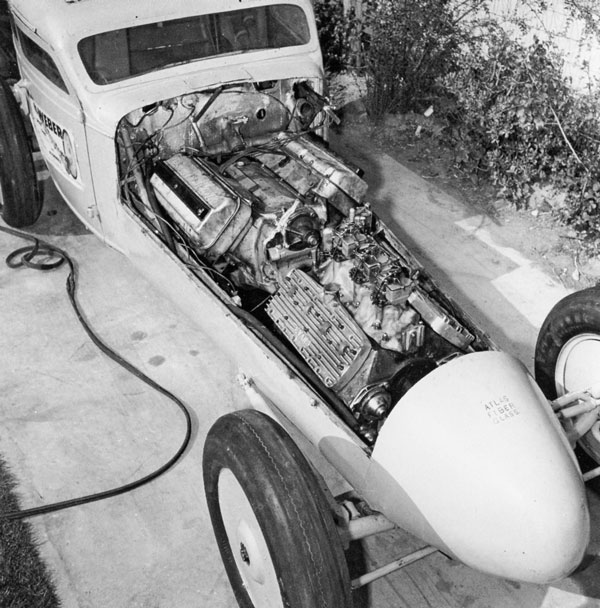 #2449 - In 1952 Mickey Thompson stunned Bonneville when his home-made, twin flathead Austin Bantam reached 192.76 mph, becoming the fastest coupe ever built. The next year he replaced one of the flatheads with a blown Chrysler. He had originally purchased the engine for $40 and the 4-71 blower for $10. The car is considered the grandfather of today's nitro-hemi dragsters. From Tom Madigan's way cool new book
MICKEY THOMPSON: The Lost Story of the Original Speed King in his Own Words.
A
---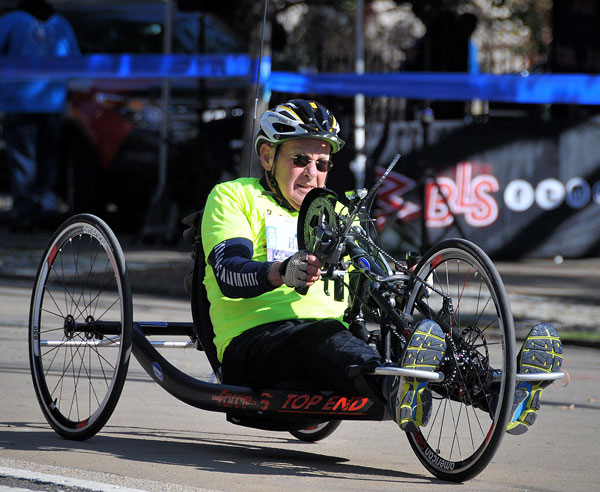 #2448 -

What is it about that 80-year-old Father Grubba, America's favorite racing priest? Is his spirituality some kind of ethereal nitrous oxide? Last December he suffered a massive heart attack and in August he faced major back surgery, but his lap times never dropped a tic. Along the way he missed only one weekend of holding mass at his extremely active parishes, launched his weighty book, 67: TRICKLE & REFFNER, and began planning for the ballet he is promoting in Wautoma. "Wonder what Humpy Wheeler would think of that?" he says with a grin. And that was hardly all. He never stopped training for his 79th marathon, this one hand-cycling the 26+ miles of New York. No question he is on the hammer. Five years ago a brake cable broke, and he flipped at 40mph coming off the Verrazano Bridge. This year, as shown above, he cruised smooth and fast, ending up 40th in a field of 69 hand-cyclists. He was the oldest of the bunch by 9 years. (Fr Grubba Collection)
A
---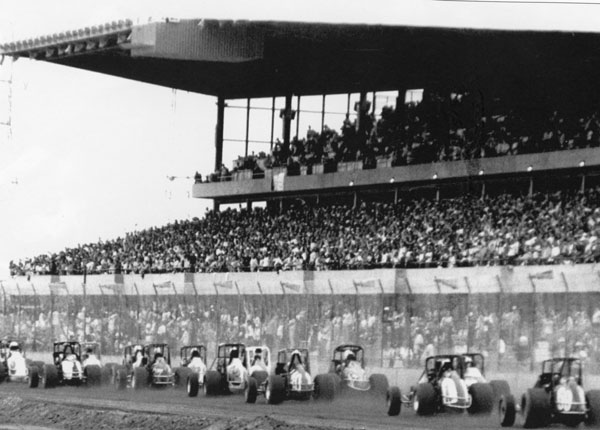 #2447 - Heart-throbbingly beautiful. The start of the Silver Crown 100 at Sacramento, CA, on June 4, 1989. George Snider romped home alpha dog. From
SACRAMENTO: Dirt Capital of the West
, by Tom Motter. (Dennis Mattish Photo)
A
---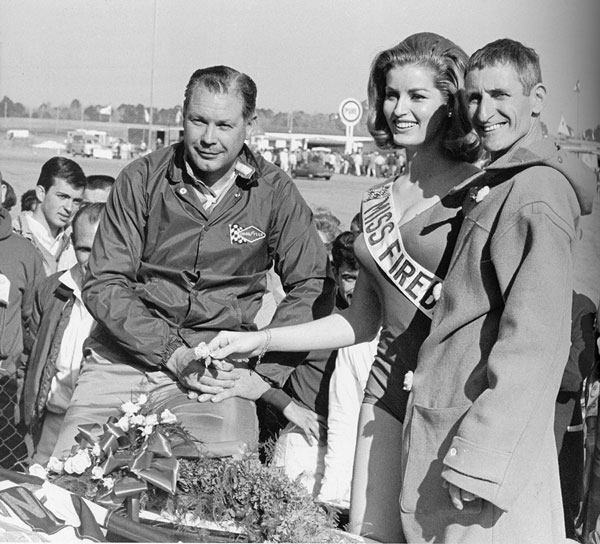 #2446 - As presented so beautifully in the new film "FORD vs. FERRARI," scrappy Ken Miles had such high hopes for a win in Le Mans in 1966. His focus was understandable. Aboard Carroll Shelby's Ford Mark II, he had already won Sebring and, as shown above, the 24 Hours of Daytona, teaming with Lloyd Ruby (left). No question Miles was the alpha dog in France, the class of the field, right down to the finish line, but he ended up being thunderously disappointed. Photo from the book FORD vs. FERRARI: The Battle for Supremacy at Le Mans in 1966, by John Starkey. (Photo Courtesy Ford Motor Company, John S. Allen Collection)
A
---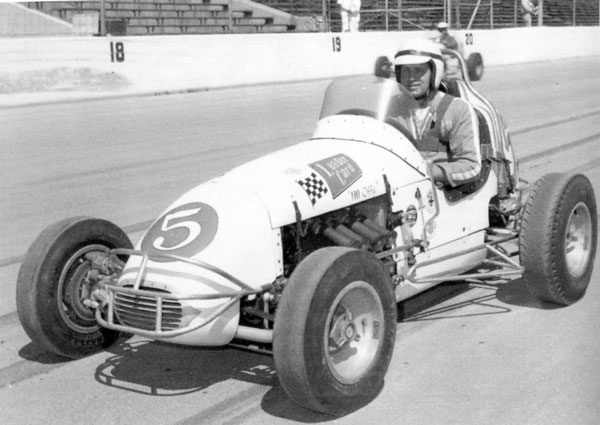 #2445 - There's not a whole lot written about Jim Hurtubise in the seat of a Midget, but he sure was fast on this day. There was a 100-lap USAC Midget event held at the State Fair Park Speedway in Milwaukee on August 12, 1961. Herk ended up second, while his teammate Len Sutton followed him home in third. Both were aboard Bob Wilke's Leader Card machines. Photo from The Milwaukee Mile by Brenda Magee. (Mark Wilke Collection)
A
---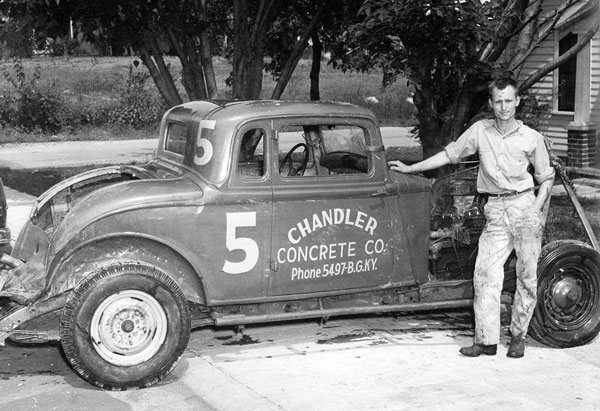 #2444 - You just never know! A quote from Bowling Green Stock Car Racing by Larry Upton and Jonathan Jeffrey: "Ralph Martin stands with his 1934 Chevrolet. At one race, Martin bragged that with his new engine he was going to 'clean everyone's plow.' During the time trials, the car was fast but emitted a strange smell from the exhaust, and, as he opened it up for lap two, there was smoke and a loud explosion. The car coasted to a stop. Later Martin admitted that he had put lacquer thinner in his gas tank." Huh?
a
---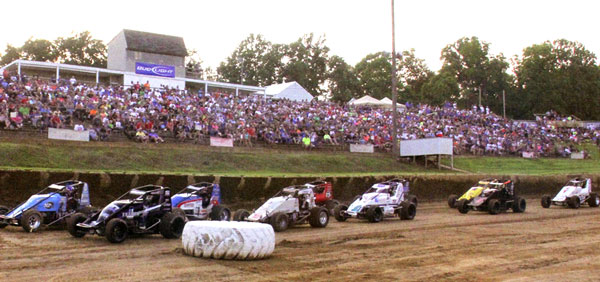 #2443 - A parade lap for a heat race at Lincoln Park Speedway during Indiana Sprint Week 2015. You can bet everyone's eye was on that tire.... From
MODERN THUNDER: The Illustrated History of USAC Sprint Car Racing 1981-1917
, by Dave Argabright, John Mahoney, and Patrick Sullivan.
a
---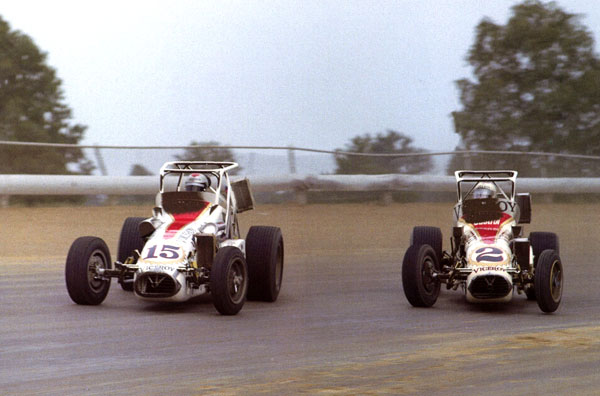 #2442 - It was Labor Day weekend 1973, the Champ Cars were at Du Quoin, and the Viceroy boys were smokin' hot. Mario Andretti (#15) won it, with teammate Al Unser (#2) coming home in fifth. From SEVENTIES CHAMPIONSHIP REVOLUTION: American Racing Championships, by Dick Wallen. (Photo Wallen/Torres Collection)
A
---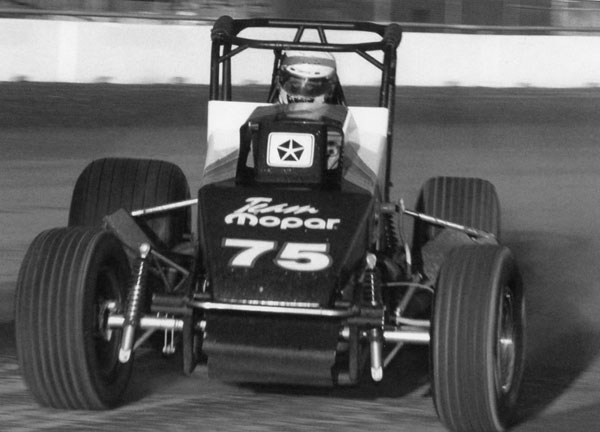 #2441 - In my view this is quite possibly the best description ever of the mentality of a professional open-wheel racer. Jimmy Sills (shown on the hammer in Sacramento in 1997) speaks about a discussion with his wife, Karen, following an incident at Knoxville that delivered up one of his many concussions:

"The next thing I remembered was being awakened by Karen in the middle of the night

'Where are we?' I asked.

'We're in Des Moines, and you got hurt tonight,' she explained.

'Who am I driving for?'

'Lenard McCarl.'

'Am I fired for crashing?'

'No,' she explained. 'Lenard thinks you're great.'

Just as I started to ask my next question, she handed me a piece of paper that had the answer to every question I was about to ask. The paper said, 'You drive for Lenard McCarl. No, you're not fired. Yes, you were fast. No, you can't have anything to eat because your stomach is upset from the concussion you suffered. No, we're not going to have sex.'

'How did you know I was going to ask those questions?'

'Because I have to wake you up every hour, and you ask me the same question every time. So I wrote down the answers for you.'"

Quote from LIFE WITH LUKE, by Jimmy Sills. (Photo from SACRAMENTO: Dirt Capital of the West, by Tom Motter, Dennis Mattish Collection)
a
---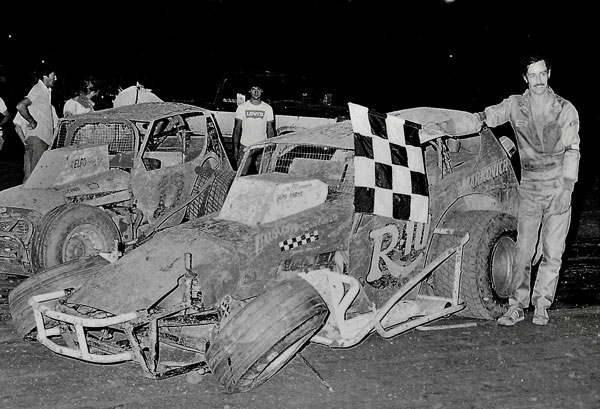 #2440 - Back in 1980 at East Windsor, NJ, it was four-wide one night coming off the fourth turn for the checkers. The energetic bumping and banging coming down the straight left a bunch of cars seriously disheveled. Howie Cronce smiles with the checkered, but one wonders what the Rio Brothers, the owners of the familiar R-10, were thinking. (Mike Feltenberger Photo)
a
---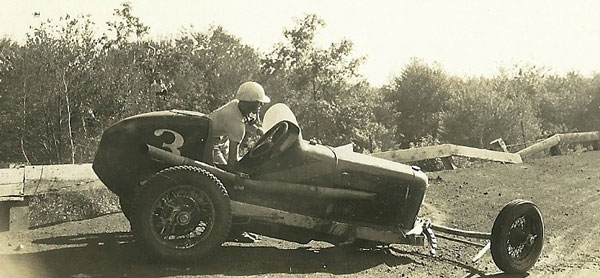 #2439 - Buster Keller busted 'er up at Dover, NJ, in 1948. (Frank Smith Photo)
c
---
#2438 - Larry Moore's rocket ship Late Model in 1983, days light on weight, heavy on Lexan. From
ON TOP OF THE WORLD
,
by Larry Moore with Dave Argabright. (Moore Collection)
Z
---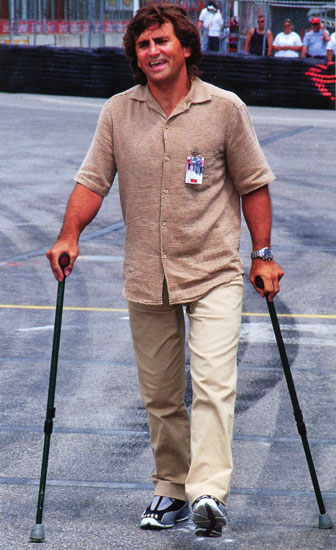 #2437 - "Alex Zanardi pays a surprise visit to Toronto less than a year after losing both legs in the German Memorial race in 2001." Quote and Photo from the eye-opening book
RAPID RESPONSE: My Inside Story as a Motor Racing Life-Saver
, by Dr. Stephen Olvey, former Medical Director of CART. New edition 2019. (Dan R. Boyd Photo)
n
---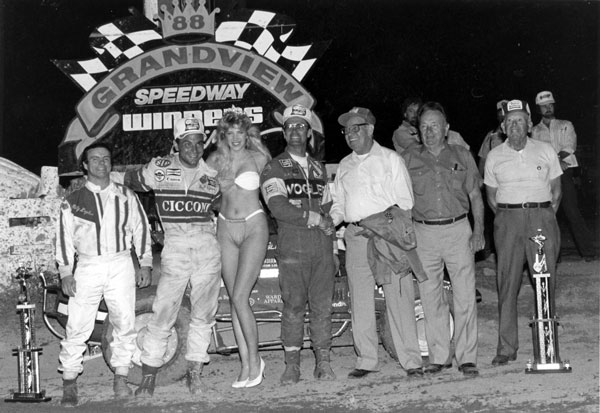 #2436 - Happy times at Grandview, PA, Speedway with the USAC Midgets, July 3, 1988, Rich Vogler winner. L-R were Billy Hughes, Bob Cicconi, Shelby Snyder (Miss Grandview), Vogler, Jiggs Peters, Ed Darrell, and Len Duncan.

(Don Marks Photo, Speedway Illustrated Collection)
X
---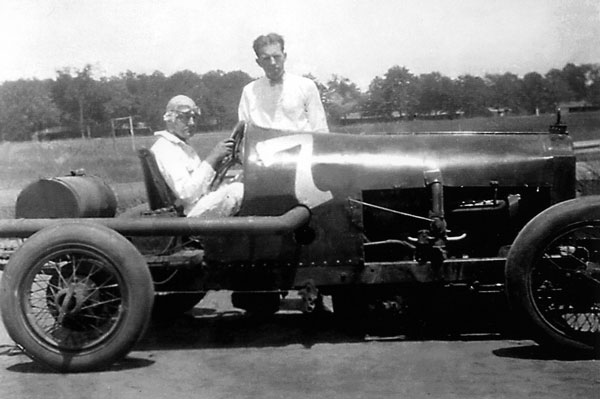 #2435 - That's Ed Otto standing next to his #7 monster back in the late 1920s. Otto had already quit driving himself. Following a wild accident offering up broken bones and a damaged eardrum, he decided to try promoting. He called AAA and somehow persuaded them to give him a date. Over the next few decades, he would become one of the most famous and productive promoters in the country, at one time owning almost one-half of the stock in NASCAR.

From ED OTTO: NASCAR's Silent Partner, by Edgar Otto. (Otto Family Collection)
Z
---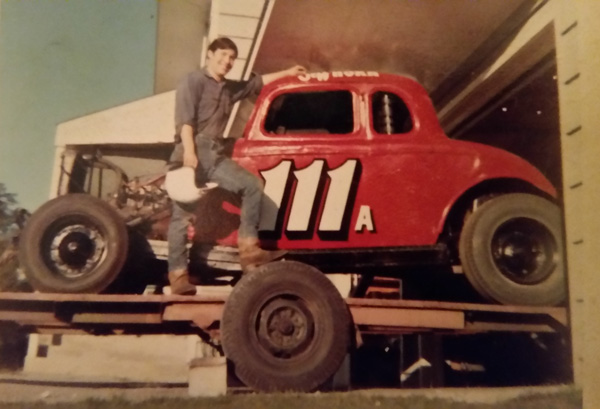 #
2434 - Jeff Horn, one of the Northeast's most popular and enduring open-wheel racers, still wheels USAC/DMA Midgets with the best of them. But who would have predicted that success based on his first day behind the wheel in 1965: "My wife Carmen's dad bought this car many years after his racing days were over.
His name was Clarence Rock, but Ken Squier called him 'Cornfield' because of some off-track excursions. Clarence had not raced the car, and I talked him into letting me give it a try. I took it to Catamount Speedway in Vermont where he was to meet me, but he got tied up at work, so I figured it was up to me. I had never raced before, and because it was a flathead, they started me on the pole with J.P. Cabana, Ray Forte and Andre Many behind me. My knees were knocking together so badly I could hardly step on the throttle. After three attempts at a green, the disgusted starter threw it anyway. They pushed me through one and two and dumped me off turn three into the infield. All those Chevy overheads sounded like top-fuel cars to me. Talk about scared stiff! Those guys chewed me up big-time, but it sure got me hooked on racing. Then Uncle Sam sent me an invitation I couldn't refuse, and I went to the University of South Vietnam." (Carmen Horn Collection)
4
---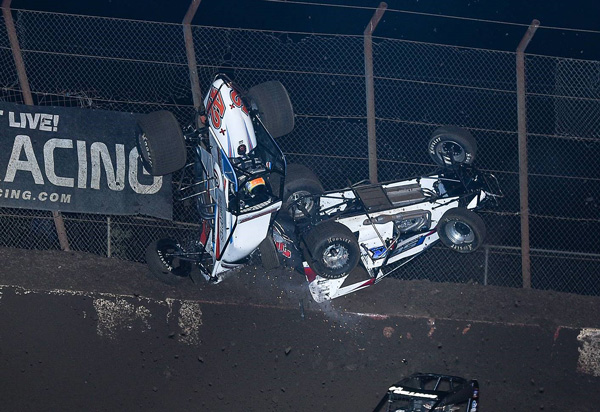 #2433 - "
Sterling Cling and Jason MacDougal both went for a wild ride on Thursday. Jason hurt his knee and arm but last I heard he was doing ok." (Photo and Quote from John DaDalt out at the Budweiser Nationals in Perris, CA)
A
---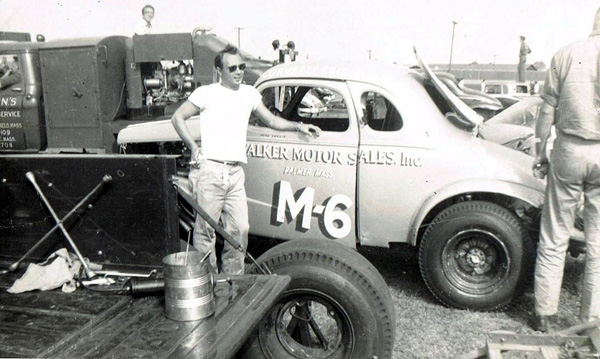 #2432 - The late, beloved Gene Bergin would openly admit he knew only one way to race - as hard as he could possibly go each and every lap. He was able to get away with it because of his Olympian talent. Many consider him to have been the most natural driver ever to come out of New England. He would often bound joyfully through the pit gate walking on his hands. He's shown here at the old Eastern States track in Springfield, MA, with the #M-6 and its towering owner, Beebe Zalenski. Gene seemed to have a million rides, but we was frequently in Beebe's seat both before and after his stint behind the wheel of an Indy car. (Pete Zanardi Collection)
A
---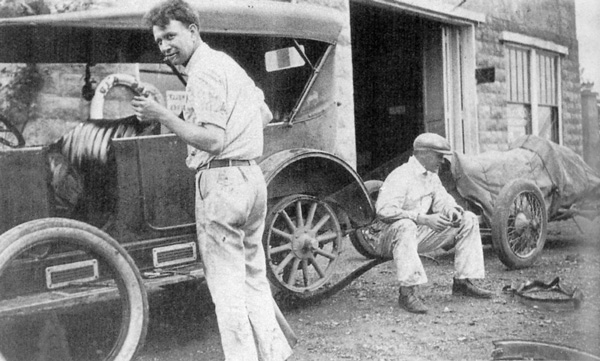 #2431 - A murky moment in Mt. Carmel, IL, in April 1927. It has the look of a scene that Jimmy Rogers, "the Singing Brakeman," might have crooned about. Red and Pop Dreyer were changing a flat on their 'hauler' during the endless miles of the old CSRA (Central States Racing Association) circuit. From THE RIM RIDERS - CSRA, The World's Fastest Racing Circuit, by Buzz Rose.
A
---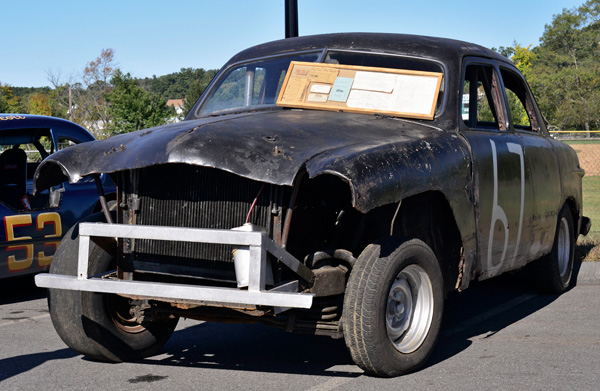 #2430 - Here is another car from this fall's Pines Speedway Reunion. Just how many of these '49-51 Fords met their demise on race tracks throughout the country back in the day? So often they would be the backbone of a Bomber class, as rookie drivers learned the tricks of the trade. It came easier to some than others. I recall destroying eight of them between 1962 and 1966. (Robert Arcand Photo)
a
---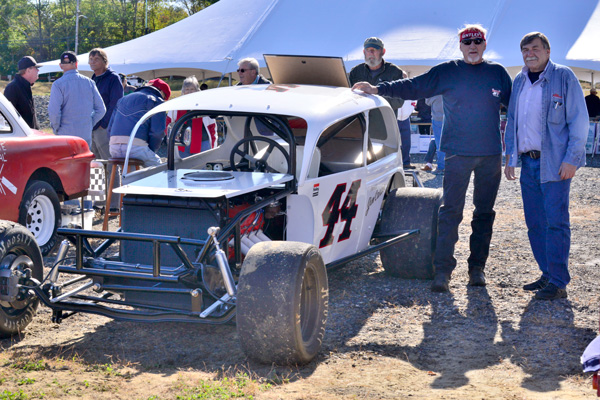 #2429 - That's Bentley Warren (L) and everybody's pal Bob Bergeron at the recent Pines Speedway Reunion in Groveland, MA. They're checking out a mighty missile recently brought back to life by Jim Martel. The #44 was the beyond-radical Modified that brought Bentley great laurels at the close of the 1960s, at the same time as he was making his rapid ascent to Indianapolis. (Robert Arcand Photo)
a
---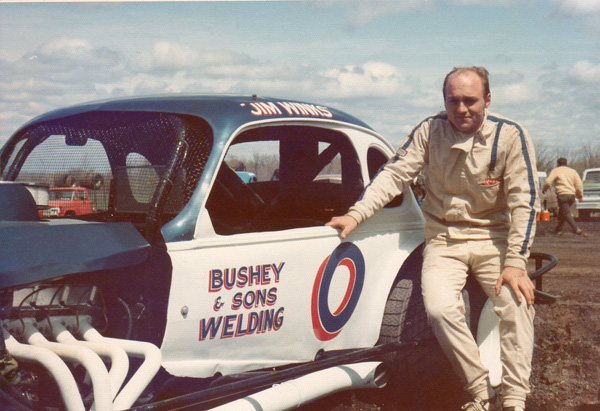 #2428 - Here's a welcome contribution from a friend and customer in New York state, Mick Fesko. "I'd like to offer up for a Photo of the Day for Thursday, November 7. It will mark the 6th anniversary of the sad passing of probably my favorite local driver from here in Central New York, Jimmy Winks, nicknamed 'The Sassy One.' I was just a kid when I became a fan of watching his craft back in the 70's. He was an amazingly versatile pilot. On a Friday night, he could win in a dirt modified at Rolling Wheels, on Saturday night, he would strap into a Super and win on the pavement at Oswego, and then hop back into the dirt modified on Sunday night at Weedsport." (Photo Mick Fesko Collection)
a
---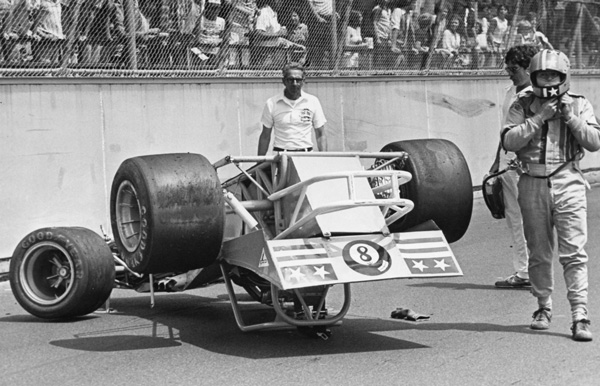 #2427 - Jim Shampine's return to Supermodifieds at Oswego on August 2, 1980 after a stint in Sprint Cars was inauspicious. However, the late Andy Fusco went so far as to say that Shampine enjoyed "the most spectacular Fall season ever in open wheel racing." Quote from
THE PINE: The Authorized Biography of Jim Shampine, the Greatest Open Wheel Short Tracker of All Time
, by Andy Fusco with George Caruso Jr. (Photo
Speedway Illustrated
Collection)
a
---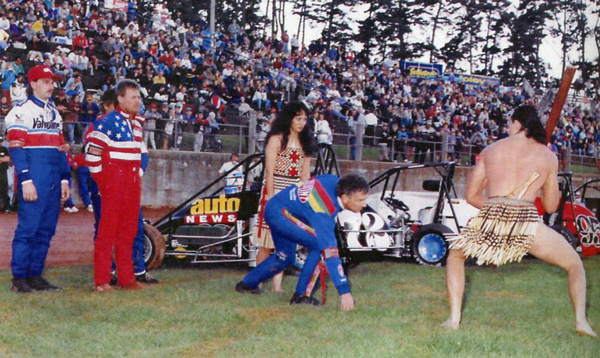 #2426 - Jimmy Sills points out this did not happen at Terre Haute. "Western Springs Speedway in New Zealand, 1996. As a part of the Hauka native opening ceremony, if you pick up the knife they have placed on the ground you have accepted the challenge." Dave Darland (left) and Tony Elliott look on. From
LIFE WITH LUKE and Other Exciting Racing Adventures
,
by Jimmy Sills (aka Luke Warmwater), with Dave Argabright.
a
---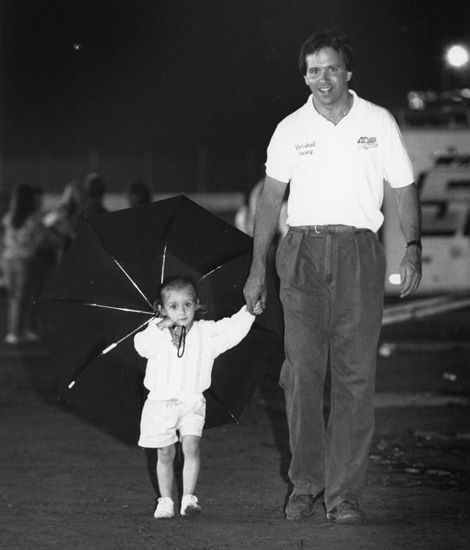 #2425 - Forty years ago rail birds would have been incredulous about the number of 60-year-olds running Big Block Dirt Modifieds these days. One on them is the ultra-popular, totally centered gentleman and businessman from Pound Ridge, NY, Eddie Marshall. He's been suiting up with success since his college days, largely on the high banks of Lebanon Valley, NY. He says in the book

MODIFIEDS OF THE VALLEY

, "It does amaze me looking around and seeing the age in the pits. I can only speak for myself about how this is happening. This place still resonates in my soul. So, I take care of myself. I work on the car every night - and in winter I'm at the gym six days a week. I snow and water ski all the time and I honestly think that now at 60 I'm better than I've ever been." (Mike Adaskaveg Photo,

Speedway Illustrated Collection

)
a
---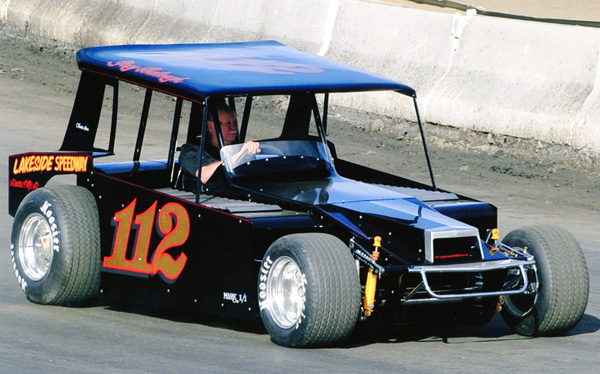 #2424 - Gary Balough: "What Pete Hamilton brought to our team was a calmness, even a softness. Anyone who knew Pete will understand what I mean. No matter how intense thing got before a race, or even during a race, Pete could get everyone calmed down with just a few words....He also did a lot for me as a driver....He even got me sitting up higher in the seat, so I could see better. That sounds simple, but I had gotten into the idea that I had to sit as low as possible to help keep the whole car's center of gravity down. Plus, it
looked
so cool. A lot of guys went through that phase for a while. Dale Earnhardt almost had to peep over the door to see the car beside him. Pete used to say, 'Gary, you missed a hell of a race, because you were sitting too low to see it.'" Quote and Photo from
HOT SHOE! - A Checkered Past: My Story
, by Gary Balough with Bones Bourcier. (Bob Armbruster Photo)
a
---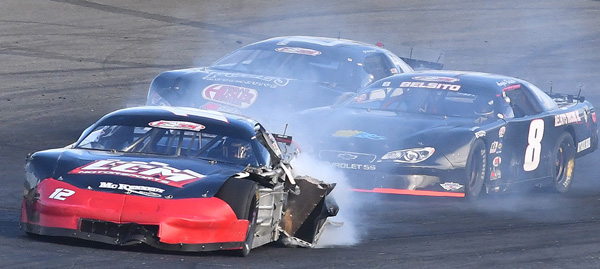 #2423 - The PASS SLM Championship race at Seekonk (MA) was held last Saturday. Here is Norm Marx's recounting of the event: "DJ Shaw scored his 4th PASS North SLM Title....but it wasn't easy. Derek Griffith (#12g) was 8 points ahead of DJ entering the event. Derek gets spun out in his heats and then also gets hip-checked into the wall, resulting in suspension damage and a start at the back of the feature. Three points - two car positions - now separate them since DJ won his heat and got 5 points. Derek comes from the back in 30th and rolls by DJ, who started in 11th. DJ says 'if he's that fast in 25 laps, I can't stay with him for the next 125 laps.' So he pits, and father Dale Shaw and the team take a big swing at the car to get it going better. DJ starts running well and coming from the back after the pit stop.
Derek is driving it hard....and rubs another car racing for position and rips the left rear tire off the #12g. To the pits it was and a fresh tire. He was driving like he stole it. There is a spin in turn four, Derek tries to miss, but nowhere to go and he kisses the stopped car and tears the left side of the 12g off. Derek actually restarts with the debris dangling (see above), but spins out with the rear tire cut. He pits - too early, before the pits open flag - and his championship hunt is done.
DJ ran up to a solid 8th-place finish - a strong performance considering how many great cars were in the race. Meanwhile, Mike Hopkins did a great job coming from deep in the pack to take the win and solidify his run at the 2019 PASS National Championship - to be determined at Lanier Raceway on November 16th." (Photo and commentary by our webmaster and PASS photographer Norm Marx)
A
---

#2422 - Sometimes seeing short-track teams with enormous, glitzy haulers designed for national transport to the superspeedways seems just plain laughable. It must be a matter of testosterone - the need to outdo your neighbor. But, having said that, this kind of lavishness has been going on for a long time. Check out the hauler Jimmy Murphy, Joe Thomas, and Eddie Hearne felt they needed to bring their Duesenbergs the 200 miles from Fresno to a race in Cotati, California in 1921. From BOARD TRACK: Guts, Gold, and Glory, by Dick Wallen.
a
---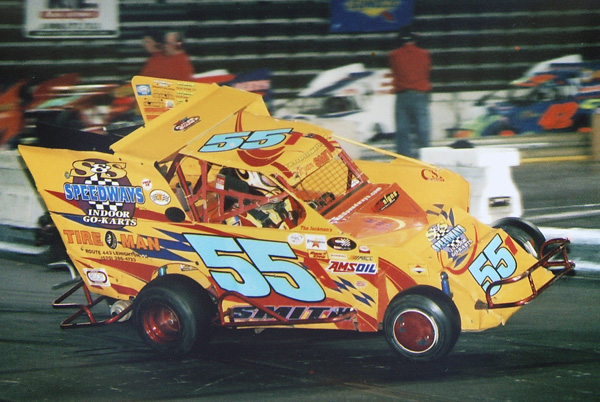 #2421 - Popular Pennsylvania 410 Sprint Car wheelman Ryan Smith ("the Kunkletown Kid") may be humble, but he's on the gas. Starting racing at age 12, he has now compiled an impressive record of a couple hundred feature wins. He was on his way to victory lane at the Gamblers' Classic at the Atlantic City Boardwalk Hall in 2007. (Mike Feltenberger Photo)
a
---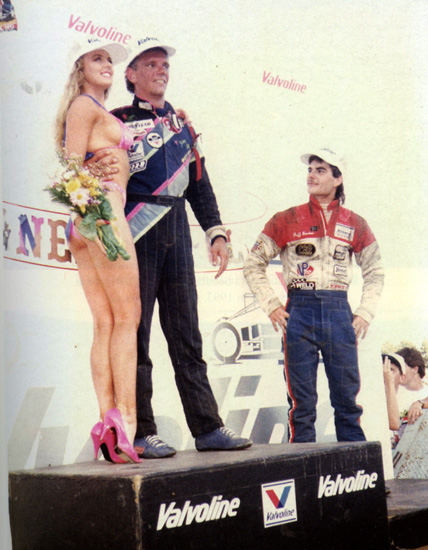 #2420 - A very cool photo from Jimmy Sills' brand new autobiography: "This was a big day! My first USAC Silver Crown win at Sacramento, June 3, 1990. Jeff Gordon ran third, and Jeff is obviously in awe of my amazing driving ability. Or...maybe trophy girl Leslie Bremer has captured Jeff's imagination." From
LIFE WITH LUKE And Other Exciting Racing Adventures
, by Jimmy Sills (aka Luke Warmwater) with Dave Argabright, Foreword by Jeff Gordon. (Cyndi Craft Photo)
A
---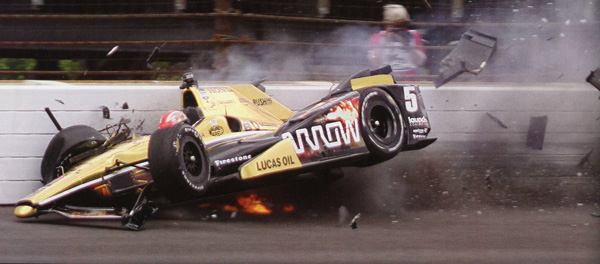 #

2419

-
The wired Canadian "Mayor of Hinchtown," James Hinchliffe, had a savage encounter with the turn-three wall while practicing for the 2015 Indy 500. "I remember the start of the day, waking up. I remember getting in the car and getting the program going. I remember running behind Juan Pablo Montoya the lap before my crash, and then the start of that lap is when I lose everything else. The next thing I know I'm under a bunch of bright lights in a hospital with a tube down my throat. People standing around me with tears in their eyes. That's when I figured out that something happened and it probably wasn't a great thing. It took a while to be honest. The gravity of the size of the crash and how lucky I was to be alive was definitely triggered by the kind of reaction and the attitude of people around me. It really took conversations with my family, and my friends and the drivers that came to see me, and some of my doctors, for me to really start piecing together the severity of the situation. It's just not the guy in the car that's affected. This obviously had a big impact on a lot of people around me." The recovery process was intense and painful, but he suited up and was back in the cockpit in September at St. Petersburg. Photo and Quote from
100th RUNNING OF THE INDIANAPOLIS 500 MILE RACE
- Official Indy 500 Program, May 29, 2016.
A
---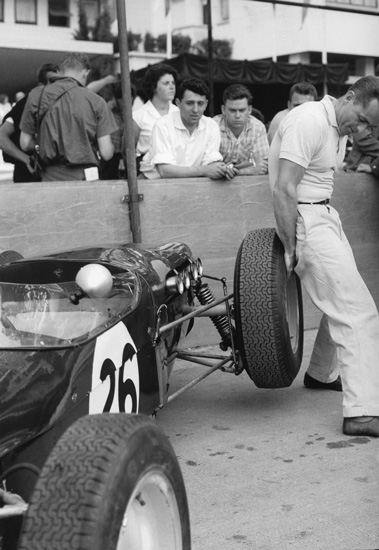 #

2418

-

"

Weighing the opposition: Phil Hill contemplates the Lotus 18 of rookie rival John Surtees at Monaco in 1960." Geez, we used to check the left-rear weight that way on our B-car at Westboro (MA) and Hudson (NH) speedways back in the 1960s. But we would try to lift the right-rear wheel - and we certainly wouldn't have dared doing it on a competitor's car! Quote and Photo from

COLLECTORS' SPECIAL: Rare and Unseen Photographs from a Golden Decade of Motor Racing

, Damien Smith, Editor. (LAT Photographic Archive Photo)
A
---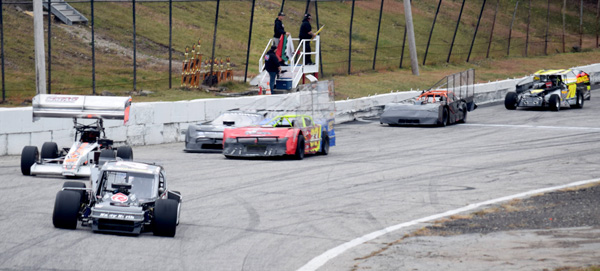 #2417 - There was a big-time identity crisis at Hudson Speedway last Sunday, that little jewel of a quarter-mile in southern New Hampshire recently brought back to a shine by its new owner, racer/promoter Ben Benkowski. It was a "Run What Ya Brung" 50-lapper, a tantalizing reminder of how cool racing used to be before the fan-numbing advent of cookie-cutter cars. The image above was taken about two-thirds of the way through the main with an asphalt Modified up front, chased by a Super, a side-paneled Outlaw car, two Late Models with panels, and a dirt Modified. Fifteen or so other entries of various flavors followed. John Burke (in the Super) gallantly agreed to start down back, and to watch him dart and dive through the field and then duel with Geoff Rollins in the black Modified without getting wrecked was a real thrill. It was no easy task on those tight Hudson banks. Even a few Street Stocks in the field were surprisingly speedy. Lots of folks went home thinking it was the finest race they had seen all year. (Karl Fredrickson Photo, Speedway Illustrated)
A
---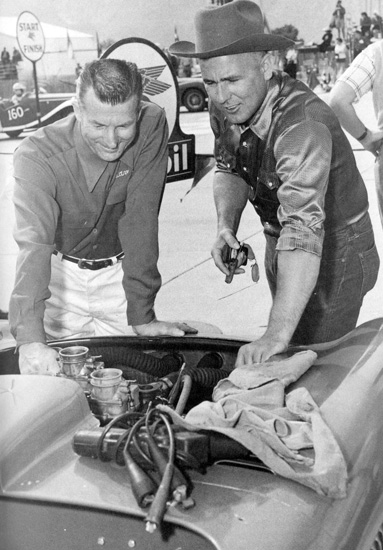 #

2416

-
Jimmy Bryan (with stogie) and his friend Sam Hanks check out a sports-car engine at Willow Springs Raceway in California in 1956. Bryan commented, "I don't like driving a race car with a big windshield. I have to see both wheels when I drive or I feel lost. The thing about sports cars is that they're too cramped. And you can't tell if your front end is pushing or sticking. They're fun to drive, but not as much as the Champ Cars.... Anyway, a lot of people wonder why I don't race sports cars for a living like Fangio or Moss. They think the money is so much greater. Well, maybe it is. Fangio makes more than a couple of grand each month from Ferrari and Moss makes seven grand from Maserati for each Formula One race he's in. That's pretty good dough. But what a lot of people don't understand is that I don't race for the money. I race for the love of it." Photo and quote from
MY HERO, MY FRIEND: Jimmy Bryan,
by Len Gasper and Phil Sampaio. (Photo Courtesy Lester Nehamkin)
A
---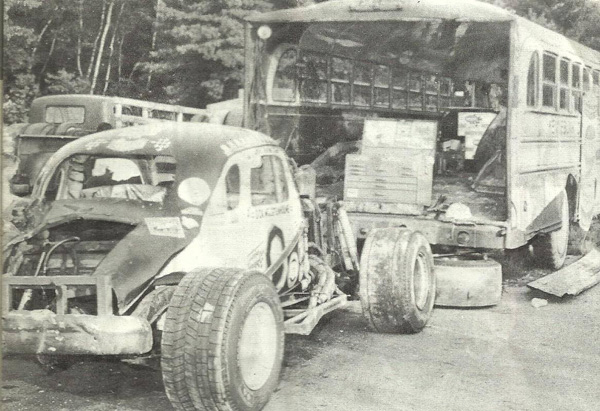 #

2415

-

Maine's crusty, old-time racer Dick Wolstenhulme earned ten championships in a long career racing coupes, Supers, and Late Models. He spent his weekdays in a small shop beside the road in Windham, shining hub caps with steel wool for resale. He had thousands of them. As seen in this image from Beech Ridge Speedway, though, he was never too glitzed up at the race track. Understatement. (Walter Newell Collection)
A
---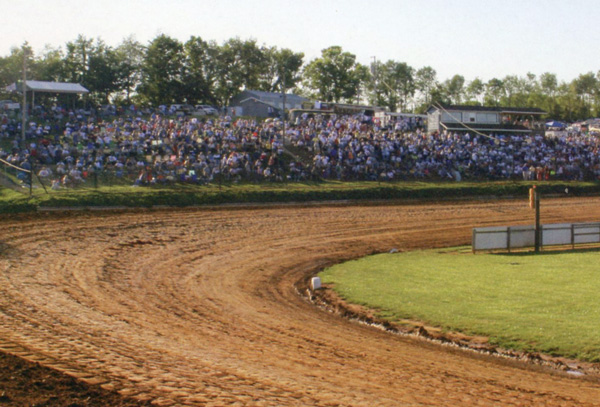 #2414 - One beautiful sight. It was July 20, 2009, and Bloomington (IN) Speedway looked perfectly groomed even in the high heat of summer. Do you think that crowd was soon going to learn something about corner entry? Dave Darland ended up winning it in the Pace Brothers #44. From MODERN THUNDER, by Dave Argabright, John Mahoney, and Patrick Sullivan. (John Mahoney Photo)
A
---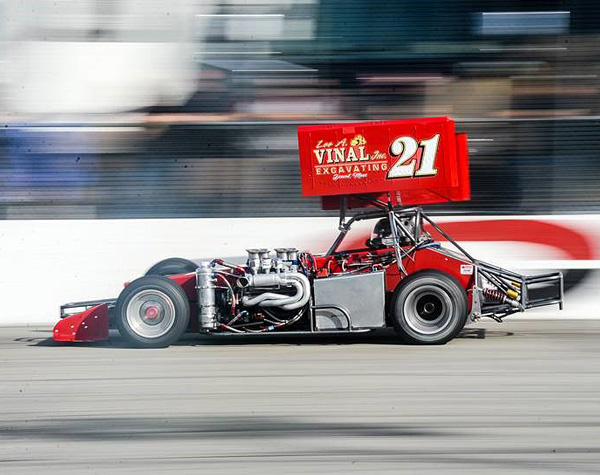 #2413 - John DaDalt's incredible shot of Jon McKennedy blistering the ISMA field at last Sunday's World Series on the 5/8-mile Thompson (CT) Speedway. McKennedy dedicated the popular but emotional win to his father, who had died just two weeks before. He commented, "Going into the turns at 165 miles an hour is difficult, but today it was easy." (John DaDalt Photo)
a
---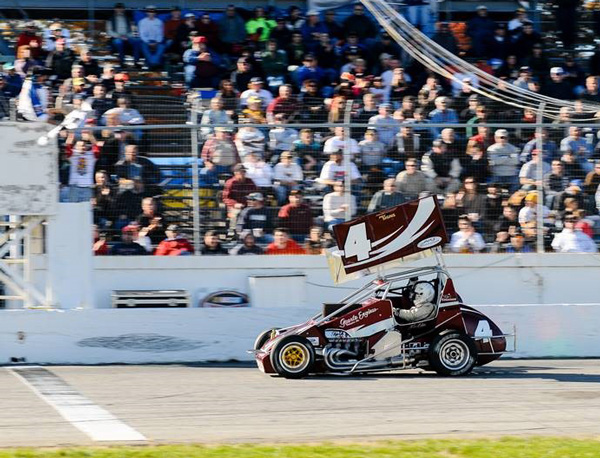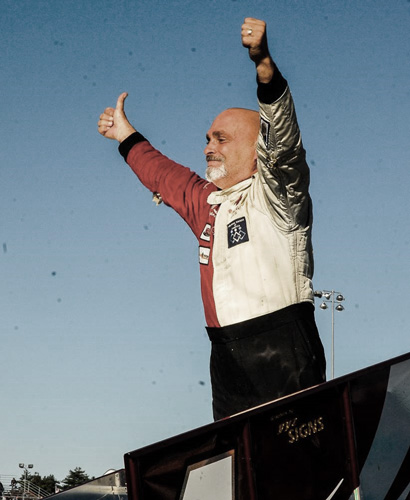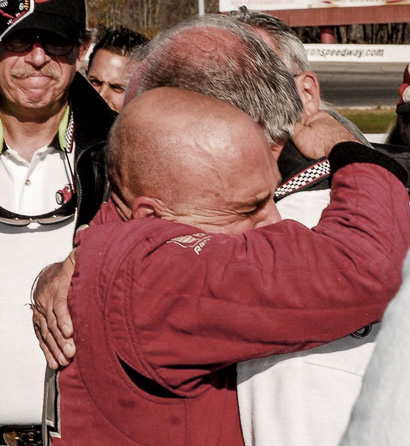 #2412 - Here are a few photos of Nokie Fornoro Jr. from 10 years ago at the 2009 season-ending World Series weekend at Thompson (CT) Speedway. Sweeping his final race, the Northeastern Midget Association (NEMA) feature, he went out the winner. This winter he will be inducted into the National Midget Hall of Fame. (Quote and Photos by John DaDalt)
a
---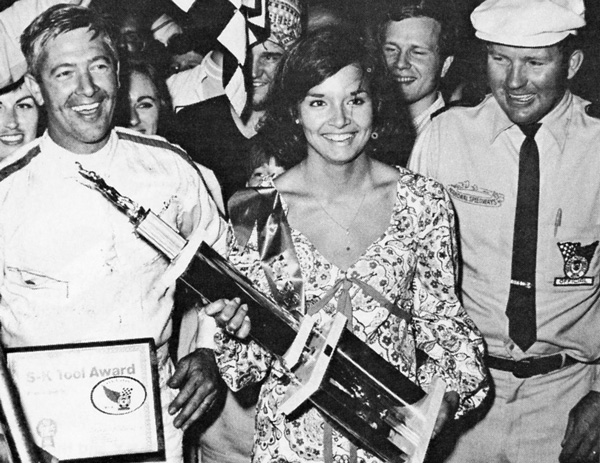 #2411 - The late Darl Harrison of Bettsville, OH, was quite the Sprint Car chauffeur when not tending to his business, Harrison's Tavern. He won the Little 500 at Anderson, IN, once in 1967 and again in 1970 and 1976. He looked pleased in this shot after his 1970 victory. Could that have been because of the particularly pleasing Trophy Queen? Could that have been because he just gave her his trophy? (Photo from IMCA YEARBOOK 1970)
a
---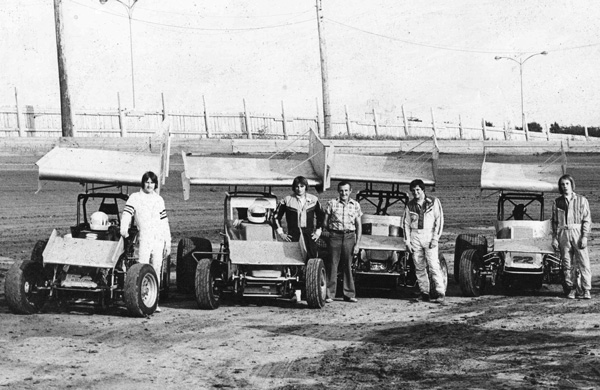 #2410 - When Joyce Furlong walked down the aisle with her husband-to-be Rick Standridge, she landed in the first lap of a feature. Her brand-new book,
THE STANDRIDGE BROTHERS: Big Wins, Big Wrecks, Big Fun
(due October 23), tells it all about one of America's favorite and very successful grassroots racing families. The photo above, from 1982, shows brothers Ron, Randy, Dick (their dad), Rick, and Robbie, all ready to go. And the noise hasn't stopped yet. Robbie just won the 305 Sprint class championship at Jacksonville (IL) Speedway, while bionic Rick will be strapping into his Late Model this weekend. (Allen Horcher Photo, Standridge Family Collection)
a
---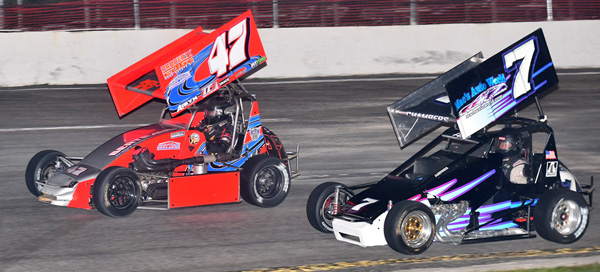 #2409 - Three time World of Outlaws champion and Chili Bowl ultra-star Sammy Swindell invaded the Northeast Midget Association this past Saturday at New Hampshire's Lee USA Speedway to take down the NEMA portion of the Octoberfest event in convincing style, winning by nearly four seconds over teammate and point leader Avery Stoehr. Tennessee's Swindell, shown passing Alan Chambers of neighboring Atkinson, NH, kept what is believed to be the longest winning streak of an American race car driver alive with a win in 49 consecutive seasons. (Photo by our esteemed webmaster, Norm Marx, with additional thanks to

NEMAracing.com)
a
---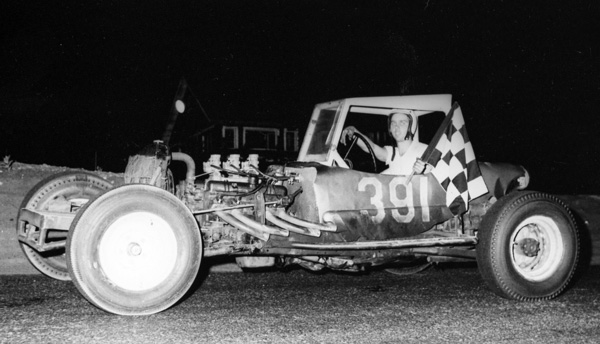 #2408 - Last Saturday the 17th annual Pines Speedway Reunion took the green under azure autumn skies at the original site of the track in Groveland, MA. This year the hugely popular event was dedicated to the memory of Russ Conway, promoter, journalist, and co-founder of the New England Super Modified Association. Pictured above is Ronnie Hebert from nearby Methuen, who wheeled the #391 at the track from 1961-1964. It was unimaginably thrilling to watch 24 of these hybrid cars - halfway between cutdowns and early Supers - dice it out for 15 laps on the tight, banked quarter-mile. (Russ Conway Collection)
a
---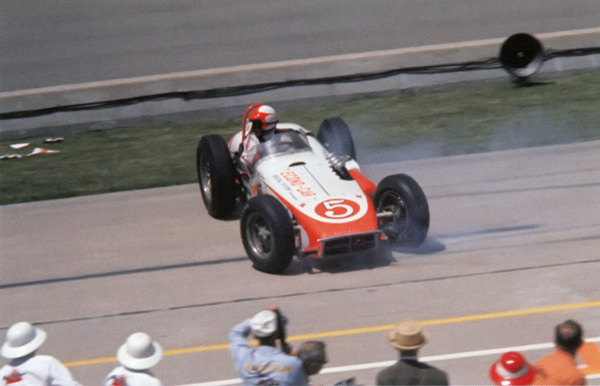 #2407 - Bobby Marshman was dueling early in the 1963 Indy 500 with Roger McCluskey before making his first pit stop. He purposely spun on pit road, barely missing Jim McElreath, who had locked up a brake. Describing the incident Floyd Clymer wrote, "The two cars gyrated around like a pair of dancers and never touched each other and then pulled up in front of their perspective pits as crews scattered like pigeons." Both cars returned to the action, but Bobby was one lap down. From AN AMERICAN RACER: Bobby Marshman and the Indy 500, by Michael Argetsinger.
A
---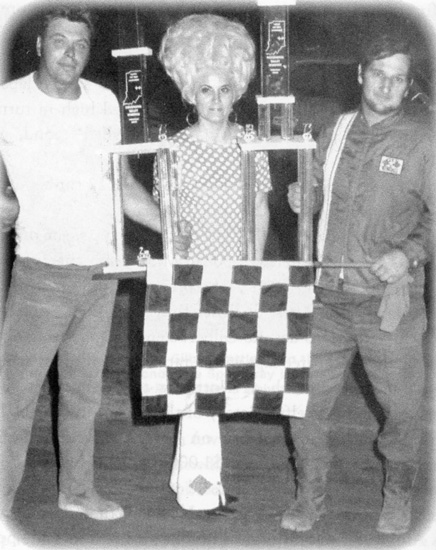 #2406 - In August of 1973 Floyd Gilbert (right) outdueled Vern LeFevers to take the $1200 win at Whitewater Valley Motor Speedway. It was the 50-lap State Dirt Track Championship on the 3/8-mile semi-banks in Liberty, IN. Jeez, the trophy queen's 'do' was worth that much! From
FLYIN' FLOYD: The Unvarnished Biography of an American Dirt Track Legend
,
by David M. McGee. (Stan Jeffrey Photo)
A
---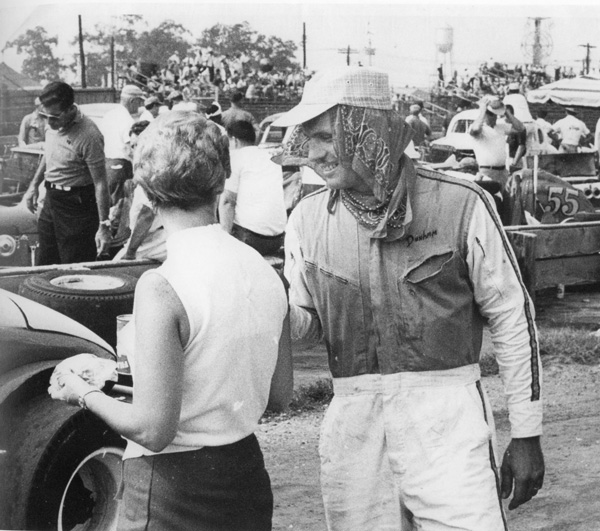 #2505 - Wally Dallenbach at Trenton in September 1965. "Along the way, I had to get a USAC license," Wally Dallenbach relates. "I had to give up everything in order to be a USAC Championship driver. I couldn't race ARDC midgets or URC sprint cars.... So I put on a straw hat with a red bandana and I painted a mustache on me. I ran midget and sprint car races as Bob Dunham and everything was going cool until I won a race at Middletown (NY). When you won, you had to stop at the start/finish line, and they would turn the crowd loose. The guys wanted to load the car and one of them said, 'Hey, Wally, come on. We've got to get to Trenton tomorrow.' So we went to Trenton, and the first announcement I heard was 'Will the real Bob Dunham please come to the pagoda?' 'I'm junk', I said. They let me race at Trenton, but they fined me $200 and made me write a one-page forgiveness letter saying I would never do it again." From Wally Dallenbach: Steward of the Sport, by Gordon Kirby. (Walter Chernokal/Dallenbach Family Collection)
a
---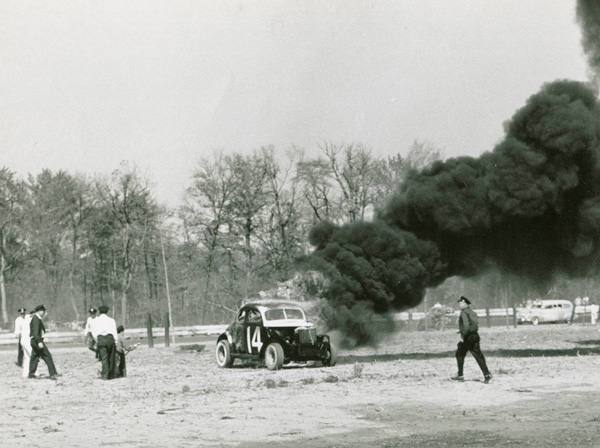 #2404 - New Jersey's Old Bridge Stadium had been open for just four weeks on May 16, 1953 when a frightening incident shocked the springtime crowd. Jamesburg's John Perdoni was charging out of turn two when his #14 Sportsman suddenly lit up in a blaze. Perdoni unbuckled, himself afire, and leapt out onto the backstretch. Track workers smothered the flames as he rolled on the ground. Meanwhile, the car continued to motor on, now engulfed, circling scarily around the infield until it finally stopped and burned to a crisp. Perdoni suffered terrible burns to his neck and hands. Years later he told journalist Earl Krause, "I was a young guy with a family. I said to myself 'Okay, I see a message here. It's time to quit." He later became the police chief of Helmetta, NJ. (Danny Rhein Collection)
a
---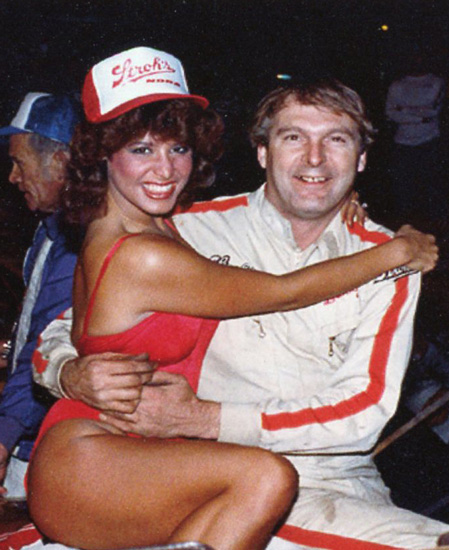 #2403 - Larry Moore hams it up with Eva Taylor, Miss NDRA. "I'm not sure I can adequately describe how much fun it was to be involved in the NDRA in the late '70s and early '80s. People today talk about 'politically correct.' Well, that wasn't a politically correct time. There was drinking, chasing women, a fist fight every now and then, a lot of cussing, a ton of practical jokes, and general hell raising on a nightly basis. It was great!" Quote and Photo from
ON TOP OF THE WORLD: The Life and Times of A Racing Pioneer
, by Larry Moore with Dave Argabright. (Wayne Kindness Photo)
a
---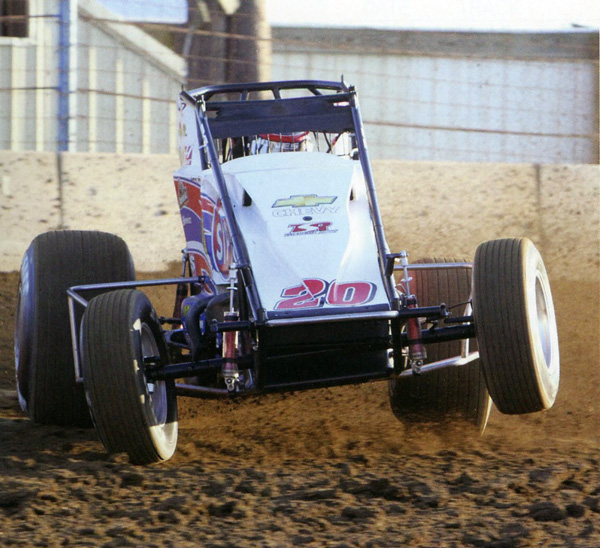 #2402 - Levi Jones showcases the form it took to capture his fourth USAC Sprint Car crown in the 2010 point chase aboard the Tony Stewart Racing #20. Photo from
MODERN THUNDER: The Illustrated History of USAC National Sprint Car Racing 1981-2017
, by Dave Argabright, John Mahoney, and Patrick Sullivan.
a
---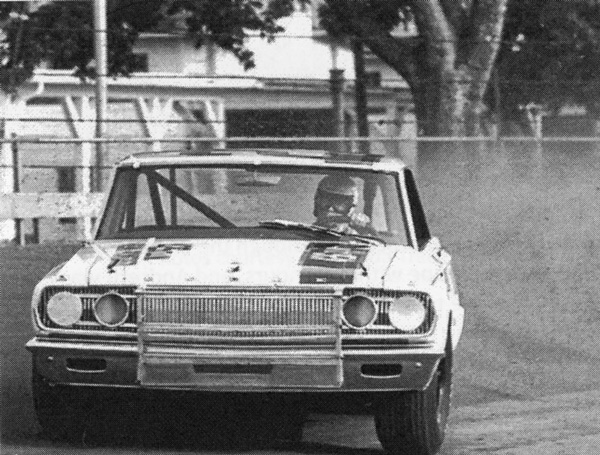 #2401 - The promising Billy Foster hard on the pedal at the Indiana State Fairgrounds in Rudy Hoerr's Dodge on August 26, 1966. He won the pole, led 15 laps, but at the end faded to 18th. He ended up third in the USAC series point chase. The team, which had performed especially well on the road courses, debuted a brand new Dodge Charger at Riverside, CA, the next January, but it was there that Billy Foster lost his life. Photo from
BILLY FOSTER: The Victoria Flash
,
by Bob Kehoe.
A
---

All Previous Photos of the Day HERE
---