jJOIN OUR
MAILING LIST


for advance notice




of special offers!




(emails are never




shared or sold)


-



Email us at info@coastal181.com

---
---

All Previous Photos of the Day HERE
---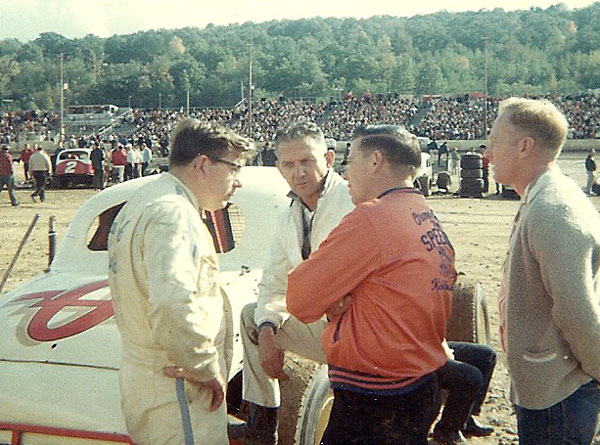 #2120 -

Of all those wonderful Lebanon Valley, NY, Open Competitions in the 1960s and '70s, the greatest assemblage of talent had to be at the 200 in 1968. Everywhere you looked were clusters of racing deities. Wouldn't you have loved to listen in on this discourse? L-R, Toby Tobias, Budd Olsen, Will Cagle, and Hully Bunn. (Mike Shaub Photo)
a
---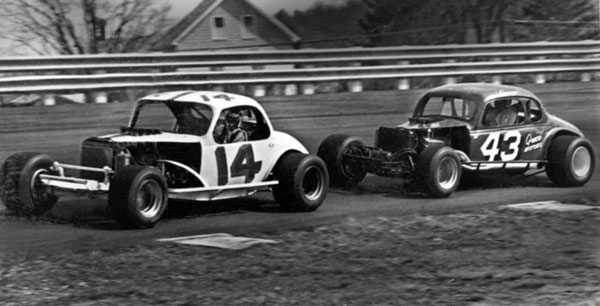 #2119 -

They were the class of the field back when the coupes and coaches with their enormous injected engines ran the newly paved Stafford, CT, Speedway. Ed Flemke leads in the Garuti #14, followed by Billy "Gramps" Greco in his infamous #43. Our book about Billy, written by granddaughter-in-law Sarah Greco, will be out next month and will be on the website for pre-orders Thursday or Friday of this week. (Mike Adaskaveg Photo, Coastal 181 Collection)
a
---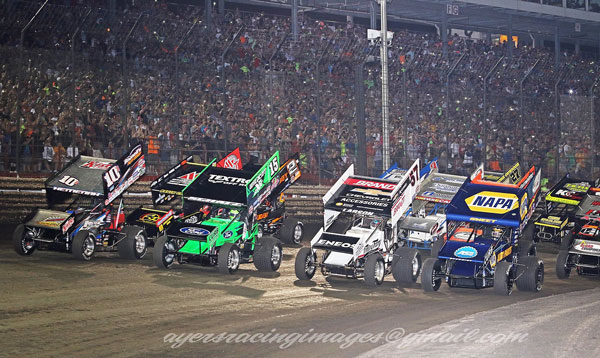 #2118 -

What a place, what a show each year. The start of last week's Nationals at Knoxville. (Dick Ayers Photo)
A
---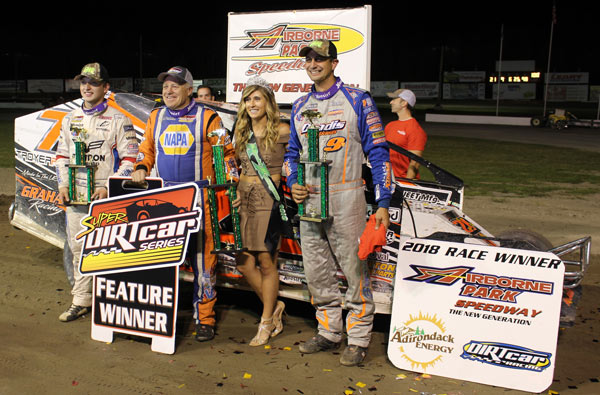 #2117 - Coastal 181 friend Steve McKnight sends in this victory shot of the July 31 Super DIRT Series event at Airborne Park up in Plattsburgh, NY. As Steve says, the scene reflects the remarkable new age span in DIRT's Modified roster. L-R are "Mad Max" McLaughlin, 18; Danny "The Doctor" Johnson, winner at 58; Racing Extravaganza's Carly Hendrickson, 22-ish; and "Super Matt" Sheppard, 36. (Steve McKnight Photo)
a
---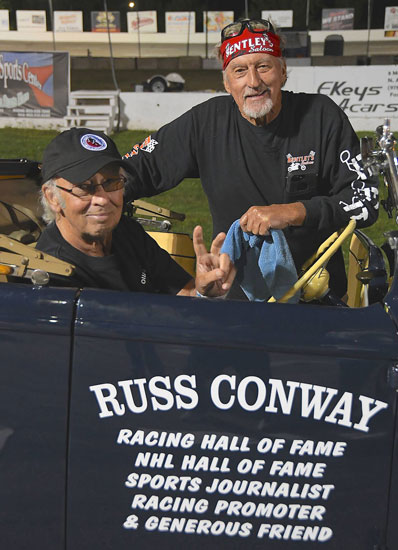 #2116 -

All the characters filled all the seats at last Friday night's ISMA Supermodified special at the Lee (NH) Speedway. The Grand Marshal of the evening was Russ Conway (L), a co-founder of the legendary New England Super Modified Association (NESMRA), responsible for over 1000 shows up and down the Eastern Seaboard. Russ looked great, having overcome some recent medical issues. His chauffeur for the evening was none other than NESMRA, Indy, USAC, and Modified luminary, Bentley Warren. During the week, Bentley can be found at his Saloon in nearly Arundel, Maine. More often than not, you can find Russ there, too! (North East Motor Sports Museum Photo)
A
---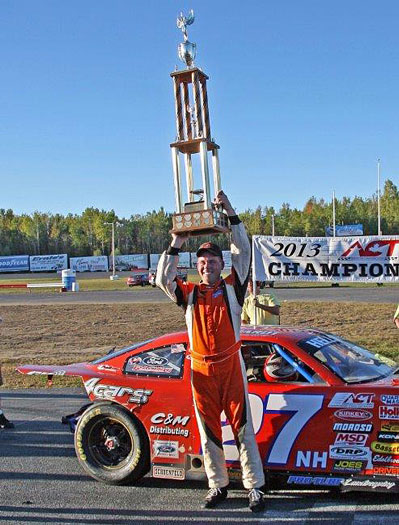 #2115 - It was a good day back in 2013 for the most excellent New Hampshire racer Wayne Helliwell at the then-paved Airborne Park in Plattsburgh, NY...especially since he did not have to go too many more laps. (Coastal 181 Collection)
A
---

#2114 - The other Oswego. Matt Sheppard brings them down on the parade lap for the 2017 Super DIRT Week at Oswego, NY. Matt Sheppard also brought them down for the checkered. From 2018 Auto Racing Calendar, Area Auto Racing News, Photo by Alex and Helen Bruce)
A
---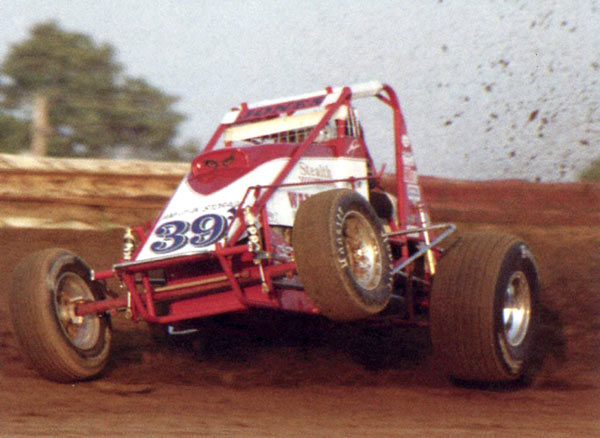 #21

13 -

Talk about being in a hurry! Levi Jones at Terre Haute in Jeff Walker's Sprinter, 2003. From MODERN THUNDER: The Illustrated History of USAC National Sprint Car Racing 1981-2017, by Dave Argabright, John Mahoney, and Patrick Sullivan. (John Mahoney Photo)
A
---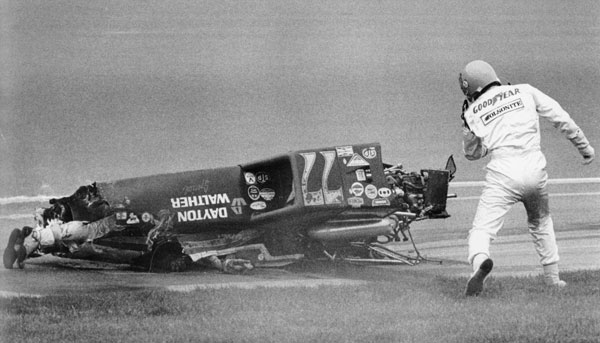 #21

12 -

"Wally rushes to the aid of Salt Walther whose hands were badly burned in the accident [at the start of the 1973 Indy 500.] Quote and Photo from WALLY DALLENBACH: Steward of the Sport, by Gordon Kirby. (IMS/Dallenbach Family Collection)
A
---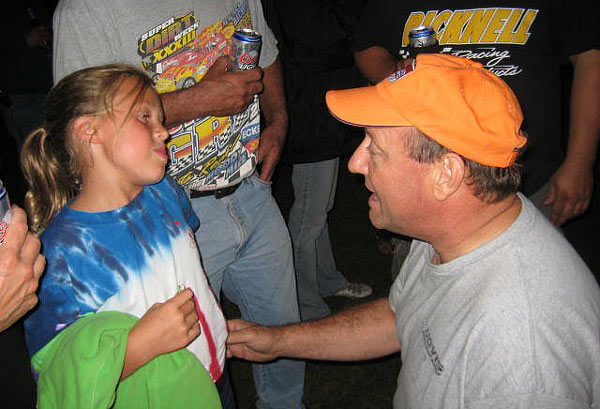 #21

11 -

"Yeah, right..." You have to wonder if Kenny Schrader signed up for a negotiation training seminar after this photo was taken. He had come to race at Lebanon Valley Speedway in 2010 and ran into Modified star Brian Berger's daughter Karsyn. She just plain didn't believe Kenny when he was telling her that he knew Dale Earnhardt Jr.'s daddy. (Berger Family Collection)
A
---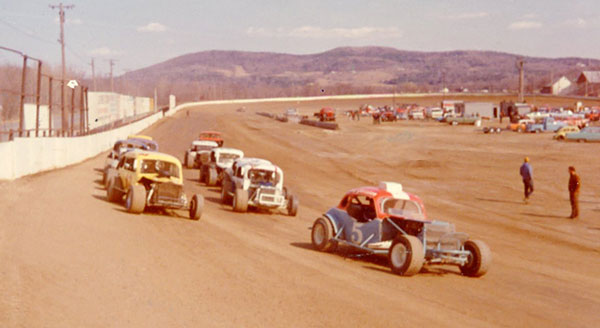 #21

10 -

It's the turn of the 1970s on the high banks of Lebanon Valley, NY, Speedway. It is obvious why the place was so fast back in the day – and it still is today. That was Doug Garrison leading a mini-pack into turn three in a coupe he bought from his former owner, Gordon Ross. (Hertha Beberwyk Collection)
a
---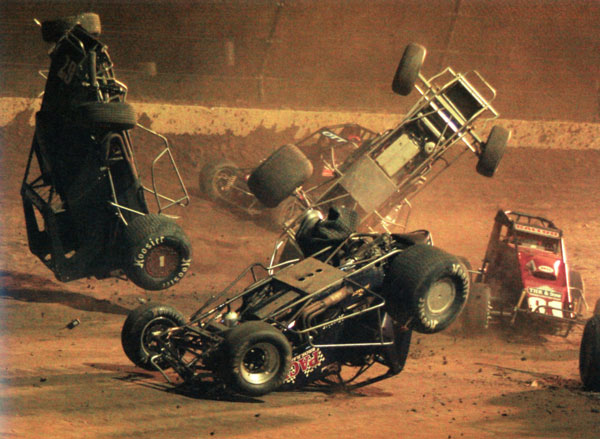 #2109 - Whether that moment of glory or the moment of terror, it's all there in MODERN THUNDER, the incredible new history of USAC Sprint Cars by Argabright, Mahoney and Sullivan. It's nearly 400 pages of stats, fabulous photos, and text. Dave Darland, Brady Short, Mike Brecht, and Darren Hagen star in this intensity at Eldora in June of 2008. From MODERN THUNDER: The Illustrated History of USAC National Sprint Car Racing, 1981-2017, by Dave Argabright, John Mahoney, and Patrick Sullivan. (John Mahoney Photo)
A
---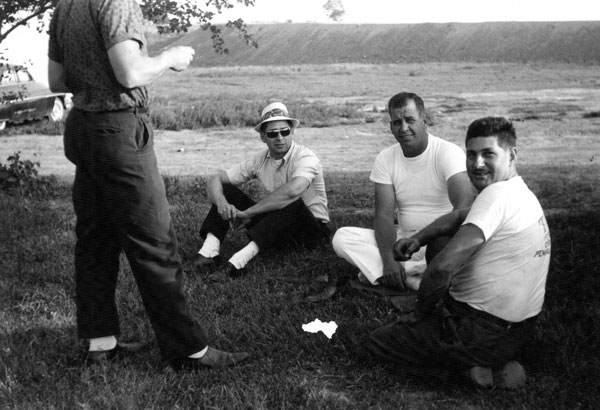 #2108 - They may have been famous ones, but "Boys will be boys. Lucky Jordan sat on Dad's left and Bobby Pickell (wearing the hat) on his right. Jackie McLaughlin was standing up. Maybe he hadn't wanted to be identified. He had just blown up the outhouse at Nazareth." Quote and photo from Alan Carter's book on his father, JUST CALL ME RAGS: Rags Carter's Racing Life. (Carter Family Collection)
a
---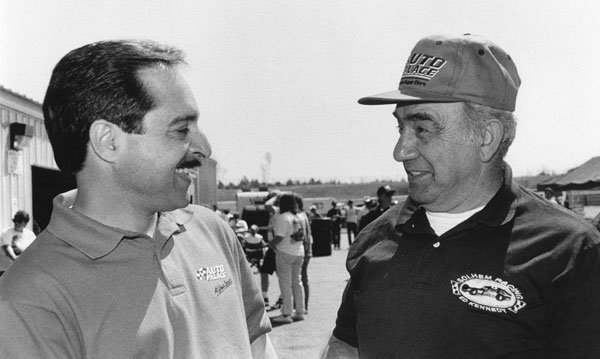 #2107

-

Two former superstars from Northeast Modified wars meet up at the New Hampshire Motor Speedway
:
Reggie R
uggiero
(L) and Billy Greco. They had a lot to talk about. It sure seemed like a long way from the 1/5
-
mile bullring at Massachusetts'
s
Riverside Park
Speedway
where they had competed for so long.
Sarah Greco
also has a lot to say. She is Billy's granddaughter-in-law and she
has written
a book about him that we will have out next month, The Number 43: The Life and Legacy of Wild Bill Greco.
(Robin Hartford Photo, North East Motor Sports Museum Collection)
a
---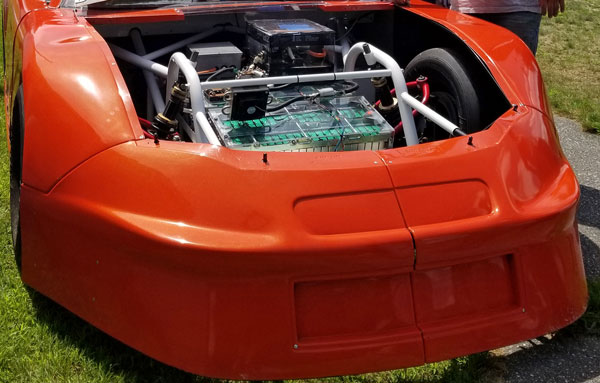 #2106

-

Good guy and good racer Ben Bosowski purchased the time-honored little oval in Hudson, NH, that looms so large in Northeastern racing history. Last Sunday Bosowski put on a show especially memorable in three ways. First, the place was packed and looked spiffier than ever in memory. Second, there was a special celebration of one of Hudson's all-time favorite and most enduring wheelmen, Pete Fiandaca. He thrilled fans for six decades with his funky #135 Modified and Late Model creations, rudimentary, under-funded, and in victory circle hundreds of times, but he now battles Parkinson's. Lastly, Dan and Jay Maki, the clever racing brothers from Fitchburg, MA, who have been staunch supporters of Fiandaca for years, appeared with quite the unusual Pro Stock. Good thing it was open competition. The pretty orange machine had no fuel cell, made no noise, sure attracted a crowd when the hood went up. (Jay Maki Collection)
A
---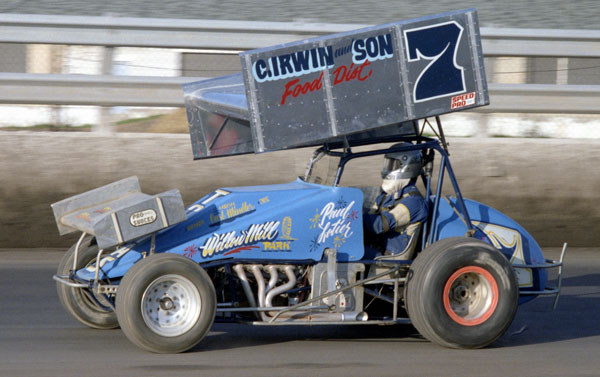 #2105

-

The star-crossed Paul Lotier in 1984. He loved the high speeds – and on the mile at Syracuse, with a winged Sprinter and a motor looking like that, he had his wish. Just after an impressive showing at the Knoxille Nationals earning him Rookie of the Year honors, a crash at Sharon, Ohio, ended his racing career. From TOBY: the Star-Crossed Story of an American Racing Family, by Lew Boyd. (Lee Greenawalt Photo)
a
---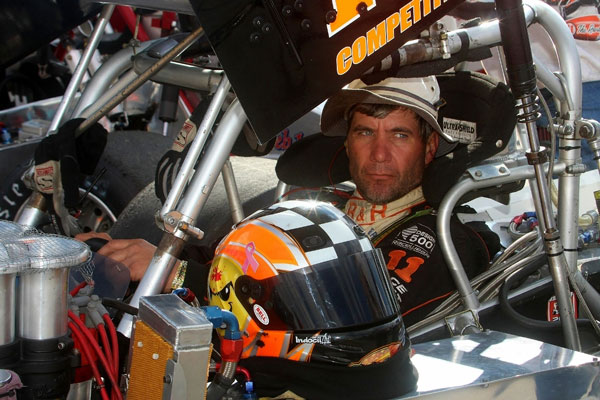 #2104

-

Chris Perley, Massachusetts' "Rowley Rocket," wearing his usual hat but an unfamiliar frown. The sunny-tempered Perley is leader of the all-time International SuperModified Association win list with 73. (North East Motor Sports Museum Photo)
a
---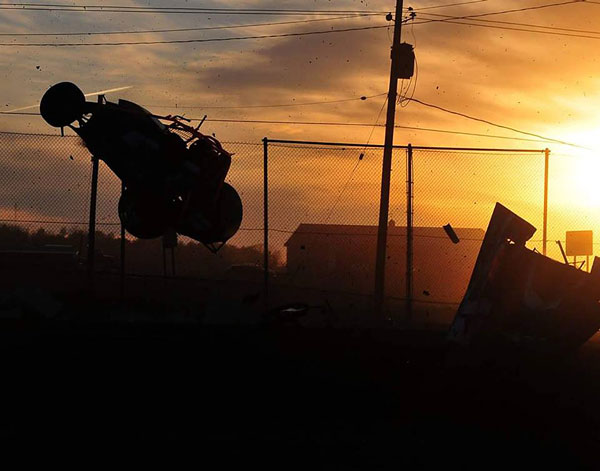 #2103 - Josh Azzi is over and out, into the sunset. (Greg Mesler Photo)
a
---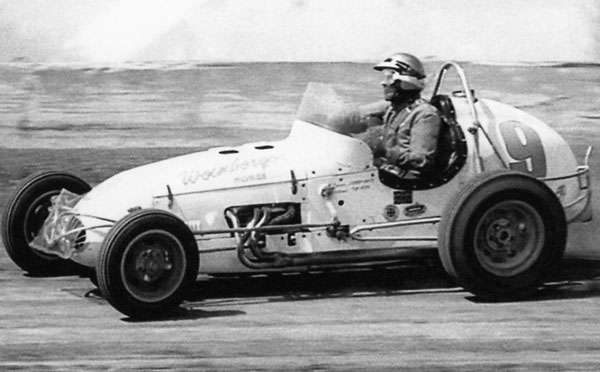 #2102 - A serious gasser. This was Johnny White at New Bremen, Ohio, in the Weinberger Sprinter on May 3, 1964. Later in the month he would finish fourth at the Brickyard and become Rookie of the Year. But then on June 14 at Terre Haute, he bicycled, flew out of the park, sustaining injuries that paralyzed him from the neck down. He passed away on Christmas Eve 13 years later. From 60 YEARS OF RACING – On Both Sides of the Fence, by Larry LaMay.
a
---
#2101

-

Dickie Larkin looked a little like he was having some kind of identity crisis at the Lebanon Valley (NY) banquet in 1994. Actually, he was just trying to be respectful when giving his championship speech. You see, he wasn't the only champion; Kenny Tremont was, too. The previous season they had each ended up with 970 points in the track's big block Modified division, the first time there had been a tie in the track's 41-year history. (Hertha Beberwyk Collection)
A
---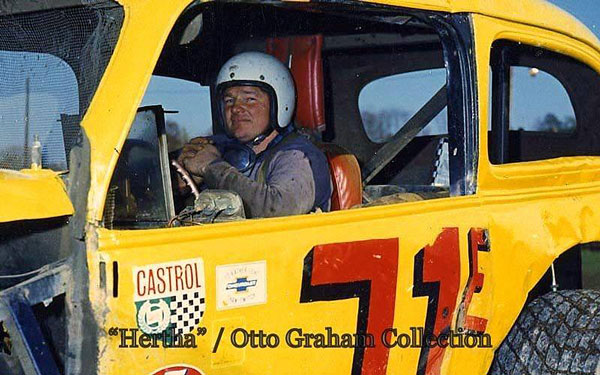 #2100

-

Even though his storied time behind the wheel would not end for another three decades, Carl "Fuzzy" Van Horn, New Jersey's plus-sized "Belvedere Bandit," was already an admired – and feared – gasser of the first order back in 1968. According to his EMPA Hall of Fame bio, Van Horn had concentrated on Reading, Pennsylvania, that season and he prepped his injected '37 Chevy #71e for Reading's Daniel Boone 200. Upon arrival, however, he was summarily dismissed by the tech inspectors. For some reason, they decided that on that particular date the mounting of the seat in the sedan was not allowable. Van Horn was unimpressed and rushed to the nearest phone both. He called the Valley and said he was on his way and urged them to allow him a late chance to qualify. Off he went, God knows how fast, up the 300-mile trek north. He arrived late, but was able to squeak out a spot, as the 100-plus car field was being whittled down to 44 starters. The largest crowd in the history of the track watched as first Toby Tobias and then Jackie Evans in the Lux #77 led and broke, while Van Horn strong-armed his way through traffic. Astoundingly, he inherited the point on lap 174 and closed the deal, followed by Fonda favorite Lou Lazzaro and a husky Vermonter beginning to make noise at the Valley named Vince Quenneville. (Chas Hertica Collection)
A
---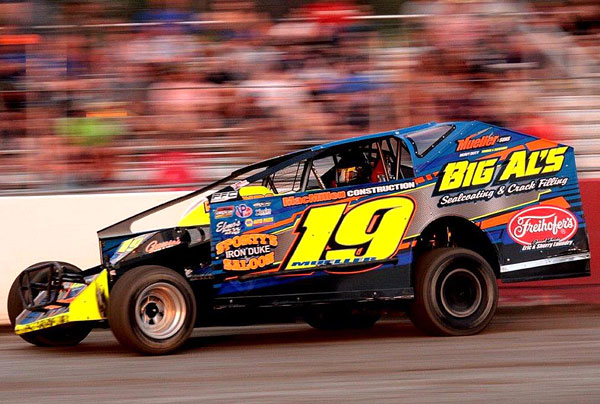 #2099 - On Sunday, July 15, Vermont's Devil's Bowl Speedway, magnificently transformed by Mike Bruno, hosted a gala program honoring the late Vince Quenneville Sr., a legendary Green Mountain dirt slinger. The 358 Modified special was won by Jessey Mueller, shown at speed above. Running 1-2 in the Sportsman-Modified division were young twin brothers, Joey and Jake Scarborough. Their cars are numbered 24 and 38 recognizing their admiration for Norm Scarborough, who fielded championship cars for Quenneville back in the 1960s with these numbers. Very cool photo by Alan Ward.
a
---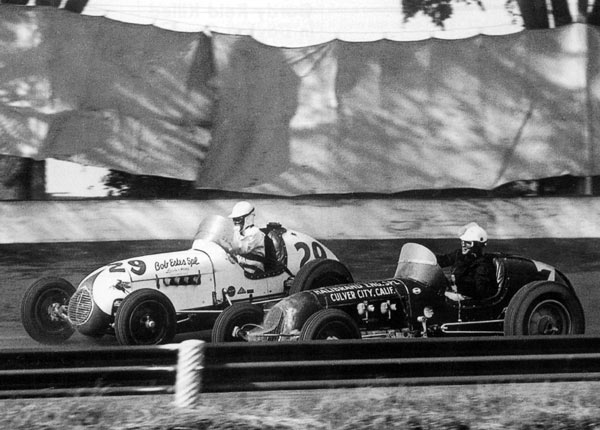 #2098 -

Back before race cars became cookie-cutter and disposable, they were individualistic and long-term. They often earned their own identity – and nicknames. This is Milwaukee, June 8, 1952, and two infamous chariots were battling it out. Upstairs was Bob Estes's "Pots and Pans" with Jim Rigsby in the seat, while downstairs "Basement Bessie" was guided along by Bill Schindler. From RACERS AT REST: The Checkered Flag 1905-2008, by Buzz Rose, Joe Heisler, Fred Chaparro and Jeff Sharpe. (Sheldon Photo)
a
---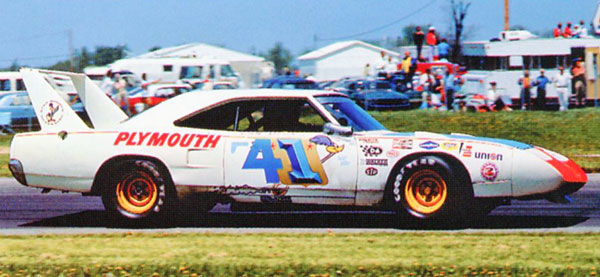 #2097 - In 1971 the powers in Daytona demanded no more wings. However, Roger McCluskey and Norm Nelson both ran them one more year with USAC. McCluskey won the season opener at Sears Point while driver and car owner Nelson, aboard the #41 above, got third. At season's end, the Plymouths were one/two in points. From MUSCLE CARS IN DETAIL: 1970 Plymouth Superbird, by Geoff Skunkard.
a
---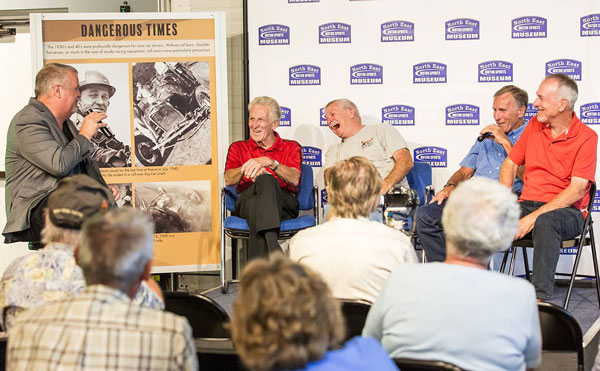 #2096 -

Last Saturday (7/14/18) the North East Motor Sports Museum hosted a Legends Day, once again a spectacular success. On stage, left to right, were MC Dave Moody who flew up from Daytona, Beaver Dragon, Dave Dion, Bobby Dragon, and Robbie Crouch. I don't think any of them had lost a tenth of a second from those glorious days in the 1970s and '80s when they so frequently waged motor wars war in their Late Models around the Northeast. Needless to say, their stories were on the outrageous side of hilarious. A typical one went down the last day of racing at Vermont's Catamount Stadium. Apparently Dave and Beaver were going at it a bit in warmup, and Beaver rode over Dave's left front, destroying the oil tank and then launching into a frightening series of flips. Beaver recalled that eerie, seemingly endless silence as the car spiraled through the air between bounces off the ground. It landed upside down. Dave Moody who was on the PA thought it had to be a fatal – what in the world would he tell the crowd?! And it sure looked like one. Everyone stared at the steam and smoke from the wreck, and Beaver did simply did not appear. Finally Dion ran over worried that he might have been at fault, and Beaver was very much with the program. He couldn't get out because there was oil all over the place below him, and, if he undid his seat belts, he would land in it and get covered. "Help me out," he hollered. "I've got a backup car in the pits and I can't get oil all over my fire suit!" They did, and Beaver ended finishing up third in the feature. There were no hard feelings. One of Beaver's crew guys raced to their garage and brought back a new oil tank for Dion. He ended up with a good finish, too. (North East Motor Sports Museum Photo)
a
---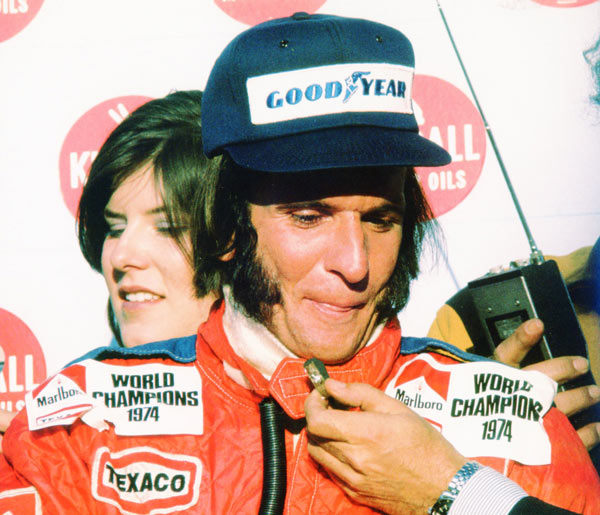 #2095 - A most happy interrogation. "Emerson Fittipaldi takes questions after his third-place finish at the 1974 United States Grand Prix gave him the Formula One championship. It was the second for him, and the first for a McLaren driver." Photo and quote from TYLER ALEXANDER: A Life and Times with McLaren, by Tyler Alexander. (LAT Photographic Photo)
a
---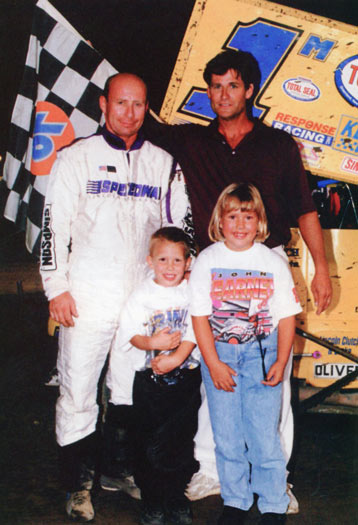 #2094 - Doug Wolfgang, the South Dakota Wolf, one of the most talented of all times – and subject of one of the greatest racing books ever. This was his last win, Eagle Raceway, Eagle Nebraska, on September 13, 1997, aboard Mark Burch's 360. Son Robbie and daughter Allie shared in the celebration. From LONE WOLF, by Dave Argabright. (Joe Orth Photo)
a
---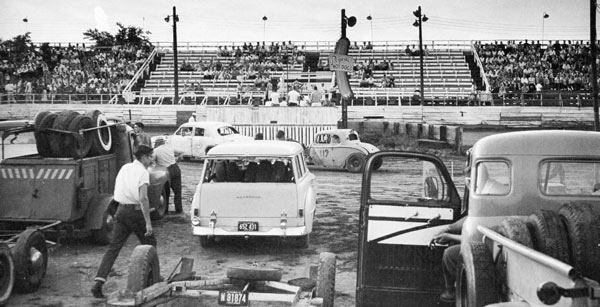 #2093 - So, would you have purchased a reserved seat? From FAST MEMORIES: Springfield Speedway 1947-1987, by Joyce Standridge and Terry Young.
A
---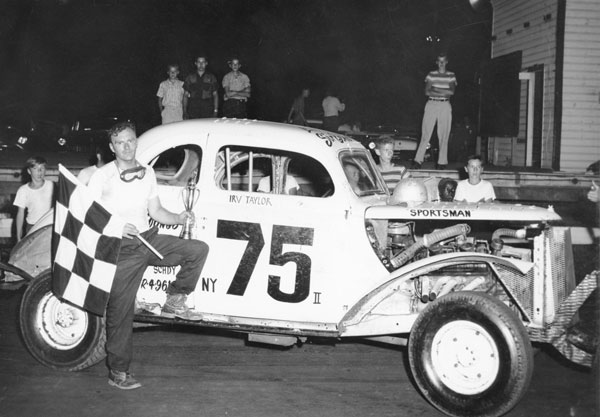 #2092 -

A utility driver like the late Irv Taylor at Fonda, NY, would typically see a lot of stuff. Sometimes it was all good, like this night in 1957 when he won in the Jim Young/Ray Vining #75 Sportsman. But sometimes, well, in Irv's words…."How about the night when the steering wheel in the #75 spun in my hands in the second turn? Broken drag link. What an experience! Through the fence, off came the front end, up in the air like a rocket ship, and, SPLASH, down into the river! I just held on. When I landed the only part of the car that was not on fire was in the water." Quote and Photo from FONDA! An Illustrated and Documented History of Fonda Speedway, by Andy Fusco, Lew Boyd, and Jim Rigney. (Jo Townes Collection)
A
---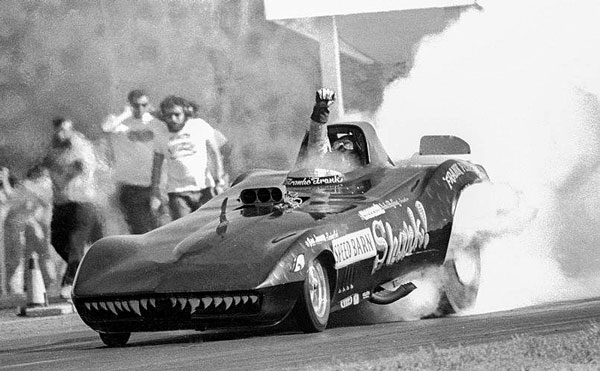 #2091 -

"Frank Federici's non-stop antics would bring a dreamy smile to the grimmest of promoters. One day at Colchester, Connecticut, his burnout consumed the entire front stretch and half the way down the return road in front of screaming fans until he burned up all the fuel he had for his run. Photographer Henry Witham says, 'It seemed he was more into flamboyance than winning races. One day he showed up with his traveling companions, a chimpanzee and boa constrictor, went out, and blew up so badly he covered everyone in the place with aluminum.'" Quote and photo from A HISTORY OF AUTO RACING IN NEW ENGLAND, A Project of the North East Motor Sports Museum. (Clayton Taylor Photo, Mick Smallridge Collection)
A
---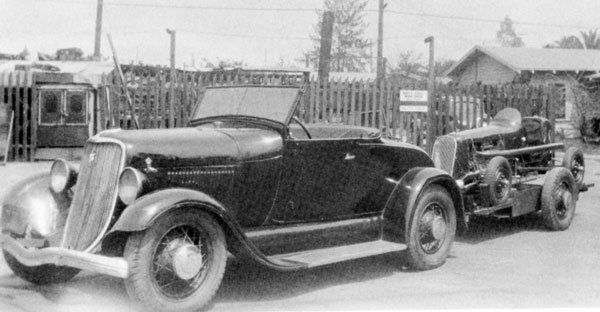 #2090 - It was 1935, and Roy Richter was all loaded up in California for a racing trip to the Midwest with his Midget "Betsy." Four of Richter's buddies (including Buzz Barton) would tag along, so it was a good thing the tow car had a rumble seat. It would be quite a trip. At that first 100-mile Midget race at V.F.W. Motor Speedway in Detroit, there were many bumps and bruises, and Richter retired from driving at the end of the season. History would say that was a good idea: He emerged a titan in the performance industry, running a legendary speed shop and creating such products as the Bell Helmet and the Cragar equipment line. From ROY RICHTER: Striving for Excellence, by Art Bagnall. (Photo Roy Richter Collection)
a
---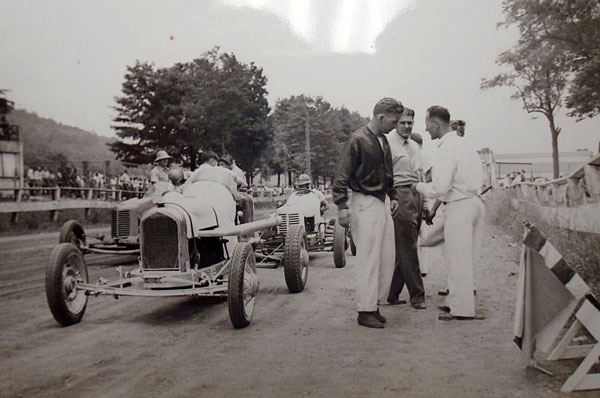 #2089 - Wouldn't you have loved to see a few laps of this? Seventy-eight summers back, on July 6, 1941, the Sprinters assembled at Little Valley Speedway, a half-mile dirt at the Cattaraugus County Fairgrounds in New York. Photo from our friend Ford Easton, Butch Fleetwood Collection.
A
---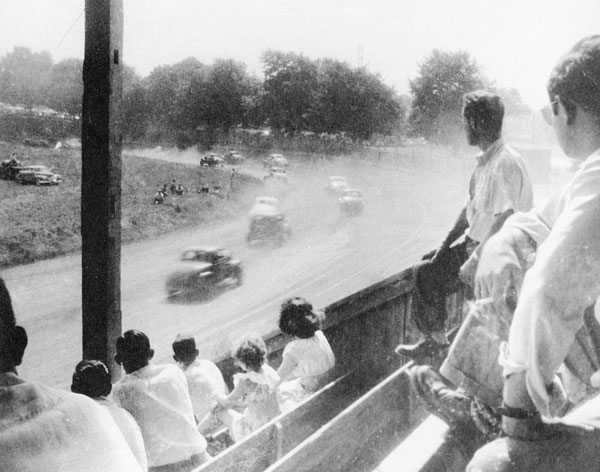 #2088 - The way we were. It could have been anywhere across this land in the 1950s, but the shot was taken in the old wooden grandstands at the half-mile Nazareth (PA) Raceway. (Photo from PAVED TRACK, DIRT TRACK: Racing at Old Bridge Stadium and Nazareth Raceway, by Lew Boyd. (Bruce Craig Photo, John Snyder Collection)
A
---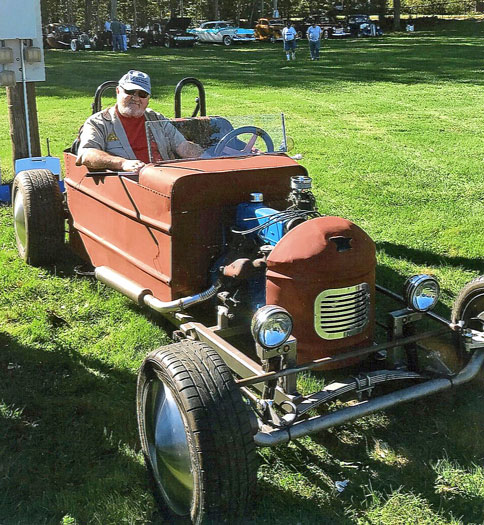 #2087 - Former Connecticut Supermodified driver Walt Scadden is truly a Renaissance man. He has written books on all sorts of topics, taught school, taken care of folks in need, and has seemingly built an arena full of very cool things over the years. Here's his idea of what to do with fuel drums: "Enclosed is a photo of the Barrel Car. Built the way we built hot rods in the late fifties and early sixties. No one had any money, there weren't many accessory parts to buy, so everything was built with what you had. The car is powered with a 2300cc Pinto engine, the frame fabricated from 2x3 tubing. Fifty-five-gallon drums were used for the body (four for the main body and one for the nose). Building with the drums was certainly a learning process. The rear, my version of a 1950s Calabasses shifter rear (popular on the West Coast in the day). Muffler is a home-made glass pack. Steering wheel fashioned from a 15-inch circular saw blade (popular in rods and race cars of the day). (Photo and quote from Walt Scadden)
a
---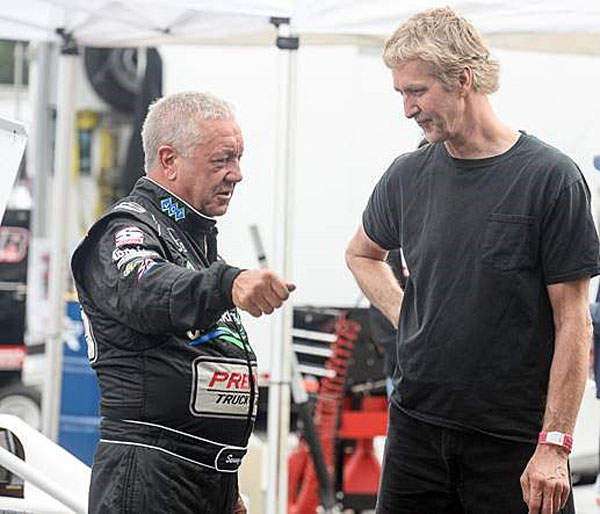 #2086 - The annual "Boston Louie" Seymour Memorial Midget race was held at Seekonk (MA) Speedway on Wednesday night. Modifieds and a packed grandstand joined in on the action that was eventually interrupted by rain. The Midget portion of the event has become remarkably noteworthy, with competitors hauling in from as far away as Iowa. Lensman John DaDalt sent us this show of a couple of serious heavyweights who came to town, Sammy Swindell (L) and Danny Drinan. (John DaDalt Photo)
a
---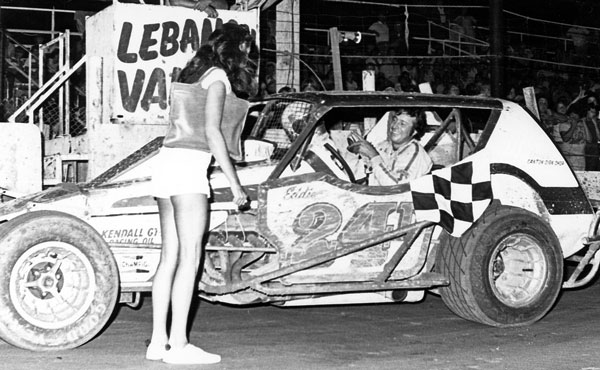 #2085 -

In the late 1970s, "Fast Eddie" Delmolino was a bright star at Lebanon Valley (NY) Speedway. Here he pulls into victory lane to greet his comely wife, Gail. It was a happier time. Gail passed away just two weeks ago after a long illness. (Hertha Beberwyck Collection)
A
---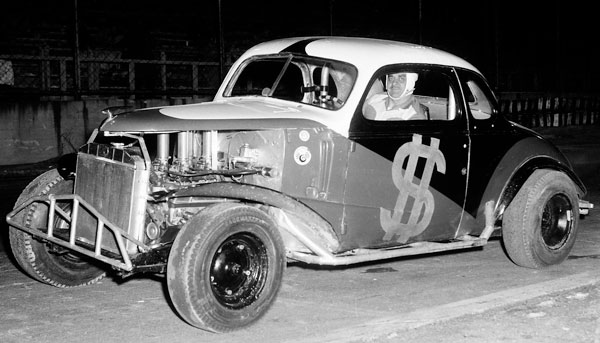 #2084 - Dick Berggren, guiding force behind the very cool North East Motorsports Museum in Loudon, NH, got started with a wiping cloth in Connecticut in the 1950s. It was in Billy Boudrieau's garage that housed the mighty #$ Modified driven by Moe Gherzi. Bergie recalls, "My job was keeping that brass radiator clean and shiny. I don't think the car had a roll cage, just a roll bar, and there's no shoulder harness. Four carburetors and I'm not sure what Billy was thinking with the tubes atop them, but, with their air intake so close to the hood, they probably stole some power rather than delivering. The red/white/black paint job made the car a real looker. And I liked Gherzi's style. Note the colorful shirt. For a while, he wore Bermuda shorts when he drove." (Photo, North East Motor Sports Museum)
a
---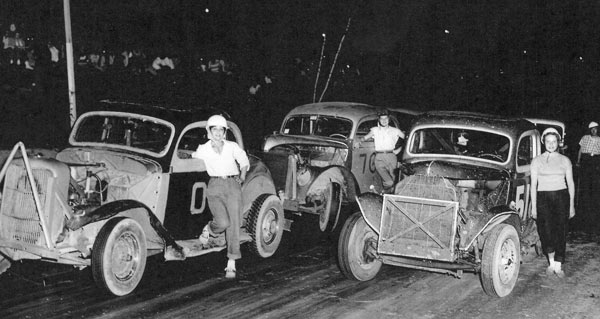 #2083 - There was a curious phenomenon in the Albany, New York, area at the outset of stock car racing in the very early 1950s. Powder Puff racing was really popular – and intense. Three of the hottest wheelwomen were, left to right, Helen Freckleton, Dot Schuman, and Sonja Siegar. Everybody move back! (Ed Biittig/Jan Hacker Collection)
A
---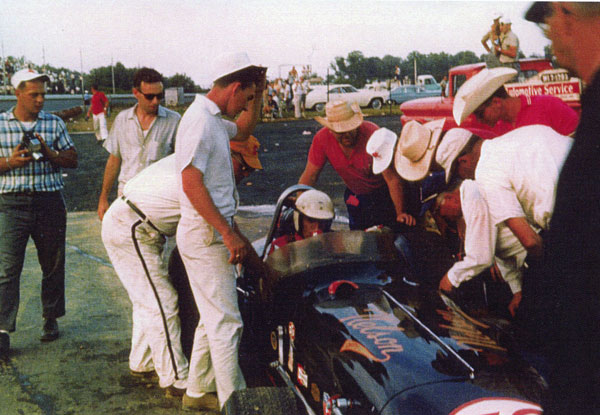 #2082 - In August 1965, Wally Dallenbach buckled into Mel Nelson's Kurtis Offy for his USAC Indy Car debut at Langhorne. He had an oil leak from lap one, covering him with blistering burns, but he soldiered on for an impressive 13th-place finish. "About five of us girls went to the race together," Peppy [Dallenbach's wife] recalls. "We weren't allowed in the pits, of course, so it didn't really matter what time we got there. But we got there on time and as we arrived it started pouring. So we said let's go underneath the grandstand and wait. . . Well, it didn't end and finally we drove home. We had to stop at five different houses so everyone could get changed and showered. But we did it fast and drove back to the track. There was no rain and by the time we arrived, they were taking the checkered flag. So I never got to see Wally race his first Championship race but never told him for forty years." Quote and photo from WALLY DALLENBACH: Steward of the Sport, by Gordon Kirby. (Dallenbach Family Collection)
A
---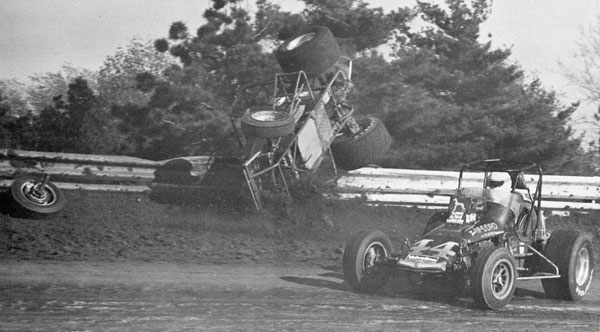 #2081 - It was that darn lap 28 at the Hulman Classic at Terre Haute on May 5, 1980. Bubby Jones took one on the chin when that axle on the Siebert Sprinter broke. It was out of the lead and into the wall, while Pancho Carter scooted by for the win. (From Sprint Car Pictorial, 1980 Edition, Tom Yzenbaard photo.)
A
---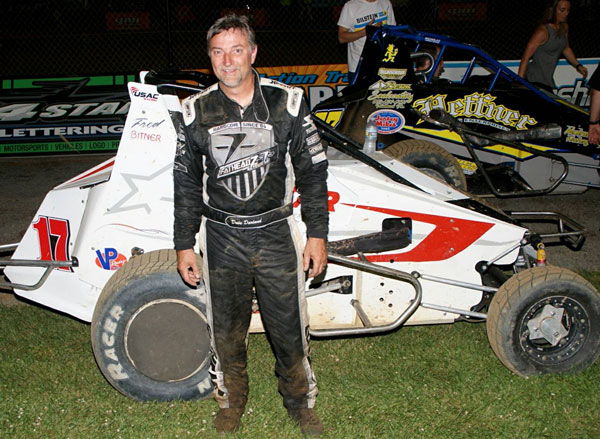 #2080 - The People's Champ was back in Pennsylvania as part of this month's USAC Eastern swing, and he was his normal speedy self. Dave Darland scooped a fourth in Phil Meisner's SpeedSTR in a banzai move on the last lap at the Action Track USA at the Kutztown Fairgrounds. Then he charmed everyone, fans and officials. The starter, Mike Feltenberger, came over to say hi and mentioned that the last time he had seen Dave was when he flagged at the Fort Wayne Midget Rumble Series in Indiana. Dave said, "I know that. And you'd better get your ass back out there because that's the last time I won." (Photo by Stacey Schmick)
a
---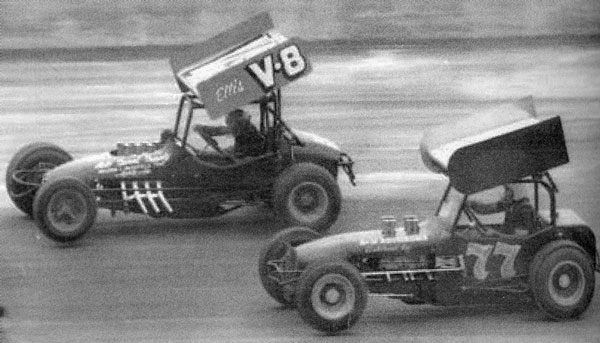 #2079 - Very cool cars. Ellis Palasini in his 427-powered V-8 works the outside of Georgia's Herman Wise at New Smyrna, Florida, in the late 1960s. Palasini was the first driver from Mississippi to obtain a USAC license. From Southern Supermodifieds and Other Early Racers, by Gerald Hodges. (Courtesy Tony Martin)
a
---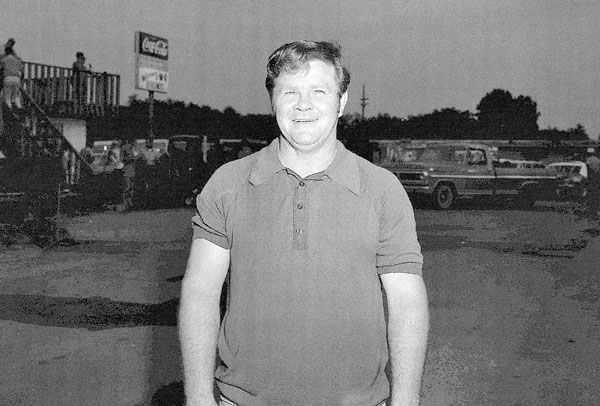 #2078 - They say South Carolina's Tootle Estes drove every kind of race car imaginable and won 300 Late Model features alone. Those included his last race at Volunteer Speedway on August 20, 1982. After the race, second-place finisher and longtime rive L.D. Ottinger reflected, "Tootle was complaining about his arms hurting but we didn't think much about it . . . We loaded up and got on the interstate, and in a few minutes that Thunderbird came by doing 100 miles per hour. Buddy Rogers was driving and Tootle's wife was in the back with Tootle. They missed the exit for the Morristown hospital and stopped beside the road. We got Tootle out of the car and up on the bank to do CPR, but he was dead with a massive heart attack." He was 52. From A History of East Tennessee Auto Racing: The Thrill of the Mountains, by David McGee. (Ray Taylor Photo)
A
---

#2077 - Bentley Warren, one of the country's finest open-wheel racers and currently Maine's favorite bar-keep, may be 77, but he's still "Wicked Fast." Here he was just last Sunday powering off turn four at New Hampshire International Speedway on his #55 shifter bike. He took everyone's breath away as he took it right up to the wall attempting to pull off a bridesmaid finish. He had to settle for third. (Photo by Dick Berggren, North East Motor Sports Museum)
A
---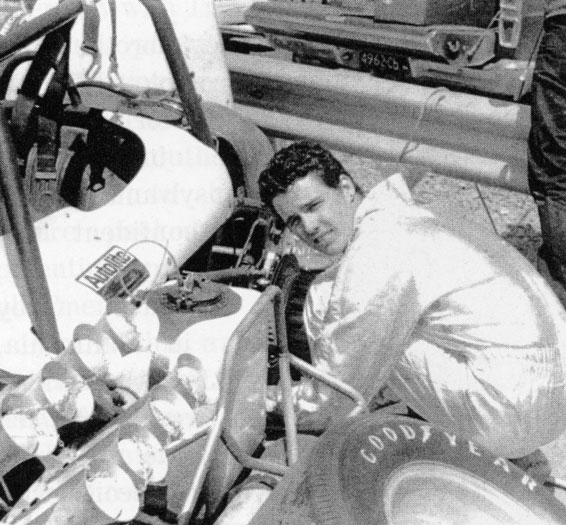 #2076 - On February 21, 1969, a handsome and promising 18-year-old high school student, Troy Ruttman Jr., wrote in his journal: "If I had three wishes that would come true, they would be 1) To be out of school, through college, and be a graduate mechanical engineer and a racing driver. 2) would be to win the Indianapolis 500-mile race at least one time before my death. 3) Would be to earn enough money racing to retire at age 30, if by age 30 I have survived long enough to fulfill my #2 wish." About that time, working mostly solo, he converted his dad's 1962 Indy roadster for Supermodified racing with an enormous injected Chevy. He then came to Pocono, PA, on May 4 and ran third in the first of two 50-lappers. Just a few laps into the second race, for whatever reason, the car blasted the Armco barrier wide open, ripping even the engine apart. His uncle Jim Ruttman recalled for Sports Illustrated, "When I got to the car, Troy Jr. was slumped over with his hands on his lap. There was no agony on his face. There wasn't even a mark on him. I thought to myself, 'Well, Troy Jr.'s troubles are over." Photo and quote from CALIFORNIA GOLD: The Legendary Life of Troy Ruttman, by Bob Gates, (Beverly Ruttman Collection )
A
---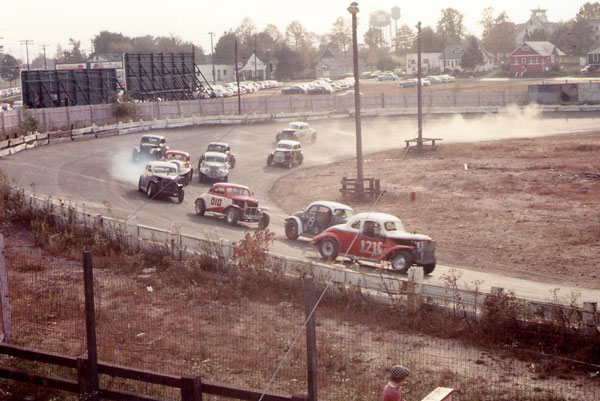 #2075 - This was the 1/3-mile track in Wilmington, DE, north of New Castle on Route 13. Though popular, it closed down in 1958 and is now a car dealership, Bayshore Ford, a much quieter neighbor. You have to wonder whether all those folks living so close by had anything to do with that closure. (Mike Ritter collection)
A
---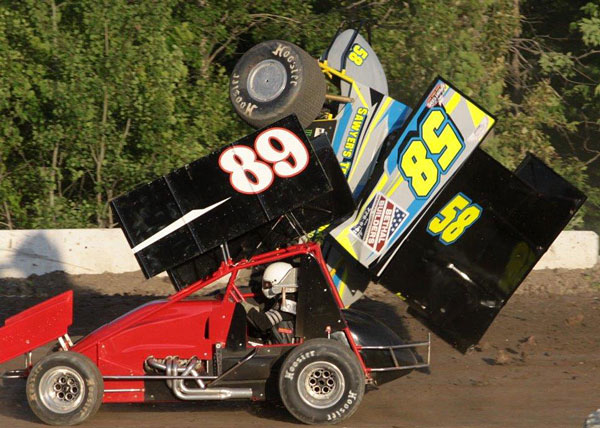 #2074 - Those Sprint Cars of New England racers are pretty resilient. Last Saturday Clay Dow took quite the header in his heat race at Bear Ridge Speedway, up in the lush Green Mountains in Bradford, VT. No problem. Fourth in the main. (Photo by Alan Ward)
a
---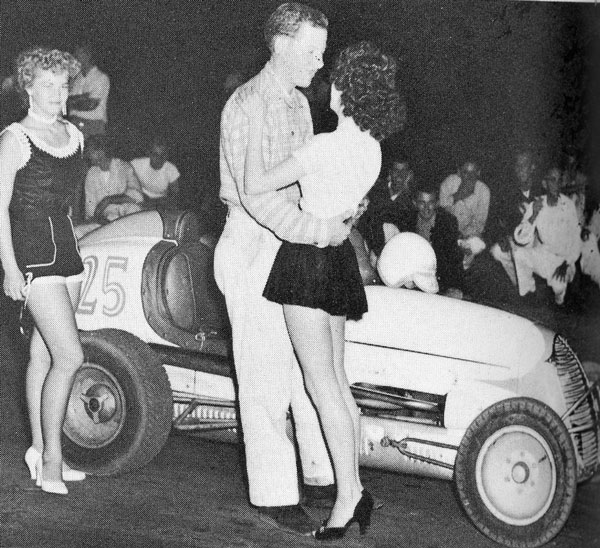 #2073 - Decisions, decisions! That was a young Don Edmunds at Hanford, CA, right around the turn of the 1950s. From THE MIGHTY MIDGETS, by Jack C. Fox. (Jack C. Fox Collection)
a
---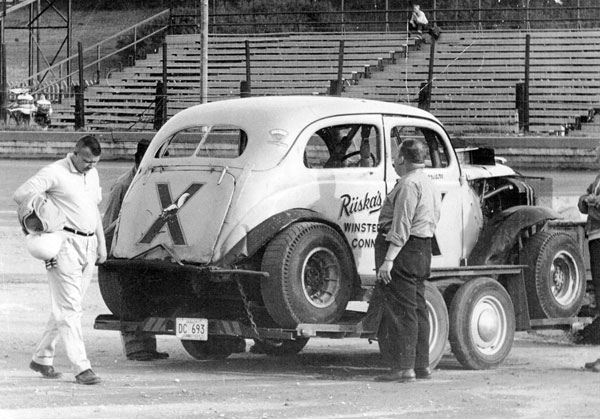 #2072 - Fifty-five seasons back, this rudimentary looking flat back was a terror in upstate New York. Doug Garrison and owner Martin Riiska were at the top of their game and certainly played a memorable duet. Garrison, on his steady path to becoming the grand old man of Lebanon Valley Speedway, was the picture of calming competence. Good thing for Riiska, who was tormented all day every race day about whether the totally tricked out cross-fire flathead in his #X would go the distance that night. They say he rebuilt it every week. (Cavanaugh Brothers Collection)
a
---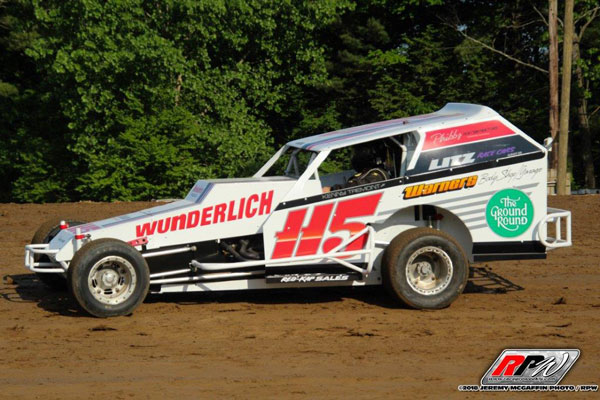 #2071 -

How about that Danny Wood, recently appointed President of the New York State Stock Car Association? He spent the winter restoring this '86 Olsen Eagle with Dave Madej in Westerlo, NY. It is one seriously beautiful replica of the car Kenny Tremont raced to victory in the '87 Labor Day Race at the NY State Fairgrounds. Danny also gets it done out on the track. You should have seen him go on the mile at New Hampshire Motor Speedway in the Coastal 181 dirt car. And that was a handful! (Photo by Jeremey McGaffin, Race Pro Weekly)
A
---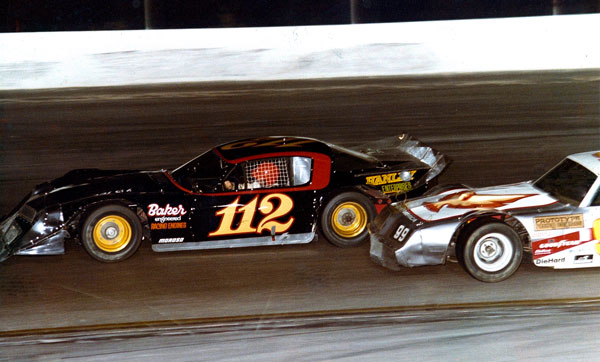 #2070 - A while back we had a call from Gary Balough. I had raced against him and, like everyone else, was blown away by his Olympian talent. He asked if we would publish his memoir and if Bones Bourcier would work with him on it. He was quick to agree to our condition that he cover not only his racing exploits but also the less glamorous events. He said he felt he owed the racing community an explanation. I said, "We're on." Here's a shot from the result, our latest title, HOT SHOE! A Checkered Past: My Story, by Gary Balough with Bones Bourcier. Photo caption: In 1980's World Series at New Smyrna, Balough beat Dick Trickle (and everyone else) for five nights. On the sixth, he and Trickle crashed. (Courtesy Gary Balough)
A
---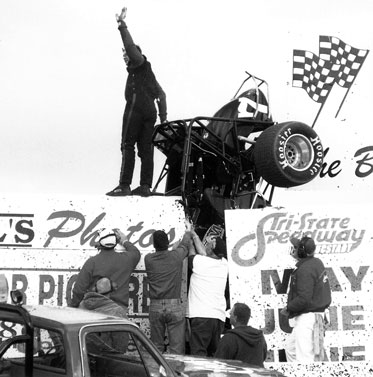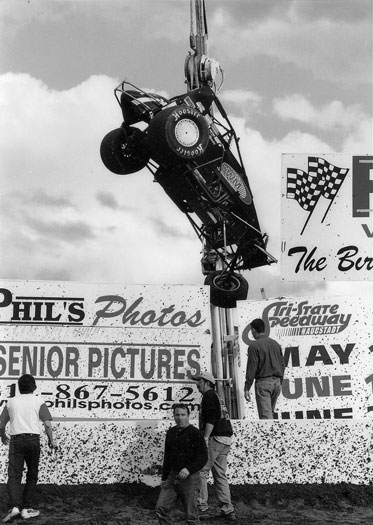 #2069 - High at Haubstadt. In 2002 Sean Walden got to flipping on the quarter-mile Tri-State Speedway in Haubstadt, Indiana. He landed on top of the billboards, disembarked, and waved to the crowd. It is conceivable that Sean could get back on terra firma easily, but what of the car? Good thing the track was carved out of a farm owned by the Helfrich family. One of their other business interests has been well-drilling, and they just happened to have the right equipment on site for removal. Photos from DID YOU SEE THAT: Unforgettable Moments in Midwest Open-Wheel Racing, by Joyce Standridge. (Kevin Horcher Photos)
a
---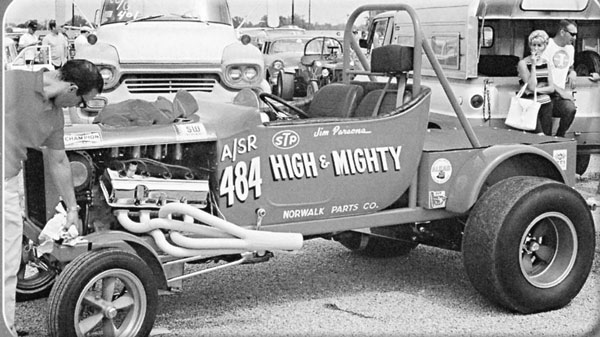 #2068 - "Norwalk, Ohio's Jim Parsons and his A/SR 'High and Mighty' were the scrooge of the class in the late 1960s to the early 1970s. The roadster pickup featured an owner-built injected Hemi as well as a fabricated square-tube frame. Jim held the NHRA record on and off for a couple of years, hitting 9.81 at 141.95 mph, but, for Jim, dark days lay ahead. In 1993 he was convicted of the 1981 murder of his wife… He always was considered a bit of a hothead, and apparently the threat of a divorce drove him over the edge." Quote and Photo from
1001 Drag Racing Facts
, by Doug Boyce.
a
---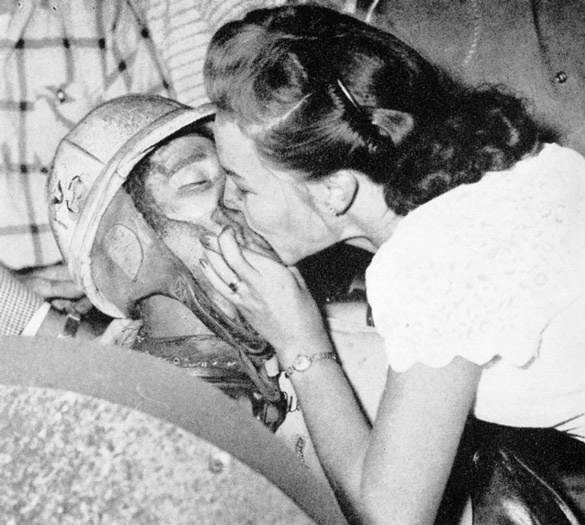 #2068 -

Walt "Little Dynamo" Faulkner from Los Angeles was one hot item in the early 1950s. In 1951 he was the first rookie to sit on the pole at the Brickyard. On this date, August 26, 1951, he won at Milwaukee in the Grant Piston Special and received a great big smooch from his wife, Mary. Note her crossed fingers, a hopeful habit of hers while he raced. Everything turned cold five seasons later when he died in a USAC Stock Car at Vallejo, CA. (Photo from Speed Age Magazine by Don O'Reilly)
A
---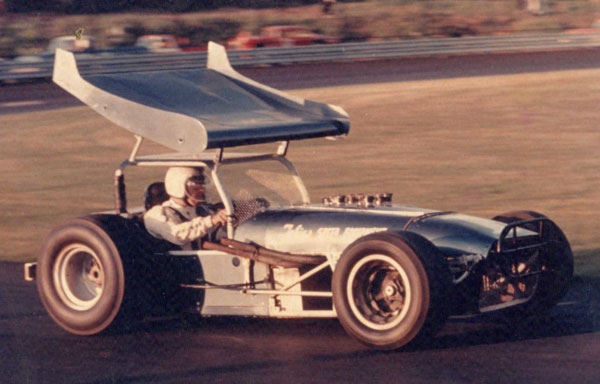 #2067 -

Your first guess probably would not have been that this was Dick Tobias, but it most certainly was. Back in 1967, given his growing successes and his desire to attempt to get to the Brickyard, Toby decided that he should do some pavement racing. He found an aging Edgar Elder car that had been wheeled by several notables, including Troy Ruttman, Eddie Sachs, and Mario Andretti. Toby shortened it up, put in an injected 350, and towed over to Hershey Stadium Speedway, right there in "Chocolate City," Pennyslvania, where Supermodifieds were running on Wednesday nights. He adjusted quickly and captured three wins by mid-seasons. The plot then thickened a little, and Toby was launched into the flip that never seemed to end, hospitalizing him with a bruised side, broken arm, and thoroughly busted car. No problem. Both were back the next week and won by half a lap. From TOBY: The Star-Crossed Story of an American Racing Family. (Tobias Family Collection)
a
---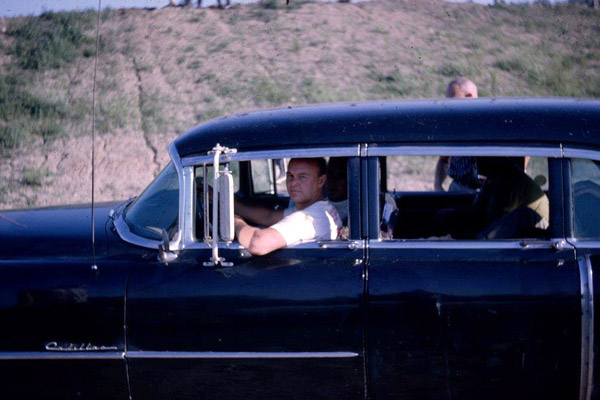 #2066 -

Frankie was cruisin'. Here he was, just arriving at the high banks of Lebanon Valley (NY) Speedway. You wouldn't have known it by the look of the car on his trailer in back, but he was on a tear. His red and white #2 looked as basic as dirt from what you could see under the layer from the previous night. In the first five years of the early 1960s, the Valley presented wildly competitive open-competition events, and Frankie Schneider won six of them. (Photo by Rick Rickard)
a
---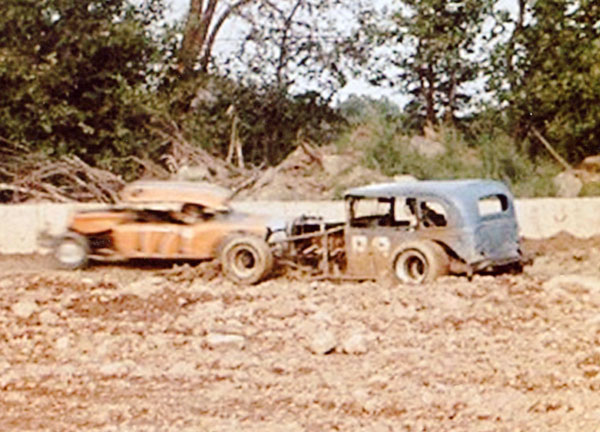 #2065 - Some things just aren't meant to be. And experience would show that running a dirt track in the afternoon is usually one of them. It's such a delicious idea that a promoter could run Sunday afternoons – even if just in the spring and fall. But take what happened to the late Kenny Shoemaker when he carved out a track, Cairo Speedway, at the Greene County Fairgrounds in upstate New York back in 1974. Everyone was psyched when he opened on August 18, and an enormous field of cars showed up and a packed grandstand to boot. But the clay just would not cooperate. Copious watering did little other than aid in the development of crater-like holes that could swallow a street stock. We broke our rear suspension. Five weeks later, the promising facility was closed. (John Grady Photo, Coastal 181 Collection)
a
---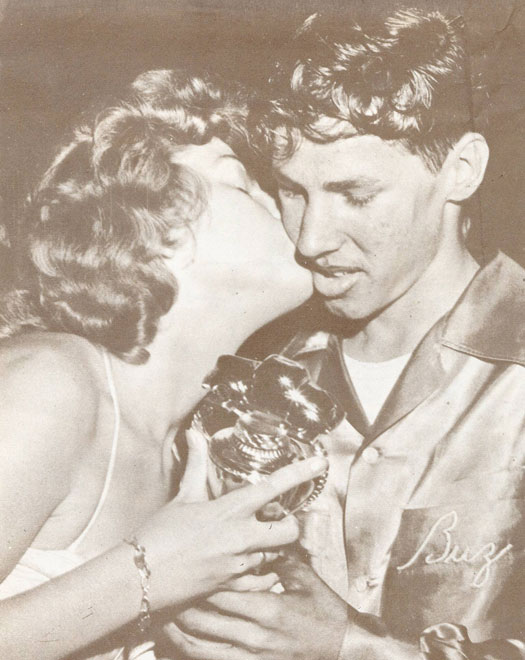 #2064 -

What can you say about that Buzzie Reutimann? How about a "a life well-lived"!!! He's still gettin' it done down there at East Bay Speedway. Here he was over six decades ago, collecting his due from trophy girl Sue Landry after winning the "Southeastern Little 500," a stock car race at Brevard County Speedway. (Photo by C. Greco, Illustrated Speedway News, June, 1957.)
a
---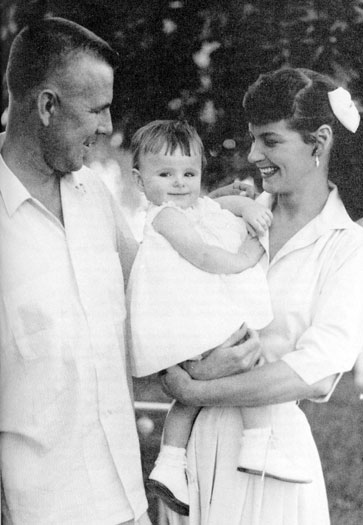 #2063 - Do you think Jimmy Bryan was just a little bit popular? Even in that era when our sport was so lethally dangerous that the AAA separate itself from it, Arizona Highways ran a feature story on Bryan as a key figure in the state. That's Luella and daughter Stephanie with him. From My Hero, My Friend Jimmy Bryan, by Len Gasper and Phil Sampaio.
a
---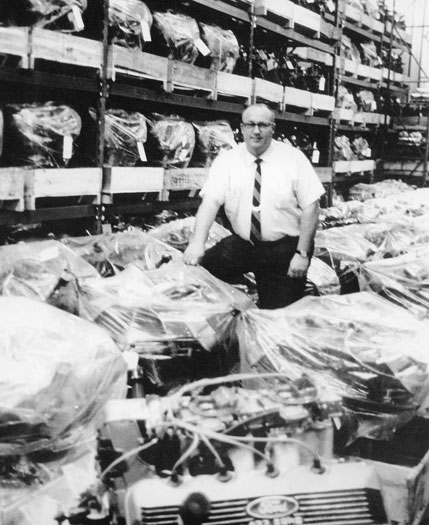 #2062 - "John Holman (of Holman-Moody fame) is surrounded by dozens of SOHC 427 engines. Ford had developed the engine to compete against the Chrysler Hemi in NASCAR, but it was ruled illegal. So the engine was retooled for drag racing and became the engine of choice for the Holman-Moody funny cars." Quote and Photo from HOLMAN MOODY: The Legendary Race Team, by Tom Cotter and Al Pierce (Mike Teske Collection)
a
---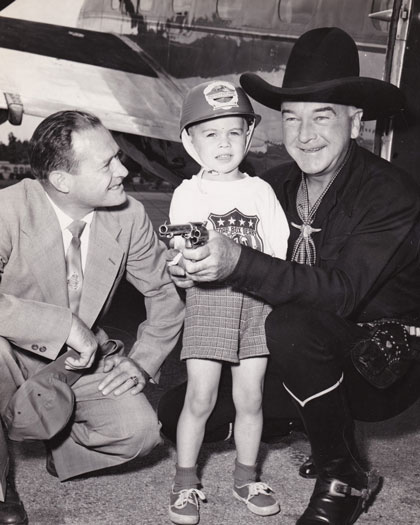 #2061 - Now here is an image of 1950! That's Indianapolis megastar/manager Wilbur Shaw and son Bill ready to pull the trigger with "Hopalong Cassidy." The photo comes from a brand-new book we worked on with author Bob Gates and the Boyle Racing Headquarters Foundation. It's an expansion of Wilbur Shaw's original memoir and entitled Gentlemen, Start Your Engines: The Rest of the Story… You can find the book at several book-signing events at Indy this month, including Thursday, May 24th, from 1pm-3pm at the Speedway Museum. (Photo Shaw Family Collection and the IMS Photo Department)
a
---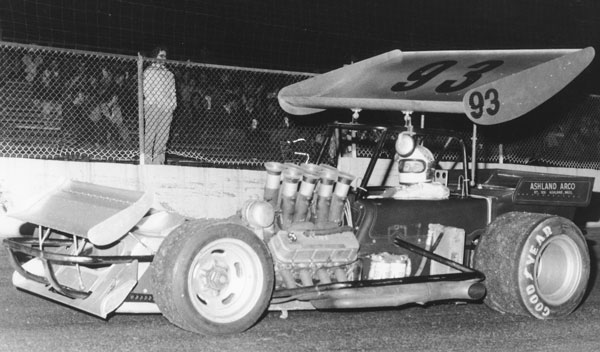 #2060 - Whoops! A couple of days ago we posted a Photo of the Day about the IMSA Supers going to Monadnock (NH) Speedway for what we thought was the first time. Good buddy Jeff Horn straightened us out on that one. He remembers running his Super there back in the mid-70s, and you can understand why he remembers. He was leading when a lapped car got loose and nailed him. That time Jeff couldn't straighten himself out and off he went, into the wall. He believes Ollie Silva won. (North East Motor Sports Museum Collection)
a
---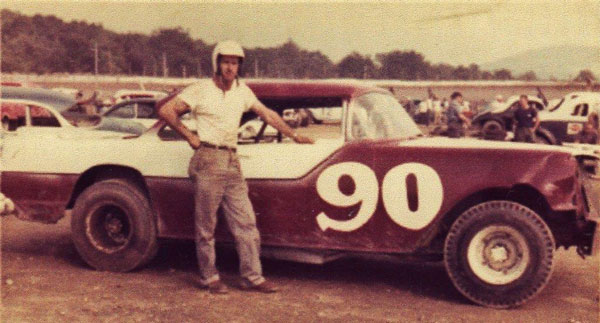 #2059 -

There's a favorite story in Fonda NY Speedway lore about super-hero Pete Corey, who one night at the turn of the '60s went wide on the second turn and ended up with a wooden leg on account of it. Corey was non-stop action, so he was back winning in no time, having whatever fun he could have with his new appendage. Things like playing tunes with it or putting an explanation point on the end of a comment by reaching down and pulling out a pistol. Meanwhile, Fonda's major competitor track, Lebanon Valley, 60 miles to the east, had a similar uni-legged character/winner. He was Tom Dressell, who gave his leg in World War II. In later years it is said he would offer it up as a target in dart games at the barroom after the races. (Roger Liller Collection)
A
---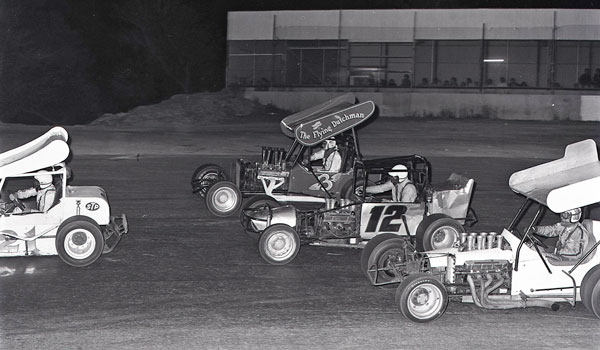 #2058 -

Most always, it seems, that at oval tracks' turns one & two and turns three & four have completely different personalities. Most certainly the quirky quarter-mile pavement, Monadnock Speedway, in Winchester, NH, is a case in point. And it seems impossible that the Supermodifieds, so much a part of New England's motorized history, have never tried to conquer Monadnock, while they have run for years at neighboring New Hampshire tracks like Lee and Star Speedway (above). FINALLY, that was scheduled for tomorrow, May 19. But this blasted weather has taken it down for the weekend. The show has been rescheduled for June 23. (Photo from A HISTORY OF AUTO RACING IN NEW ENGLAND, North East Motor Sports Museum Collection)
a
---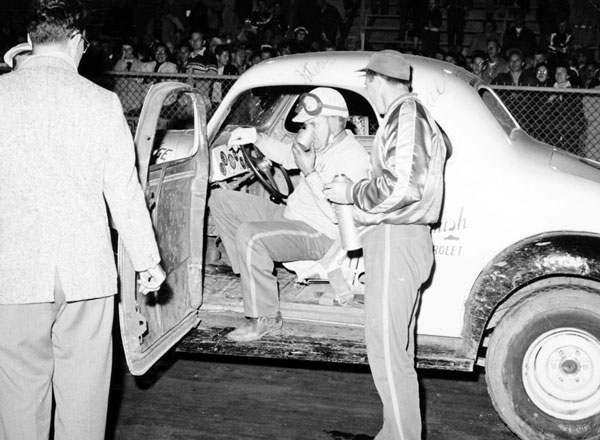 #2057 -

He was the ultra-hero in a racy and dangerous time. It was September 11, 1955, on the banks of the Mohawk River in Fonda, New York. Cropseyville's Steve Danish takes refreshment before disembarking from his infamous six-banger "Danish Chevrolet." He had just won the Langhorne Race of Champions Elimination event, and what a feature it was. The height of what was called Fonda's most riotous night to date was when Bill Fake blew a tire and began flipping. That's when Stan Bellinger came along and piled on in, fracturing Fake's fuel tank in a ball of fire. Both men were rushed off in guarded condition. Danish's car was top shelf for the day, beautifully built and obsessively maintained. But it was hard to believe that it would soon be on its way to the lethal, high-speed mile circle in Langhorne without even the hint of side bars. There was just that sheet skin of the hollowed-out door. He finished 11th down there in Pennsylvania, while his Saturday-night Fonda nemesis, Pete Corey, stole the show. (Photo by Bergh & Neiderhauser, Danish Family Collection)
a
---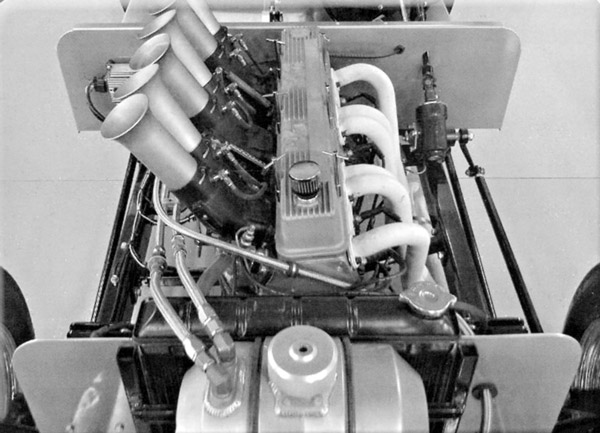 #2056 - "Rydell, Hope, and Lang were a trio of mid-class Gassers who teamed up in 1967. For the next few years, they campaigned a G/G Anglia affectionately known as Mr. Crude. Rydell had the idea sometime after Indy 1967 to improve the breathing of their 292-ci 6-cylinder by fabricating a new cylinder head using a pair of small-block Chevy heads. Because the bore spacings were nearly identical, he could lop off the end chamber from each V-8, bolt the two modified heads onto a 6-cylinder block, and use Ni-Rod to weld it up. The rest was pretty basic machining. Intake for the new design came courtesy of a modified V-8 Crower injection. The trio was the first to use V-8 heads on a six, and the experiment really paid off. The Anglia went from low 11s elapsed times to 10.79 and held the class record for what seemed like forever. At the 1969 Springnationals, their newly formed heads won the Best Engineered Car award. Of course, imitation being the sincerest form of flattery, before long, every 6-cyclinder drag car seemed to be sporting modified V-8 heads." Quote and Photo from 1001 DRAG RACING FACTS: The Golden Age of Top Fuel, Funny Cars, Door Slammers and More, by Doug Boyce. (Doug Boyce Collection)
A
---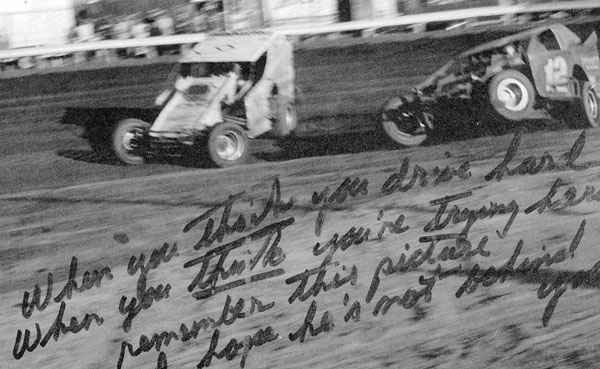 #2055 - "This photo hangs on Bob (McCreadie's) shop wall as a recurrent inspiration. On it Bob wrote 'When you think you drive hard, when you think you're trying hard, remember this picture and hope he's not behind you.' That's Jack Johnson passing for the win on the DIRT tour at Cowtown, Texas in 1989." Quote and Photo from BAREFOOT: The Autobiography of Bob McCreadie, As Told to Andy Fusco. (Photo McCreadie Family Collection)
A
---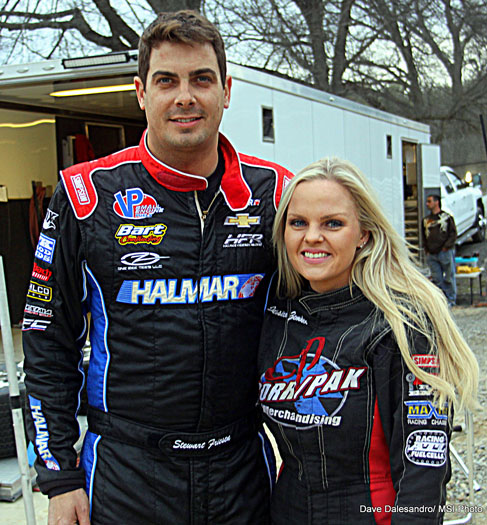 #2054 -

There can't be much question that Jessica and Stewart Friesen are the fastest couple around. And, unquestionably, they have all the equipment around them they need. But they'd better start looking into CC cars, too. Imagine what their son, Parker, is gonna be like! (Photo by Our Man from Amsterdam. Dave Dalesandro)
A
---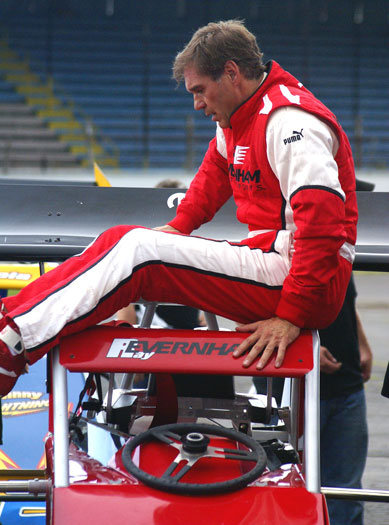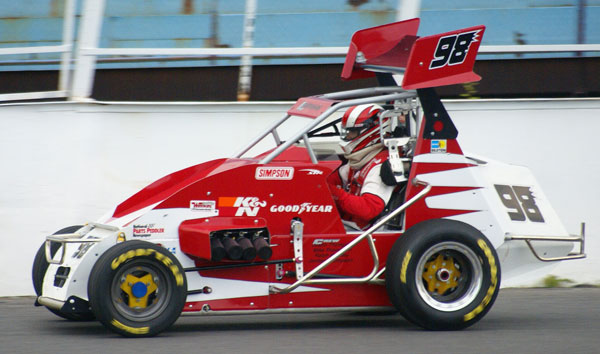 #2053 -

That's Ray Evernham back in 2008 climbing into his #98 SpeedSTR and taking it up to speed at Oswego Speedway. That was the first full year of Richie Tobias's Speedway Entertainment tour series. Richie once told us he wondered why so many car builders like Danny Drinan and Ray Evernham turned out to be such gassers themselves. Speak for yourself, Richie!!! (Mike Feltenberger Photos)
A
---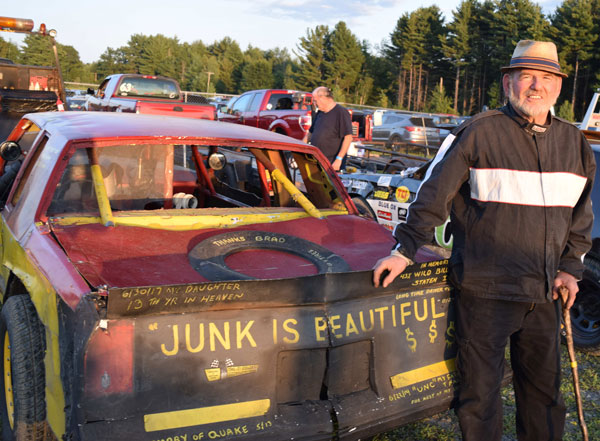 #2052 -

Saranac, New York's Curt 'MetalMan' Giventer celebrated his first stock car win 50 years ago. He did so in a car that was rebuilt after a flip on the last night of the 1967 season. Gene the Junkman donated a '55 Chevy to MetalMan's cause and shared life-long wisdom. "He taught me that 'Junk is Beautiful!,'" says MetalMan who carries that message today at Airborne Park Speedway in Plattsburgh, New York. (Photo and caption by Karl Fredrickson)
a
---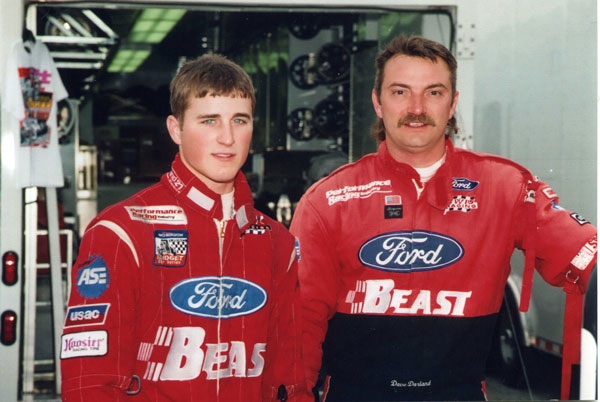 #2051 -

A few laps back. "Dave Darland poses with a USAC newcomer named Kasey Kahne in 2000. They were teammates on the much-feared Midget team fielded by Steve Lewis and Bob East." From THE PEOPLE'S CHAMP: A Racing Life, by Dave Darland with Bones Bourcier. (Rex Staton Photo)
a
---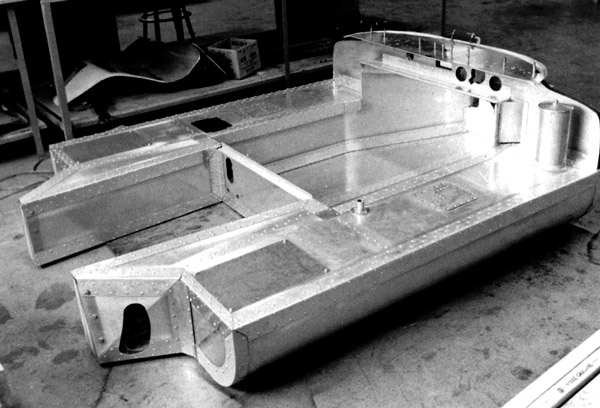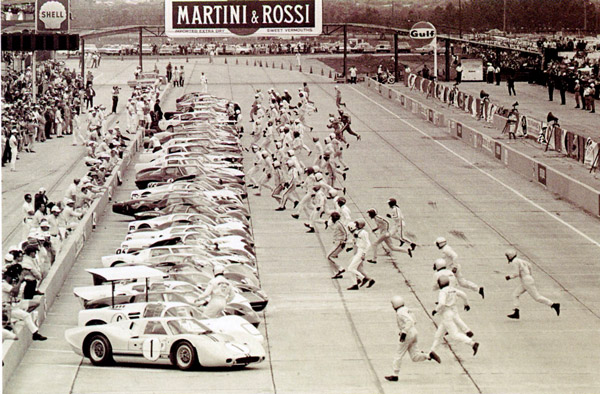 #2050 -

"The Ford Mark IV chassis was big and wide, but the aluminum honeycomb structure – reinforced after Ken Miles' fatal crash at Riverside – offered the same structural rigidity as conventional steel at roughly half the weight….It made its public debut at Sebring on March 29, 1967. As soon as practice began, it was clear that Ford had moved the goal posts in the prototype class. It was first in line….The wide wing Chaparral 2F qualified second." From FORD GT: How Ford Humbled the Critics, Humbled Ferrari and Conquered Le Mans, by Preston Lerner. (Photos by Dave Friedman)
A
---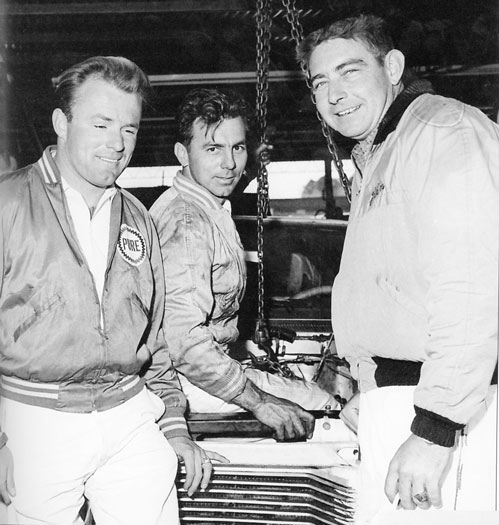 #2049 - Linda Vaughn says, "Three of my pals right here, and heroes in the NASCAR world. From left to right are Fred Lorenzen, Bobby Johns, and Fireball Roberts. I just love this picture." It is pretty cool. From LINDA VAUGHN: The First Lady of Motorsports, by Linda Vaughn and Rob Kinnan.
A
---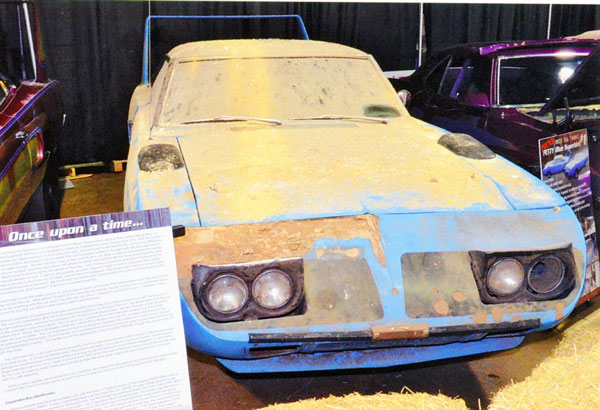 #2048 -

There's quite a bit of chatter these days about kids from well-to-do families who race without consequence – such as having to pay the bills. Actually, that's been going on for a long time…."The son of the Plymouth dealership's owner went joyriding and partially wrecked this then-new 'Bird. Written off as a complete loss, it was hidden away for a long time and became a true barn find almost a half century later. This was its public reappearance at the 2016 Muscle Car and Corvette Nationals (NCACN)." Quote and photo from MUSCLE CARS IN DETAIL No. 11: 1970 Plymouth Superbird, by Geoff Stunkard.
A
---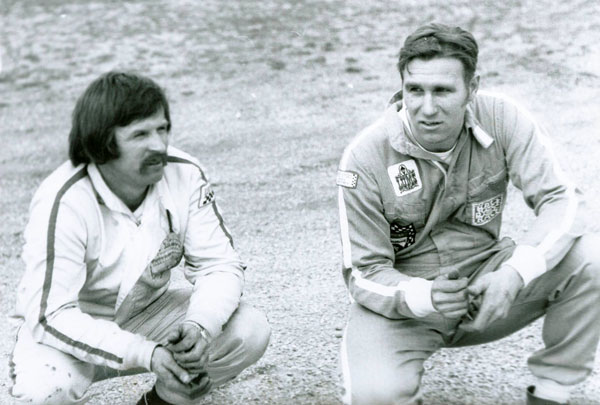 #2047 - No question one of the most intense racing scraps ever came in the mid-1970s Northeastern Late Model wars between Dave Dion (and his brothers) and Bobby Dragon (and his). Here's what Dave had to say in his book: "With all the hype and publicity that surrounded our rivalry, I guess it was inevitable that Bobby and I would eventually come to grief. And we did. In 1975 or '76, we ran a 200-lap race on the old Sanair short track, split into two 100-lap segments. In the first segment, we went at it pretty hard. Bobby had his way of passing, and I had my way. He liked to work you on the inside, while my goal was to drive around you on the outside." To hear what really happened, come to the North East Motor Sports Museum in Loudon for "Dion vs. the Dragons" on Saturday, July 14 at 10:30 a.m. and meet the contenders themselves. Quote and Photo from LIFE WIDE OPEN: Dave Dion – No Holds Barred, by Dave Dion with Dave Moody. (Cho Lee Collection)
a
---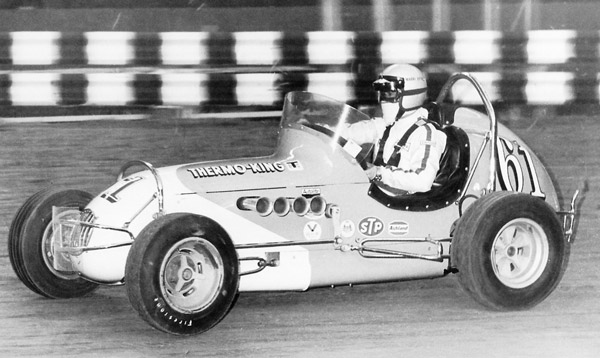 #2046 - "It was in the Midgets that Mario made his first racing headlines, but once he made it to USAC, he only ran a dozen Midget events. His last Midget appearance came in 1969 in the 1969 Astro Grand Prix in Houston's Astrodome, billed as the richest Midget race in the world. Teaming with Midget champion Mel Kenyon, Mario finished seventh and eighth in the two 100-lap events." Quote and Photo from MARIO ANDRETTI: The Complete Record, by Mike O'Leary. (Ken Coles Photo)
a
---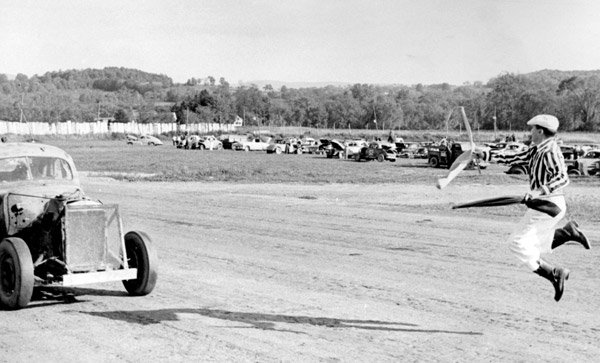 #2045 -

For a long time, starters and announcers were a much more dramatic part of the show than they typically are today. This image was taken a long time ago – in the early 1950s – at the State Line Speedway in Bennington, VT, tight up on the New York border. The aerial starter was Chet Hames, a highly athletic and popular figure who flagged at several tracks, always prancing and jumping about, playing colorfully off both the announcer and the field of drivers. Chet did appreciate a pop or two, however, and that caused the end of it. One night Fonda's promoter, Ed Feuz, found him tippling during the races and promptly sent him packing. (Ed and Betty Biittig Collection)
a
---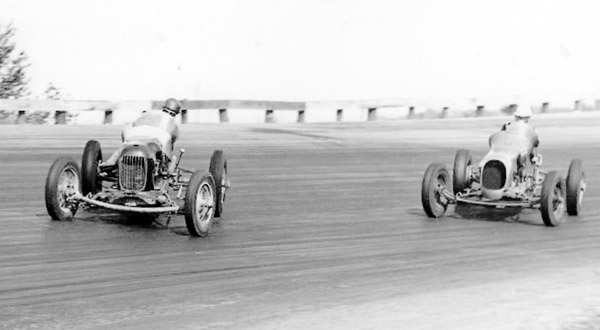 #2044 - John Hoenig came up with a unique – and racy – recovery plan in 1938 when his farm in Thompson, CT, was literally torn apart by the "Great New England Hurricane," also known as the "Long Island Express." He built a beautifully formed oval, the first paved track in the country, and it opened on Memorial Day weekend in 1940 to a capacity crowd. Here are the Big Cars, dancing in formation on the high banks in 1941. (North East Motor Sports Museum Collection)
A
---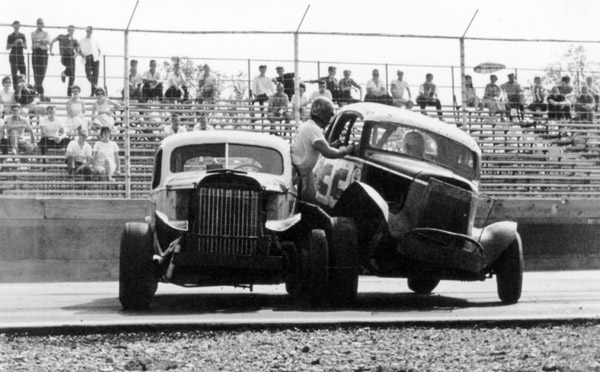 #2043 -

It was nearly 60 years ago, but you can bet it was an intense moment. Someone, likely highly displeased, is having a discussion with Lisbon, NY's NASCAR National Champion Bill Wimble in the McCredy #33. (Coastal 181 Collection)
a
---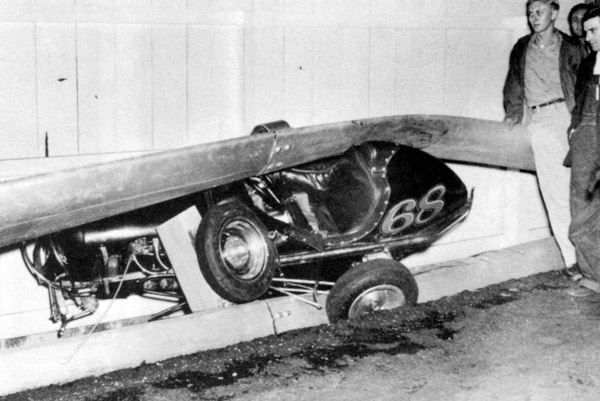 #2042 - Ouch! Sixties-era midgeteer Wayne Hoffman inserted Roxie Vendenna's V-8 underneath the steel guardrail at Denver's Lakeside Speedway. He had a fractured elbow – the car sustained more serious injuries. From The Mighty Midgets, by Jack C. Fox. (Leroy Byers Photo)
A
---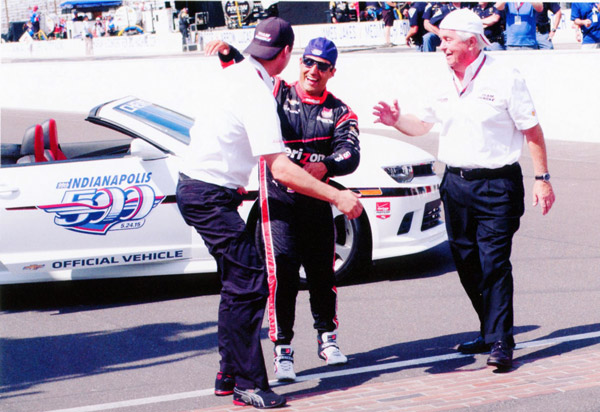 #2041 -

The Brickyard, 2015. It was neat that Juan Pablo Montoya had just won the Indy 500, but what in God's name happened to Roger Penske's hat? From THE RACE: Inside the Indy 500, by James McGuane. (James McGuane Photo)
a
---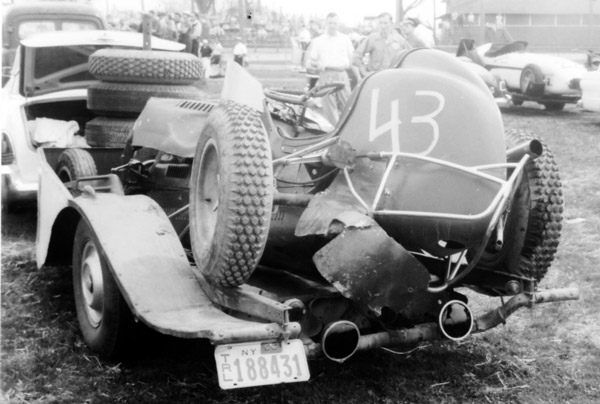 #2040 - A prototypical image of the time, April 29, 1956 at Reading, PA: A Caddy tow vehicle, a pretty swish trailer, and the Curtis Offy. But you have to wonder how Chuck Weyant was feeling at that moment. The 23-year-old from the Buckeye State was fresh off his victory at the Hut Hundred the previous year, but by the looks of the steering wheel, this had not been a good day. Weyant lived on to become for some time the oldest living Indy 500 veteran until he died a year ago in January. (Bradley Poulsen Collection)
a
---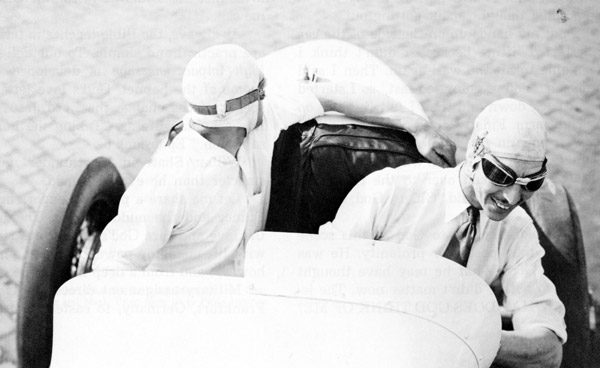 #2039 -

Starched shirts and helmets? Lou Schneider was lookin' preppy in his Miller-powered Bowes Seal Fast Special in the 1931 Indy 500. He was fast too, qualifying at 107.210 mph and winning the show. Everything was not so pretty, though. On the 167th lap, Billy Arnold broke a wheel and crashed in flames, injuring himself and Spider Matlock. But the wheel wasn't done yet. It crossed Georgetown Road and killed 12-year-old Wilbur Brink, who was playing in his yard. And during practice, Joe Caccia and his riding mechanic Clarence Grove had died as well. Photo from THE OILY GRAIL: A Story of the Indy 500, by Jack Albinson.
a
---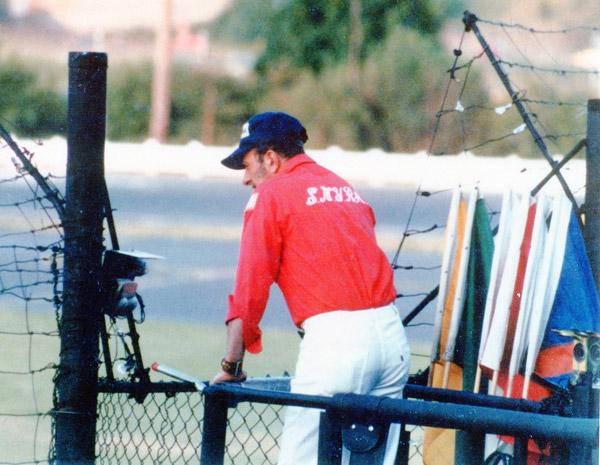 #2038 -

Back in 1979, the Danbury (CT) Racearena was packed each Saturday night, offering its own brand of captivating stock car racing. But, with not a moment's notice, one evening the excitement turned to tragedy. A couple of cars tangled on the frontstretch and slammed into the starter's stand. Head starter Ted Abbott and his assistant and great friend Frank Arnone were both struck. Abbott died, Arnone was seriously injured. Above is a truly incredible image of both courage and sadness. Here was Arnone, back at it the very next week using Ted's flags, leaning somewhat from his injury on the still-battered stand. He continued waving the flags until the track was bulldozed for a shopping center in 1981. (Gary Arnone Collection)
A
---
#2037 -

Good guy Greg Fielden, who over the years has penned 16 highly authoritative books on NASCAR, has also long been a disciple of the church of the clay. He has just come out with THE GREATEST SHOW ON DIRT: The Definitive History of the NDRA 1978-1985. It was a colorfully rowdy series that offered high-dollar purses that attracted the country's best broadsliders for 39 events. The photo, taken by Greg, shows the field about to take the green on a nice-looking surface at Dixie Speedway in Woodstock, Georgia. (Dixie is the track where the movie Six Pack with Kenny Rogers was filmed).
A
---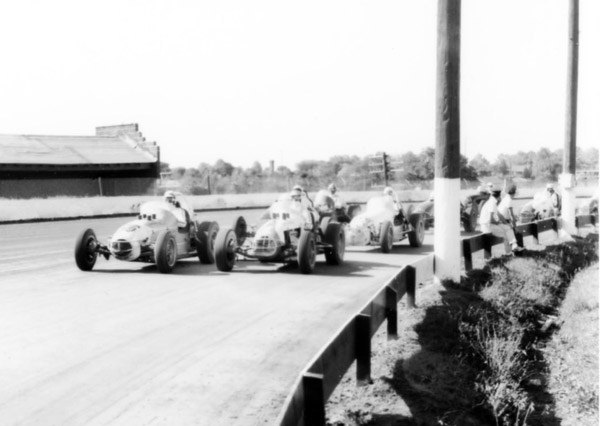 #2036 -

September 16, 1962 and Parnelli Jones (Fike car on pole) and his buddy Jim Hurtubise (Barnett Bros. Special) bring them down for the start of the USAC 50-miler at Reading, PA. Can you imagine the moment? 1962 was a huge year for the Series, with packed stands everywhere they went. But there was danger lurking on each lap for the cageless Sprinters. In a two-month period during that summer, three regulars had been killed, as were two drivers in other USAC competition. On this day Roger McCluskey was the winner. Jones ended up season champion with McCluskey second and Hurtubise third. (Bradley Poulsen Collection)
a
---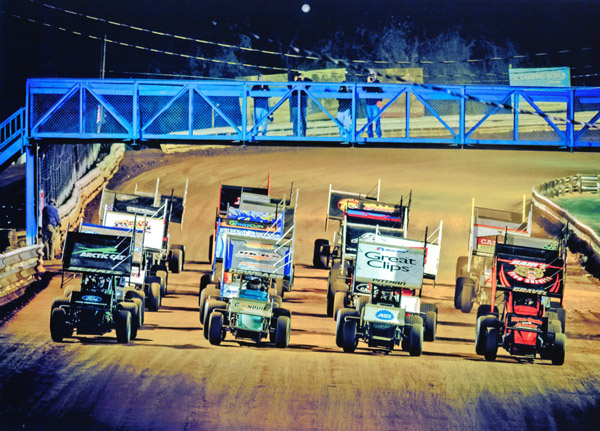 #2035 -

Everybody move back! The pace lap for the WoO Sprinters at Williams Grove for the 2017 National Open. David Gravel (right) won the show; Donny Schatz (left) won the title. From Area Auto Racing News Calendar, 2018
A
---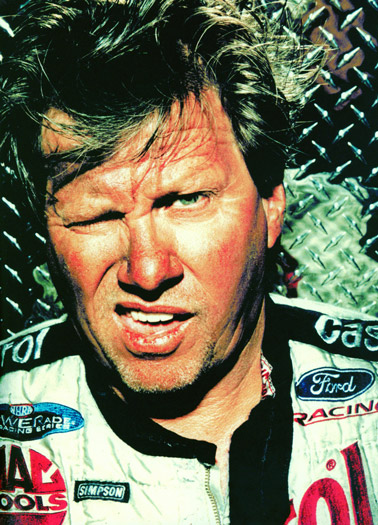 #2034 - Here's what Dario Franchitti has to say about John Force: "'When I first met him it was at the ESPN Awards, and, like me, he was up for Driver of the Year. 'I don't know why I bother coming. It's always won by a NASCAR driver,' he correctly predicted. Without pausing for breath he added, while looking me up and down, 'Jesus, does Bernie have a farm where he grows drivers in Europe? You're all quick, with model looks, and tiny butts. I wouldn't stand a chance over there!' He offered me a chance to see his world, though – he invited me to drive his Funny Car, all 10,000hp of it…. My favourite story comes after he had a monster shunt at Memphis. The car rolled into oblivion. Bearing in mind he is a massive Elvis fan, he climbed unhurt directly into a TV interview, talking as fast as he drove. 'I felt I was at 1,000 feet or so, and I swear I saw Elvis.'" Quote and Photo from ROMANCE OF RACING, by Dario Franchitti, Photo by Robert Kerian
a
---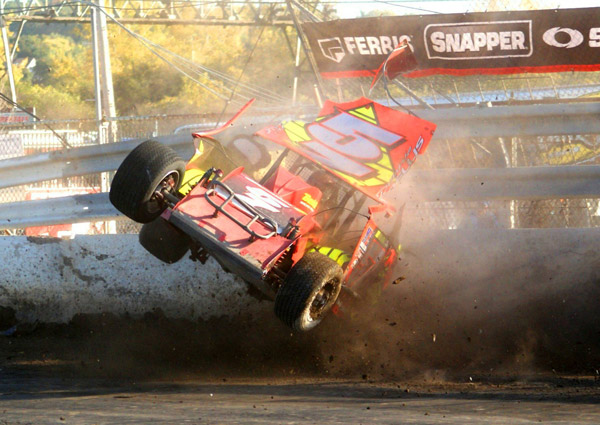 #2033 - They say that wall on the Syracuse Mile had teeth. Sure looked like it bit Donnie Corellis at high speed during Super DIRT week 2010. (Mike Feltenberger Photo)
A
---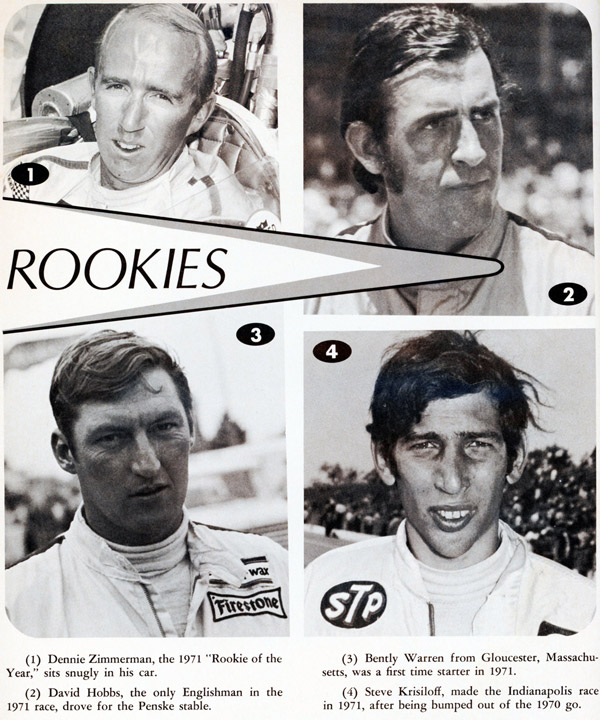 #2032 -

This is from the Official Program for the 56th Indy 500, May 27, 1972. The face of the field was changing…and it kept right on doing so.
A
---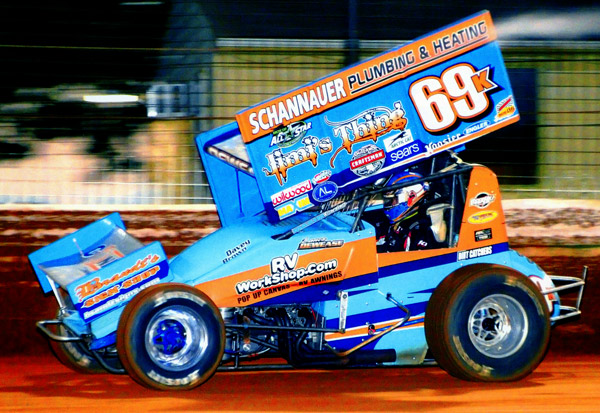 #2031 -

"Taking the big money victories on the Central Pennsylvania 410 Sprint Car circuit last year was the No.69k team of driver Lance Dewease, car owner Don Kreitz Jr., and chief mechanic Davey Brown. Dewease leaves a vapor trail off the top wing as he roars down the frontstretch at Williams Grove Speedway. (Quote and Photo from Area Auto Racing's very cool 2018 calendar, Chad Updegraff Photo)
a
---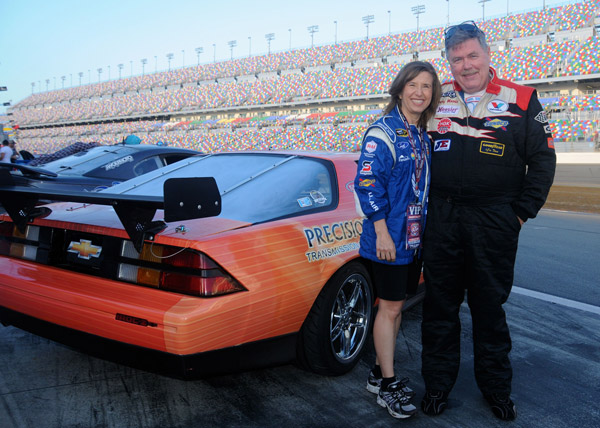 #2030 - The least expensive way to experience Daytona behind the wheel of a race car is to join SCCA and compete at one of their events. At an April 2018 meet, Keary Morris and his wife, Jennifer, shared the driving with two others in one of the best cars in the field, a Camaro that had a strong engine and transmission (they are in the transmission business). Keary, a West Coast champion Sprint Car driver, turned the third-quickest lap of the more than 50 drivers entered. Jennifer drove over an hour in the 12-hour event. It was her first race ever and she got faster as her time behind the wheel unfolded. The field included some high-end stuff including Porsches and some at the far other end of the scale including a pair of VW bugs. (Caption and Photo by Dick Berggren)
a
---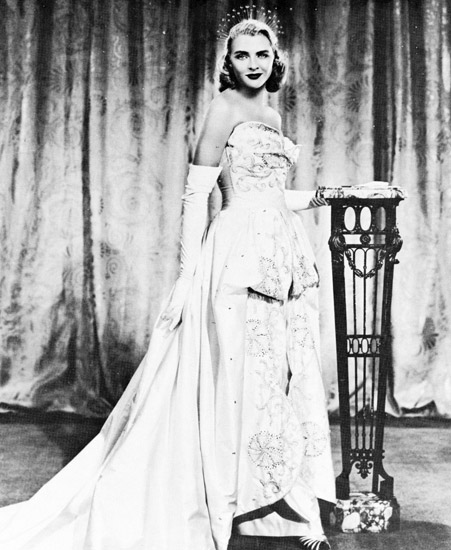 #2029 - Colleen Kay Hutchins, Miss Utah in 1951, was crowned Queen of the International Motor Show in the D.C. National Guard Armory the same year. In 1952 she became Miss America. She would definitely need a change of threads to handle the trophies at Eldora this summer. From Souvenir Pictorial – International Motor Show, 1951.
a
---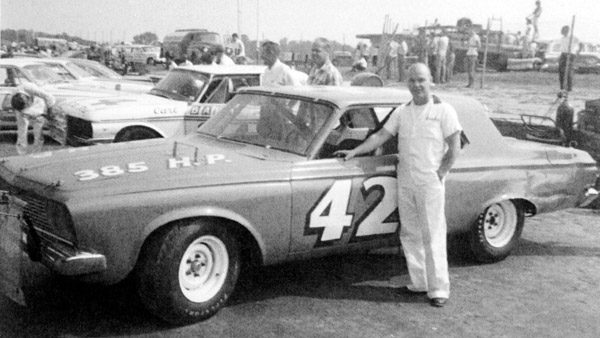 #2028 - That Frankie Schneider seemed to turn up everywhere. On this September 8, 1963, he was at Langhorne, PA, in a blue #42 Plymouth fielded by Lee, Maurice, and Richard Petty. Frankie outmuscled the car's overheating and ignition problems with a sixth-place finish, behind Paul Goldsmith, Norm Nelson, A.J. Foyt, Don White, and Curtis Turner. Four decades later Frankie wandered into our book booth at the Motorsports show in Atlantic City, walked up to me, and said "I know you."
"You should, Frank," I replied. "You have helped us with these books."
"That's not what I mean," he said, "I think I know you from the races."
"You should, Frank," I replied. "One day when I was just getting started, we towed all the way down to Nazareth, PA, with a pretty shaky Modified. A newcomer, I had to start last in the heat, next to you because you were probably leading in points. So I spun out on the fourth turn of the first lap and got stuck in the mud. And then you came around on the caution lap, looked over to me, and shook your head. How do you think that made me feel – a kid who had driven hundreds of miles to race, only to have the national hero shake his head."
Frankie looked me in the eye and asked "Where did you say you are from?"
"Boston."
"Never heard of it," he snapped.
(Photo from The Old Master: The Frankie Schneider Story, with Dennis Keenan)
a
---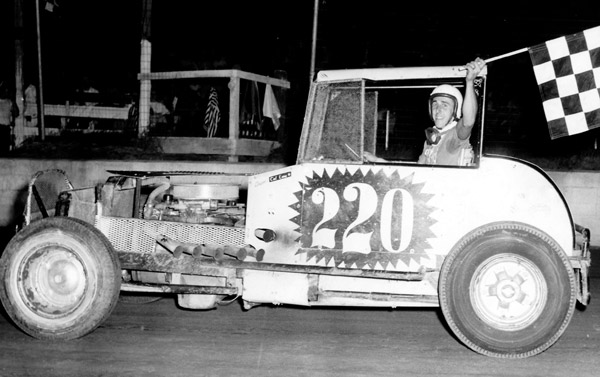 #2027 - It was August 3, 1963, and former motorcycle champion Cal Lane has a big ol' smile underneath that robustly fortified starter's stand at Chemung (NY) Speedway. Cal recalls that he was particularly pleased because he was in the process of cleaning house – the heat, feature, and a match race – with his horned exhaust, slant-six dirt super. He had tough competition with the likes of Flyin' Bryan Osgood, Dave Kneisel, and his arch rival, Earl Bodine. Earl was brother to Eli Bodine who owned and promoted the track – and was father to Geoff, Todd, and Brett. All three raced and motored far beyond the hills of upstate New York to the motorized world of NASCAR. (Cal Lane Collection)
a
---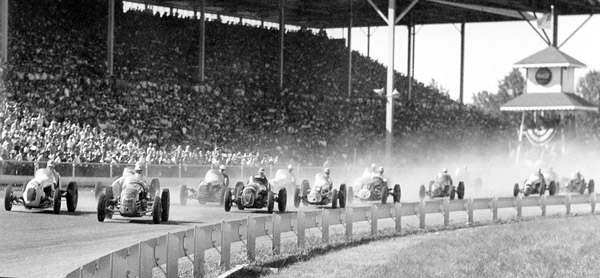 #2026 - What can you possibly say? Don Freeland and Mike Nazaruk bring them down for the start of the 100-miler Champ Car race at Du Quoin Fairgrounds in 1953. From FEARLESS: Dangerous Days in American Open Wheel Racing, by Gene Crucean.
(Bob Sheldon Photo)
A
---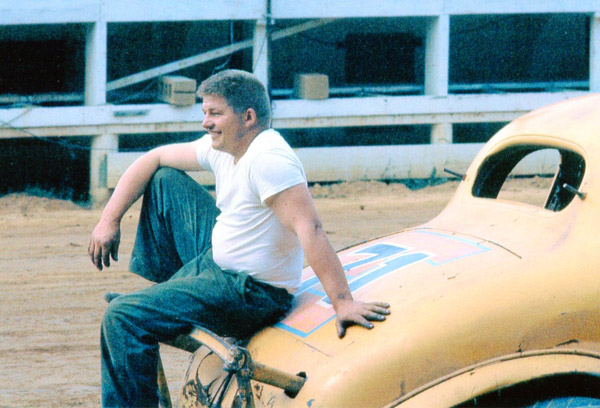 #2025 - What a guy! Carl "Fuzzy" Van Horn, the late Modified standout from Harmony Township, NJ, sure was on the hammer. He was a steel worker who helped put up the beams on the World Trade Center. He did the same with the concrete and steel rod in the underground/solar home he built himself during the oil embargo. And two memories about his spectacular, but woefully underfinanced racing career: There was that autumn day in 1969 when he pulled into Reading, PA, for the Daniel Boone 200, only to be told he couldn't run because of a safety violation. So he jumped back in the truck and hauled ass for 250 miles up to New York for the Lebanon Valley 200. He arrived just in time to pick up last in the consi, which he promptly won. He took the feature, too. That was pretty cool. But as cool as the rear bumper on his old Langhorne coupe above? (Mike Ritter Collection)
A
---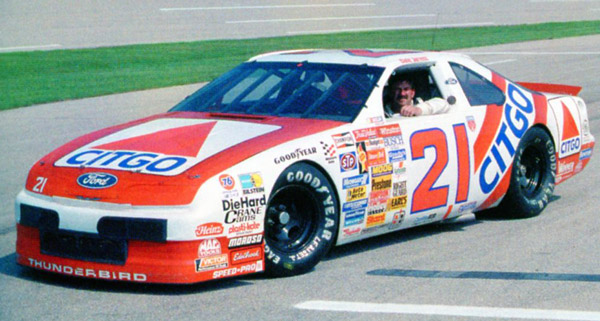 #2024 - "The Wood Brothers #21 Ford sits on pit road during the spring Talladega race week with Dale Jarrett at the wheel. Neil Bonnett, who had to give up the ride when he was injured at Darlington in April, made his trackside return at Talladega. Greeting him was Bobby Allison, who suffered near-fatal head injuries two years earlier. Bonnett broke the ice in the press conference when he described his first conversation with Allison. 'Me and Bobby were sitting there on the couch,' said Bonnett. 'Between Bobby trying to say what he was thinking and me trying to remember what he was saying, it was a helluva conversation.'" Photo and caption from NASCAR: The Complete History, by Greg Fielden and The Auto Editors of Consumer Guide.
a
---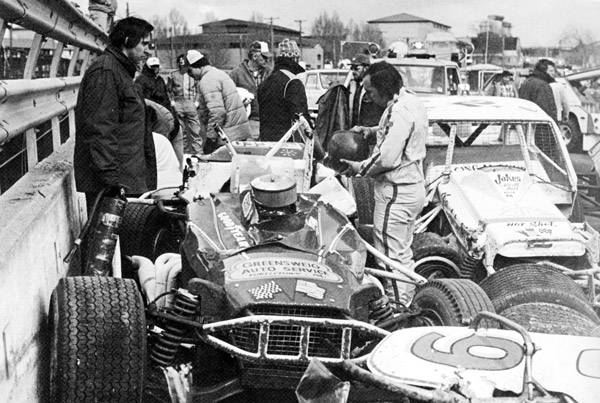 #2023A&B -
Images from the big one – the fourth-lap crash off turn two at the sixth annual Super Series at Syracuse. Howie Cronce had spun and flipped, and along came the pack. In the top shot Glenn Fitzcharles, #43H, shot low for a hole and was tagged by Mike Granton. When it was over, cars and parts were strewn everywhere. In the second shot, Wayne Reutimann checked out his helmet in disbelief, next to his newly cageless convertible. Photos by David Wright from the 1979 GATER AUTO RACING YEARBOOK.
a
---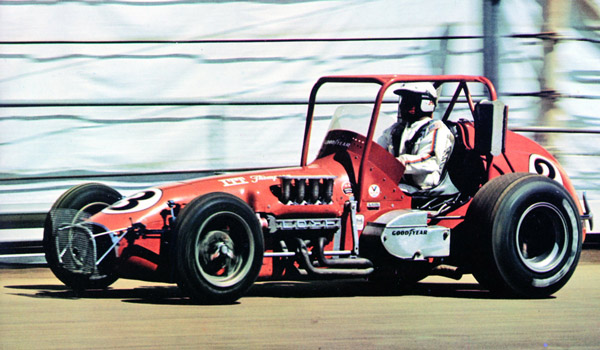 #2022 - AJ Foyt sure bolted on that look of commanding confidence when he wheeled his Ford-powered Dirt Champ Car in 1972. Despite a fuel spill at Du Quoin that ignited, causing him serious burns and a broken ankle, Foyt locked up the championship on September 9 at the Hoosier Hundred when he ran second to Al Unser. Photo from RACING PICTORIAL, Fall 1972
A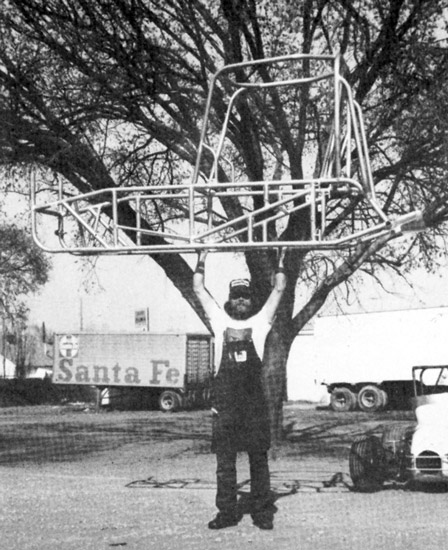 #2021 - That's Nance employee Larry Foley displaying an aluminum Sprinter frame weighing 65 pounds. Can you imagine? Our buddy Shane Carson tells us it was a actually a four coil built for Pike's Peak. He went on to say, though, that in 1975 Nance also built one for Fred Linder to drive. Then in 1976, Shane took it over for a race or two before it was outlawed. It now sits in Shane's shop awaiting restoration. From RACING CARS: Spring 1980, Carl Hungness, Publisher
a
---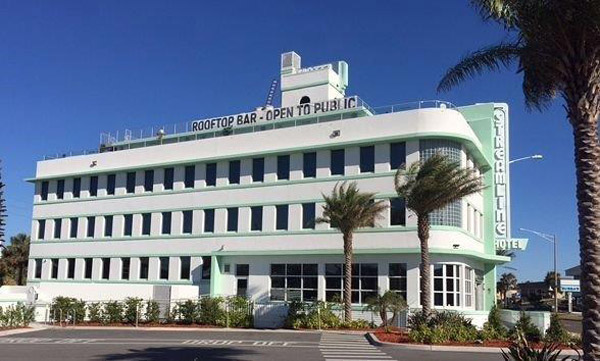 #2020 -

COCKTAILS WITH HISTORY: Daytona's Streamline Hotel was opened in 1940, trumpeted as Daytona's first fireproof hotel, and in 1947 served as the gathering place for the men who created NASCAR. The little rooftop bar and the deck that surrounded it was the site of the famed photos of the 24 who participated in the meetings. After falling into disrepair and becoming a youth hostel, in 2014 it was sold to Eddie Hennessy for $950,000. Six million dollars and three years later, it re-opened as a magnificent restoration of the original with new plumbing, furniture, wiring, paint…everything. You can relive history riding the elevator whose walls are completely covered with early racing photos. Have a drink at that famous rooftop bar, then go outside on the deck and see Beachside Daytona standing where Bill France Sr. once stood. The Streamline has become the top destination for many racers and race fans as a place to stay, enjoy a meal in the restaurant, or just to look at the pictures from racing's past on the walls. (Photo and caption by Dick Berggren)
A
---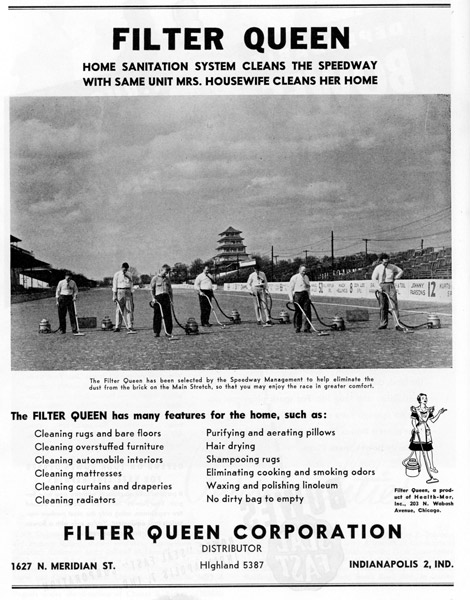 #2019 - It does seem that early on, corporate advertisers and racing were somewhat awkward bedfellows. In this ad from the program from the 34th Indy 500, Filter Queen marketeers may have stretched the usefulness of their vacuums, suggesting applications from shampooing rugs to hair drying to eliminating the dust on the straightaway there at the Brickyard. From INDIANAPOLIS 500 OFFICIAL PROGRAM, May 30, 1950.
A
---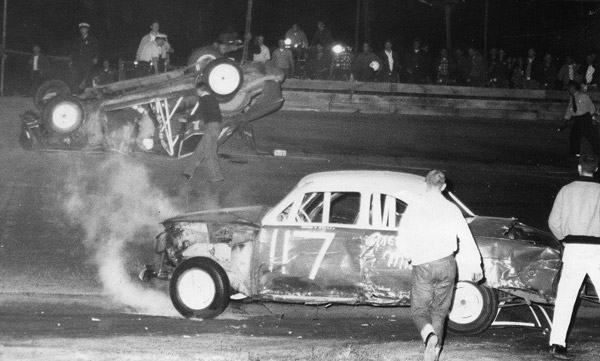 #2018 -

Some photos come from the heart – this one comes from my back. It still hurts on rainy days, 56 winters later. It was my fourth race, this one at a weekend show at the old Westboro, MA, Speedway. I had already flipped that #181 bomber there at a weeknight show and did the deed again on the weekend, shown above. Good thing the number was the same upside down. (Bill Balser Photo, Coastal 181 Collection)
A
---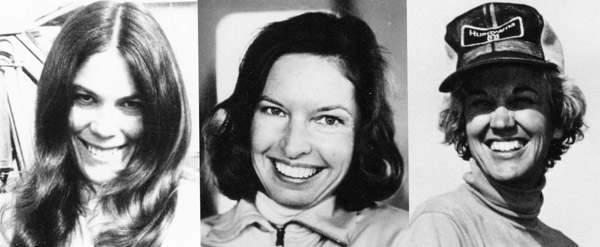 #2017 - The Toyota Pro/Celebrity 10-lap race was run from the mid-1970s until 2016 as part of the Grand Prix weekend in Long Beach. When speaking about female competitors in the event, Fast Lane instructor Jim Bishop has a simple explanation for their success. "The ladies listen to instructions. Men have a tendency to project the macho thing; 'I am a man, therefore I drive.' Personally, I would rather teach the ladies. To begin with, most are in a place that is not comfortable for them so they pay attention and do what needs to be done. One year I had a group of ladies including Queen Latifah, Catherine Bell, and Cameron Diaz running in the celebrity group. All three of my students were the top qualifiers for the 1998 race. Queen Latifah could have won it, except she got bumped and spun going into a corner. Cameron Diaz, as I remember, was just plain fast. She was a natural." Pictured above (L to R) are 1976 race participants Bobbie Cooper, Janet Guthrie, and Mary McGee. Quote and photos from PROFESSOR SPEED: Danny McKeever and the Mind Game of Going Fast, by Tom Madigan with Andrew Layton. (Tom Madigan Collection)
A
---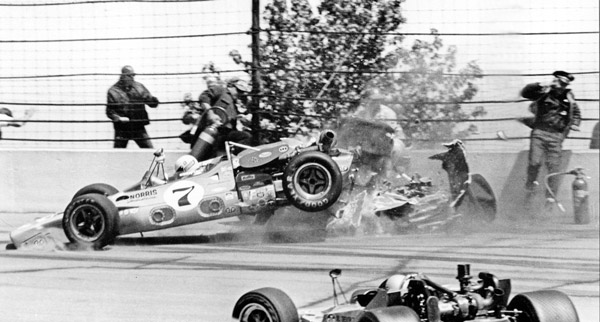 #2016 - "Famous for their quick response, the safety crew at the Indianapolis Motor Speedway has become the gold standard by which other tracks measure the performance of their own emergency crews. During the early laps of the 1971 Indy 500, Steve Krisiloff blew the engine in his STP Special and oiled the track. Mel Kenyon then lost it and spun to a stop against the third-turn wall. On the scene almost immediately, two firemen, extinguishers in hand, prepared to serve. However, the accident continued to unfold with near tragic consequences. Fast approaching Gordon Johncock failed to see the yellow light, lost control and spun. John Mahoney's iconic image, which was distributed globally by United Press International, records an on-rushing Johncock blasting into Kenyon's static car, as the two firemen brace themselves for tragedy. Mario Andretti, seen in the foreground, also lost control and spun down the short chute. Pure good luck prevailed, however, and no one was injured." Quote and Photo from FEARLESS: Dangerous Days in American Open Wheel Racing, by Gene Crucean (John Mahoney Photo)
a
---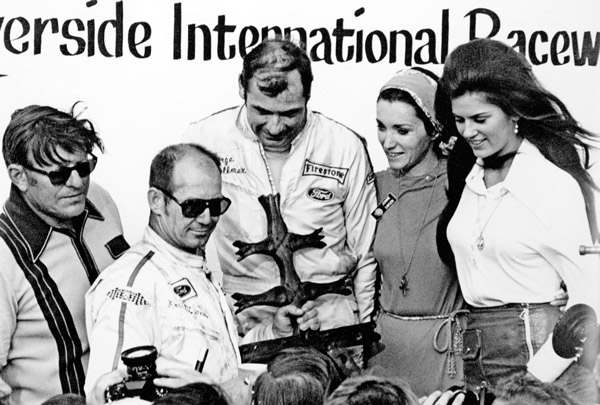 #2015 - L-R: Bud Moore, Parnelli Jones, George Follmer and two welcome additions to Victory Lane. Parnelli: "In my opinion, the 1970 Trans-Am Series was the best of all because every factory had a team and had the best drivers available. Penske went from Camaro to the Javelin program with Donohue and Revson. They were really tough. Jim Hall took over the Camaro effort and he was no pushover. Gurney ran for Chrysler and teamed up with Swede Savage. Sam Posey was in a Dodge. We were lucky to have Bud Moore building our cars." Photo and Quote from FOLLMER: American Wheel Man, by Tom Madigan. (Follmer Collection)
A
---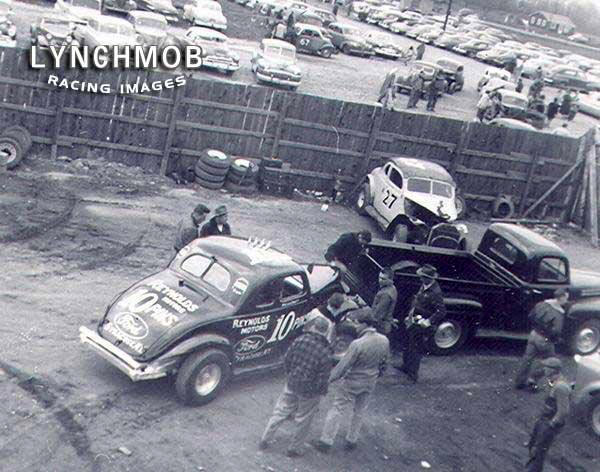 #2014 - Good guy upstate New York racing historian Jeff Ackerman sent us this image of Nolan Swift pulling into the pits at Brewerton Speedway in 1953 with his Ten Pins Coupe. Jeff says, "Swift had ten miniature bowling pins he would light up when he took the lead. But, over at Oswego Speedway, he had some competition. Both Irish Jack Murphy and Eddie Bellinger tried to turn his light out and turn on themselves." (Lynchmob Racing Images, Jeff Ackerman Collection)
A
---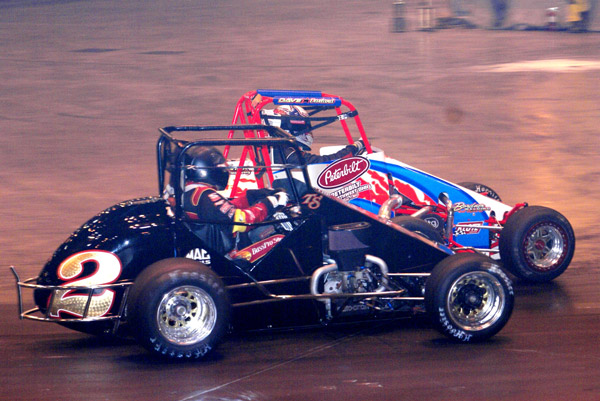 #2013 -

Two great dirt slingers battled it out a decade ago on concrete for a qualifying win. That's Smoke in the Black Deuce Midget dueling with Dave Darland, the one and only People's Champ, in 2007 at the Rumble Series on the 1/7th-mile oval inside the Memorial Stadium in Ft. Wayne. (Photo by Mike Feltenberger)
A
---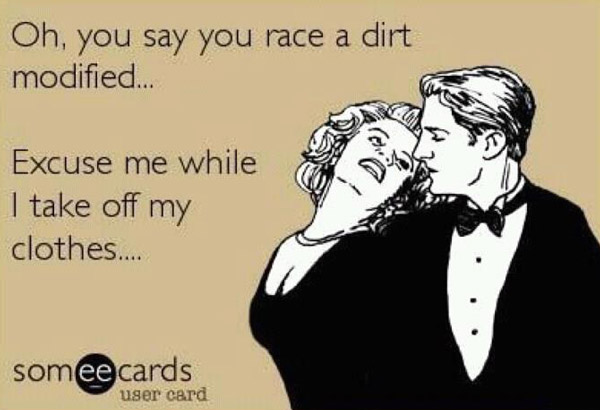 #2012
a
---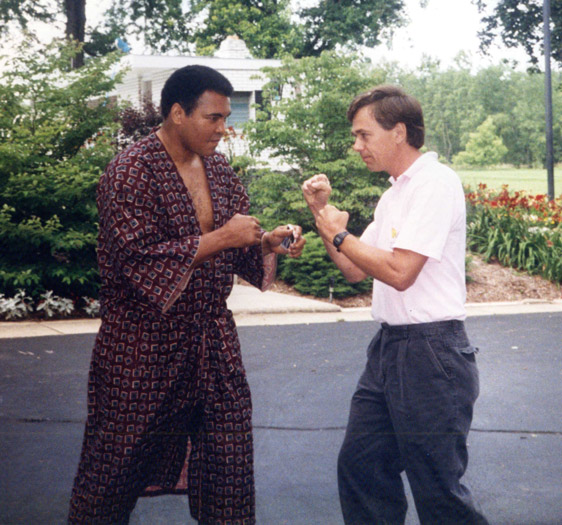 #2011 -

Writing the book CAGES ARE FOR MONKEYS: Unleashed with Kevin Olson, Racing Zaniest Hall of Famer with Kevin Olson was some kind of experience. Kevin, who really is unleashed, prides himself on his zaniness, but when he wants to get something done, he sure is determined. His purpose in life was to become a great Midget driver – and, several years back when a group on the Internet collaborated to list the 50 greatest Midget drivers in the world, Kevin's was the very first name put up. He had always been a huge Muhammad Ali fan, so one day he hopped into his Ranchero, drove over to Ali's estate in Louisville, and pushed the buzzer at the gate. Amazingly, he was able to talk his way in, and, somewhat less amazingly, the two were great friends by the end of the day. Progress on our book stopped for Kevin's attendance at Ali's funeral in June of 2016. (KO Collection Photo)
A
---

#2010 - "Butch Lindley's last tragic ride came at Florida's DeSoto Speedway, April 13, 1985. The top-flight race driver was very likeable and extremely popular. Even today his fans and insiders bring up his name and speak of his accomplishments. His car had a strong cage which endured the collision, but Lindley sustained severe injuries which led to the coma he never came out of. This shot was at DeSoto in 1980." Note: Lindley finally passed away in an assisted living facility on June 6, 1990. Quote and Photo from FLORIDA MOTORSPORTS RETROSPECTIVE PICTORIAL, by Eddie Roche. (Bobby 5x5 Day Photo)
A
---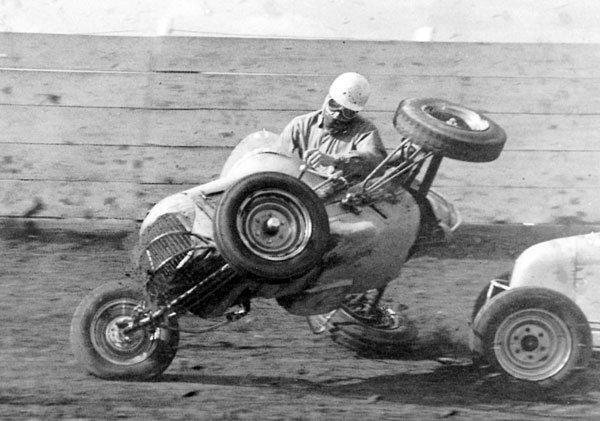 #2009 - On Sunday April 7, 1946 the BCRA Midgeteers assembled at Bonelli Stadium in Saugus, CA, for the Red Circuit opener. Everyone was still revved to get back to racing after the war and the shortened 1945 season that followed. Don Cameron may have gone a tad overboard. He is shown here on his way after tangling with Dean Meltzer in the semi. Meltzer wound up in the second row of the stands, but no one was injured. From DISTANT THUNDER: When Midgets Were Mighty, by Dick Wallen. (Niday Collection)
a
---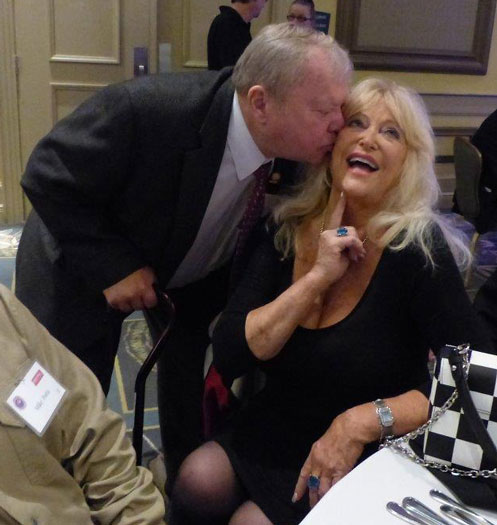 #2008 - The Living Legends of Auto Racing Banquet held on a Wednesday evening during Speedweeks in Daytona is quite the affair. Racing notables from across the country convene, and great racing tales are spun – sometimes with a tad of exaggeration – to an enormous and appreciative crowd. It's curious how over the years, all of racing's characters seem to come to know one another. Consider this amorous encounter between California's Linda Vaughn, the First lady of American Motorsports, and perpetually naughty Bugsy Stevens, Massachusetts' standout in the old time pavement Modifieds. Some things just never change. (Don White Photo)
a
---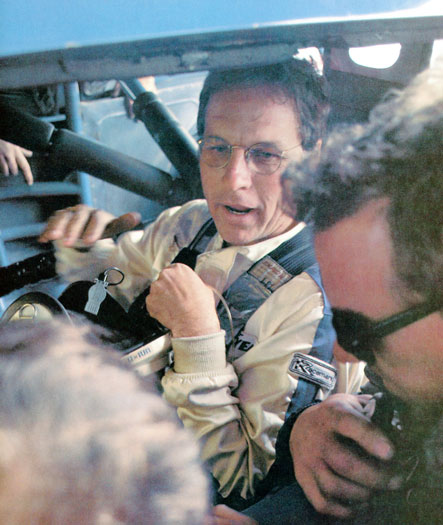 #2007 - Joe Ruttman, Troy's younger brother by 14 years, was quite the shoe in his own right. He had a long career with NASCAR, racking up 60 Cup top-tens, one Xfinity win, and 13 in the Craftsman Trucks. He's shown here in JD Stacy's #2 in 1981, a ride he took over when Dale Earnhardt left to join Childress. From GRAND NATIONAL STOCK CAR RACING: The Other Side of the Fence, by Bob Jones, Jr. (Randy Hallman Photo)
a
---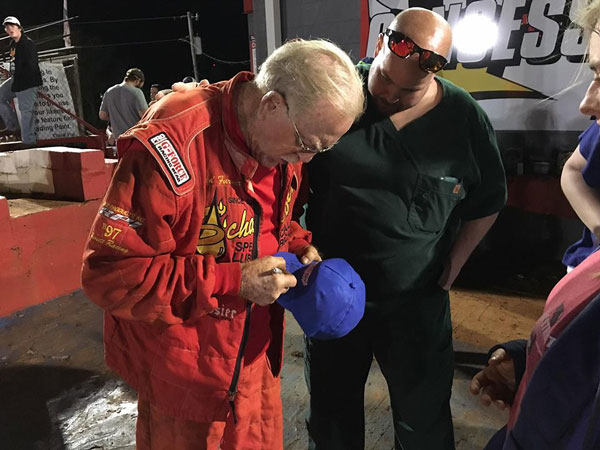 #2006 - The world may be all right after all. This week we talked with Lynn "Preacher" Phillips, the passionate promoter of the Talladega Short Track in Alabama. He tells us that yes, Red Farmer is all psyched up, just now finishing up his ride for the 2018 season. That would be a Super Late Model, and Red is reportedly 87 years old. Warmups are scheduled for March 24. (Photo, Talladega Short Track)
A
---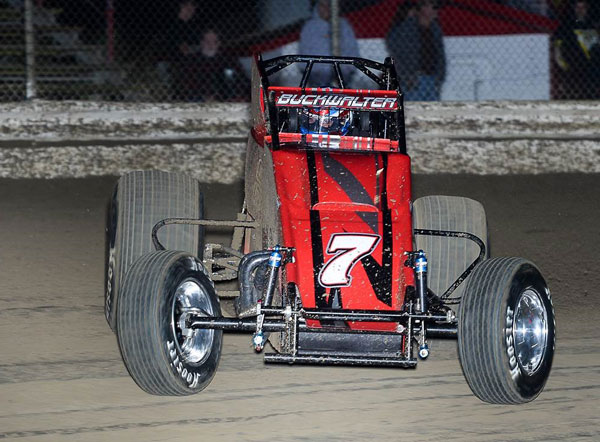 #2005 - When we were working on our TOBY book last summer, the late Dick Tobias' grandson, Paul Lotier Jr. told us that he was going to put together a USAC Sprint Car for Timmy Buckwalter. Timmy was both USAC SpeedSTR and 600 CC Micro Sprint Champ at Action Track USA in Kutztown, PA, in 2017. Along with Gene Franckowiak and Ray Nemith, Paul had the car ready by the fall. A previously unused 2002 Twister, the car is red #7, a design honoring Paul's dad, Paul Lotier Sr. In their maiden voyage – to Fremont OH, just his first time in a Sprinter, Timmy was second to Thomas Meserault in the Buckeye Series main event. In Ocala, FL, last month, Timmy went wheel to wheel with USAC's best, won a heat, and qualified for the main on each of the three nights. Keep an eye on this kid. He's gonna be fun to watch. (John DaDalt Photo)
a
---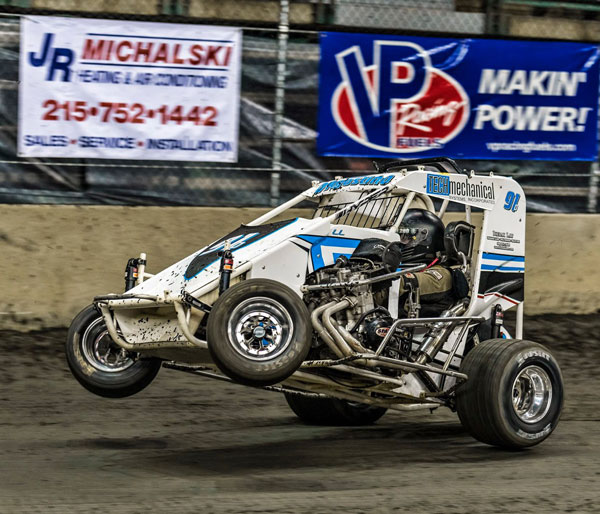 #2004 - Taunton, Massachusetts, tucked up tight to the south of Boston, is not exactly dirt track territory. Just ask Mick D'Agostino. The industrious 22-year-old is a senior at Suffolk University, busily seeking an internship in finance. In his spare time he is finishing up his 600 Micro Sprint. He used to race in New England, but longed for dirt surfaces and bigger fields, more competition. He got what he asked for at Hamlin Speedway in Hamlin, PA, with its racy 20-23-car weekly fields. The guys at Hamlin got some competition, too. Even though it is over 300 miles away, Mick was 2016 track champ. He'll be back again at Hamlin this year each Saturday. On the way, though, he will pass through Accord, NY, with a second car in his trailer – a North East Wingless Sprinter for Accord on Fridays. Mick says, "It can all be a drag, but, when you're runnin' good, it sure feels good. It's especially tough for me to find sponsors, though, because I'm not exactly performing around the corner." (Steve Pados Collection)
A
---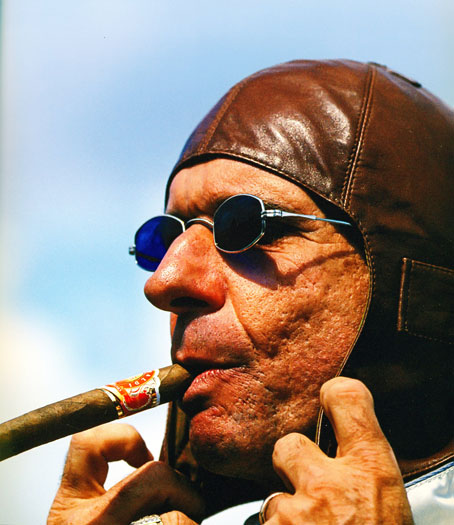 #2003 - Here's what Dario Franchitti has to say about Emerson Fittipaldi: "The King of Sideburns! I'm not ashamed to say that after seeing a picture of Emerson from the 1970s, I went through a period of trying them myself to create a level of homage….In my mind there are three Emerson Fittipaldis. The first is the super-quick young FI driver who was World Champion aged 25, and followed it with another in 1974. The second is the struggling FI team owner, failing even to qualify, and retiring as a driver aged 33, just as I started karting. The third is the comeback kid. After four years of retirement and now aged 37 he joined the IndyCar Series. Two more championships and two Indy 500 wins quite rightly gave Emerson back the respect he lost with Copersucar. Finally, what is there to dislike about a man who has his own brand of cigars?" Quote and Photo from ROMANCE OF RACING, by Dario Franchitti, edited by Andy Hallbery. (Paul-Henri Cahier Photo)
A
---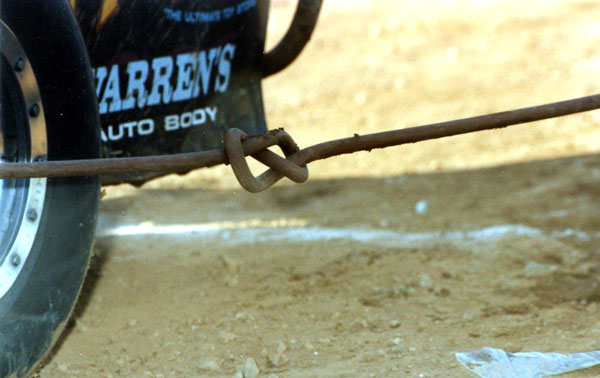 #2002 - Can you believe? One time Kenny Brightbill actually went too far – and our "Guy with the Hat" was right there to record it. It was a DIRT race pit stop at Susquehanna, PA, in 1996. The air hose came just a tad short of the left front. Kenny had to back up. Likely the knot didn't help either....(Photo by Frank Simek)
A
---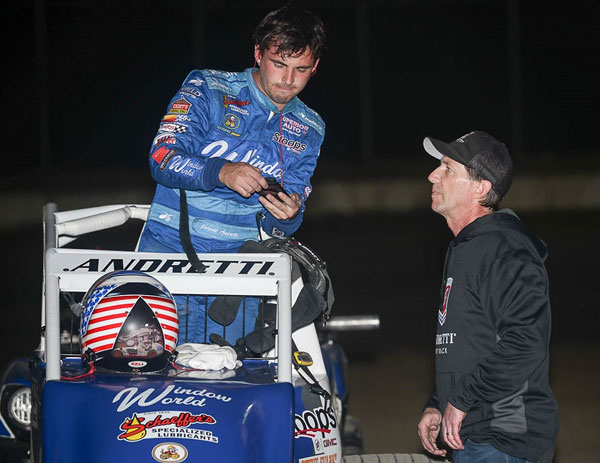 #2001 - Our friend John DaDalt is just back from Florida and sends along this neat shot from the USAC races at Ocala. John says the highlight of the week was seeing John Andretti, in the middle of recovery from nasty colon cancer, helping out his son Jarett. Here they are checking lap times during time trials. (John DaDalt Photo)
a
A
---

All Previous Photos of the Day HERE
---