7/7/14

GEORGE AND ART'S SWEET SORROW
What an unlikely duo. Art Barry – lean, lanky and serious, and George Summers – big-
muscled and bubbly. But what a beautiful friendship they have had.

Back in 1952, Art Barry first chugged over from Preston City, Connecticut, to New London with a stock car. It was rudimentary stuff. "I couldn't afford to drive it myself, so I had to hire someone else," he recalls. It would be hard to remember the specifics, as he's been doing the same thing every summer weekend for the last 62 years.

Art never would become a driver himself, but by the late 1970s, his ride was highly sought after in NASCAR Modified racing. That's when he was looking for a new shoe, and Dick Armstrong introduced him to George Summers.

George also got started in 1952, in this case up at Westboro Speedway, but in an equally modest way. George pitted "an old Chevy ramp racer with a knee-action front end that didn't stop bouncing until it hit another ramp." He progressed through Non-Ford wars, finding particular success in a Jimmy-powered #10 square-top coupe built by Dick Jackson and owned by engine-builder Bo Noyes.

George became a superlatively competent short-tracker with a distinctive style on the
bullrings. He had a groove all his own at Westboro, has been the all-time feature winner at Seekonk, and shone brightly in Late Model open competitions at Maine 's Oxford Plains Speedway.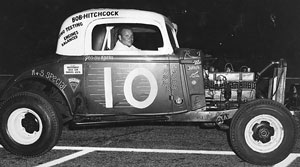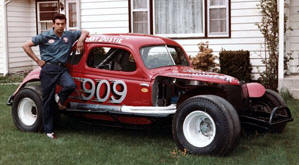 "George came of age and put a real drubbing on the Non-Ford guys with this little coupe. There was no question he was headed for the big time. On the right is Art Barry with one his many, many showpiece Modifieds, this one from the late 1960s, his #909 era. It was called the Stump Jumper and it was driven by Jerry Dostie.
(Left: Dave Dykes Collection)
(Right: Rene Degas Photo, Dave Dykes Collection)



George enthuses, "Something clicked with Art and me immediately. What a great relationship! We won at Seekonk the second night out. You know, I looked at myself as just a Saturday- night racer, but Art really gave me confidence. We started going to Thompson and places like Martinsville, and we did so well. Especially when we pooled resources with some Jack Tant motors."

Thoughtful Art concurs. "That man just drove his heart out for me. I learned to have so much trust in him that I just said 'do whatever you want out there, George. Just don't wreck my car running at the back.' He sure never did that."

The two did each other proud and won a ton of races, but everything has its season. At the Thompson 300 in 1983, George was running right up front, but, to everyone's surprise – including his own, he dropped out. Once in the pits, the problem was obvious. At 49, he was just plain tuckered out.

George's situation was not unusual. He and other Modified pioneers had endured three hard-paced and often injury-laden decades of racing. They were getting older, feeling the ghosts of flips past, and the sleeplessness of endless miles to and from the races. On top of that, the newer Modifieds were lightning fast at places like Thompson. The centrifugal forces over 1200 corners in a 300-lapper could wear out the mightiest of biceps.

It must not have been easy for George, a racer through and through, to tell Art that he would retire at the end of the season. And as fate would have it, the decision became even more difficult.

The second-to-last race of the '83 season was a Modified show at the Oxford one-third mile. Art's car was on rails that day, even on hard rubber. Those tires did their job, and in a late race restart, George blasted by an increasingly loose George Kent for a huge – and hugely popular – win.

On the way back down the Maine Turnpike, George and his wife Maggie had quite a
conversation. George was beside himself, convinced he could never pull off anything like that again, and wondering if it wouldn't be best to quit right now, at the top of his game. But, alas, he had promised Art he would run until the end of the season, and there was still Thompson. Art was his friend. He had to go.

In qualifying Saturday at Thompson, everything seemed calm and ordinary. But the next day was a different story. From the moment the pits opened, the place was abuzz with cameras, well-wishers, and tears about George's final race. Emotions ran high. Art recalls, "At one point I just had to take George around the pits by the arm and talk to him, tell him to forget all the noise, and try to remember that we were there to race."

Race they did, and, unbelievably, once again it would be George's day. The grandstands thundered with approval when he won, and it appeared there was not a single grownup in the pits. George was thoroughly sprayed with champagne before even getting out of the car. "And, when I did climb out, I just cried. It was so beautiful. What a way to go out. To win the last one was storybook; taking two was unthinkable."

Needless to say, the celebration soon oozed its way up the hill to the Clubhouse, where it carried on until the wee hours. At one point Richie Evans, rarely beaten in that era, walked up to Art and said, "What in the world did you guys do to that car today? You had to be cheating, because I sure was."

So the chapter ended, but not the story. Amazingly, Art just kept right on going. Fact is, on that day in 1983, he wasn't even half way through his racing career, and it has only gone meteoric since then. By the time he was inducted into the New England Auto Racers Hall of Fame a couple of years back, he had won at 26 different tracks, taking down two NASCAR Tour Championships, two Thompson 300s, two Stafford Spring Sizzlers and two national events at Martinsville. The totally topped and tailed SPAFCO Modifieds he continues to build for customers remain among the most desired equipment in competition today.

And his buddy George is never far from the scene, either, actively involved with racing
charities, the North East Motor Sports Museum, and the NEAR Hall of Fame.

There is no question that there are some competitive genes in that Summers family. George's dad was Bill Summers, the baseball umpire. Bill is shown below, getting a piece of Yankee catcher Yogi Berra's mind after Summers called Dodger Jackie Robinson safe stealing home.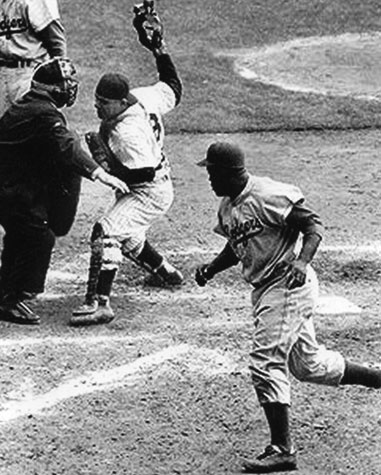 (Summers Family Collection)


On the right is George and Maggie's son Ricky, who was a journeyman Modified driver himself. He is showing some of that old Summers enthusiasm in an active discussion with Paul Cokely, at the time the starter at Riverside Park.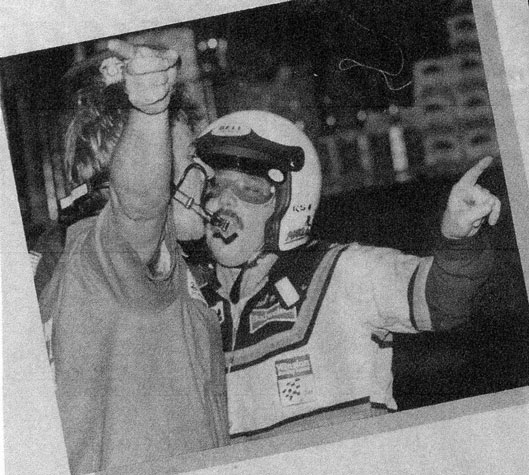 (Summers Family Collection)
© 2014 Lew Boyd - Coastal 181



If you were interested in this Tearoff, you might enjoy the book below: