3/25/14

MATTY D AND THE TRACK OF CHAMPIONS
Matt DeLorenzo is an impressively busy guy.

The 41-year-old from Cropseyville, NY, a Hudson Valley graduate in construction services, is a project manager from BBL, the noted construction company in Albany. He is also seriously family-focused, with wife Jessica and daughters Izabella and Antonella. Their nicknames, "Freddie," "Short Block," and "Crate Block" speak to his humor – and where else he's coming from.

DeLorenzo is the ultimate racer. He's been Northeast Amateur Champ in motocross; winner of the Minnesota Cup, the highest honor in snowmobile grass drag racing; A.M.E.C. ice racing champion five years in a row; and 2007 Fonda (NY) modified champion (first ever with a small block), with a total of 37 victories there on the dirt of the ever-challenging "Track of Champions."

Apparently, however, that's not quite enough. Matt recently stunned the racing world in the Northeast by announcing he would be taking over the promotional reins at Fonda.

There are certainly mixed signals about short-track racing these days. Some facilities seem to be doing okay, while others are clearly struggling. There is no question that the next few seasons will be critical to the future of the sport as we know it.

Everyone will be watching Matt, and his plans for and ultimate success at Fonda.

Here's what he has to say:
I really can't blame anybody. This idea popped into my head and has bounced around there for a while.

Mostly because of the unique shape of the track, racing at Fonda has always been good. And I can't remember when there hasn't been a good car count. But what I CAN remember is a lot more people in the stands and a lot more excitement over on that side. There's just been a slow, steady decline.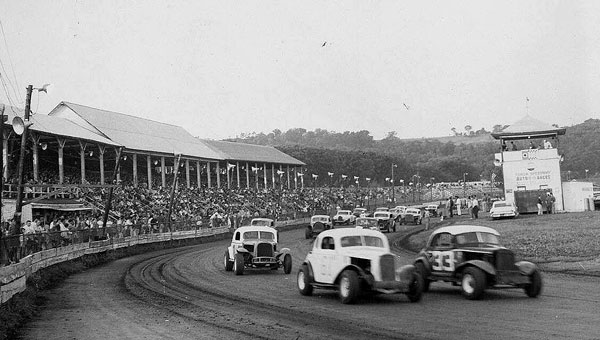 For many of its 60 seasons, Fonda Fairgrounds has been nationally known for its huge crowds. Although the pit area has remained reliably full, in the last decade
or two there has been a palpable drop in grandstand attendance.
(Coastal 181 Collection)


It started to really bother me. We, for example, always put so much effort and so much money in our cars that it seemed very disheartening for our sponsors to come and see so few people there.

The more I thought about it, the more I thought of trying to build the track up again myself – really giving it a try. I talked with Rick Lucia [promoter for the last 17 years] and I could sense he was getting tired. So I went to a couple of meetings and seminars for promoters. There was so much grumbling about kids – the so-called Millennials – and how to get them into racing. The speakers said they predicted another three to five years of this huge social-media fascination, and then this generation might become more interested in reality again.

I sort of agreed with that, but I thought of being more proactive – trying to reach the kids earlier, BEFORE they get all into electronics. After all, that's what happened to me.

My folks started taking me to the races in the late seventies when I was five. I loved Fonda – CD Coville, Dave Lape, and those guys. It didn't take too long sitting up in those stands before I was thinking I would just love to be in one of those cars. I was all over going fast while I was growing up. Think I broke just about every bone in my body in motocross.

Finally, when I got started at BBL, I had a few dollars in my 401k and I bought a sportsman car for Fonda. My family was horrified, but I have to tell you that the minute I brought it home, they were out there in the garage helping me with it.

We started halfway through the season in 1999. Did I ever get blown off that first night or what! "Wow," I thought. "I sure have some work to do now" Somehow we won within just a couple of weeks, and that ensured my obsession would continue.

We stayed at Fonda because it requires less horsepower than other places, and we became successful.

Last year, after I talked with Rick, I went to the Fair Board about leasing the track. That session worried me. It seemed their interests were equine. They were horse people. They could take or leave the stock cars –if it shuts down, it shuts down.

So I went to BBL. They gave me some help in assembling a strong three-year proposal, and then, so fortunately, one of the principals said he would back me. The facts that I now had some resource and that Rick had told the Fair Board who I was certainly helped, but I believe it was my vision that carried the day over the other people who were interested in the track.

I told them that what I wanted to do over the next couple of years was to give the place a top-to-tail physical, the best makeover possible. For the fans, a complete rejuvenation of the grandstands, the concessions, those awful rest rooms, the communications systems. Fonda just had to return to what it once was – a warm and colorful destination people want to visit.

And to treat the racers equally fairly, a nice new tech area, removal of barriers to widen the track, better drainage, new rototilling equipment such as you see in Charlotte to ensure surface moisture, and a gradual resurfacing program based on geotech analysis.

After some consideration, the Fair Board gave me the lease. I had not assumed that it would happen, so it was a thrill.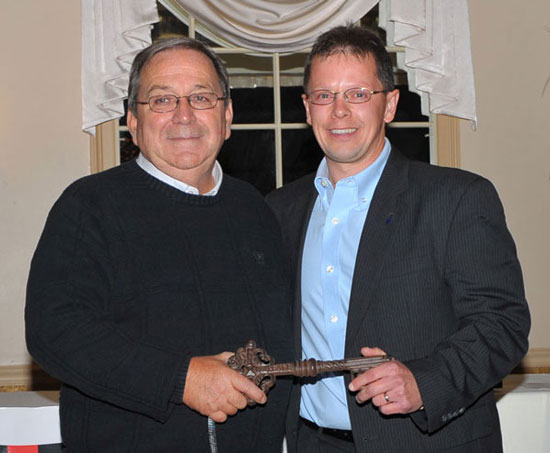 Rick Lucia gives Matt the keys to the place. (Harry Cella Photo)
What wasn't so good came two days later.

I went over to the track and just kinda of wandered around by myself. I took over 100 pictures of the whole place. Everywhere I looked there were problems – rotten this, worn-out that, some things really compromising safety. Once again it was, 'Wow, I sure have some work to do now,' and that's what we've been doing all through this long winter.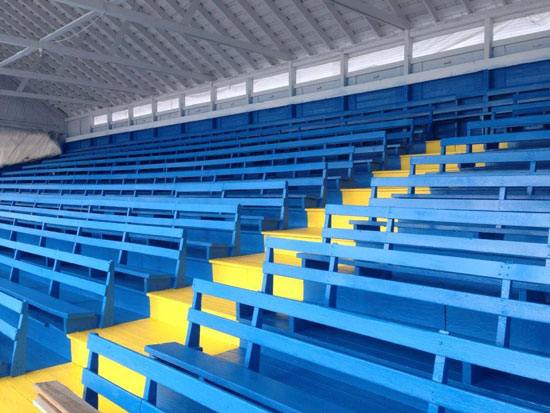 Not even the polar vortex could delay the spruce up.
(Fonda Speedway Collection)
We are scheduled to open with a twilight show on April 4. We'll be ready.

I don't plan on doing a lot with the program itself. I honestly think that the racing will take care of itself, as it always has. And everyone seems pretty excited this year. I will keep all the divisions in place because all tracks require the revenue of a strong back gate these days. But I will say this: For a regular Saturday show, the start time will be 7:00 p.m. and by 10:00 that will be that.

I've got a new race director, a new (but very familiar) announcer, and what should be a great team. On race day I'll be zooming around on a four-wheeler everywhere, making absolutely sure that this is the friendly place where people want to be again.

Whether it's race day or a weekday, though, I'll be 24x7 on marketing. I'm so into this concept of drawing the kids back in – kids at that young, impressionable age, just like I was. I want to win them, get them off those computers. We're making a big, big effort to connect with local schools, to bring in bands, to host Little League nights, have special events for moms, banner nights for the kids…anything we can possibly do.

On Fridays, I'll be over at Albany-Saratoga continuing my racing, but Saturdays will be all about promoting. But, when it comes to Fonda, I guess I'm still that five- year-old kid. I will bring my car along on a couple of occasions. How could I not run in that Lazzaro Memorial Race scheduled for May 24?!?"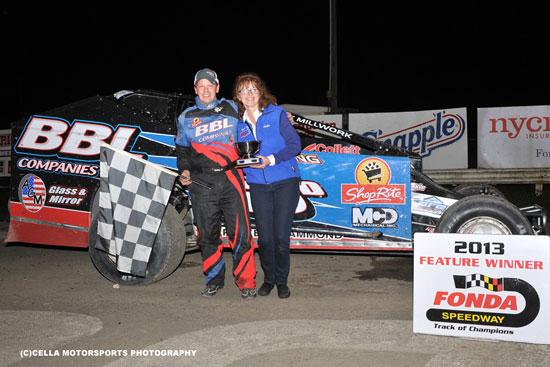 Jackie Lape gives Matt the Coastal 181 Cup for winning the 2013 Dave Lape Night. Matt also took home the Coastal 181 Cup awarded for his victory in Lou Lazzaro Night in 2012. (Harry Cella Photo)
© 2014 Lew Boyd - Coastal 181



If you were interested in this Tearoff, you might enjoy the book below: