4/17/14

BEING EDDIE MACDONALD
It's been said that there are three approaches to NASCAR K&N racing these days: Make sure your dad or granddad is a well-heeled Cup winner; run at the back; or quit. And then there's Eddie MacDonald.

At 33, Eddie is handsome, his aura warm, and he'll look you right in the eye. There's no pretense, no plastic about him, just that sense of focus. He's a racer 24/7. No question the obvious work ethic is in his genes. His parents run a small trucking company weekdays, and on the weekends they operate Lee Raceway in Southern New Hampshire.

Eddie's operation is based in a distant corner of an industrial building in Newburyport, Massachusetts, no pretense or plastic about that, either. There are parts, body panels, and ongoing projects everywhere. No fancy machinery and no evidence of any inventory of cars. You can't see your face in the floor, but the shelves are laden with glitzy trophies – lots of them. (www.eddiemacdonald.net)

Having run A-frame cars – ball joint in line with the first spark plug – for half his life, Eddie MacDonald has developed an uncanny propensity for pulling it off. Sure, times are tough, but amazingly this guy has raced three times to date this spring – at Bristol, Tennessee; Greenville-Pickens, South Carolina; and "the Governor's Cup" at Lee. He won at both Bristol and Lee.

Here's what he has to say:
This has been going on for a long time. And I'll tell you, to keep on going, especially in K&N, is such a struggle. But I am committed to racing as long and as hard as I possibly can. When I am done with my racing, I will be done – and on to the next chapter of my life.

I'm asked all the time about Nationwide and Cup. Sure, I'd love to move up and on. But why would I want to move South and just end up down there for a year or two and come back home never having had the opportunity to race? Reality has to sink in. NASCAR has changed, and I am not looking for what I can't get. I just want to run the best we possibly can, and Rob Grimm has allowed me to do that.

Rob has a general construction company in Pennsylvania and some other business interests. We've been together since 2007. You know, there was a time that sponsorships were relationships, and they lasted. Not now. Now it seems so day-to-day, and it is cool that we probably already have the longest-lasting deal in K&N.

Robs owns the team and keeps us going at this level. Sure, he'd like to attract more funding for us, but he's very busy – and we're just grateful. He's a good guy. He's drawn lots of attention to the M.S. Society with the panels of our cars.



Rob Grimm's "MS Warriors" were ready for their National Multiple Sclerosis
Society Walk at Pocono last May 5. (Photo from www.eddiemacdonald.net)


Not only that, but our crew is all volunteer. Rob lets us divide up the purse money within the team by percentage. Sure, he might be down in Pennsylvania, but he knows how often we work 'til 2:00 in the morning.

It's no cake walk. It does get kinda frustrating sometimes watching these K&N kids with the bucks. They will usually go very fast in practice, but they don't often race well or manage the car. But in certain cases it seems these organizations can put anyone in the seat and they can win.

It was funny. Rollie LaChance has been my full-time crew chief and team manager – for the last ten years. He's old style. He started with Tracy Gordon, also under-funded. Rollie can and does do everything. We were in the tech trailer after winning Bristol a couple of weeks ago, and Tony Glover was doing the inspection. He asked Rollie where we got the shocks. Rollie tells it like it is. "eBAY".

We had a couple of so-so years before Rob helped us get a new chassis last year, and we built it up here in Newburyport. That picked our pace up a lot. We got a good, steady second at Iowa and were leading Loudon when a tire went down.

So, it felt okay coming into this year, and we were having fun. But there was this uneasy feeling in the back of my mind. I knew if we didn't do well early on, we might not be able to attack the whole season schedule. That's not comforting to someone like me who gives so much to all this that I still live with my parents. Thank goodness we got those wins.

Bristol was neat, our first win in the South. We've struggled there and on the banks at Dover for a while. But this winter Rollie and Andy Santerre, who is now back in Maine, got talking about setups. Andy came down and helped us some on a consulting friendship basis, and it really clicked.

My dad was here in Massachusetts that day, working on a truck. He called his old friend Herb Wing, who used to work on Dad's Supermodified and was the first employee at Lee Raceway. Herb also gives four or five days a week to working on my car, and he was watching the race on his computer. When Dad called, I was running up front. He followed the rest of the race with Herb over the phone. I bet they went crazy.

The Governor's Cup race at Lee was a thrill, too. We won that in Freddie Peterson's car with Hancock Electric. Rob is very willing to let me do some different things, and, needless to say, we had Grimm Construction on the hood.
You ask why I seem so fast at Lee. I have so many laps there, I guess, that I have developed an innate feel for it. At this point, I know I can drive it differently than the other guys. It's pretty straightforward, actually. When you want to go faster, you go in deeper and pick up the throttle before anyone else. When he lifts, you don't.

I have some sixth sense about New Hampshire (NHMS), too. I've always been comfortable there. We've won three K&N shows and three A.C.T. shows there. You might be right that we are the leading Late Model, but Rollie says we only seem to be able to win there on odd years.

Our two Oxford 250 wins were a joy. It really seemed we had taken on the best, certainly from New England.

What I am so motivated to do now is to pull that off out to the west. We've been pretty good at Iowa, but Phoenix has been a trial. That's the only place other than Bristol where we have lost a car.

And, as I said, I just want to keep on truckin.' If a chance comes up to run a Cup car, I'll be there in a second. I would love to do it just to try it. But I'll be totally comfortable cruising at the back, because I know that's what it would be.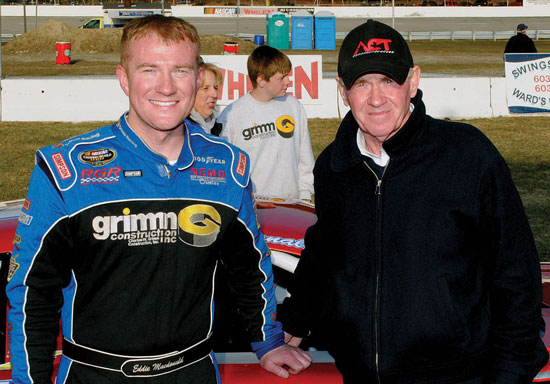 Eddie and his dad Red, a legendary figure in Northeast racing. (Rich Hayes Photo)
© 2014 Lew Boyd - Coastal 181



If you were interested in this Tearoff, you might enjoy the book below: